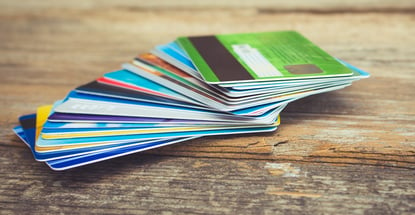 I don't think I could face the day without my visit to Starbucks. It's not that I just want "coffee" — there are dozens of drinks I can order, but I'm quite particular about my go-to beverage.
It's the same with credit cards — a category of products with a rich variety of choices. Our mission in this article is to name the best credit card offers right now so that you, dear consumer, can get the card that precisely fits your lifestyle, just like a quad extra-hot grande latte macchiato breve suits mine.
The dynamic nature of the credit card market means that offers are constantly changing. But we're on top of the changes, and what follows gives you the up-to-date specifics that will help you find the card that best suits you today.
APRs: 0% Intro | 0% Transfers | Low Ongoing
Rewards: Miles | Cash Back | Points
Card Type: Business | Prepaid | Secured | Student | Bad Credit
Big-ticket purchases often require you to schedule payments over a period of many months. In olden times, you may have made an installment purchase, such as layaway, in which you had to prepay for a purchase over a specified time period.
Nowadays, a credit card with a 0% introductory APR is a much better deal. Below are our top-rated 0% intro APR offers currently available:
The 0% intro APR offer is extended only to new cardmembers. It establishes a number of months from account opening in which you can carry balances from one month to the next without paying interest. This can save you hundreds of dollars in interest on big purchases.
Whether you're contemplating an extended vacation, a kitchen full of new appliances, or paying for the wedding of your oldest daughter, a 0% introductory APR lets you budget your purchase over many months, avoiding prepayments and interest charges.
Balance transfer offers appeal to consumers who have outstanding balances on several credit cards. Instead of scheduling multiple monthly payments and ponying up at least the minimum payment for each, you can consolidate your balances by transferring them to one card.
Below are our top-rated balance transfer offers:
+ See More Balance Transfer Offers
An introductory balance transfer offer specifies the number of months from account opening in which cardmembers can transfer credit card balances to the new card without paying interest on the consolidated balance. However, you will likely have to pay a fee, usually 3% to 4%, for each transfer.
In return, you need to schedule only one monthly credit card payment. That one payment should be less than the sum of the monthly minimums you previously had to pay while avoiding interest on the balance throughout the introductory period.
Annual percentage rate, or APR, is an interest rate stated on a yearly basis. When you obtain a card with a low ongoing APR, you can expect an attractively low interest rate that continues for the foreseeable future, as the following cards all feature.
Note that APR includes any fees you pay in monthly installments rather than as a single lump sum. If you are not the type of consumer who pays the entire balance each month, an APR above 21% may make your eyes water.
But if you get a card with a low ongoing APR, you may save several percentage points of interest that can really add up over a year's time.
Nothing can lift the spirits of a weary traveler more than earning a planeload of air miles for flights, car rentals, and hotel stays. The best cards let you redeem those miles for travel with no blackout dates or carrier restrictions.
Alternatively, you can cash out the miles or transfer them to the card's travel and hotel partners. A card may offer many additional travel-related benefits, such as free baggage check, travel insurance, and lounge access. See our favorites below.
When you evaluate miles cards, look at the number of miles you receive for each dollar spent. Consider the different ways you can earn the top reward rate and any caps on mile rewards. Also, check out the redemption rules, including how many miles it takes to earn a free flight.
Some cards enhance the value of miles when you redeem them for travel that you book at the card's rewards website. Finally, compare the current signup bonuses available.
Can you ever have enough cash? The best cash back card offers add to your stash by letting you earn cash back in one of several ways.
Some cards offer up to 5% cash back on a set of quarterly rotating merchant categories that you must activate each quarter. Other cards offer two or more reward tiers that provide different cash back percentages on specific purchases, while others offer an unlimited, fixed reward percentage on all purchases.
+ See More Cash Back Card Offers
All rotating category and tiered rewards cards pay a default cash back rate (typically 1%) on purchases that do not qualify for higher rewards. Always pay attention to any limits on cash back rewards as well as introductory bonus cash back when you spend the minimum required on purchases during the first three months after opening the account.
Points are a versatile alternative reward to cash back and miles. Their versatility lies in how you redeem points.
One popular option is to redeem points for purchases via a related website. You can also use points for travel redemption, sometimes at a premium rate, or for cash. The best cards offer from 2X to 5X points for each dollar spent on selected purchases.
Look for generous introductory bonus rewards when you spend the required amount on purchases during the first three months. In some cases, points will be worth more if redeemed for travel.
You want a card that doesn't impose travel restrictions or blackout dates when you redeem the points for travel or hotel stays. Another desirable feature lets you transfer points to leading hotel and airline loyalty programs.
A typical company spends money on business-related purchases, from office equipment to communications services to business travel. Since your business has to spend the money anyway, why not get rewarded for your purchases?
The best business credit cards offer a wide array of bonuses and rewards in the form of cash back, miles, or points. In addition, the top cards offer many business-related benefits that can help your bottom line.
+ See More Business Card Offers
Many business cards offer free cards to authorized employees so that you can expand your rewards. Many provide transaction downloads and annual reports that make your bookkeeper's life a little easier.
Some cards offer substantial introductory bonus rewards as well as high reward rates (with or without limits) on specific categories of purchases. Also, look for an introductory 0% APR on purchases during the first 12+ months after account opening.
A prepaid card is much like a debit card, except it links to a card-provided account rather than a bank account. You fund the card account with cash, checks, or money orders.
This is a great boon to unbanked consumers who do not want to deal with banks or credit unions. Look for prepaid cards that work with a mobile app to let you manage your account and even make mobile check deposits, such as those below:
+ See More Prepaid Card Offers
Some prepaid cards accept your paycheck through direct deposit and let you get paid up to two days early. You can never trigger a late fee or interest charges because you aren't using credit. Unfortunately, prepaid cards do not allow you to rebuild your credit.
The cherry on the sundae: Some prepaid cards, like the PayPal Prepaid Mastercard®, offer cash back rewards, perhaps limited to purchases from select merchants.
A great way to establish or repair your credit is through a secured credit card. These are real credit cards that require cash collateral deposited into an insured savings account maintained by the card issuer. Your credit limit equals the amount of cash collateral, up to the maximum allowed amount.
The top secured cards charge no annual fee and may offer cash back rewards. They also report your payments to the three credit bureaus, allowing you to build your credit when you repay on time.
+ See More Secured Card Offers
Look for a card that automatically increases your credit limit after you demonstrate a series of timely monthly payments. In addition, many issuers will reward your responsible payment activity by eventually refunding your collateral, converting your card to unsecured.
It's not unusual for students to have scant credit histories. Student credit cards overlook your lack of credit and let you build a credit profile by reporting your payments to the national credit bureaus.
The best student card offers below provide you with student-specific benefits, such as rewards for approved referrals and free access to your credit scores.
+ See More Student Card Offers
These cards all charge no annual fee and earn cash back rewards. Other benefits include the ability to instantly freeze or unfreeze your credit card, no late fees on your first late payment, and no APR hikes for late payments.
Perhaps the best features of cards designed for poor credit are that they are unsecured and let you build your credit by reporting your payments to one or more credit bureaus. Some of the better cards for bad credit charge no annual fee and allow you to graduate to a better card with consecutive on-time payments.
+ See More Card Offers for Bad Credit
Benefits of the cards above include the ability to manage your card and make payments via smartphone apps, free credit score access, and $0 fraud liability protection against unauthorized card usage. At least one top issuer offers a credit card alternative — a store account that lets you buy products from the store on credit.
Expect a modest credit line, at least initially, and the possibility of various fees to open and maintain your card.
In the credit card realm, your choices involve decisions about the various rewards and benefits each card offers. In truth, many rewards are there to tempt new cardmembers with signup bonus offers.
If you are looking at specific needs, such as a large purchase or debt consolidation, introductory offers can make the most sense.
But do not ignore the charms of ongoing benefits that will provide lasting value, such as a low APR and no annual fee. Then there are cards geared to particular audiences, such as students, businesses, folks with bad credit, and consumers who eschew bank accounts.
As we detailed above, credit cards come in many varieties pitched to a wide array of consumers and credit types. Nonetheless, you can use lots of shared characteristics to comparison shop your next credit card, including:
How much do they cost? Start with the APR and include various fees that may be tacked on. Many great cards charge no annual fee, but some of the top premium cards charge hundreds of dollars in return for generous benefits.
What's the card's grace period? A grace period is the maximum number of days you have to pay off your card balance without incurring interest charges. In general, the longer the better.
Does your credit score qualify? There's little point in applying for a card that requires excellent credit if your credit score is low (or non-existent).
What will be your credit limit? If you have excellent credit, the top cards may offer five-digit credit lines. At the opposite end of the spectrum, your credit line will be quite modest and may even have to be secured with collateral.
What rewards and benefits does the card offer? Modern credit cards provide value in many ways, so pick cards that fit your lifestyle. For example, a travel credit card that offers miles or points makes little sense if you never travel.
Do you fall into a niche? If you are a business owner, a student, an unbanked consumer, or you have bad credit, you can narrow your card search to the appropriate card categories, as they will usually suit you best.
Does the card offer unique features? For example, some cards may offer specialized features such as free access to airport lounges, free travel/baggage insurance, or 1:1 transfer of miles to partner reward programs.
We've simplified your card search by recommending the cards with the best current offers for a variety of consumers. Of course, you are a complex creature and may want multiple cards.
However, you shouldn't apply for several cards at once, as this may lower your credit score. Rather, collect your cards over a period of several months to limit the impact on your credit score.
We're going to assume you want the card that gives you the best rewards within the constraints of your credit score and history. To choose a great card, you need to consider what form your rewards should take and how generous the card is in doling out those rewards.
The major card reward types are cash back, points, and miles. Whereas cash back is always a fine choice, points or miles may better suit you if you frequently travel.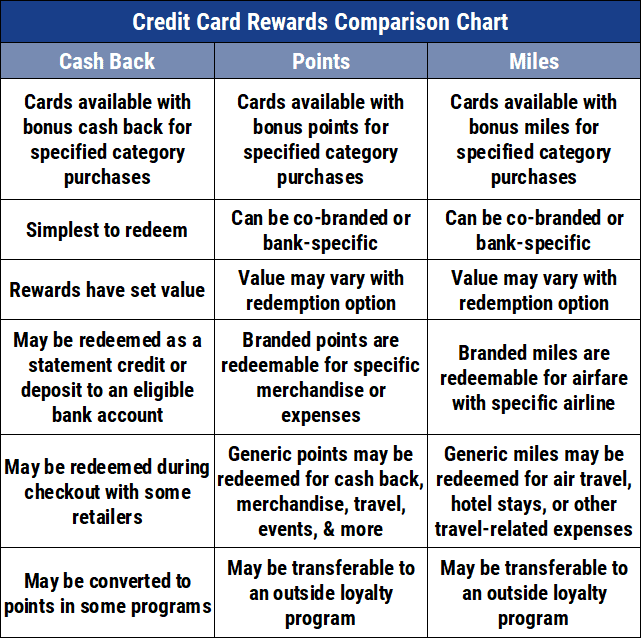 Points can be converted to cash back and even to miles, making point cards extremely versatile. But if you spend a lot of time lurking around airports, you may prefer a miles card.
Do you like things simple or Byzantine? If you're in the former camp, you can select a card that provides a flat-rate cash back reward on all purchases, every day. For example, check out the Chase Freedom Unlimited® card, which earns you cash back on all purchases made plus no annual fee.
But, if your tastes are more esoteric, you may prefer a multi-tier rewards card like Capital One® Savor® Cash Rewards Credit Card, with unlimited 4% cash back on entertainment and dining, 2% back at grocery stores, and 1% back on all other purchases. It also offers an introductory cash bonus and waives the annual fee for the first year. (Information for this card not reviewed by or provided by Capital One.)
If instead you live life in 50 shades, consider a card that offers high rewards on a quarterly rotating basis. For instance, the Discover it® Cash Back card lets you earn bonus cash back on quarterly merchant categories, up to the quarterly limit, when activated for the quarter.
Then, decide whether you want a quick romance (i.e., introductory offers of bonus rewards and 0% APR) or a lasting relationship (a low ongoing APR, no annual fee). Naturally, if you can find all that in one card, you've found a great offer.
Alternatively, the perfect card may support your efforts to repair your credit by offering a period of 0% APR for balance transfers, or accepting applicants with low credit scores, or providing a secured account. Students and businesses may choose a card specifically designed for them.
The bottom line: Choose the card that best matches the unique richness of your own lifestyle.
The beginning is a delicate time. It can also be a rewarding time when credit cards provide signup bonuses.
The bonus is yours if you spend the specified amount on purchases in the first three months after opening your account. The bonus can be cash, points, or miles, and will be awarded to your account in a lump sum as soon as you meet the spending requirement.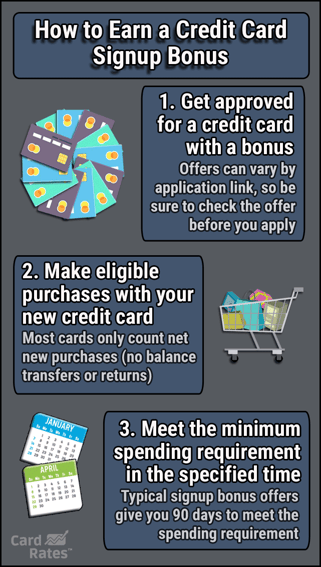 If you like your rewards in the form of points, we recommend the Chase Sapphire Preferred® card for your consideration. If you can manage to shell out $4,000 on purchases during the first three months, you'll earn a windfall of bonus points worth a pretty penny, especially when redeemed for travel expenses.
You can redeem those points for $600 in cold hard cash. But if you prefer, you can use the same points for $750 toward travel when you redeem them at the Chase Ultimate Rewards® website.
Prefer miles? Check out the Capital One Venture Rewards Credit Card, which gives you a sizeable signup bonus if you meet the purchase threshold during a set time frame after first receiving the card. This adds up to some serious rewards miles.
The Ink Business Cash® Credit Card offers you a signup bonus of cash back after you spend at least a certain amount on purchases in the first three months after opening your account. It provides higher cash back rewards on specified merchant categories and an introductory period of 0% APR on purchases — and it charges no annual fee.
If you're contemplating a big-ticket purchase, think of signup bonus credit cards as providing a welcome rebate in return for a spot in your wallet. Even if you don't plan to use the card beyond the introductory period, don't close the account, because doing so will raise your credit utilization ratio and can hurt your credit score.
The most elusive credit cards for mere mortal consumers are the ones that demand you have an excellent credit score (i.e., 760 to 850 on the FICO range). Couple that with a high annual fee, and you've got a credit card for the elite.
One of our favorites is the Chase Sapphire Reserve®, which requires an excellent credit score and charges a relatively high annual fee. In return, you can earn a $300 annual travel credit and 3X points on travel and dining and 1X points on all other purchases. In addition, the card is dripping with valuable benefits.
However, if exclusivity is your goal, you may like an invitation for an American Express Black Card. The card is available to 0.1% of the population and will cost you a cool $7,500 initiation fee and a $2,500 annual fee.
In return, you'll be expected to charge at least $250,000 a year to maintain your good standing. But if you need to know these details, then the card really isn't for you.
Coming back down to earth, business owners may like to own the American Express Business Platinum® Card. The high annual fee lets you earn 5X points on flights and prepaid hotel stays, plus 50% more points on qualifying large business purchases.
You also get up to $200 in credits to reimburse for airline fees. You can earn up to 75,000 points by spending $20,000 on purchases in the first three months.
To build credit, your credit card must report your payments to at least one of the three credit bureaus. Any card that does this can help build your credit. However, some cards are designed for consumers with bad or no credit who may have trouble obtaining most credit cards.
Even with bad or no credit, you can easily obtain a secured credit card. Because you secure these cards with cash collateral and the cards typically have low credit limits, issuers consider them low-risk.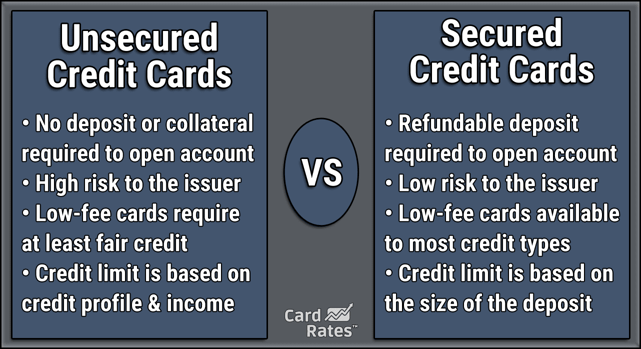 For example, the Capital One Platinum Secured Credit Card charges no annual fee and requires a deposit as small as $49. You'll be eligible for a higher credit line by making timely payments during the first five months.
If you don't want a secured card, consider the Fingerhut Credit Account. It is exceptionally easy to obtain despite having bad credit, has no annual fee, and allows you to charge purchases from Fingerhut and affiliated websites. The account currently offers a $25 discount on your first order of $100 or more.
Students also frequently need to build their credit profiles. One of our favorite cards is the Discover it® Student Cash Back. It has friendly introductory terms for new cardholders and pays bonus cash back on purchases (up to the quarterly maximum) in quarterly rotating merchant categories that you must activate.
To successfully rebuild your credit, pay your bills on time, pay more than the minimum amount, and reduce your outstanding debt. Over time, creditworthy behavior should pay off with a higher credit score, giving you access to better credit cards and larger credit limits.
This list of the best credit card offers right now consists of cards from major issuers on the Visa, Mastercard, and Discover payment networks. We assessed the various promotional and ongoing APRs of each card, fees charged, rewards offered, insurance benefits included, signup bonus potential, credit bureau reporting, and overall customer satisfaction based on cardholder reviews to determine the rankings.
CardRates' reviews undergo a thorough editorial integrity process to ensure that content is not compromised by advertiser influence.