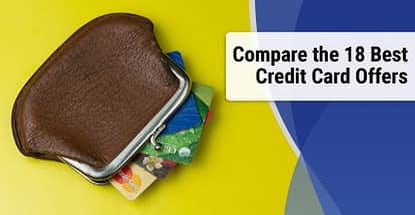 According to a 2016 Gallup survey on the future of cash, a full 62% of those surveyed felt it was likely that they would see the end of cash within their lifetimes — including almost 60% of respondents 65 and older. The modern American is relying less and less on cash, and between the convenience, security, and usage rewards that come with using alternative payment methods, like credit cards, who can blame them?
Yes, instead of wondering where they can find change for a $20 bill, the average American seems to be wondering, "Which credit card should I get?" Which is, of course, an important question with so many quality credit cards available from which to choose. The best method is to compare your options side by side to see which options work best for you.
Cash Back | Travel Rewards | Balance Transfer | Business | Students | Bad Credit
Compare the Best "Cash Back" Card Offers
A good cash back program is like a coupon that's valid everywhere your credit card is accepted, giving you a percentage of your purchases as a statement credit or gift card. When it comes to comparing cash back offers, the main factor to consider is the nature of the cash back program; you'll need to decide whether you want your cash back to be an unlimited flat rate, or if you want to receive bonus cash back rewards for spending in specific categories.
In general, an unlimited flat-rate cash back program will offer a small percentage — 1.5% tends to be average — on any purchase made with your card. Some programs may offer a larger cash back rate in specific set categories, such as gas or restaurant purchases, while offering a smaller unlimited rate on other purchases. And another popular type of cash back program offers a large cash back rate in quarterly rotating categories, with a small unlimited flat rate on everything else.
An additional factor to consider when comparing cash back offers is the signup bonus offered by the card. Many credit cards will give you a set bonus amount for reaching specific spending requirements within a certain time period, typically 90 days after account opening.
Of course, if you can't meet the required amount without carrying that debt for months (or, worse, years) afterward, then the signup bonus loses its value. It only takes six months to negate a $200 signup bonus when you're paying 20% interest on a $2,000 balance.
Compare the Best "Travel Rewards" Card Offers
In many ways, travel rewards operate very similarly to cash back rewards, offering a certain number of rewards points or airline miles for every qualifying credit card purchase. These programs will generally offer a flat-rate point-per-dollar reward, with some programs also offering bonus rewards for spending in specific categories such as travel and dining.
Also like cash back cards, travel rewards cards will often come with signup bonuses, granting a lump sum of points or miles for hitting specified spending requirements, so be sure to take that into account when comparing offers. You'll also want to look at any applicable annual fees, as these can take a significant bite out of your rewards.
+Compare More Travel Rewards Cards
While travel rewards will be most useful for those who frequently travel, they can be beneficial to those who don't live in the proverbial saddle, as well. In fact, redeeming your rewards for travel — and, sometimes, travel-related purchases — can often present the greatest per-point value.
For instance, the Chase Ultimate Rewards points earned with the Chase Sapphire Preferred credit card can be redeemed for cash back via a statement credit, giving a value of $0.01 per point back as cash back. This means every 10,000 Ultimate Rewards points can be redeemed for $100 in cash back.
On the other hand, when Ultimate Rewards points are redeemed via the Chase portal for airline travel, they can net $0.0125 per point, making those 10,000 points worth $125 in travel. Particularly travel-reward-savvy users can get even more bang for their buck (or pow for their point, as the case may be) by transferring rewards to one of the dozen or so airline and hotel partners, earning up to $0.04 per point with smart transfers.
Compare the Best "Balance Transfer" Card Offers
For many, the most impactful downside to credit cards is the interest fees they charge for carrying a balance. Often ranging from 12% up to 30% (or more), interest fees can turn even a small balance into a big burden over time. Thankfully, those who need a little relief from killer interest rates can often find it with a quality balance transfer credit card.
Pretty much as it sounds, a balance transfer involves transferring the balance on one credit card to a second credit card with a lower interest rate. Thus, when comparing balance transfer cards, the main factor to consider will be the interest rate charged by the new credit card. Typically, balance transfer credit card offers will provide 0% APR on new balance transfers for a set period of time, often 12 to 18 months, so compare offers for the best introductory rate.
+Compare More Balance Transfer Cards
Another factor to consider when comparing balance transfer offers is the transfer fee charged by the credit card. Most credit cards will charge between 3% and 5% of the total balance being transferred, although the Chase Slate® credit card does not charge a balance transfer fee on transfers made within the first 60 days of account opening. The caveat with that deal, however, is that you cannot transfer the balance from one Chase credit card to another Chase card.
Compare the Best "Business" Card Offers
For the most part, comparing credit cards for your business is the same as comparing personal credit cards. Business have many of the same costs and credit cards come with many of the same perks as consumer cards, including cash back and travel rewards.
When looking at business cards, you'll want to compare reward types and amounts, the size of (and requirements for) the signup bonus, and the annual fee you'll need to pay. Additionally, be sure to check out the APR, especially if you know you'll have to carry the occasional balance. If you have employees who will be using the company card to make purchases, you'll also want to look into any fees for additional cards when comparing offers.
Another major comparison point for business cards will be the qualification requirements. While your personal credit can influence your ability to obtain a business credit card, your company will also develop its own business credit score and history over time. New businesses without established business credit may have a more difficult time obtaining the best business credit cards than established companies with long credit histories.
Compare the Best "Student" Card Offers
Be it academic lessons in the classroom, interpersonal lessons in the dorm room, or life lessons in the common room, your job as a student is to learn. And, as a student, one of the most important skills you can learn is to properly use and manage credit. Thankfully, while some credit card issuers may blanch at your lack of credit history, others are more than happy to help you learn.
As you compare student credit cards, you'll learn to weigh many of the same options as do other credit card users, like deciding between flat-rate or category-based cash back rewards. You'll also face a few options that may not be as important to other cardholders, such as whether a card offers a statement credit for good grades — or whether the issuer reports to all three of the major credit bureaus, an important part of building your credit.
Credit cards that report to the major bureaus are a key comparison point for student credit cards. One of the most important reasons to get a student credit card in the first place is to use the one advantage you have as credit novice: time. The earlier you start building a positive credit history, the better off your credit will be in the long run. Specifically, it's important to establish credit early because of the impacts of the age of your credit accounts on your overall credit score.

In fact, the length of your credit history, also called the average age of accounts, represents a full 15% of your FICO credit score. This means that no matter how perfect the rest of your credit is, your credit score will never reach similar perfection without a long, well-established credit history — and the only thing that can truly increase the length of your credit history is time.
Compare the Best "Bad Credit" Card Offers
One of the many facts of life — perhaps the fact of life — is, simply, "stuff happens." Sometimes, all the planning in the world can't prevent or solve some problems, and the consequences can often have long-term effects. When those effects are to your finances, your credit can suffer, making it difficult — but not impossible — to obtain new credit through traditional methods — but not impossible.
When comparing credit cards for poor credit consumers, the main point of comparison will be unsecured versus secured cards. With bad credit, unsecured credit cards will be harder to obtain from prime issuers, so you will need to obtain a subprime credit card. These cards often have very high interest rates and may also have large fees. Secured cards, on the other hand, require a security deposit to open, and your credit limit will be restricted to the size of your deposit.
+Compare More Bad Credit Cards
Another option for those with poor credit will be limited brand or store credit cards. While only usable for specific locations or brands, these credit cards are often easier to obtain than unsecured credit cards from major issuers. Look for cards that report to all three credit bureaus to ensure your new credit card is helping to grow and improve your credit score.
Shop Around to Find the Best Card for You
Not so long ago, the average American toted around pocketfuls of cash and coins with which to make his or her daily purchases, often literally weighed down by the currency needed to operate in the world. Today, more and more shoppers are using plastic, not paper, for their purchases, lured by the convenience, security, and rewards represented by alternative currency formats.
Finding the right credit card is simply a matter of a little research and some solid comparison shopping. Consider each aspect of your new card, including rewards, fees, and credit requirements, to make the best choice for you and your personal needs.
Advertiser Disclosure
CardRates.com is a free online resource that offers valuable content and comparison services to users. To keep this resource 100% free, we receive compensation for referrals for many of the offers listed on the site. Along with key review factors, this compensation may impact how and where products appear across CardRates.com (including, for example, the order in which they appear). CardRates.com does not include the entire universe of available offers. Editorial opinions expressed on the site are strictly our own and are not provided, endorsed, or approved by advertisers.