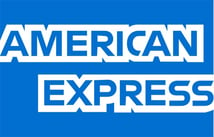 CardRates.com Guide: American Express®
American Express is one of only two major credit card networks — the other being Discover — that also issue most of the cards that carry their logo, offering more than 24 charge and credit cards for a variety of cardholders and needs.
And, as one of the few financial services businesses to grow organically rather than through mergers and acquisitions, Amex is truly an American success story. Today, it is the fifth-largest issuer of credit cards in the U.S.
Founded in 1850 as an express mail and freight delivery service, the company developed a reputation for being more reliable than the U.S. Post Office. They soon began delivering for banks and other financial institutions, fulfilling the need for guaranteed and reliable delivery.
An Innovator in American Finance
American Express's founding in 1850 involves two of the best-known names in American business: Henry Wells and William Fargo, who went on to form Wells Fargo & Company two years later. Their fledgling business originated in Buffalo, N.Y., but soon moved to New York City to be closer to the financial institutions they serviced.
By 1858, the company had built its first headquarters in what would later become the Tribeca section of Manhattan.
The reputation of reliability and integrity American Express developed led to decades of near-monopoly status in the financial services industry. In 1882, the company decided to expand into the money order business and soon became the preferred alternative to U.S. Postal Service money orders.
In 1891, it further expanded into financial services by developing the traveler's check system, formally named the American Express Travelers Cheque.
European Expansion
Largely due to the success of the Travelers Cheques, American Express soon expanded its financial services to Europe, establishing branches in London, Paris, and Berlin, among other cities. When World War I broke out in 1914, American Express was one of the only places Americans in Europe could find to honor their letters of credit.
The war in Europe also gave the company experience in the travel industry, as they worked diligently to help stranded Americans make their way home. Following the war, the American Express travel services business took off, as many of their wealthy clients began traveling by luxurious steamships around the world.
Exiting Express Shipping
Another result of WWI was the nationalization of the U.S. railroad shipping industry. Since soldiers and supplies took priority over commercial business, American Express and other carriers were forced to turn over their interests in railroad express delivery to the government.
The company was mostly compensated for its losses and, ultimately, forced out of the industry in which it began.
More than a century after its founding, the American Express Company issued its first charge card. The interest in these cards was so strong that 250,000 were issued even before the official launch date in 1958.
The first cards issued were made of paper, but in 1959, Amex became the first company to issue plastic charge cards.
The Evolution of "The Card"
The American Express Gold Card was first issued in 1966, differentiating between two of its customer segments. The exclusive and invitation-only Platinum Card came along in 1984.
The cards' branding became important, as they became a sort of status symbol among business people. In 1987, American Express introduced its first revolving credit card, the Optima Card.
Today, American Express is known for its top-tier rewards credit cards, including some legacy cards like the Gold and Platinum credit cards, as well as new consumer and business products such as the Everyday® family of rewards cards. There also are a variety of business credit cards and even an ultra-exclusive Centurion® Card, otherwise known as the "Black Card," for the few who qualify.
Editorial Note: Opinions expressed here are author's alone, not those of any bank, credit card issuer, airlines or hotel chain, and have not been reviewed, approved or otherwise endorsed by any of these entities.
The information on this page was reviewed for accuracy on .
About the Author