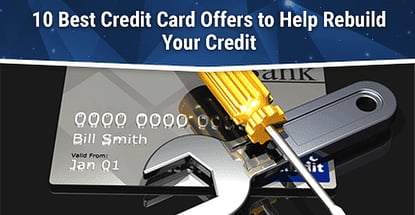 Did you know that besides making purchases, you can use credit cards to rebuild credit? It's been my experience that folks are more familiar with how credit card mistakes can destroy credit rather than help it. But the redemptive powers of credit cards are available to anyone willing and able to pay their bills on time. 
Of course, a credit card can't heal your credit history if you don't own one. We've rounded up the best cards you can get even with very poor credit. Use one wisely and watch your credit score climb.
Secured Cards For Rebuilding Credit (Best For Credit Scores Below 500)
Subprime consumers looking for the path of least resistance to credit card ownership should consider the following cards. These are secured cards for which your cash deposit is more important than your credit score. The issuers report your payments to all three credit bureaus, making them the perfect vehicles for rebuilding credit.
The Capital One Quicksilver Secured Cash Rewards Credit Card is this group's best secured credit card for rebuilding credit. You get unlimited cash back rewards on all eligible purchases without paying an annual or foreign transaction fee. You can also earn credit limit increases and card upgrades through responsible use. Many consumers should be able to afford the card's minimum refundable deposit.
You can get the Capital One Platinum Secured Credit Card even if your credit is far from perfect. You can receive a $200 initial credit line for a deposit as low as $49, a unique feature of this card. Capital One may increase your credit line if you consistently pay your bills on time. 
The Discover it® Secured Credit Card is a compelling credit card option for consumers with bad or no credit. The card will reward you with cash back on eligible purchases, and new cardmembers receive a Cashback Match at the end of the first year. You also get free FICO Score tracking and a possible card upgrade if you pay your bills on time. 
It makes excellent sense to get the Bank of America® Customized Cash Rewards Secured Credit Card if you have a BoA checking or savings account. This secured Visa credit card will reward you with cash back and doesn't impose an annual fee. The maximum APR for this Visa secured card is relatively high, but you'll avoid interest altogether if you pay your entire balance each month.
Unsecured Cards For Rebuilding Credit (Best For Credit Scores Above 500)
These five cards prove you needn't pay a security deposit to get a credit card when your credit score exceeds 500. Getting one of these cards can help you rebuild your credit when you use it responsibly. If possible, you'll want to pay your entire balance each month because some of these cards charge steep interest rates.
Celtic Bank's Surge® Platinum Mastercard® provides Mastercard Zero Liability Protection to shield you from charges you didn't make. You can use its mobile app to view statements, pay bills, specify direct deposits, and check payment due dates. Surge Mastercard's purchase APR beats that of some competitors, and the card doesn't impose a penalty APR for late payments.
The Reflex® Platinum Mastercard®, also from Celtic Bank, is a virtual twin of the Surge Mastercard®. It waives its monthly maintenance fee for the first year and offers strong fraud protection. The card may increase your credit limit if you consistently pay your bill on time.
The Indigo® Mastercard® for Less than Perfect Credit will report your account to the credit bureaus to help you rebuild your credit with timely payments. Its APR is lower than that of other subprime credit cards, and you may even qualify to pay no annual fee, depending on your creditworthiness. 
The Milestone® Mastercard® – Less Than Perfect Credit Considered is another great card for building credit. You can prequalify without hurting your credit score to see whether you have a good shot at being approved. Be sure to read the terms and conditions so you know what your APR, annual fee, and other charges will be.
The Revvi Card is a Visa credit card that provides cash back rewards in the form of a statement credit. You can use its mobile app to make payments and check balances. You'll be charged a one-time program fee to open your account if approved. Try to pay your balance in full each month because this card's interest rate is about as high as can be.
How Do I Rebuild Credit With a Credit Card?
You can start rebuilding a low credit score by using your credit card responsibly, which means paying your bills on time, maintaining a low balance, keeping old card accounts open, and abstaining from new credit applications.
Make Timely Payments
Your payment history represents 35% of your FICO Score. Therefore, paying your bills on time is the single best way to rebuild credit. 
Your credit card issuer will send paper or electronic statements at the close of the monthly billing cycle. Your payment is usually due 21 to 28 days after the statement date, giving you plenty of time to prepare your payment. 
Credit card statements list all the activity in the cycle, the minimum payment amount, your current balance, and the payment due date. The interval from the statement date to the due date is an interest-free grace period for virtually all credit cards. 
The grace period doesn't apply if you have an unpaid balance from a previous billing cycle.

The typical minimum payment amount is about 5% of your unpaid balance. You can avoid interest on purchases by paying your entire balance by the due date, which you can do online, by check, or by using the issuer's mobile app. You can also authorize automatic monthly payments to ensure you never miss one.
Given the lengthy grace period and the small minimum amount due, paying your credit card bills on time shouldn't be difficult. But you may face a more significant problem — not having enough money to pay when you're supposed to — and this can hurt your credit score.
Creditors inform the credit bureaus when payments are 30 or more days late. The transgression could cause your score to drop by dozens of points, and it only worsens the longer you delay. 
The bureaus track and reclassify missed payments as they age. The items remain on your credit report for seven years, although their impact will fade over time.
Sometimes, a credit card company will charge off your debt and cancel your card. But the issuer may try to collect the debt through a collection agency. As you may have guessed, charge-offs and collections further harm your credit score.
A one-time late payment can lessen your credit score by 100 points or more, and repeated late payments can cause your score to drop even more. 
Even though missed payments damage your credit score, you can rebuild credit by making timely payments going forward. Naturally, it's best to avoid the problem from the start, but sometimes life has other plans in mind. 
Reduce Your Debt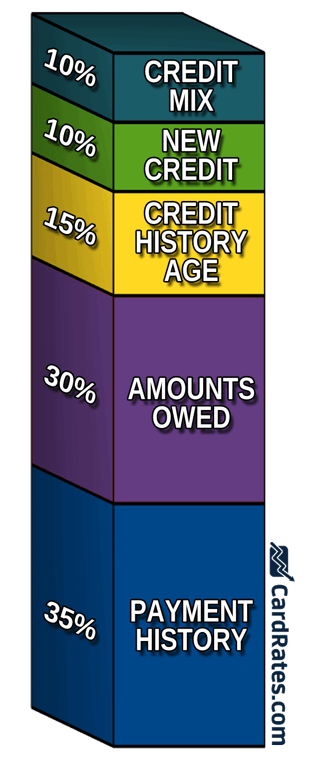 Your debt influences 30% of your FICO Score through your credit utilization ratio. CUR equals your credit used divided by the total credit you have available and hurts your score when it exceeds 30%. 
You can quickly improve your low credit score by reducing your CUR below the critical threshold.
If you own multiple credit cards, you may want to consolidate your debt to help you focus on repaying it. You can do so through balance transfer transactions, in which you move all your unpaid balances to one credit card.
Alternatively, you can take out a personal loan to pay off all your credit card debt.
Debt consolidation can rid you of one or more minimum payments each month and may save you money if you can get a lower interest rate. Credit cards are helpful because they let you stretch your payments over many months, but you could accumulate too much debt. 
In the long run, you can only pay down debt if you spend less or earn more. 
Don't Open Too Many Credit Accounts
The FICO system reduces your credit score by a few points each time you apply for new credit. The reasoning is that new credit may create more debt, and applying for new credit signals financial distress. New credit influences 10% of your FICO Score. 
FICO counts new credit by tracking the number and timing of hard credit inquiries, which only occur when you attempt to open an account. To preserve your credit score, don't apply for new credit more frequently than once every six months. 
Keep Old Accounts Open
FICO rewards successful long-term credit management. Credit history accounts for 15% of your FICO Score, so keeping old credit card accounts open makes sense.
Furthermore, canceling a credit card may increase your CUR by reducing your available credit. You should use all your credit cards yearly because the credit bureaus may exclude unused cards from the CUR calculation.
Fix Your Credit Reports
Errors in your credit reports can unnecessarily depress your credit score. The remedy is to identify and remove the inaccuracies, which you can do on your own or through a credit repair company. 
The three major credit bureaus (Experian, TransUnion, and Equifax) are responsible for compiling and maintaining your credit history, which they use to calculate your credit score. Creditors or potential creditors, prospective employers, and landlords, among others, check your credit report when you apply for a credit card or loan, search for an apartment, or interview for a job. 
With so much at stake, Congress felt the need to protect consumers by passing the Fair Credit Reporting Act, which entitles you to view and correct your credit reports. 
The first step is a close review of your three credit reports, looking for accounts you didn't open, transactions you didn't make, and balances that don't match your statements. Another frequent mistake is an excessive number of hard inquiries, which can only occur with your authorization.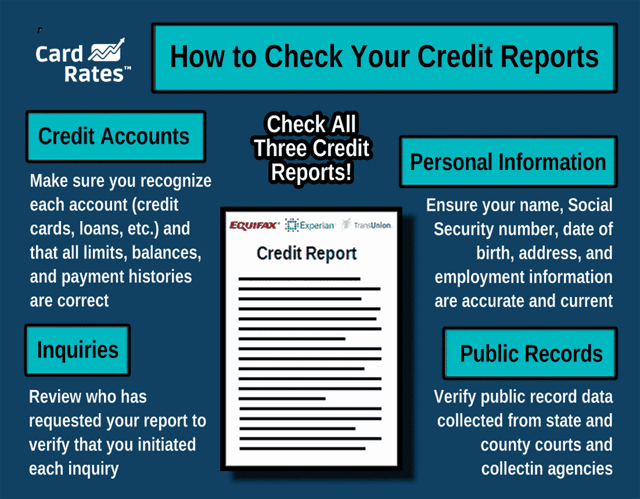 If you are doing the work yourself, you can get free copies of your three credit reports from AnnualCreditReport.com. You can then challenge items you believe to be in error by posting disputes on the credit bureaus' websites.
The bureaus must answer your challenge within 30 days and remove mistakes from your reports. You may see your credit score quickly rise depending on the items removed.
Credit repair companies do the heavy lifting for you. They help you identify questionable derogatory information on your reports, including hard credit inquiries, missed payments, defaults, debt collections, foreclosures, and bankruptcies. Using the data they gather, the credit repair companies file disputes and appeal decisions against you.
The typical cost for a credit repair subscription is $50 to $150 per month, and the usual duration is four to six months. You can cancel at any time. 
What Are the Differences Between Secured and Unsecured Credit Cards?
The issuers of unsecured credit cards rely on your credit score to approve or reject the applications they receive. A bad credit score restricts you to a traditional unsecured card for consumers who've made financial mistakes. The cards have few perks and are expensive. 
You typically need a score of at least 500 to get a subprime unsecured credit card. If you have no credit history or a score below 500, you're a candidate for a secured credit card. A typical secured card has lower costs and more significant benefits than a subprime unsecured card.
Except for the Capital One Platinum Secured Credit Card, secured cards require you to deposit cash collateral equal to your credit limit. For example, you must deposit $200 to get a $200 credit limit. The Capital One card is unique in allowing some applicants to deposit as little as $49 to get a $200 limit.
Secured card issuers set the minimum and maximum deposit amounts. Often, the initial deposit must be small, but the credit card issuer may let you add more later. Other secured cards accept initial deposits that exceed the minimum.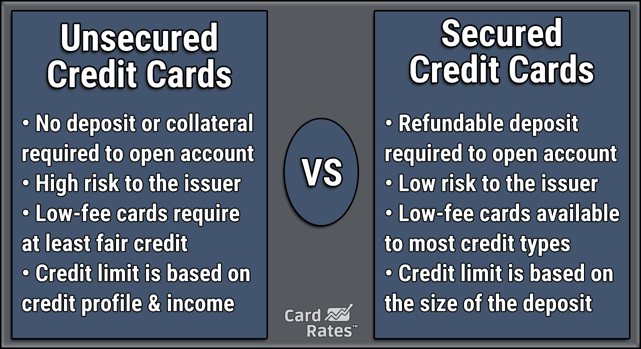 A security deposit reduces the issue's costs when cardmembers default on debt. For this reason, many secured credit cards charge a relatively low annual percentage rate (APR) and smaller fees than those charged by subprime unsecured credit cards.
Remember that a secured card's upfront deposit is refundable. It facilitates access to the card and reduces your costs. Although you don't have to shell out a deposit for an unsecured card, you may have to pay fees that eclipse the deposit amount. In the long run, a secured card can be cheaper to own.
An unsecured credit card reports your payments to at least one major credit bureau. Secured cards usually report your payments to all three bureaus, which helps ensure consistent credit scores. Creditworthy behavior helps you earn an upgrade to an unsecured credit card and a refund of your deposit.
What Is the Easiest Credit Card to Get to Build Credit?
For reasons just discussed, secured credit cards are the most accessible. A couple of them do not perform credit checks, and although others check credit, they may interpret scores liberally, often approving credit scores below 500.
Undergraduates attending school at least half time can easily qualify for a student credit card, even without any credit history. These cards usually offer student cash back rewards and benefits typically available to consumers with good credit. Owning a student cash back card is a great way to learn how to handle personal finances.
You may find it easier to get a credit card from a credit union instead of a bank. Credit unions usually have friendly and supportive rules, so they are worth a try.
Can You Get Approved With a 500 Credit Score?
Some unsecured credit cards may approve you with a 500 score, but anything lower will probably limit you to secured cards. FICO classifies a 500 score as very poor, so the available unsecured cards are bound to be expensive and offer few perks.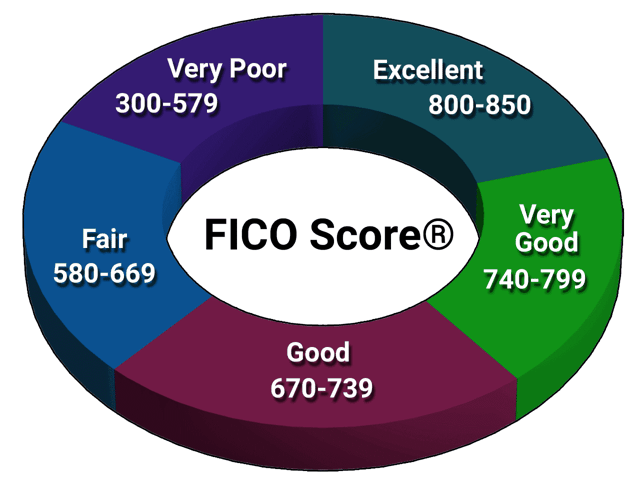 You can overcome a low score by applying for a credit card with a cosigner, although many issuers don't allow them. Another approach is to become an authorized user of another person's credit card. In either case, the credit bureaus assign the card's reporting to both parties, allowing you to rebuild credit.
Certain financial institutions, such as Celtic Bank, Merrick Bank, and Credit One Bank, specialize in subprime credit cards. You can check their offerings if you want to expand your credit card search.
Are There Business Credit Cards to Rebuild Credit? 
Business credit cards for poor credit are almost extinct. We know only one business credit card, the Business Advantage Unlimited Cash Rewards Mastercard® Secured from Bank of America. It pays cash back on eligible purchases and requires a minimum security deposit of $1,000.
If you are a business owner with fair credit that you'd like to rebuild, you may qualify for the Capital One Spark 1% Classic business credit card. It charges no annual or foreign transaction fee and pays tiered cash back on purchases. Some business cards for rebuilding credit are defunct, including the secured cards from SunTrust and Wells Fargo.
Can I Get a Credit Card Without a Credit Check?
The OpenSky® Secured Visa® Credit Card does not perform credit checks, giving it unusually high approval rates. We are unaware of any other cards that do not check credit. 
If you cannot qualify for any credit cards, you may want to consider a prepaid debit card instead. They allow you to pay for purchases without cash or checks, never have late fees, and don't charge interest. You can only spend the amount of money you deposit, less any fees the card charges. 
Our top rated prepaid card is the Brinks Prepaid Mastercard.
The problem with prepaid debit cards is that you can't use them to build credit.
Get the Best Credit Card to Rebuild Credit
This article reviewed the best credit cards for rebuilding credit. The unsecured cards require a higher credit score than the secured cards, with a score of around 500 generally dividing the two types. 
If you are concerned about interest rates and fees, we recommend you focus on secured credit cards. They're less expensive, and several offer cash back rewards. 
You can use a credit card to rebuild your credit by paying your bills on time and reducing your card balances. Always read the fine print before accepting any credit card offer to avoid any surprises.
Advertiser Disclosure
CardRates.com is a free online resource that offers valuable content and comparison services to users. To keep this resource 100% free, we receive compensation for referrals for many of the offers listed on the site. Along with key review factors, this compensation may impact how and where products appear across CardRates.com (including, for example, the order in which they appear). CardRates.com does not include the entire universe of available offers. Editorial opinions expressed on the site are strictly our own and are not provided, endorsed, or approved by advertisers.