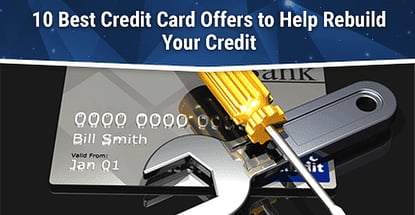 Despite the best efforts and intentions, debt can become a problem for anyone. Thankfully, consumers have a variety of options for dealing with debt, including debt relief programs and (as a last resort) bankruptcy.
The real problem with personal debt comes from its lasting credit effects, which can tank your credit score if payments are missed or defaulted on completely. Rebuilding your credit is possible, however, and can be made significantly easier with the right credit card.
Credit cards can be the source of high debt and low credit scores for some consumers who incur unexpected expenses or simply take on more debt than they can afford. But there are also plenty of credit cards for rebuilding credit.
Secured Cards | Unsecured Cards | Approval Tips
The Best "Secured Cards" for Rebuilding Credit
Requiring an initial deposit to open, secured credit cards are typically easier to obtain than unsecured cards, especially for those with low scores or rocky credit reports. Additionally, the size of the deposit you make can determine your credit limit, so those who would only qualify for small limits on unsecured cards may be able to obtain a larger limit with a secured card.
When comparing secured cards, you'll want to look at many of the same things as for any other credit card, including the interest rate charged on carried balances. You'll also want to compare annual fees, which will typically vary from $0 to $50 for secured credit cards. Our top picks for secured cards all report to the three major bureaus, ensuring your card use will contribute to your credit-rebuilding efforts.
No annual or hidden fees. See if you're approved in seconds
Building your credit? Using the Capital One Platinum Secured card responsibly could help
Put down a refundable security deposit starting at $49 to get a $200 initial credit line
You could earn back your security deposit as a statement credit when you use your card responsibly, like making payments on time
Be automatically considered for a higher credit line in as little as 6 months with no additional deposit needed
Enjoy peace of mind with $0 Fraud Liability so that you won't be responsible for unauthorized charges
With no annual fee, the Capital One Platinum Secured Credit Card is an affordable option for rebuilding your credit. Although your initial credit limit will be restricted to $200, requiring a deposit of $49 to $200 depending on your individual credit, you can qualify for a higher credit limit after just five months of responsible card use.
at Discover Card'ssecure website
No Annual Fee, earn cash back, and build your credit with responsible use.
Using your secured credit card helps build a credit history with the three major credit bureaus. Generally, prepaid and debit cards can't do that.
Establish your credit line with your tax return by providing a refundable security deposit of at least $200. Bank information must be provided when submitting your deposit.
Automatic reviews starting at 7 months to see if we can transition you to an unsecured line of credit and return your deposit.*
Earn 2% cash back at Gas Stations and Restaurants on up to $1,000 in combined purchases each quarter. Plus, earn unlimited 1% cash back on all other purchases – automatically.
Discover is accepted nationwide by 99% of the places that take credit cards.
| | | | | |
| --- | --- | --- | --- | --- |
| | 10.99% Intro APR for 6 months | | | |
Somewhat of a rarity in the realm of secured credit cards, the Discover it® Secured Credit Card provides cardholders with competitive cash back rewards. You'll also get free access to your FICO credit score so you can keep track of your credit rating and ways to improve it.
at Capital Bank'ssecure website
No credit check to apply and find out instantly if you are approved.
OpenSky gives everyone an opportunity to improve their credit with an 85% average approval rate for the past 5 years
Get considered for a credit line increase after 6 months, with no additional deposit required
You could be eligible for the OpenSky Gold Unsecured Card after as few as 6 months
Reports to all 3 major credit bureaus monthly, unlike a prepaid or debit card
Nearly half of OpenSky cardholders who make on-time payments improve their FICO score 30+ points in the first 3 months
While the OpenSky® Secured Visa® credit card charges an annual fee, applicants won't need to undergo a credit check to qualify for the card. OpenSky also has a variety of resources and support options designed to provide a credit education to those struggling to rebuild.
Receive Your Card More Quickly with New Expedited Processing Option
No Credit History or Minimum Credit Score Required for Approval
Quick and Complete Online Application; No credit inquiry required!
Includes Free Real-Time Access to Your Credit Score and Ongoing Credit Monitoring powered by Experian
Full-Feature Platinum Mastercard® Secured Credit Card; Try our new Mobile App for Android users!
Good for Car Rental, Hotels; Anywhere Credit Cards Are Accepted!
Offering the lowest variable APR of our top picks, the First Progress Platinum Prestige Mastercard® Secured credit card charges no processing or application fees. Unlike some other card options, applicants can also choose to have a larger credit limit, up to $2,000 depending on your deposit.
Receive Your Card More Quickly with New Expedited Processing Option
No Credit History or Minimum Credit Score Required for Approval
Quick and Complete Online Application; No credit inquiry required!
Includes Free Real-Time Access to Your Credit Score and Ongoing Credit Monitoring powered by Experian
Full-Feature Platinum Mastercard® Secured Credit Card; Try our new Mobile App for Android users!
Good for Car Rental, Hotels; Anywhere Credit Cards Are Accepted!
The annual fee for the First Progress Platinum Select Mastercard® Secured credit card is lower than that for the Prestige, but the APR is a bit higher. You can still choose your credit limit by putting down a deposit of up to $2,000.
+See More Secured Credit Cards
The Best "Unsecured Cards" for Rebuilding Credit
Unsecured credit cards, so-called because they don't require a deposit or other collateral as security, are harder to obtain than secured cards. For those with poor credit, unsecured cards will not only be difficult to qualify for, but will likely charge fairly high interest rates and other fees.
When comparing unsecured credit cards, you'll want to carefully analyze the APR, which will generally be in the 20% to 30% range. You'll also need to research any annual fees, processing fees, or other usage fees that may be charged. All of our picks for unsecured cards will report to the three credit bureaus and offer easy online applications for quick decisions.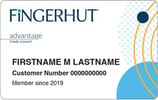 at Fingerhut'ssecure website
Easy application! Get a credit decision in seconds.
Build your credit history – Fingerhut reports to all 3 major credit bureaus
Use your line of credit to shop thousands of items from great brands like Samsung, KitchenAid, and DeWalt
Not an access card
A somewhat nontraditional option, a Fingerhut Credit Account can be used to purchase thousands of popular products through Fingerhut.com. Even better, your Fingerhut account won't charge an annual fee, application fee, or other processing fees. (See complete WebBank/Fingerhut Advantage Credit Account Terms and Conditions.)
Checking Account Required
Fast and easy application process; response provided in seconds
A genuine Visa credit card accepted by merchants nationwide across the USA and online
Manageable monthly payments
$300 credit limit (subject to available credit)
Reports monthly to all three major credit bureaus
For the Total Visa® Card, everything from your APR and credit limit to your annual fee will be based on your credit, with initial credit limits maxing at $300. You'll also be required to pay a program fee to open your account and start making purchases.
Checking Account Required
Reporting monthly to all three major credit reporting agencies
Perfect credit not required for approval; we may approve you when others won't
Easy and secure online application
$300 credit limit (subject to available credit)
The First Access Visa Card is issued by The Bank of Missouri pursuant to a license from Visa U.S.A. Inc.
Applicants for the First Access Visa® may receive an initial credit limit of $300. The annual fee and one-time program fee will be charged when the account is opened, reducing the initial available credit.
9. Credit One Bank® Platinum Visa® for Rebuilding Credit
This card is currently not available.
Everything about this card is variable depending on your particular credit profile. This means your APR, annual fee, and rewards structure will all depend on your creditworthiness. You can pre-qualify for the card without impacting your credit.
Pay no annual fee
Be automatically considered for a higher credit line in as little as 6 months
Fraud coverage if your card is lost or stolen
Use online banking to access your account, even from your smartphone, with our mobile app
Check out quickly and securely with a contactless card, without touching a terminal or handing your card to a cashier. Just hover your card over a contactless reader, wait for the confirmation, and you're all set
Pay by check, online or at a local branch, all with no fee - and pick the monthly due date that works best for you
This card is ideal for consumers who are already in the process of rebuilding their credit and have made it to the "fair credit" stage. While this card doesn't have the bells and whistles of cards for good credit, it's an unsecured card with no annual fee that allows credit limit increases over time with good behavior.
+See More Unsecured Credit Cards
Tips for Increasing Your Approval Chances
After making it through a rocky financial event that leaves your credit in ruins, starting over with a new credit card can be a key step to rebuilding your credit profile. After dealing with a credit-sinking event, however, the biggest worry might be whether you'll even be approved for a new card.
The easiest way to ensure your approval odds are good is simply to apply for the right card — and the best way to know if the card is right is to get pre-qualified. Offered by most unsecured credit card issuers, getting pre-qualified (sometimes called pre-approved) for a credit card won't impact your credit score and can be a good indicator of your approval chances. Remember that pre-qualification doesn't guarantee approval.
There may be ways you can better your approval odds by improving your credit score, as well. Five separate factors influence your credit score, so, depending on the nature of your poor credit, you may be able to improve one or more impacted factors.
For example, a large portion of your credit score is based on how much debt you currently owe (30%) across your accounts. Decreasing your current debt balances can drastically improve your score and, thus, increase your approval chances for new credit.
Another key to improving your approval odds for new credit is to avoid applying for multiple new lines of credit, regardless of type. This will help to ensure both your average account age (15%) and your new credit (10%) numbers don't pull down your score.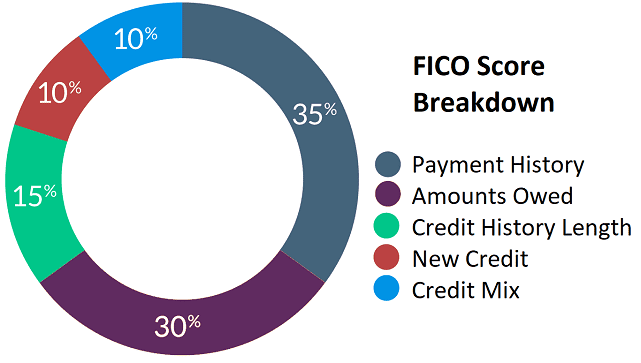 And you'll definitely want to make sure that you're paying all current credit accounts on time and as agreed. The largest factor that goes into calculating your credit score is your payment history (35%), and recent late or missed payments will drag it down fast. If you have a tendency to forget due dates or miss payments, consider using automatic payments for your regular bills.
In the event that you have a large number of unsubstantiated accounts, mistakes, or other issues on your credit report, you may also benefit from working with an experienced credit repair company. A wide variety of negative and erroneous accounts can be effectively removed with the right credit repair company.
Improve Your Credit Over Time with the Right Card
Sometimes, despite our best intentions, debt can get the better of your finances. Small charges and big bills alike can merge to form huge debts. Those debts can often feel as though they have a gravity of their own, weighing your credit score down with their mass.
Even having come out the other side of credit chaos can leave you with rebuilding to do. With the perfect card — and some financial discipline — you can start putting your credit score to rights.
Advertiser Disclosure
CardRates.com is a free online resource that offers valuable content and comparison services to users. To keep this resource 100% free, we receive compensation from many of the offers listed on the site. Along with key review factors, this compensation may impact how and where products appear across the site (including, for example, the order in which they appear). CardRates.com does not include the entire universe of available offers. Editorial opinions expressed on the site are strictly our own and are not provided, endorsed, or approved by advertisers.