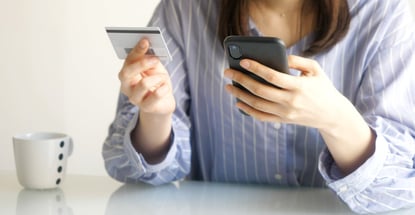 Certain types of financial transactions can be quite challenging if you don't have a credit card. Examples include buying an airline ticket, reserving a hotel room, renting a car, and shopping online.
If you need a credit card for those or other types of transactions, but you aren't qualified for a conventional card because your credit score isn't high enough, a prepaid credit card may be an option for you to consider — but how does a prepaid card work?
Despite its name, a prepaid credit card isn't a type of credit. Instead, it works more like a debit card than a conventional credit card.
You Can Only Spend What You Load Onto the Card
Rather than charge your purchases and pay for them later, you'll have to load funds onto your card before you use it. There's no credit limit. Instead, how much you can spend depends on how much is loaded onto your card.
Funds can be added or "reloaded" whenever you want to top up your card. Usually, you can load funds in multiple ways, such as from a bank account, PayPal, direct deposit, or mobile check deposit.

Some prepaid credit cards can be loaded or reloaded with cash at discount stores, supermarkets, convenience stores, gas stations, check-cashing outlets, department stores, and other retail locations. You may also be able to load your prepaid credit card with your income tax refund or government benefits check.
Unlike conventional credit cards, there's no credit check required, but you may have to show identification to get a prepaid credit card.
How to Choose Among the Best Prepaid Credit Cards
Prepaid credit cards often come with some nice benefits. Examples include:
Rewards points toward everyday purchases, like groceries or gasoline
Cash back for qualifying purchases
A mobile app
Free ATM withdrawals
Online banking and bill pay
Customizable text and email alerts
A selection of card designs
Sub-accounts for budgeting or family members
No minimum balance requirement
On the other hand, prepaid credit cards also come with fees — sometimes a few, sometimes many. Examples include:
Activation fee
Monthly service fee
ATM fee
Direct deposit fee
Purchase transaction fee
Balance inquiry fee
Foreign transaction surcharge
Foreign transaction fee
Inactivity fee
Bill payment fee
Cash withdrawal fee
Account-to-account transfer fee
Fees typically are deducted from the amount you've preloaded onto your card. Prepaid credit cards don't allow overdrafts, so you'll never have to pay that type of fee with this type of card. You'll also never be charged interest or a late payment fee since prepaid cards aren't debt and don't require payments.
You can compare our favorite prepaid cards below:
If low fees are a high priority for you, look for a prepaid credit card that has no monthly fee or transaction fees.
Most prepaid credit cards are available nationally, but some you can only get in certain states.
Does a Prepaid Credit Card Help Your Credit?
Prepaid credit cards won't directly help your credit score. That's because they aren't debt and don't require monthly payments that can be reported to the three major credit bureaus.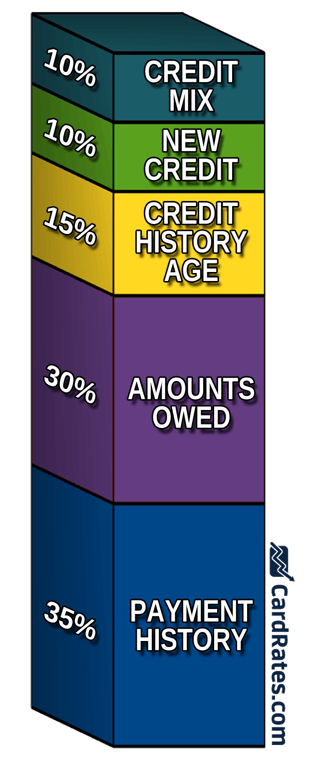 Transactions that aren't reported to the bureaus don't appear on your credit reports and aren't used to calculate your credit scores.
That said, they may help your credit indirectly since making payments on time is the most important factor of your credit score, and there's no way to make a late payment with this type of card.
What's more, many prepaid credit cards come with a mobile app. If yours is one of them, this feature may help you learn better financial management and budgeting skills. Over time, these skills can help you improve your credit when you use conventional credit cards and other forms of debt that are reported to the credit bureaus.
If improving your credit is your primary objective, a prepaid credit card may not be the best choice for you. Instead, you should look for a type of card or loan that requires payments and is reported to the credit bureaus.
Options may include secured cards, unsecured cards for bad credit, and low-credit-score loans.
Can You Use a Prepaid Credit Card Online?
Generally, the answer is yes, you can use a prepaid credit card to pay bills or shop online.
Prepaid credit cards can also be used at most brick-and-mortar businesses, such as retailers, big-box stores, gas stations, restaurants, and hotels. That's a big advantage because you'll be able to shop at these places without having to carry cash, which can be lost or stolen.
To find out if you can use a prepaid credit card at a specific online store, look for the types of payments (e.g., credit, debit, prepaid) and types of network-branded cards (e.g., Visa, MasterCard, American Express or Discover) that the store accepts. If your type of card and network brand are accepted, you're good to shop and pay for purchases at that online store.
Keep in mind that you'll have to load funds onto your prepaid credit card before you can use it to shop online. If you haven't loaded funds onto your card, you won't be able to use it online or anywhere else cards are accepted.
Your cardholder agreement should explain where you can use your card and give you details about your card's benefits, features, and fees.
By the way, if you load a prepaid credit card from a bank account, the account normally won't be restricted just because you've used it for this purpose. Instead, you can still use the account for online bill pay, ATMs, or other banking transactions.
Are Prepaid Cards Safe?
Prepaid cards are generally safe to use. Prepaid cards associated with major branded payment networks (Visa, MasterCard, Discover or American Express) typically include zero liability protection, which means you won't be responsible for unauthorized transactions or fraudulent use of your card.
You may have to register your card with the issuer, report the loss or theft of your card in a timely manner, and meet other requirements to activate this protection.
Unlike cash, which can't be recovered if it's stolen, you usually can recover funds that are stolen from a prepaid card. Some card issuers charge a fee to issue a replacement card and a fee to deliver the replacement card to you.
If you load your card from a bank account, your funds in that account are typically protected by federal deposit insurance. Bank deposits are insured through the Federal Deposit Insurance Corp. (FDIC). Credit union deposits are insured through the National Credit Union Administration (NCUA).
Keep in mind that there are many types of prepaid cards and many, many banks and non-bank financial companies that issue them. Before you choose a card, you should shop around, compare the card benefits and fees, ask about deposit insurance and liability protection, and choose a reputable card issuer.
Prepaid Cards Have Pros and Cons
Prepaid credit cards are easy to get, easy to use, convenient, safer than cash, and widely accepted by restaurants, retailers, and other businesses both online and in the brick-and-mortar world.
They also tend to come with a lot of fees, sometimes too many to justify their use, even with those benefits.
If you're able to qualify for a conventional credit card, that may be a better and less costly option for you. If that's not an option and you're looking for an alternative to cash, or you want to shop online or need a payment card for travel expenses, a prepaid credit card may be one option to consider.
Advertiser Disclosure
CardRates.com is a free online resource that offers valuable content and comparison services to users. To keep this resource 100% free, we receive compensation for referrals for many of the offers listed on the site. Along with key review factors, this compensation may impact how and where products appear across CardRates.com (including, for example, the order in which they appear). CardRates.com does not include the entire universe of available offers. Editorial opinions expressed on the site are strictly our own and are not provided, endorsed, or approved by advertisers.