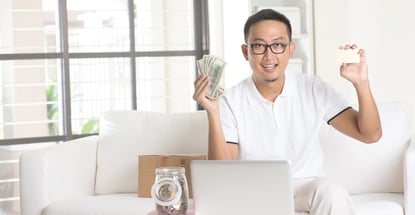 Cash back is one of the most popular forms of credit card rewards on the market today. In fact, 4 in 10 Americans surveyed said cash back is their favorite credit card feature, according to a poll from Bankrate.
So, yes — you can get cash back on a credit card — and, if you play your cards right, you can get a decent sum of money back.
Below are three steps to help you earn this highly sought-after reward and start saving money on all your purchases. If you don't already have a cash back card, the first step is to get one.
1. Get a Cash Back Credit Card
Credit card issuers pay out billions of dollars each year in rewards. If you regularly use your credit card but don't currently earn rewards, you're basically giving up your chance to earn free money.
But each cash back rewards credit card has its own rules. Some offer higher cash back percentages for certain purchases and a lower percentage on everything else. Others offer a modest flat-rate cash back percentage on every purchase you make.
Five of our favorite cash back cards are featured below.
Whether you're looking to save up for a big purchase or grow your savings, a good cash back credit card can add extra utility to the plastic in your wallet. But be cognizant of cards that charge an annual fee. The annual fee will negate some of the cash back earnings, so if you're not a high spender, find a card that doesn't charge an annual fee.
2. Use the Card On Qualifying Purchases
Many credit card gurus leverage their purchasing power to net big rewards from their everyday spending. While there are many intricacies involved in maximizing rewards from your spending, the first lesson in mastering your credit card rewards is to learn the different types of rewards offered and which purchases qualify to earn those rewards.
The easiest type of cash back card to understand and utilize is a flat-rate cash back card. These cards pay you an unlimited amount of cash back based on a set percentage — typically between 1% and 2% — of your total credit card purchases each month.
The next type of cash back card has what's known as tiered rewards. These cards pick specific expenses — such as purchases made at gas stations, restaurants, and grocery stores — and offer elevated cash back earnings when you use your card to pay. You may earn between 3% and 5% cash back with these specific purchases and a smaller 1% on all other purchases.
The third type of cash back card changes the top-earning category every three months — known as rotating categories — while others may require you to choose your bonus category for that quarter. If you fail to choose or activate the bonus category, all your purchases revert to the smaller rewards amount. That's why it's important to stay on top of these cards so you can maximize your earnings.

If keeping up with rotating rewards categories and signing into your account every three months to activate a new offer seems overwhelming or uninteresting, a flat-rate cash back card probably makes more sense.
Cash back cards usually allow you to redeem your rewards for statement credits that lower your balance, deposit cash directly into your bank account or mail you a check, but we'll get more into the various redemption options below. As you progress, you can learn more about specialty credit cards that can reward you with travel deals, discounted gas, or free merchandise.
3. Redeem Your Cash Back
The next step in mastering the art of the cash back credit card is understanding how you'll receive the cash back you earn. Not every card distributes your rewards the same way — and that may be a good thing.
Some cards only allow you to use your rewards as statement credits, meaning the cash back you accrue essentially eliminates part of the balance you owe. Other cards may send you quarterly checks to pay out your earned rewards. Some will deposit the funds directly into your linked checking or savings account, while others allow you to cash out your rewards for gift cards. And some may offer all of the above, so you can choose the redemption method that suits your needs.

Depending on which method you choose, you could collect your cash back in a matter of minutes or days. Paper checks tend to take longer to arrive, whereas most banks process direct deposit transactions in one business day. Statement credits typically reflect on your available balance by the next day.
If you have a card that pays rewards points instead of a cash back percentage, you may still be able to redeem those points for cash back, among other rewards. Each credit card issuer sets the value of its points and may offer varying redemption values.
Clicking around in your issuer's rewards portal can usually show you how the value of your rewards may fluctuate if you were to apply them to travel, cash back, merchandise, etc.
But, in the long run, some points cards offer more flexibility than cash back cards because they provide more redemption options and sometimes offer increased values when you transfer them to an issuer's partner loyalty program.
Additional FAQs About Cash Back Cards
We hear from lots of readers who want to up their credit card rewards game but don't feel completely confident in taking the next step. Below are a few common questions we're often asked.
Do I Need a PIN to Get Cash Back on a Credit Card?
You don't need a PIN to get cash back, just use your card as normal and watch the cash stack up in your online account. But you do need a PIN to withdraw cash from your credit line at an ATM, known as a cash advance.

Cash advances charge interest the day the money is withdrawn — there is no interest-free grace period — and generally charge a cash advance fee, a fixed amount or a percentage of the amount withdrawn, whichever is greater. You can obtain an ATM PIN for your credit card by contacting the issuer.
But the cash back you earn for purchases won't change based on whether you used a PIN or swiped, inserted, or tapped your card to complete the transaction.
Which Stores Offer Cash Back on Credit Cards?
You can get cash back during checkout at select stores, generally grocery stores and gas stations, when you use your debit card to make a purchase, but that won't fly with a credit card. That would essentially be a cash advance (mentioned above), which is only permitted in a few ways: ATM withdrawals, teller withdrawals, and credit access checks provided to you from your issuer.
Are Cash Back Cards Worth It?
Not only are cash back credit cards worth your time, but you could potentially make a profit from these cards if you use them properly. At the same time, these cards can cost you a lot if you aren't responsible with your spending.
The average credit card interest rate today is around 17%. Meanwhile, the average cash back rate on most rewards credit cards falls between 1% and 5%.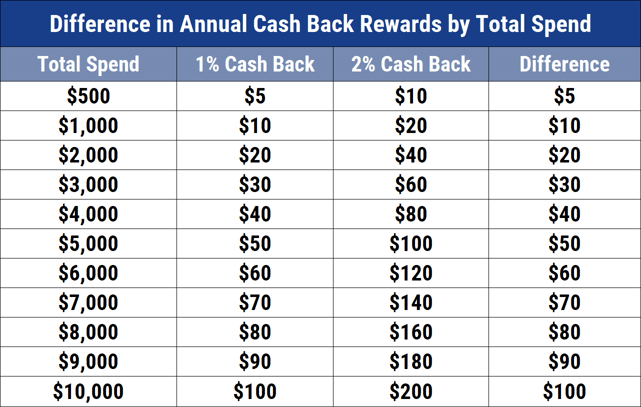 If you don't pay your balance in full each month and eventually have to pay interest on your purchases, you're going to quickly pay well more than you'll earn through cash back. But, if you pay your balance in full, you can easily come out ahead on your everyday purchases.
And that's not the only way you can use your cash back card to your advantage. You can invest your cash back returns or even sell your rewards points, among several other creative ways to put that money to work for you.
Cash Back is Free Money if You Avoid Interest Fees
There's a reason why cash back credit cards are the most popular rewards cards on the market. Cash is still king, and getting some money back from every purchase you make is a great way to save a little money — or a lot of money if you're a high spender.
Of course, this only works well if you use your card responsibly. Credit cards are a healthy part of your financial portfolio when used wisely. Just as you wouldn't want to overdo your pizza, soda, and ice cream consumption, you don't want to swipe or insert your credit card too often.
But if you stick to a budget and pay your balance on time every month, you can add your earned cash back rewards as a passive income stream to help pay bills, grow savings, or just have a little extra spending money.
Advertiser Disclosure
CardRates.com is a free online resource that offers valuable content and comparison services to users. To keep this resource 100% free, we receive compensation for referrals for many of the offers listed on the site. Along with key review factors, this compensation may impact how and where products appear across CardRates.com (including, for example, the order in which they appear). CardRates.com does not include the entire universe of available offers. Editorial opinions expressed on the site are strictly our own and are not provided, endorsed, or approved by advertisers.