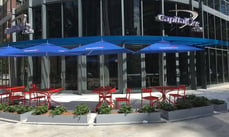 CardRates.com Guide: Capital One®
You may know Capital One as the innovative credit card company whose creative commercials featured barbarians asking, "What's in your wallet?" The fact is Capital One Financial Corporation is working hard to make sure it's their credit card you're carrying around in your wallet — and they've been pretty successful at it.
Since its founding in 1995, Capital One has grown into one of the largest banking institutions and credit card issuers in the country, with over 750 bank branches nationwide. They also have business divisions for commercial lending, home loans, car loans, and traditional banking, in addition to its credit card business.
But the history of Capital One actually goes back further than 1995, when it was spun off from Signet Financial Corporation. The foundation for this highly successful business began in the mid-1980s.
Building a Better Credit Card
Prior to 1985, credit cards were issued almost exclusively by the big banks. When Sears introduced the Discover Card with its annual cash back bonus, it began changing the way consumers saw credit cards. Soon other non-banking companies began issuing cards with lower-than-standard interest rates and other perks to compete with the big banks.
In 1988, Richard Fairbank and Nigel Morris recognized the potential opportunities in the evolving credit card industry. They approached Virginia-based Signet Bank with the idea of creating a more technological approach to issuing credit cards.
They suggested different types of cards with variable pricing and rate structures based on things like individual customer risk. It was a complete overhaul of Signet's credit card business.
An Industry Revolution
In 1991, the concept of balance transfers and introductory rates brought in a steady stream of new customers to Signet's credit card business. The technology focus Fairbank and Morris introduced allowed them to target their lowest-risk customers — i.e., those with good credit — and offer them better incentives than the other banks. It soon paid off.
By 1994, the credit card operation was Signet's most profitable business, but they recognized it was diverging from their regional banking business.
They decided to spin off the credit card business and form Capital One Financial Corporation in 1995. From day one, the new company was already one of the 10 largest credit card issuers in the country.
Continued Growth
With Richard Fairbank as CEO, Capital One continued to expand throughout the late 1990s and branch into new areas. They began marketing cobranded and affinity cards, as well as cards with no annual fee. They also started issuing secured credit cards to gain access to a new set of customers, specifically those who may not qualify for their rewards cards.
Building on their success, Capital One purchased Summit Acceptance in 1998 and entered the car loan business.
Fairbanks realized remaining a monoline financial company would eventually lead to an acquisition or drive them out of business. To prevent this, the company expanded into traditional retail banking in the early 2000s by buying several regional banks.
In 2011 and 2012, Capital One completed two transactions that allowed it to further expand its credit card business and enter into the insurance business. HSBC sold its credit card business to Capital One in 2011 and the U.S. operations of Dutch insurance company ING Direct was acquired in 2012. The insurance business was renamed Capital One 360.
Although Capital One is relatively young compared to some of its competitors, that fresh perspective has helped it grow into one of the largest banks in the US. Millions of consumers of all credit types are sporting Capital One credit cards, from cash back and miles cards to secured and business cards.
Photo credits: Flickr.com
Editorial Note: Opinions expressed here are author's alone, not those of any bank, credit card issuer, airlines or hotel chain, and have not been reviewed, approved or otherwise endorsed by any of these entities.
The information on this page was reviewed for accuracy on .
About the Author