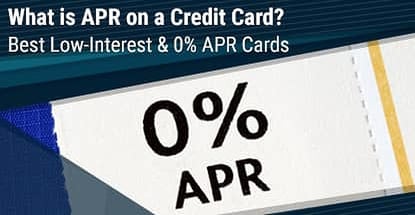 If you've been considering applying for a new credit card, you've likely heard a lot about the term "APR." So, exactly, what is APR on a credit card? This term is perhaps the most critical factor in deciding which card to get, and it can be used to put you in a better overall financial situation – if handled correctly.
Here are the facts about APR, why it matters, and what you can do to make it work for you.
Low APR | 0% Intro APR | 0% Balance Transfer APR
APR Stands for "Annual Percentage Rate"
One of the most important features in deciding which credit card to apply for is the APR. This term refers to the "annual percentage rate" you'll pay in interest for anything you purchase with that card. When calculating your actual interest payments, your APR will be divided by the days in the year to determine your daily periodic rate, since credit card interest compounds daily.
Each issuer may have its own specific method of determining your exact interest fees, which should be laid out in your cardholder agreement. In general, most cards offer an interest-fee grace period after each purchase before the rate goes into effect. Once the grace period is over (commonly between 20 and 30 days), the total balance of your card's purchases is subject to this additional APR fee.
APRs are Variable, Meaning They Change Often
It is very important to keep an eye on your accounts over time, as the interest rate (or APR) can and will change. There are many reasons why a percentage rate will go up. Some of these may not be your fault, such as when the FED (Federal Reserve) raises prime rates. This is a standard rate for all lending institutions, and your card may have no choice but to pass that rate change on to you. When this happens, your card will send you a notification, usually 45 days or more in advance, to warn you of the change.
You may also see your APR go up if a special low-rate offer has expired. Many balance transfer offers, for example, start you at a low rate and then bump you back up to your normal rate after the offer is over. Anything not paid off before the promotional offer expires will be charged the higher APR. Your credit card company does not have to notify you in advance of this promotion expiration, so it's up to you to keep track and pay your balances before they become more expensive.
Other actions can negatively affect your Annual Percentage Rate. They include making late payments to your account. If you go more than 60 days without paying your minimum due, your card can impose what is called a "Penalty APR." This may be as high as 29.99%! It's always in your best interest to make every attempt at paying your minimum and always communicate with your card company if you find it difficult to do so.
Additionally, cards are allowed to raise rates after 12 months of your being a customer. While this doesn't happen as often, it is perfectly legal. Your card issuer will need to notify you in advance of the change, however, and allow you to pay your balance before the change kicks in.
How Your Credit Score Affects Your APR
Another way that APRs often change is directly related to your spending and payment habits. As a result, a credit score is one of the most common influencing factors in card interest rates. The banks see it as the most important piece of information they can obtain to decide your ability to pay back charges.
A significant positive change in your score can open doors to rates as low as 0% for promotional offers, and 13.99% after. A negative credit score will likely make it difficult to get such great rates. Expect to pay the high end in this situation; 22% or more is not unheard of for less-than-stellar credit.
If you've been taking good care of your finances, and have earned a good credit report, you are likely eligible for one of these three top low-APR offers. Use them to pay less interest on your purchases!
You May Qualify for a 0% Intro APR
One of the perks of having good credit is that you will have some amazing opportunities to use zero-interest promotional offers. New cards are always giving responsible consumers the chance to apply for cards with 0% APR on purchases, balance transfers, or both! These are limited-time offers, meaning they don't last forever. (Remember that you are responsible for tracking their end dates, as well.)
Expect to see these excellent offers last between 12 and 18 months for new cardholders.
The following cards are top-rated by consumers for their 0% APR offers. They could be just what you need to pay off high-balance cards or invest in your home, auto, or other important expense.
If You Carry Debt, Utilize 0% APR Balance Transfer Offers
A great intro offer, like the 0% APR many cards offer, is perfect for transferring the balances from high-rate cards. If you have found that your existing card issuer won't work with you to bring down your APR, you can move some or all of that balance to your new card and watch the interest rate fall to nothing!
You can use an online calculator to see how much you'll save by switching to a 0% interest rate over time. It can mean savings of up to hundreds of dollars. Just be sure to pay off that balance before the promotional rate expires to get the best value.
It's also important to read the terms for any 0% APR offer. Most all will charge a balance transfer fee of 3-5% of the total amount transferred. That fee will be charged immediately upon transfer and will be added to your total due. Compare card offers to see if you can get the lowest transfer fee for additional savings.
The following cards are top-rated by consumers for their 0% APR offers. Use them to pay off high-balance cards and get rid of debt at a much lower rate.
+See More 0% Balance Transfer Offers
Pay Your Balance Each Month to Avoid Paying Interest
No matter how low your APR is, it's important to pay your balance each and every month. If you have a low introductory offer that includes a balance transfer, additional purchases may not be subject to that low rate. That's why you must pay any new balance in full to avoid paying the higher interest rate. (Check your statement monthly to see each interest rate category and work to always pay off the amounts subject to interest first.) Making timely monthly payments is also one of the most important factors in determining your credit score.
It is also common for people to allow their intro offer to expire before they have paid off their card. Use your card statement to determine how many payments you have left before the 0% offer is over, and pay extra – if needed – to beat the clock. The goal is to use the intro offer as a tool to paying off debt, without interest. Once that is paid, continue paying your full balance monthly, and never pay an APR again!
Advertiser Disclosure
CardRates.com is a free online resource that offers valuable content and comparison services to users. To keep this resource 100% free, we receive compensation for referrals for many of the offers listed on the site. Along with key review factors, this compensation may impact how and where products appear across CardRates.com (including, for example, the order in which they appear). CardRates.com does not include the entire universe of available offers. Editorial opinions expressed on the site are strictly our own and are not provided, endorsed, or approved by advertisers.