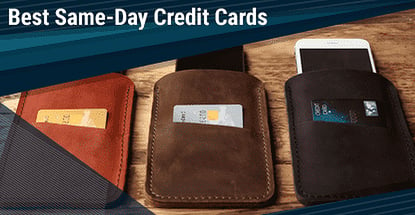 With the rise of digital technology, it seems as though everything has gotten faster and more immediate. Not only can you get movies and music instantly from anywhere, but you can have everything from food to furniture delivered in less than an hour in most major cities.
Given that so much can be obtained so quickly, it's natural to want the same results when you apply for a new credit card. At the very least, you'd expect same-day shipping, right?
But while you can often get same-day approval, only a handful of issuers offer same-day credit cards — with numbers — for instant use. You may need to settle for the next best thing and go for expedited shipping to get your hands on your card in a hurry. In the article below, we'll dive into some of our experts' picks for the best credit cards out there today with same day approval for a range of credit scores.
Approval | Card Numbers | Next Best Thing
You Can Typically Get Same-Day Approval
Online applications have transformed the credit card process, and most online applications can be completed and receive a decision in less than five minutes. In some cases, however, the online platform may not be able to make a decision, which can add days or weeks to your response time.
Where your credit falls in the credit score range can have a big impact on your ability to be approved for a card — and the speed with which your application gets a response. You can improve your chances of a quick credit card application approval by choosing cards that tend to approve applicants with credit profiles similar to your own.
Good Credit | Fair Credit | Bad Credit | No/Limited Credit
Best Cards for Good Credit
Applicants with good credit or better are often the most likely to receive a near-instant online decision in their favor. At the same time, be careful not to apply for cards that require excellent credit if your score is on the lower end of the "good" spectrum.
Our favorite cards for good credit include options for cash back and travel rewards, as well as a few good intro-APR offers. Plus, many will come without any costly annual fees.
+See More Cards for Good Credit
Best Cards for Fair Credit
With fair credit, your ability to qualify for a credit card may depend more on the specifics of your credit profile, rather than simply your score itself.
Applying for cards that are marketed to those with fair credit can be the easiest way to avoid a nerve-racking "pending" notice when your application needs the human touch.
Our top cards for fair-credit applicants include a mix of entry-level prime cards as well as subprime card options.
+See More Cards for Fair Credit
Best Cards for Bad Credit
If your credit reports house the red flags of bad credit, you'll still often get a quick response to your applications — it just may not be a good response.
Instead of wasting hard inquiries on cards you simply can't qualify for, focus on cards designed for those with bad credit who need to rebuild. Our top-rated picks include both unsecured and secured options to help you get back on track.
+See More Cards for Bad Credit
Best Cards for No/Limited Credit
It takes at least six months of credit history for most credit scoring models to produce a credit score, which means potential issuers can't judge your credit risk until you build up your credit profile.
For many, the best way to get around a limited credit history is to apply for entry-level cards with more flexible requirements. Many of our favorite options won't even charge an annual fee.
+See More Cards for No/Limited Credit
Some Issuers Allow Same-Day Card Use
Provided you apply online, many credit card issuers can provide same-day approval, but only a handful of companies will give you the ability to use your card the same day you're approved.
In general, you won't be able to get your physical credit card the same day you're approved. That said, some cards can be used same-day to make purchases, no physical card necessary.
Capital One | American Express | Stores
Best Capital One Cards
From start to finish, your online Capital One credit card application can be completed in only a few minutes, with responses often provided nearly right away.
If you're approved for a Capital One card, you can typically gain access to your card's information, including the card number and expiration date, immediately after setting up your online account.
Reports indicate that you'll need to download and log into the Capital One mobile application to access the information for your new Capital One credit card.
Best American Express Cards
When you apply for an American Express credit card online, you'll generally get a response in just a few minutes. If approved, you may be given the option to access temporary credit card information that can be used same-day to make purchases with your new account.
Keep in mind that not every American Express card will offer the option for same-day use. Also, with no physical card, it's unlikely you'll be able to use your temporary card information to make in-store purchases.
Additionally, the temporary card information you are offered will likely not be the same as your permanent card information (i.e., you may have a different security PIN and/or expiration date), so avoid setting up any recurring payments with your temporary information.
The Blue Cash Preferred® Card from American Express provides a hard-to-beat rewards package, including 6% cash back on grocery purchases (once you have your physical card in hand, that is; only digital purchases can be made with your temporary information).

Earn 6% cash back at U.S. supermarkets (on up to $6k a year) & on select U.S. streaming services
Earn 3% cash back on U.S. gas station and transit purchases
Pay a $95 annual fee
Spending $32 a week in grocery purchases with your Blue Cash Preferred® card will let you break even on the $95 annual fee, so don't let a high fee scare you off from potential rewards.
The Platinum Card® from American Express is a good travel card that can often be used to make online hotel or airline purchases before you've even received your physical card.

Earn 5X Membership Rewards® points per $1 on flights/hotels booked directly with the airline/hotel or American Express Travel
Receive up to $200 in Uber credits per year
Receive a $200 airline fee credit each year
The Platinum card's high $550 annual fee becomes a lot more reasonable for those cardholders who travel enough to get the most out of the card's travel credits.
While the Amex EveryDay® Preferred Credit Card has great bonus categories for everyday use, remember that you won't be able to use your card in-store unless you have the physical card in hand.

Earn 3X points per $1 spent at US supermarkets on up to $6,000 in purchases per year
Earn 2X points per $1 spent at US gas stations
Pay $95 annual fee
This card can be fairly lucrative for consumers who use their card frequently, as cardholders can earn 50% extra points on purchases after making 30 card purchases in a billing period.
Best Store Cards
Store credit cards are some of the easiest same-day cards to use. Store cards are often offered during the checkout process, either by a helpful internet pop-up or as part of a well-rehearsed speech from your cashier.
In most cases, you can apply on the spot and receive an almost-immediate response. If you're approved, you'll typically be given the option to place your current purchase on the card right away.
Additionally, many stores can look up your credit card information through your account and charge items without needing the physical card present. This can allow you to use the card account repeatedly before your physical card ever shows up. Just be careful not to go overboard; you may not be able to actually pay your need store card off until it arrives in the mail.
19. Home Depot Consumer Credit Card
With the Home Depot Consumer Credit Card, you can not only finance that important home improvement purchase right away, but if your purchase is $299 or more, you can also take advantage of special financing.

Receive special financing on Home Depot purchases of $299 or more made with your card
Get exclusive product-specific and seasonal offers
Pay no annual fee
As with many special financing deals, the Home Depot Consumer Credit Card charges deferred interest. This means you'll be charged interest on your entire purchase amount if you don't pay your full balance before the end of your financing period.
Whether you apply in-store or online, the Target REDcard can typically be used as soon as you're approved to make those necessary Target purchases.

Get 5% off your total purchase at checkout for eligible in-store or online Target purchases
Receive exclusive deals & discounts
Pay no annual fee
Perhaps the best part of the Target REDcard's 5% discount is that you can stack it with both manufacturer coupons and Target coupons and promo codes to really save big.
21. Amazon.com Store Card
Same-day card use and one-day (or even one-hour, depending on where you are) shipping can be a useful combo, and the Amazon.com Store Card can offer both. The card itself doesn't have an annual fee but you'll need to pay a fee to become an Amazon Prime member.

Receive special financing on eligible Amazon.com orders of $149 or more made with your card
Amazon Prime members also get 5% cash back on Amazon purchases
Pay no annual card fee
While the special financing offer can be handy, beware of the Amazon.com Store Card's deferred interest. Pay off your entire balance before the end of the financing period to avoid being charged interest on your full purchase amount.
Overnighting Your Card is the Next Best Thing
The typical turnaround from approval to receipt of your new card is between seven and 10 days, which not only covers the time to ship your card, as you might expect, but also includes the time it takes to make your card. This process includes the actual fabrication of the card itself — which can be even more complex for the newer metal credit cards — as well programming and attaching the EMV chip with your account information.
Outside of those cards you can use same-day sans-card, the next best thing for those who need quick use of their cards is likely having your physical card sent via expedited shipping. With expedited shipping, your new card could be physically in your hands within a few days.
Overall, many issuers don't offer expedited shipping for new cards, and those that do often charge a fee for the service. That is, many issuers — except for the issuers below, which will expedite your new card without a lot of hassle — or extra fees.
Best Discover Cards
With a simple online application, Discover credit card applicants can often get a response in minutes.
The absolute easiest card to have expedited to you in most cases will be a new Discover card. That's because Discover actually expedites new cards as a matter of course, no request — or fees — required.
Best Chase Cards
You can apply for a Chase credit card online or in your local branch, with the same quick application process that will often provide a response in minutes.
Regardless of where you apply, however, you'll still need to wait to use your new card until it actually shows up. You can request that Chase expedite your new card if you're in a hurry, a service that Chase will provide for free.
Start Shopping Right Away with a Same-Day Card
Whether you want gourmet chocolates, a five-piece patio set, or a new pet fish, you can get almost anything delivered to your doorstep in the practical blink of an eye — including your credit card, if you choose the right one.
However, don't be too quick to load up your new card if it hasn't even hit your mailbox yet. Until you have your card in hand and your online account established, it may be difficult to make a payment, which may mean trouble if something happens to your card in transit to your mailboz.
Advertiser Disclosure
CardRates.com is a free online resource that offers valuable content and comparison services to users. To keep this resource 100% free, we receive compensation from many of the offers listed on the site. Along with key review factors, this compensation may impact how and where products appear across the site (including, for example, the order in which they appear). CardRates.com does not include the entire universe of available offers. Editorial opinions expressed on the site are strictly our own and are not provided, endorsed, or approved by advertisers.