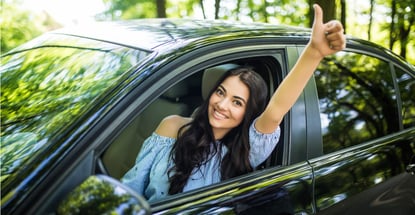 This article reviews providers of instant approval auto loans for bad credit. Why? Well, you know those long hours you spend at a car dealership working out your bad credit car loan? Guess what — you'll never get that time back.
The best strategy is to sidestep the whole thing by obtaining instant auto loan approval. The good news is there are a baker's dozen of online auto loan providers willing to give you an instant decision, even if you have less-than-perfect credit.
With their help, you can march into the dealership with a loan in hand. Or, better yet, you may be able to complete the deal online and have the car delivered to your home.
Our review of instant loan sources reveals that some providers operate online using networks of lenders and dealerships that work primarily with subprime borrowers. Other lenders offer direct loans or a mix of direct and partner lenders.
Top-Rated Loans | More Loan Options | FAQs
Best Lending Networks For Bad Credit Auto Loans
The following three networks can find you a car dealer willing to work with you to reach a car finance deal despite your poor credit rating. Their service is free, and there's no obligation to accept a loan offer.
The application process is easy — you can arrange the loan from the comfort of home. If you're approved, you can have a new car in your driveway soon, even before the day ends.
Dealer partner network has closed over $1 billion in auto loans
Can help those with bad credit, no credit, bankruptcy, and repossession
Established in 1999
Easy, 30-second pre-qualification form
Bad-credit applicants must have $1500/month income to qualify
Auto Credit Express puts you in touch with a nationwide network of dealers willing to finance a car purchase, even if your credit is bad. You can complete the loan request form in a minute or so. Auto Credit Express uses the request to qualify you for a loan, at which point a nearby bad credit auto loan dealership will reach out to you to complete your deal, often as soon as the same day.
Purchase or refinance a new or used car.
Their lenders have solutions for most credit situations.
Get up to 5 offers from competing lenders!
Complete a simple and secure online form in minutes.
Save on your current or new monthly car payment.
LendingTree is famous for finding you multiple loan offers within minutes once you successfully navigate the instant preapproval process. You can apply for a new or used bad credit car loan, a refinancing loan, or a lease buyout. Loan durations range from one to seven years, and a down payment as low as $200 can make a favorable difference in your loan term, monthly loan payment amount, and a lower interest rate.
Potentially reduce your payments by hundreds of dollars
Skip your next car payment
Quick and easy 2-minute preapproval process
Prequalifying does not affect your credit score
Completely free
No additional costs or fees
RefiJet is a direct lender that can help you save money on your current monthly payment or secure a lower APR, whatever your goal. You can even cash out the equity in your vehicle if you need some extra cash. It even helps borrowers with bad credit, and people who refinance with RefiJet get to skip their first two payments.
Free, no-obligation application
Specializes in auto loans for bankruptcy, bad credit, first-time buyer, and subprime applicants
Affordable payments and no application fees
Same-day approval available
Connects thousands of car buyers with auto financing a day
The auto dealer network for Car.Loan.Com is the nation's largest, specializing in bad credit auto loan options and other auto financing options for car buyers with less-than-good credit. In just a few minutes, you can prequalify for a subprime auto loan by completing the short loan request. The network will get to work quickly, and it's quite likely you'll be contacted by a direct subprime lender shortly after you prequalify.
Loans for new, used, and refinancing
Queries a national network of lenders
Bad credit OK
Get up to 4 offers in minutes
Receive an online loan certificate or check within 24 hours
The lending network at MyAutoLoan.com can finance any kind of car loan, whether you're looking at new inventory or used vehicles, as well as provide cash-out refinancing loans and other bad credit financing options. In just a few minutes, this service can provide you with up to four loan offers from direct bad credit lenders that are more than happy to work with you. You can review the details of each offer before selecting the one that seems like the best fit for your needs.
More Bad Credit Auto Loans to Consider
The following companies are a mix of online lender networks and direct auto lenders. All can give you an instant decision regarding your auto financing request, including loans with no credit checks.
Your chances of finding a partner willing to work with you are good despite your poor credit rating, and you may receive offers to buy out your lease or even finance a motorcycle.
6. Carvana

Carvana was one of the first car sellers to allow you to choose a vehicle and get an instant approval loan online, followed by at-home car delivery. You can get a loan directly from Carvana or use an outside party.
The whole process is quick and requires as few as 10 minutes to complete the sale and arrange vehicle delivery.
7. Ally Clearlane

Ally Clearlane can help you instantly obtain multiple financial offers for a loan on a new or used car. It can also help you refinance existing loans to reduce your payments, cut your interest rate, and/or update your vehicle's title.
In fact, Ally Clearlane claims that if you transfer your loan, it can save you interest charges of $1,647 and an average of $120 a month on your payments.
8. Capital One Auto Finance

Capital One Auto Finance is a direct online lender to drivers with all types of credit. You can instantly prequalify for auto financing by submitting a short loan request form.
You must have a minimum monthly income of $1,500 to $1,800 to prequalify and must, if applicable, be in good standing with Capital One, your mortgage, and any existing car loan.
9. DriveTime

Car buyers with any credit rating can get a loan from one of the 130 DriveTime dealerships across the country. Known for perfecting the instant approval car loan, DriveTime has originated more than 4 million loans since its inception.
Your loan will be tailored to your budget in terms of the down payment and monthly loan payment installments to ensure that you can afford the car you want.
10. LightStream

LightStream, a division of Truist Bank, is a direct bad credit auto loan provider for new and used vehicles and refinancing arrangements. While its best rates are reserved for consumers with good credit, you can obtain financing even with bad credit.
You can receive an instant decision, followed by funding as soon as the day you apply.
11. CarMax

CarMax works with almost 200 nationwide dealers across the U.S. that are happy to work with bad credit applicants. The company will provide you instant financing, or you can use another lender, including Capital One or Wells Fargo.
Whichever financing company you choose, CarMax can quickly close on a vehicle sale or arrange to refinance your current car.
12. Vroom

Vroom is an online car dealer that can arrange vehicle financing on its own or through a third-party lender. Following a quick car loan approval, you can shop the virtual showroom for the vehicle you'd like to have delivered directly to your home.
You can change your mind within seven days (or 250 miles) if you feel you've chosen the wrong car — Vroom will accept the return with no questions asked.
13. CarZing

CarZing offers instant automobile loan preapproval without a score-damaging hard pull of your credit report and credit history. The online loan calculator lets you see how different down payments and loan terms will fit your budget.
You can browse the vehicle inventories of multiple nearby dealerships via a single online inquiry.
14. RoadLoans.com

RoadLoans.com offers bad credit auto financing packages for consumers with any type of credit issue, including a prior bankruptcy.
Whether you need to obtain a new online auto loan or refinance your existing loan, RoadLoans.com can offer you an instant decision and a lower interest rate. You can use this lender's online modules to explore your options and learn how to negotiate a vehicle loan.
How Do You Receive Instant Car Loan Approval For an Auto Loan?
The best bad credit car loan providers promise an instant preapproval decision when you request a loan. Most have you fill out a short online form or respond to a series of questions where your answers form the basis of an initial judgment.
Remember that preapproval, although necessary to receive a loan, is no guarantee you will actually be offered a loan. Typically, you'll need to submit additional information to complete the credit application process.
Most lenders then perform a hard inquiry of your credit report to help them make a final decision. A hard inquiry can cause your bad credit score to worsen by five to 10 points, but this minor effect lasts a year at most.
What Credit Score is Needed to Get an Auto Loan?
Unlike other credit situations, auto loans don't require a minimum credit score. Instead, you need to show that you can afford the monthly payment schedule. Lenders also look at other factors, including:
Do you have any current or recent past-due accounts, collections, or charge-offs?
Are you currently in bankruptcy proceedings?
Are you able to make a down payment?
Are you willing to make payments more frequently than once a month?
Are you willing to pay in person at the dealership?
Do you have a reliable source of income?
Are you a U.S. citizen or resident, at least 18 years old, with a valid Social Security number, email address, phone number, and active bank or credit union account?
The reason these lenders can overlook credit problems and a bad credit history is that, unlike an unsecured personal loan, the vehicles they sell act as collateral to secure the loans they originate. If you start missing monthly payment deadlines, it's likely the dealer will repo the car.
Moreover, if the car was damaged after you bought it, the dealer may take you to court to recover the additional costs.
Can You Get an Auto Loan With Bad Credit and No Money Down?
Most of the reviewed lenders can offer bad credit consumers auto loans, even with no money down. However, it is in your best interest to make a down payment — the bigger, the better.
By doing so, you may be able to get a better bad credit loan term and/or interest rate despite your credit problems, and you'll certainly have a smaller loan to repay.
Another strategy to improve your credit situation is to enlist a cosigner for the loan. A cosigner provides extra confidence that the bad credit loan will be repaid, allowing the dealer to follow its strong inclination to close the deal. This is because the cosigner is equally responsible for making payments if you default on the loan.
You may find that many of the dealers that welcome consumers with a bad credit history are buy here, pay here dealerships. These dealerships offer self-financed loans, which means they don't have to get the permission of some bank, credit union, or other financial institution to make the loan. This kind of car dealership is among the most likely to offer a no-money-down loan.
What Interest Rate Will I Be Charged With Bad Credit?
This is where your credit score affects your bad credit auto financing. The lower your score, the higher the interest rate you can expect to pay.
For subprime lenders serving consumers with FICO scores between 501 and 600, the average interest rates for new and used car loans are 10.58% and 16.56%, respectively, according to our friends at Experian.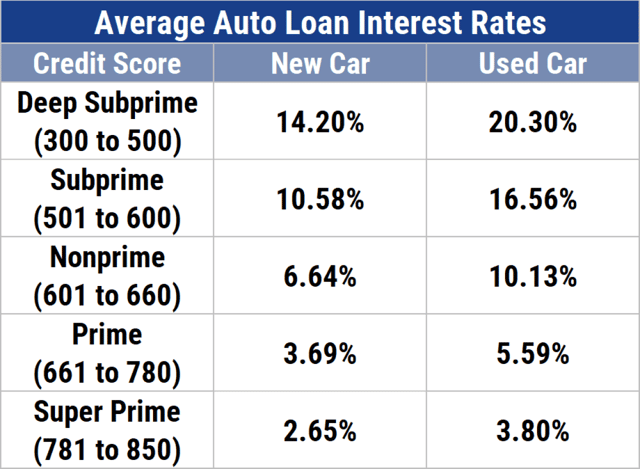 If your FICO score is in the 350 to 500 range, expect subprime lenders to offer interest rates averaging 14.20% for new cars and 20.30% for used cars.
No one is going to tell you that a 20% interest rate is low. However, it is lower than the rate you'd find on a credit card aimed at the same audience, and way lower than the APR for a payday loan, where triple- and quadruple-digit interest rates are common.
Research Instant Approval Auto Loans For Bad Credit
The 13 loan providers reviewed here offer instant approval auto loans for bad credit that can put you behind the wheel of your next car. They will give you an instant decision at the preapproval stage, and a quick final decision once you complete the credit application process. Funding is fast, too, with funds available as soon as the same day.
Always read the fine print before agreeing to any type of instant approval car loan, and if it leaves you baffled, seek the help of someone who speaks legalese.
Advertiser Disclosure
CardRates.com is a free online resource that offers valuable content and comparison services to users. To keep this resource 100% free, we receive compensation for referrals for many of the offers listed on the site. Along with key review factors, this compensation may impact how and where products appear across CardRates.com (including, for example, the order in which they appear). CardRates.com does not include the entire universe of available offers. Editorial opinions expressed on the site are strictly our own and are not provided, endorsed, or approved by advertisers.