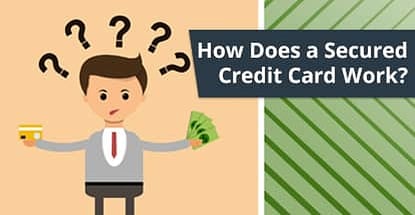 I recall researching my very first credit card as a college student and seeing a lot of terms I was unfamiliar with — secured cards, unsecured cards, APRs — and one of the big questions that jumped out at me was, "How does a secured credit card work?"
Thankfully, as a finance writer and through personal experience, I've become much more familiar with the credit card lingo over the years.
Secured credit cards are a great resource for anyone with poor credit looking to a) receive a line of credit and b) improve their credit score. Secured cards work the same way unsecured cards do in terms of purchasing abilities – if your secured card is Visa or MasterCard branded, it can be used anywhere Visa or MasterCard is accepted.
The only difference between a secured and unsecured card is that secured cards require a deposit upon approval. This is because secured credit cards are for people with low credit scores (600 or less) who do not qualify for a line of unsecured credit, that is, a card that doesn't require a deposit. Below we'll discuss how secured credit cards work, beginning with the application process. We'll also walk through the deposit process and how it works, in addition to providing some steps to help you move up to an unsecured card.
1. Apply for Your Card of Choice
The way of the world seems to be the worse your credit is, the less favorable the terms and options for credit become. This isn't necessarily true for secured credit, because some of the biggest and most reputable issuers offer secured lines of credit that can be a valuable tool in your credit-rebuilding process. The Capital One Platinum Secured Credit Card, in particular, is our top recommendation.
When choosing a secured credit card, be sure to select one that reports to the three major credit bureaus – Experian, Equifax, and TransUnion – as this is the only way your responsible use of the card will do your credit score any good, but more on that later.
2. Deposit Money with Your Application ($49 – $3,000)
As mentioned previously, the only difference between secured and unsecured comes down to the deposit. A deposit is the issuer's way of protecting itself in the event you default on payments, in which case the money is then deducted from the deposit. The deposit amount will be equal to the amount of credit you receive.
A partially-secured credit card, or semi-secured, is where you make a deposit that is smaller than the line of credit you receive. In some cases, an issuer will give you a line of credit larger than the required deposit, but this is solely based on your income and credit history, and at the discretion of the issuer. It has been reported that the Capital One Platinum Secured Credit Card offers partially-secured lines of credit to eligible applicants and periodically increases credit limits without an additional deposit to its responsible cardholders.
3. Your Deposit is Held Until You Close the Account
The issuer will hold onto your deposit until you close the account, in which case you will receive a refund for any unused portion. So long as you have a history of on-time payments and close the account after the balance is paid in full, you should see 100% of your deposit refunded. This system protects both you and the issuer if a payment is missed, which leads us nicely to our next point of discussion.
4. If You Fail to Pay, the Amount is Taken from Your Deposit
Just because you have a safety net in your deposit does not mean you should rely on it to pay your bill each month! This is not responsible behavior, and you will be reported as having paid late, which is the most heavily weighted factor when determining your credit score. Deducting from your deposit is generally reserved for multiple missed payments, but can vary by issuer.
5. Use the Card Like Any Other Credit Card
Whether you're booking a hotel room online or looking to rent a car, a secured credit card can be used just as an unsecured card can, except in one of the following scenarios:
Your secured card is a Discover card, but where you're attempting to transact doesn't accept Discover.
You forgot to pay your bill, and now your account is frozen due to nonpayment.
You don't have enough available credit on your card and are denied at the register to prevent overages.
Of course, each of these scenarios is applicable to unsecured cards, too. The bottom line is the person behind the cash register should be none the wiser to the fact your credit card is a secured card. The only way to tell it is a secured credit card is by viewing your credit report, where the line of credit will be listed as "secured".
6. On-time Payments Can Improve Your Credit Score
This is where we explain how having a secured credit card can help build or rebuild your credit history. It can be a slow moving process, but nonetheless a step in the right direction.
There are really only two rules you need to follow to be a responsible borrower:
1. Always pay your bill on time. This is because on-time payments account for 35% of your FICO credit score. Nothing else matters as much as on-time payments – it is the highest weighted factor when your credit score is calculated.
2. Keep your credit utilization low. In other words, don't max out your card. In fact, don't even come close to maxing out your card. It is widely suggested to keep your credit utilization at or below 30% at all times. For example, if you have a credit limit of $1,000, never keep a balance above $300.
If you follow these two rules, you should see an improvement in your credit score as your bank begins to report your responsible behavior, which normally occurs once a month.
7. Upgrade to an Unsecured Card & Get Your Deposit Back
After having your secured card for a period of time and seeing your financial discipline reflected in your credit score, you may then be eligible to apply for an unsecured card. Aside from not having to put any money down to receive the credit, many unsecured cards offer rewards programs where you can start racking up air miles, cash back, or any other type of credit card rewards you desire!
This means it's time to say goodbye to the secured card that helped you establish your credit and close the account. Assuming your account is in good standing and you're all paid up, you'll have a nice stack of cash returned to you!
Advertiser Disclosure
CardRates.com is a free online resource that offers valuable content and comparison services to users. To keep this resource 100% free, we receive compensation for referrals for many of the offers listed on the site. Along with key review factors, this compensation may impact how and where products appear across CardRates.com (including, for example, the order in which they appear). CardRates.com does not include the entire universe of available offers. Editorial opinions expressed on the site are strictly our own and are not provided, endorsed, or approved by advertisers.