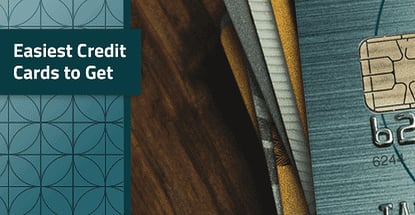 Asking the question, "What is the easiest credit card to get?" is a bit like asking, "What's the best diet to lose weight?" Both questions will return a huge number of responses, most of which will be starkly different — and few of which will be the right advice for everyone.
Instead, the easiest credit card for any given consumer to get will vary based on each individual's specific credit profile and personal needs. For example, the easiest credit card to get as a student will be very different from the easiest credit card to get when you have bad credit. In this article, we'll look at the potentially easiest cards to get for those with fair credit and bad credit, as well as secured cards, student cards, business cards, and store-branded cards.
Fair Credit | Bad Credit | Secured | Student | Business | Store
Easy to Get Cards for Fair Credit
Whether you're building your credit for the first time or rebuilding after a few mistakes, most consumers will have fair credit at some point in their lives. While the options aren't quite as limited with fair credit as they would be if your credit score were lower, they're not the bells-and-whistles cards you'd get with better credit, either.
In general, the easiest cards to get with fair credit will be the bare-bones starter cards; the ones without annual fees can be great for building credit, though, if you're able to pay an annual fee, you can also likely find a card with purchase rewards. Just make sure the rewards are worth the fee before applying.
Pay no annual fee
Be automatically considered for a higher credit line in as little as 6 months
Fraud coverage if your card is lost or stolen
Use online banking to access your account, even from your smartphone, with our mobile app
Check out quickly and securely with a contactless card, without touching a terminal or handing your card to a cashier. Just hover your card over a contactless reader, wait for the confirmation, and you're all set
Pay by check, online or at a local branch, all with no fee - and pick the monthly due date that works best for you
Earn unlimited 1.5% cash back on every purchase, every day
Earn cash rewards without signing up for rotating categories
Be automatically considered for a higher credit line in as little as 6 months
Monitor your credit profile with the CreditWise® app, free for everyone
$0 fraud liability if your card is ever lost or stolen
No limit to how much cash back you can earn, and cash back doesn't expire for the life of the account
at Credit One'ssecure website
Enjoy peace of mind with $0 Fraud Liability
Qualified applicants will receive a card with a competitive APR and no annual fee along with 1% cash back rewards on all purchases, terms apply
View updates to your Experian credit score with free online access, terms apply
Make paying your bill easier with the ability to choose your payment due date, terms apply
Access your account on-the-go with the Credit One Bank mobile app
Never miss an account update with customizable text and email alerts
| | | | | |
| --- | --- | --- | --- | --- |
| | | 17.99% to 23.99% Variable | | |
+See More Cards for Fair Credit
Easy to Get Cards for Bad Credit
While the exact scores that qualify as bad vary based on the specific scoring model, typically, a credit score that falls below 600 will land you in the bad credit score category. At this point, most mainstream issuers will be wary of offering you unsecured credit, limiting your choices quite a bit.
That said, options still exist, particularly if you're willing to put up with a few limitations. For instance, if you want an unsecured card, a closed-loop store card or pricey subprime card will be your choices. If you're willing to put down a deposit, you can find some great secured credit card options.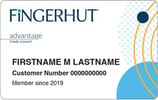 at Fingerhut'ssecure website
Easy application! Get a credit decision in seconds.
Build your credit history – Fingerhut reports to all 3 major credit bureaus
Use your line of credit to shop thousands of items from great brands like Samsung, KitchenAid, and DeWalt
Not an access card
No annual fee
Unlike a prepaid card, there is regular reporting to the 3 major credit bureaus
Accepted at millions of locations worldwide
Make the minimum required security deposit and you'll get an initial credit line of $200. Plus, deposit more money before your account opens to get a higher credit line
Access to an authorized bank account is required to make your $49, $99 or $200 refundable security deposit
Be automatically considered for a higher credit line in as little as 6 months with no additional deposit needed
This card is currently not available.
+See More Cards for Bad Credit
Easy to Get Secured Cards
Secured credit cards are by far the easiest type of credit card to obtain, particularly if you have a poor or limited credit history. That's because secured credit cards require a cash deposit that acts as collateral for the account, meaning the credit card issuer doesn't have to risk its own money to approve your credit line.
With less risk, issuers are more willing to be flexible about credit scores and income, often offering better rates, lower fees, and higher credit limits than other cards for the same credit demographic. What's more, your secured credit card deposit is fully refundable when you close your account with a $0 balance.
No annual fee
Unlike a prepaid card, there is regular reporting to the 3 major credit bureaus
Accepted at millions of locations worldwide
Make the minimum required security deposit and you'll get an initial credit line of $200. Plus, deposit more money before your account opens to get a higher credit line
Access to an authorized bank account is required to make your $49, $99 or $200 refundable security deposit
Be automatically considered for a higher credit line in as little as 6 months with no additional deposit needed
This card is currently not available.
at First Progress'ssecure website
Invest your tax refund to improve your credit by making the refundable deposit for your new secured card today
Receive Your Card More Quickly with New Expedited Processing Option
No Credit History or Minimum Credit Score Required for Approval
Quick and Complete Online Application
Full-Feature Platinum MasterCard® Secured Credit Card
Nationwide Program though not yet available in NY, IA, AR, or WI *See Card Terms.
+See More Secured Credit Cards
Easy to Get Student Cards
Although obtaining a credit card without a credit history can be difficult, students tend to have an edge here; many issuers offer student cards specifically designed to help young people establish and build their credit profiles.
These cards have flexible credit requirements that allow for the limited credit history typical of a college student. This allows students to obtain a card with lower fees and better perks than they may otherwise qualify for without a credit history.
Earn 1% cash back on all your purchases. Pay on time to boost your cash back to a total of 1.25% for that month
Earn $5 per month for 12 months on Select Streaming Subscriptions when you pay on time. *Exclusions Apply
Enjoy no annual fee and no foreign transaction fees
You can help build your credit with responsible use of a card like this
Pick the monthly due date that works best for you
Be automatically considered for a higher credit line in as little as 6 months
Earn a $200 cash rewards bonus after making at least $1,000 in purchases in the first 90 days of your account opening
Earn 3% cash back in the category of your choice: gas, online shopping, dining, travel, drug stores, or home improvement/furnishings and 2% cash back at grocery stores and wholesale clubs on the first $2,500 in combined choice category/grocery store/wholesale club purchases each quarter, then earn 1%
Unlimited 1% cash back on all other purchases
0% Introductory APR on new purchases and balance transfers for 12 billing cycles (3% balance transfer fee applies)
Optional overdraft protection option helps prevent declined purchases, returned checks or other overdrafts when you link your eligible Bank of America® checking account to your credit card. Transfer fees may apply.
$0 Annual fee
Earn 3% cash back for up to $2,500 spent on gas, grocery, and drugstore purchases for the first 6 months
Earn 1% cash rewards for all other purchases
0% Intro APR offers on purchases and balance transfers (balance transfer fee applies)
Flexibility to use cash rewards toward travel, gift cards, merchandise, cash redemption options , and more
Access your FICO® Credit Score, credit education, and tools with Wells Fargo Online
$0 Annual fee
+See More Student Credit Cards
Easy to Get Business Cards
If consumers with poor or limited credit find it challenging to get approved for a credit card, small businesses in the same credit boat will likely find it significantly more difficult. Most business credit cards will look at not only your business's credit profile, but also your personal credit profile. If neither is up to snuff, obtaining a card will be hard.
This can be especially true when your business is just starting out or lacks the revenue to qualify for most business credit lines. Unsecured credit cards will be rare in this case, but secured cards may hold the answer.
13. Capital One® Spark® Classic for Business
This card is currently not available.
One of the few unsecured credit cards designed for businesses with fair or limited credit, this card not only charges no annual fee, but it also comes with unlimited cash back on your purchases, no categories required. Plus, you'll pay no foreign transaction fees, and you can also get free employee cards.
The Wells Fargo Business Secured Credit Card is similar to a consumer secured card in that you'll need to make a cash deposit to open the card and secure your credit line. The minimum deposit amount is $500, but qualified applicants can deposit up to $25,000 for a larger credit line.

Earn 1.5% cash back on every purchase made with your card, redeemable as a statement credit or check
Access credit lines from $500 to $25,000
Pay $25 annual fee
While the card charges a small annual fee, you can obtain up to 10 employee cards at no extra cost. Plus, you won't pay any foreign transaction fees for purchases in a foreign currency.
(The information related to Wells Fargo Business Secured Credit Card has been collected by CardRates.com and has not been reviewed or provided by the issuer or provider of this product or service.)
The BBVA Secured Visa® Business Credit Card is another option that will require a deposit to open and maintain. Your credit line will then equal 90% of your deposit amount. You'll need a minimum deposit of $500.

Earn bonus points in categories you select, including office supplies, utilities, and travel
Earn 1X point per $1 on all other purchases
Pay no annual fee the first year, then $40
Your BBVA Secured Visa® Business Credit Card will also provide free employee cards, a host of online account services, and special Visa Business benefits. This card is only available in Alabama, Florida, Texas, Arizona, Colorado, California, and New Mexico.
+See More Business Credit Cards
Easy to Get Store Cards
A frequently recommended route for finding easy-to-get credit cards is to go with a store co-branded card. Most major retailers now offer their own co-branded cards, many of which offer purchase rewards or store discounts.
At the same time, many store credit cards are closed-loop, meaning they can only be used to make purchases with the specific brand that co-issued the card. This also applies to the rewards you earn with these cards — they can typically only be used toward branded purchases.
The Target REDcard is a solid option for Target shoppers, and reports indicated consumers with scores as low as 580 have been approved for the card. Unlike typical rewards cards, you'll earn 5% off at the register instead of earning cash back to be later redeemed.

Get 5% off your total purchase at checkout for eligible in-store or online Target purchases
Receive exclusive deals & discounts
Pay no annual fee
Keep in mind that the discount does not apply to prescriptions or over-the-counter items located behind the pharmacy counter, Target Optical™ eye exams, gift card purchases, or certain restaurant merchants in store (though the discount was recently extended to newer stores with a Starbucks).
17. Amazon.com Store Card
The Amazon.com Store Card is reported to be fairly easy to obtain for a variety of credit types. You'll get the best value out of this card if you're also an Amazon Prime member, as Prime members earn cash back at a higher rate on Amazon.com and Whole Foods purchases.

Receive special financing on eligible Amazon.com orders of $149 or more made with your card
Amazon Prime members also get 5% cash back at Amazon.com
Pay no annual card fee (Prime fee may apply)
Watch out for this card's special financing offers; while they seem like a good deal, they use deferred interest, which means you'll need to pay off every last financed cent or else you'll be on the hook for interest on the entire financed amount.
The Old Navy Credit Card offers rewards at Old Navy stores and online, as well as with other Gap Inc.-brand stores. It takes 500 points to earn a $5 Reward.

Earn 5X points per dollar on purchases at Old Navy and other Gap Inc.-brand purchases
Reach Navyist status by earning 5,000 points
Pay no annual fee
One thing to keep in mind with this card is that rewards are capped at $250 per billing cycle. Rewards earned beyond the monthly cap will be rolled over into the next billing cycle.
How Do You Choose a Credit Card?
If you're on the hunt for a card that's easy to get, chances are you are dealing with some credit issues that make approval questionable with most prime issuers. As such, choosing a card may come down more to what's available than what you really want out of your card.
That being said, even in the limited- and bad-credit card markets, you'll likely have some options. Here are a few things to investigate when comparing credit cards:
Application/Processing Fees: Some cards, especially cards from subprime issuers, may charge a fee simply to apply for the card or to open the account.
Annual Fees: Some cards can be worth the annual fee, but others won't be — do the math before you apply.
Maintenance Fees: Many subprime cards will charge monthly maintenance fees on top of the annual fee.
Grace Period: Most cards should provide a grace period on interest for new purchases of at least 21 days; check the terms and conditions to be sure.
Interest Rates: If you ever carry a balance, you should know what it'll cost you. Check the new purchase, balance transfer, cash advance, and penalty APRs before applying.
Purchase Rewards: Even consumers with bad credit can find cards with purchase rewards, but make sure the rewards are worth any annual fees.
Cardholder Benefits: Most credit cards come with additional cardholder benefits that can include things like extended warranty coverage and purchase protection.
In the end, if you're only looking for a card to build your credit so you can apply for better and more valuable cards in the future, then you don't need a card with a lot of bells and whistles. Simply pick the least expensive option and use it responsibly for six months or so, then graduate to a better card.
How Do You Build Credit with a Credit Card?
For many folks, a credit card is simply a convenient way to make purchases in-store and online — and, perhaps, a way to earn some rewards while they're at it. But, when used responsibly, credit cards can be a great tool for building credit for consumers with poor or limited credit histories (and anyone else, too).
The basics of building credit with a credit card consist of just using the card to make your normal purchases, then pay the balance in full and — most importantly — on time every month. If you pay in full each month, you typically won't be charged interest, and the positive payment history will boost your score.
At the very least, make the minimum required payment (but, ideally, more) before the due date each month. While not the best strategy for saving money, it will build your payment history.
If your sole credit card goal is to build credit, then you can take this method and set it on auto-pilot. Essentially, all you need to do is use the card to automatically pay a monthly recurring charge, such as a streaming service or your cellphone bill.
Then, set up automatic payments for the card through your bank account so that the bill is paid each month without you needing to do a thing. Automatic payments mean you won't have to worry about making late payments, as the bank makes the transaction for you each month. (Of course, you'll still want to double-check your accounts to ensure nothing went wrong with the payment.)
What is Credit Card Pre-Approval or Pre-Qualification?
Given that any credit card can be easy to get if your credit is good enough, it's sometimes hard to tell which cards are actually attainable. Pre-approved or pre-qualified credit card offers can be an easy way to get an idea as to whether you'll be approved for a certain card before you apply — and before the hard inquiry hits your credit reports.
Pre-approval or pre-qualification is a credit card issuer's way to getting an idea of your qualifications without going through a full hard credit inquiry. Instead, pre-qualification uses a soft credit pull that won't hurt your credit scores.
At the same time, because pre-approval applications don't look at your credit as deeply as does a regular application, being pre-approved for a credit card offer doesn't guarantee you'll be accepted when you apply. Other factors, including your income and your history with the bank, can impact your chances of being approved.
Credit Cards Don't Have to Be Hard to Get
In today's digital economy, credit cards are a big part of how millions of Americans make purchases. But some folks have a harder time than their neighbors when it comes to getting new credit cards. Consumers with poor or limited credit histories can find getting a new card to be a challenging experience.
The easiest credit card to get will depend on your specific creditworthiness, so knowing where you stand can go a long way in finding the right card. You can get a free copy of each of your credit reports once per year through AnnualCreditReport.com.
Advertiser Disclosure
CardRates.com is a free online resource that offers valuable content and comparison services to users. To keep this resource 100% free, we receive compensation from many of the offers listed on the site. Along with key review factors, this compensation may impact how and where products appear across the site (including, for example, the order in which they appear). CardRates.com does not include the entire universe of available offers. Editorial opinions expressed on the site are strictly our own and are not provided, endorsed, or approved by advertisers.