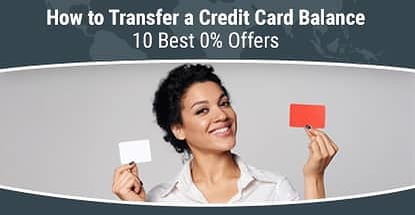 If you've used credit cards for a significant amount of time, you've likely been presented with bigger and better card offers than what your current card gives you. One of these perks may be a credit card balance transfer offer. If used wisely, a transfer offer can lower your overall payment amount and improve your credit score.
Transferring a card balance is not as difficult as you may think. In fact, I've used them successfully over the years to lower my debt and monthly payment amounts. In addition, it's been a terrific method for working my way into more exclusive cards with better protections and perks! Read on for what you need to know before agreeing to one. We'll dive into what level of credit is required, how to contact your card issuer's customer service department, and look at some of our top choices for balance transfer credit cards.
When Applying for a Balance Transfer Card — Good Credit is  Required
Balance transfer cards might seem complicated, but many consumers have used them successfully to simplify their finances. If you've received an offer in the mail or online for a card balance transfer, it's likely because you have done an excellent job with your existing card. Card companies won't take on additional risk unless they have confidence that you'll make good on your new card's payment terms.
A transfer requires you to open up a new card account (which means a new line of credit), usually with a completely different card company. You cannot, for example, usually transfer the balance of a Discover card to a new Discover card, Chase to Chase, etc. Once approved, you can transfer up to the limit of the new card from the old one. So, a new card with a limit of $5,000 can legally accommodate a balance transfer of that amount, but it is wise to transfer a little less than the total available credit limit for a few reasons.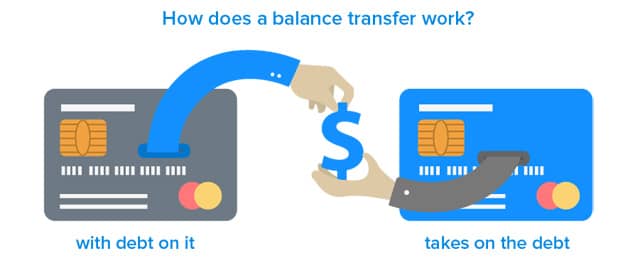 You will want to closely check the terms of your balance transfer offer for any transfer fees that apply. Most every card will impose a one-time fee paid as a percentage of the total you are transferring. Today's cards usually charge between 3% and 5%.
There are a few very special offers out there, however, that will charge fees as low as 1-2%. These are usually for very good credit. This fee is applied immediately upon transferring the balance and is added to the balance, a very good reason to not borrow the full amount of the new card. (You don't want to go over the limit.)
Good credit is required to get balance transfer offers, and even better credit will get you the best offers. Some of our favorites are listed here:
+ Compare More Balance Transfer Offers
In addition to the transfer fee, you'll have a balance transfer interest rate (or APR.) This is usually lower than the rate your card will charge for purchases. It is also usually a special offer for new cardholders and may also be lower than future balance transfer rates. For this reason, it's very important to know how long that special balance transfer rate is good for. You'll need all of your transfers to start and end by that date to get the special rate. Most transfers take place within 7-14 business days, but your specific card can give you details on what to plan for.
Call Customer Service on Your Existing Card
When you initiate the balance transfer, whether online, over the phone, or by mail, your new credit card will need the information from your existing card.
The new card will then handle dispersing the funds to your existing balance. It is sometimes necessary to contact your old card, however. This may be required when you need additional information on the exact payoff balance, or you wish to put your old card on hold for future charges. You should have access to contact info for your existing credit card either on the back of your card or on your statement.
If you can't find this information or need the most up-to-date info, you can see credit card company contact info here. You will be asked to verify your identity before being allowed to discuss your account with the customer service rep.
Don't Make Balance Transfers a Habit
Using balance transfers wisely can help reduce interest rates and expand your credit card options. Remember, the more credit you have available to you, the higher your credit score can go over time! The important thing to remember is not to charge up your old card once the balance has been transferred — you want to be making payments toward reducing your overall debt while keeping the lines of credit from both cards open.
According to Joshua Caucutt at MoneyCrashers.com, you'll also want to keep those old lines open. "An unused line of credit helps keep your credit usage percentage low. If you have $10,000 worth of unused credit on one card and then open a 0% balance transfer of $10,000 on another card, your credit usage will show up as only 50%, even though you may never plan to use the existing card ever again. It's a simplistic example, but the principle remains the same."
Balance transfer offers are usually for a limited time, so that great rate you got when you first transferred is only temporary. Whether you have 12, 18, or even 24 months to take advantage of that low rate, you'll want to pay it off by then. Not paying it off may tempt you to open another card to transfer the balance yet again; this is a trap that many credit users fall into, and it can be dangerous! Too many cards with balances can cause your credit score to drop sharply.
As long as you are making payment to reduce your total debt, balance transfers are a wonderful tool for those with good credit.
"Credit cards with 0% introductory rates can be taken advantage of to save money, provide flexibility with your monthly budget, or both. But, it's important to read the terms of the offer and do the math to ensure it's really going to be the right choice." –CleverDude.com.
Make sure you know all of the details of your current offer and don't forget to shop around! One of your existing cards may also have an offer available to you that you don't want to overlook.
To see these offers, log into your credit card account online and check for any incoming messages or special offers. New cards usually offer the best terms, but it is important to know all your options before making a decision. When utilized correctly, balance transfers can save you significant amounts of interest payments in the long run, but be careful not to let this approach land you in a situation that is worse than where you were to begin with.
Advertiser Disclosure
CardRates.com is a free online resource that offers valuable content and comparison services to users. To keep this resource 100% free, we receive compensation for referrals for many of the offers listed on the site. Along with key review factors, this compensation may impact how and where products appear across CardRates.com (including, for example, the order in which they appear). CardRates.com does not include the entire universe of available offers. Editorial opinions expressed on the site are strictly our own and are not provided, endorsed, or approved by advertisers.