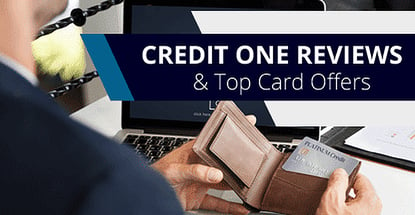 In nature, the distinctive markings found of creatures large and small have a variety of uses, including acting as a warning to potential predators that snacking may be dangerous. So effective are some of these patterns, that certain creatures actually evolve to mimic the markings of others, often with the intention of causing confusion to their enemies.
In the human marketing world, mimicking another company's markings (i.e., its logo) can certainly cause confusion — and for more than your enemies. Similar company logos can sometimes cause consumer confusion, as well. Take Credit One and Capital One's swoosh-inspired designs, for example. But although these credit card issuers have similar logos, each has made its own distinct credit card contributions. Capital One may be the bigger name, but Credit One has also risen to become one of the largest credit card issuers in the US. We'll take a look at some of Credit One's card offerings below and dive into some of the Credit One Bank reviews that can be found online. If you don't think Credit One cards are the right fit for you, we'll also explore a few alternate cards.
Our Take | Other Reviews | Top 3 Alternatives
Our Take: Credit-Building Visa Cards with Cash Back Rewards
At a glance, the Credit One line of credit cards are all similar to a variety of other basic rewards cards. Qualifying applicants can receive 1% cash back on eligible purchases, and rebuild their credit scores while they earn. The caveat here, however, is the "qualifying" part. While it may seem that Credit One has just a handful of cards, each card offered by the bank has a number of variations that depend on your creditworthiness.
For example, the bank offers six different cash back rewards programs between three cards If your credit is good, you may qualify for 1% cash back on all eligible purchases. For others, cash back may be limited to purchases in specific categories, like gas and groceries. And "no rewards" is also an option. You won't know which program you qualify for until you fill out the pre-qualification form, which is the first stage of the Credit One application process.
Credit One Bank® Unsecured Visa® with Cash Back Rewards
This card is currently not available.
Credit One Bank® Visa® Credit Card
This card is currently not available.
Credit One Bank® Visa® Cash Back Rewards
This card is currently not available.
In addition to your rewards varying with your credit score, so, too, will the size of your interest rate and annual fee. Interest rates range widely, running from , and they vary with the Prime Rate.
The most qualified applicants may be offered a Credit One card with no annual fee, but applicants at the other end of the credit score range may need to pay an annual fee of up to $99. After the first year, the fee is broken into 12 monthly payments made throughout the year. Check your individual cardholder agreement for exact terms.
Whether your card comes with a new purchase grace period will also vary by card offer. The grace period is the time spanning from when a purchase is posted to when that bill is due, and most credit cards will not charge you interest if you pay off all of your purchases before the end of the grace period (i.e., your billing due date). Credit One cards without a grace period will start charging interest as soon as your purchase posts.
Because there is so much variation in the bank's offerings, the quality of your Credit One credit card will depend entirely on which offer you get. If you're one of the well-qualified applicants who obtain a card with no annual fee that can earn rewards on anything, then you may have found a solid credit-building rewards card. For other applicants, the potentially high fees and lack of a grace period may be a deal breaker.
Other Reviews From Across the Web
As you might expect with from a credit card issuer with so many variations to its cards, the reviews on Credit One from across the web are also a mixed bag. Some users are content with their choice of credit-building cards, with particular emphasis being placed on how quickly some cardholders received credit limit increases.
This card does what it promises to do, promptly. If you're rebuilding your credit, this is your big chance. I got this card with a $400 CL. An annual fee of $75 came out immediately after activating the card, which left me with a $325 spending limit. I used some of the funds and paid the balance in full before the due date. In one month, I got an email stating they've raised my CL by $200. Yes, one month. I was so excited. — a WalletHub Reviewer
At the same time, many reviewers complain about Credit One's customer service, billing systems, and online services. Many cardholders report that the website and mobile app frequently have issues, making it difficult to make online payments,
The card itself is fine, but customer service & paying your bill is a nightmare. The phone options seem to be different for some users, I cannot get a person on the line at all, there is NO 'speak to a customer service rep' option, and there is NO phone pay option unless you are willing to pay the $9.95 'Express Pay' fee. You cannot pay by phone as a regular payment, regular payments can only be done online. HOWEVER, their website seems to be down more than it's up, and there is no way to contact anyone about it. Currently, their site has been down for over a week, but my payment (and, judging from the hundreds of online complaints, everybody's else's payment) is due tomorrow, and I cannot make it simply because Credit One has not provided any way to do so. Now I (and how many others…?) will be hit with a late fee because of Credit One's inability to provide a working website. — a Credit Karma Reviewer
Making matters more frustrating for many, reviewers indicated that mailing payments aren't always a sure bet, either, even when sent well before the due date.
I've had a $0 balance for about a year. They started adding 1/12th of my yearly device fee onto my monthly statement. I pay it. This month, I sent my $8.33 check out on the 11th, for a due date on the 23rd. They didn't cash it, and added a late fee. It may be plausible to be late if my check went out a couple days before the due date, but not 11 or 12 days. It is incredibly hard to get someone on the phone, and the customer service is terrible. I'm closing my account as soon as they remove the charges, as promised. This company is garbage, and they prey on people. Beware. — a Consumer Affairs Reviewer
So, as with the actual card you get from Credit One bank, the experience you have with the company's customer service and billing systems may also vary widely. For those who don't run into these common problems, the card seems to be a solid way to build credit and earn rewards. For everyone else, it may not be the best option.
Top 3 Alternatives for Bad Credit
Given the variations in offers from Credit One, your credit score may not qualify you for a card with low rates, a grace period, or rewards. In this case, your best bet for a quality credit-building card may be to explore other credit card options for bad credit. With a little research, you can likely find a wide variety of credit cards with flexible credit requirements, including some that charge no annual fee regardless of your score.
Your main options with poor credit will be store cards — which are often restricted to store-branded purchases — secured credit cards (which require a deposit), or unsecured subprime cards, which may charge higher fees. You can compare your options to find the best card for you, starting with our expert-rated picks.
at Celtic Bank'ssecure website
All credit types welcome to apply!
Free access to your Vantage 3.0 score From Experian* (When you sign up for e-statements)
Initial Credit Limit of $300 – $1,000* (subject to available credit)
Monthly reporting to the three major credit bureaus
See if you're Pre-Qualified without impacting your credit score
Fast and easy application process; results in seconds
| | | | | |
| --- | --- | --- | --- | --- |
| | | 24.99% – 29.99% (Variable) | | |
No annual or hidden fees. See if you're approved in seconds
Building your credit? Using the Capital One Secured card responsibly could help
Put down a refundable security deposit starting at $49 to get a $200 initial credit line
You could earn back your security deposit as a statement credit when you use your card responsibly, like making payments on time
Be automatically considered for a higher credit line in as little as 6 months with no additional deposit needed
Enjoy peace of mind with $0 Fraud Liability so that you won't be responsible for unauthorized charges
at Netspend'ssecure website
Move money from your PayPal account to fund your prepaid card account.
Earn cash back and personalized offers, just for using your card.
With Direct Deposit, you can get paid faster than a paper check.
Card issued by The Bancorp Bank, Member FDIC. Card may be used everywhere Debit Mastercard is accepted.
Click PayPal Prepaid Mastercard® for additional features & program details, and to request a Card.
+See More Cards for Bad Credit
Customize Your Cards with More Than 20 Designs
While we're not supposed to judge something solely on its appearance, we do anyway. While this can be a positive trait in nature — it helps some species avoid predators by mimicking a more dangerous species — it can lead to significant confusion in the consumer world.
For the record, despite similarities in their respective logos, Credit One and Capital One are not the same company. If you are trying to apply for one and not the other, read your application carefully to avoid confusion.
If you happen to have cards from both issuers in your wallet, the easiest way to differentiate may be to pick a distinctive card image for your Credit One card. You can choose from more than 20 card designs to customize your Credit One credit card and really make it stand out. (Be advised that you may need to pay a fee for a custom card.)
Advertiser Disclosure
CardRates.com is a free online resource that offers valuable content and comparison services to users. To keep this resource 100% free, we receive compensation from many of the offers listed on the site. Along with key review factors, this compensation may impact how and where products appear across the site (including, for example, the order in which they appear). CardRates.com does not include the entire universe of available offers. Editorial opinions expressed on the site are strictly our own and are not provided, endorsed, or approved by advertisers.