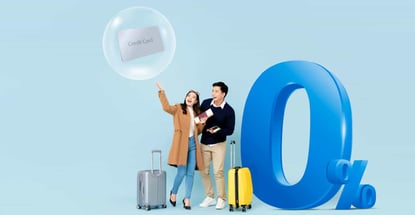 Is a 0% APR credit card a sensible way to charge purchases or an invitation to wild abandon? Why choose? Instead, consider the best 0% APR travel and air miles credit cards as a step toward a better lifestyle (or at least make it a little less expensive).
Best Travel Cards With 0% APRs
These travel cards offer new cardmembers a 0% intro APR on purchases or balance transfers for a year or longer. If you dream about two weeks in Hawaii with a year or more to repay interest-free, these cards can help make it a reality.
The Bank of America® Travel Rewards credit card is a good choice for customers who want a long period of 0% intro APRs on purchases and balance transfers. This travel card offers a signup bonus and the same rate of cash back on all eligible purchases. It never charges annual or foreign transaction fees, and your rewards never expire.
You can redeem your points for a statement credit for travel and dining purchases without booking restrictions or blackout dates. 
The Chase Freedom Unlimited® card's 0% intro APR on purchases and balance transfers offers plenty of time to stretch out payments interest-free. It advertises cash back, but your cash back is credited to your account in the form of Chase Ultimate Rewards points. One dollar in cash back rewards earned is equal to 100 points.
The card charges no annual fees. You get the most out of your rewards when you use them to book your trips through Chase Ultimate Rewards.
The Bank of America® Travel Rewards credit card for Students offers a 0% intro APR for balance transfers, and the promotion period is unusually long for a student card. This is a flexible credit card with unlimited rewards, meaning there's no cap on how much you can earn.
This card saves students money by not charging annual or foreign transaction fees. The points you earn never expire. You can redeem your rewards for statement credits to cover the cost of eligible purchases, including dining and travel purchases made with the card.
Best Miles Cards With 0% APRs
Miles are still travel cards, they're just a specific type of travel card. Miles come in two flavors: The first is general-purpose miles that you can use on any airline or eligible travel purchase, just like points you earn with the cards above. The second is frequent-flyer miles that apply to particular air carriers, including cards carrying the Delta, United, or American Airlines logos.
In either case, a 0% intro APR makes the following cards all the more desirable.
Unlike some competing travel cards, the Capital One VentureOne Rewards Credit Card allows you to fly any airline, anytime, without restricting you to a particular airline or travel schedule. It offers a generous 0% intro APR period for purchases and balance transfers.
You can redeem your miles to cover travel expenses, pay for bookings on the Capital One Travel website, or convert them to cash as a check, statement credit, or gift card, among other options. These general-purpose miles are less restrictive than those of some co-branded travel cards.
The Discover it® Miles gives you more than a year of 0% APR on purchases and transfers. You can redeem your miles to reimburse your travel purchases, and the miles never expire.
Eligible purchases include airline tickets, car rentals, hotel rooms, travel agents, online travel sites, commuter transportation, restaurants, and gas stations. If you prefer, you can cash out your miles for statement credits or deposits to your bank account.
The JetBlue Card offers a 0% intro APR on balance transfer transactions but not on purchases. You also get a signup bonus when you spend the required amount on eligible purchases during the first three months. 
You can redeem your TrueBlue miles for any JetBlue seat anytime, and the bonus miles pile up faster through the card's Point Pooling program. The card has no annual fees, foreign transaction fees, or blackout dates.
The FRONTIER Airlines World Mastercard® is another air miles card with a 0% intro APR on balance transfers only. It offers valuable Frontier Miles and a modest mix of travel benefits to fans of Frontier Airlines. 
For example, you get an annual flight credit after spending a set amount, and you can take advantage of priority boarding. The card waives the award redemption fee and taxes when you book an award ticket. This card is not a World Elite Mastercard, the highest designation.
What Is a 0% APR Credit Card?
A 0% APR credit card provides interest-free purchases and/or balance transfers to new cardmembers for a set period (typically six to 18 months) after account opening. Along with signup bonuses, 0% financing is a promotion banks and credit unions use to recruit new credit card customers.
Credit cards partition the calendar year into monthly billing cycles. The statement date — the date the card issuer generates your latest billing statement — is the last day of a billing cycle. The statement reports all the cycle's activity, opening and closing balances, minimum amount due, and payment due date. That due date is usually 21 to 27 days after the statement date, an interval called the grace period.
Your purchases won't incur interest charges if you pay your entire balance by the due date. You must pay at least the minimum amount due, but you can finance some or all of the remaining balance at the daily interest rate (i.e., the annual percentage rate or APR divided by 365). The card suspends grace periods until you repay your entire balance.
Your interest charges compound daily. Customarily, the max APR is 36%, but there isn't any federal rate cap (although some states impose limits). 
A 0% introductory APR is an extended grace period of at least six months from account opening. Most cards that offer this feature provide an interest-free period of 12 to 18 months. You can spread your payments over multiple months without interest charges during the intro period. 
The 0% promotion can provide significant savings. For example, suppose your card's regular APR on purchases is 26%, but the card offers an 18-month 0% intro APR. If you were to keep an average unpaid balance of $2,000 for the entire period, you would save $43.18 per month (or $777.24 for the intro period) in interest charges.
The following chart illustrates the savings available from a 0% balance transfer offer: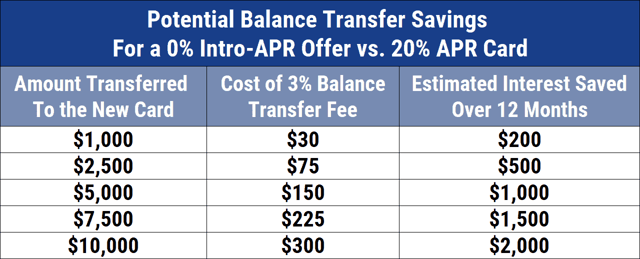 Some cards provide a 0% intro APR for balance transfers, either in conjunction with or instead of the purchase promotion. Balance transfers allow you to consolidate your outstanding credit card balances on one card. 
Transfers do not have grace periods except for a 0% intro APR offer. Each transfer triggers a fee, typically 3% to 5%, though some credit union cards don't charge transfer fees.
Many cards impose a deadline on the balance transfers eligible for the 0% rate. For example, a card may offer a 15-month promotional period, but only on balance transfers you complete within the first 90 days after account opening. Any subsequent transfers will incur the card's regular APR.
The card issuer can terminate a 0% APR promotion early if you don't pay the monthly minimum on time or if you close the account. You cannot get the promotion if you previously owned the same or related credit card within a set look-back period.
How Do I Get a 0% APR Travel Card?
You can apply online for a 0% APR travel credit card by providing information about yourself, including your Social Security Number, income, housing costs, and bank account number. Typically, card issuers make a hard credit inquiry to decide whether to approve your application and, if approved, determine your interest rate and credit line.
Most cards provide an immediate decision, but a delay may occur if the card issuer asks you to provide additional documents (e.g., bank statements, tax returns, utility bills, etc.). You can e-sign the cardmember agreement if the issuer approves your application, but read the details first to avoid surprises. You should receive your card in seven to 10 days, although some issuers expedite shipments.
Many cards allow you to prequalify without impacting your credit score. Card issuers do not perform hard credit pulls during prequalification. By taking this step first, you'll know whether to apply for the card and be subject to a hard inquiry. Note that prequalification does not guarantee final approval.
What Credit Score Do I Need For a Card With a 0% APR?
You need good to excellent credit (i.e., a FICO score of 670 or higher) to qualify for a 0% APR card. FICO is the dominant consumer credit scoring system, with a score range of 300 to 850.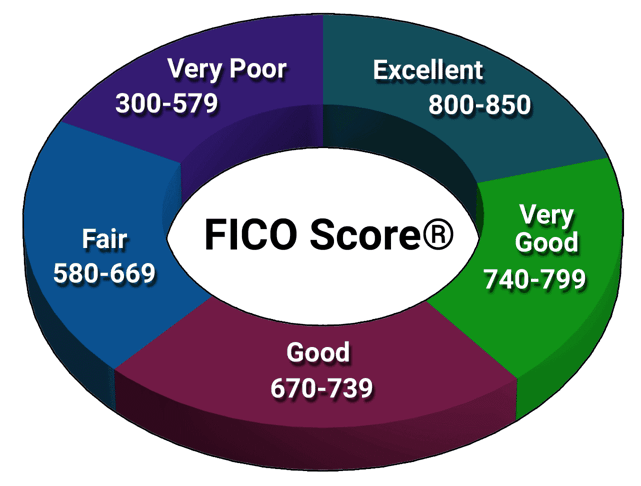 If you'd like to own a 0% card, but your credit is not good enough, consider the following remedies:
Improve your credit: This requires you to consistently pay your bills on time and reduce your credit card balances. Ideally, you want your credit utilization ratio (or CUR, equal to your credit balances divided by your total available credit) to be below the scoring system's target (1% for FICO, 30% for VantageScore).

You also want to avoid applying for multiple credit accounts and/or loans for about six months before you apply for the 0% interest card. Submitting too many card applications within a short period can damage your credit score.

Keep old credit card accounts open and use the cards at least once a year. This will improve your average account age, a positive FICO factor. All these actions can help improve your credit score.

Also, check your three credit reports for mistakes that hurt your credit score. Copies of all three credit reports are free at AnnualCreditReport.com, the only federally authorized source. You can attempt to fix the errors yourself or hire a credit repair company to do the work for you. Your score should quickly rise after you remove incorrect, unverifiable, or outdated derogatory information from your credit report.

Higher scores resulting from creditworthy behavior may take six months or longer to appear. You can also consider using a service such as Experian Boost or RentReport to add some points to your credit score.

Recruit a cosigner: A cosigner is someone with good credit and willing to share responsibility for your credit card payments. A cosigner gives you access to a high-quality credit card beyond your reach. Paying your bills on time is vital, as you don't want to jeopardize your relationship with a cosigner. Be aware that only two major credit card issuers currently allow cosigners.

Get a secured card: In most cases, your credit score is only of secondary importance when you apply for a secured card. Your deposit acts as collateral for your credit line, easing default concerns. Using a secured card is a proven method of building credit when you consistently pay on time. Secured credit cards report your activity to all three major credit bureaus, allowing your timely payments to boost your score over time.
If you have a 0% intro APR balance transfer card but don't pay off the entire balance before the end of the introductory period, consider getting a new 0% balance transfer card and moving the remaining balance to it.
What Are the Differences Between a Travel Card and an Air Miles Card?
Travel cards provide rewards (points or miles) you can redeem for travel on any airline. Air miles cards are a type of travel credit card offering reward miles that may be general purpose or tied to a specific airline or brand. Both card types provide significant travel-related benefits, even those with no annual fee.
Travel Cards
Travel cards offer points, miles, or cash back you can use on any airline. The cards offer bonus reward rates (sometimes as high as 5x or more) for travel-related purchases, including airline trips, hotels, and car rentals. The rewards you earn are especially valuable when you redeem them for travel expenses, such as airline tickets, hotel stays, rental cars, restaurant meals, and entertainment events. 
Some travel cards limit your use of rewards to pay retroactively for past travel expenses. Others allow you to redeem your rewards to pay for upcoming travel expenses.
For example, Chase Sapphire cards increase the value of your Chase Ultimate Reward points when you redeem them through Chase Travel. Similar arrangements apply to Capital One, Citibank, and American Express travel cards.
Travel cards offer many benefits, which we will describe later on.
Air Miles Cards
These cards offer two types of reward miles:
General-purpose credit card miles: Similar to reward points, you can use these credit card miles on any airline. You may be able to redeem them for other purposes as well. The miles have a set dollar value if you cash them in. The Discover it® Miles card is an example of a general-purpose miles card.
Frequent flyer miles: Co-branded airline credit cards offer the carrier's (and its partners') frequent flyer miles, identical to those you earn on flights. These airline miles are less versatile than general-purpose miles but may be more valuable. Unfortunately, it's impossible to predict the dollar value of these miles because you can't cash them in, and changes in frequent flyer programs often alter mile values. The JetBlue Card exemplifies this type of travel card.
Some travelers own multiple co-branded air miles cards to ensure they earn the maximum airline rewards regardless of the carrier.
What Benefits Do Travel Cards Offer?
Travel cards may offer numerous benefits, including:
Travel insurance: Travel cards may offer various insurance policies, including those for accidents, flight interruptions and cancellations, lost luggage, and rental car collision damage.
Signup bonuses: New cardmembers may qualify for a bonanza of travel points by spending the required amount on eligible purchases during an introductory period (usually three months). Typically, the spending requirement ranges from $500 to $5,000.
Access to airport lounges: The more expensive travel cards usually provide access to specific airport lounges for free or at reduced prices.
Travel credits and reimbursements: You may be eligible for travel credits such as TSA PreCheck and Global Entry reimbursements, anniversary travel credits, checked bags, hotel stays, Uber rides, etc.
No foreign transaction fees: You can save 3% to 5% on your international purchases when your card waives foreign transaction fees. Even travel cards with $0 annual fees may offer this perk.
Naturally, the travel cards in this review offer a 0% introductory APR, a feature that can finance trips large and small.
Are Air Miles Better Than Cash Back?
Cash back is the most versatile reward, but some air miles may be more valuable. The problem is that it's hard to predict the value of frequent flyer air miles due to program changes. Consider these variables:
The reward ratio: The ratio specifies how many miles you get for each dollar you spend on travel.
The reward program: Each airline determines how many frequent flyer miles you must redeem for a specific flight, departure date and time, destination, cabin, and seat. Rewards programs may also offer seat upgrades and inflight perks. Airlines often update their frequent flyer programs, changing the miles you need for a given flight.
Complicated reward schemes: Some frequent flyer programs are ridiculously complex, requiring two or more types of miles to unlock the best deals. For example, one program tracks separate "qualifying miles" that influence the value of its travel miles. 
Cash travel cards offer cash back rewards that you can apply to previous travel expenses. But these cards may also allow you to redeem the cash back in several other ways, including, well, cash. Co-branded miles cards typically don't allow you to redeem your rewards for cash.
Are Air Miles Credit Cards Worth It?
Generally, travel points and general-purpose (GP) miles are more valuable than the frequent-flyer miles from co-branded travel cards. You can usually transfer travel points and GP miles to partner programs, sometimes on a 1:1 basis.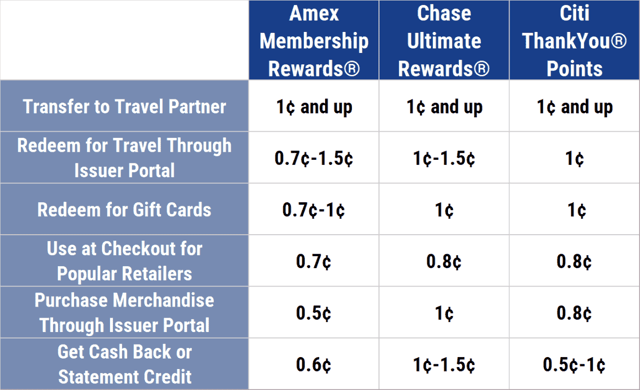 You may be surprised to learn that air miles tend to have more value when you redeem them for business-class and first-class flights. If you often fly for your company, you may want to consider getting a business credit card, such as the Business Platinum Card® from American Express. Another good business card is the Delta SkyMiles® Platinum Business Card.
How Do I Get The Most Value Out of My Travel Rewards?
Know all of a travel card's benefits and rewards before signing up. Articles such as this one compare competing cards to help you find the one that offers the best tradeoff between costs and perks. 
Specific tips to maximize the value of your travel rewards include:
Know redemption values: The values of points and miles usually depend on how you redeem them. For example, Chase Ultimate Reward points are worth 50% more when you redeem them for Chase Travel bookings than when you use the points for cash back. 
Maximize welcome bonuses: Enjoy generous signup bonuses and 0% intro APRs. These reduce the net price of travel and other purchases, which can make a big difference on big-ticket items. For example, a 100,000-point signup bonus and 18-month 0% APR could save you thousands of dollars if you're contemplating a world cruise.
Consider owning multiple cards: You may want to own several co-branded air miles cards if you often fly without loyalty to any particular carrier. Hotel cards can be very valuable if you favor a specific chain, as they may offer free stays, room upgrades, and other perks.
Juggle your credit lines: If you have multiple cards from the same issuer, you can move part of your credit lines around to where they will do the most good. For example, suppose you have a travel and a cash back card from the same issuer, each with a $10,000 credit limit. You may want to move $7,500 from the cash card to the travel card to finance more expensive trips and receive better travel rewards.
Don't pay for benefits you won't use: The better travel credit cards assess three-digit annual fees to fund all their excellent benefits. But why pay for benefits you won't use? For example, if you don't like airport lounges, you may be able to save several hundred dollars a year by getting a less expensive travel card.
Most importantly, make sure you never miss a payment due date. Doing so will result in a penalty fee, an early termination of your 0% APR, and a penalty APR if applicable.
Get the Travel Card That Fits Your Needs
Our review of the best 0% APR travel and air miles credit cards should interest travelers who want to finance an expensive trip. These travel credit cards offer various rewards and benefits, but all provide lengthy periods of interest-free financing to new cardmembers. 
Be sure to read the credit card agreement closely before choosing a card. Doing so will help you avoid overlooking any of the perks available and any costs or limitations lurking under the covers.
Advertiser Disclosure
CardRates.com is a free online resource that offers valuable content and comparison services to users. To keep this resource 100% free, we receive compensation for referrals for many of the offers listed on the site. Along with key review factors, this compensation may impact how and where products appear across CardRates.com (including, for example, the order in which they appear). CardRates.com does not include the entire universe of available offers. Editorial opinions expressed on the site are strictly our own and are not provided, endorsed, or approved by advertisers.