High spending limits and 0% interest may be the best combo since burgers and fries. We've prepared a feast of an article on the best high-limit 0% APR credit cards that should provide good-credit consumers ample food for thought. 
Spending large sums interest-free is a delicious prospect as long as you don't overindulge and create an unappetizing pile of debt. But by exercising a little self-control, these cards let you have your cake and eat it too.
High-Limit Credit Cards With 0% APRs For Good-to-Excellent Credit
Let's explain from the outset that you can only get a high-limit credit card with an introductory 0% APR if you have a good to excellent credit score. These perks are expensive and add to the card issuer's potential loss should the cardowner default. That's why issuers limit eligibility to consumers with relatively strong credit scores (i.e., 670 and higher in the FICO scoring system). 
These superb cards fit the bill, offering maximum credit limits and introductory 0% APRs for six or more months.
At least one forum contributor claims a $14,000 starting credit limit on the Bank of America® Customized Cash Rewards credit card. The card has a long 0% intro APR on purchases and balance transfers, after which the regular APR will kick in.
The balance transfer promotion applies only to transactions you make in the first 60 days after account opening. The card features a $0 annual fee and your choice of a bonus-reward merchant category.
According to a forum report, owners of the Bank of America® Travel Rewards credit card may achieve initial spending limits of $18,000 or more. The card also has a long 0% APR introductory period on purchases and balance transfers, as well as a signup bonus and unlimited rewards, meaning there's no cap to the amount you can earn – especially attractive for big spenders with high spending limits.
This no-annual-fee card is a natural choice for travelers with Bank of America accounts. The value of your reward points increases if you are a Preferred Rewards member. 
Bank of America® Unlimited Cash Rewards credit card is the cash back version of the bank's Travel Rewards card. The two cards share 0% APR promotions, and one forum contributor boasts a $99,000 credit limit with this card. 
The card's simple reward structure attracts consumers uninterested in rotating or tiered categories. The cash back rewards are unlimited and don't expire while the account remains open and in good standing.
We love the Chase Freedom Unlimited®, but it comes behind the Bank of America cards for having slightly shorter 0% terms. The Visa Signature version of this card provides a starting credit limit of at least $5,000. But cardholders with excellent credit may receive a significantly higher credit limit.
This Visa credit card offers a signup offer and higher bonus cash back on Chase Travel purchases. All eligible purchases earn Chase Ultimate Reward points redeemable for cash, gift cards, and travel, among other things.
The highest Discover it® Cash Back spending limit we've come across is $56,500. That's much more than the card's $500 minimum starting credit limit. This cash back credit card offers a 0% intro APR on new purchases and balance transfer transactions. 
Remember that regular interest rates resume after the introductory period ends. The card pays a bonus cash back rate on activated quarterly rotating merchant categories up to a purchase limit. It provides several security safeguards, including online privacy protection and the Freeze it® on/off switch. 
We assume all Discover cards for good credit, including the Discover it® Miles, can have similar credit limits. This card is for those who prefer to earn travel miles over cash back. But they'll still earn an unlimited Miles-for-Miles match for the first year of card ownership.
You can redeem your miles for cash or purchases via Amazon.com and PayPal. Your miles never expire, even if you close your account.
According to the online forums, the Capital One Quicksilver Cash Rewards Credit Card may raise your credit limit to $10,000 over time. The intro 0% APR promotion for purchases and balance transfers runs longer than one year.
The card also offers a signup bonus, cash back on all eligible purchases, and it charges no annual or foreign transaction fees. Book your rental cars and hotel stays through Capital One Travel for extra rewards.
You may be surprised that the maximum credit limit is $30,000 for the Capital One SavorOne Cash Rewards Credit Card, according to a forum comment. That's pretty good for a no-annual-fee card from Capital One. 
The intro 0% APR applies to balance transfers and purchases. Bear in mind that a flat fee applies to each balance transfer transaction during the introductory period. 
The Capital One VentureOne Rewards Credit Card is the no-annual-fee sibling of the Venture card, which offers higher rewards on purchases but no 0% APR promotions. Alas, being the younger sibling also means a lower credit limit than the Venture card, but credit limits as high as $10,000 have been reported. 
Citi® Diamond Preferred® Card offers an extraordinary introductory period for 0% APR balance transfers and new purchases. A forum contributor reports an $11,900 credit limit, but we expect higher limits to be achievable.
You can receive automatic account alerts by email or text and choose any payment due date within the month. All it takes is a tap on the card reader to shop safely with this contactless, chip-enabled card.
A forum contributor reports a $15,900 credit limit for the Citi Custom Cash® Card. You also get an extended promotional period for 0%-APR purchases and balance transfers. The card charges no annual fee and automatically alerts you to low balance levels, upcoming payment dates, and attempts to exceed your credit limit.
You can earn a modest signup bonus by spending the required amount in the first six months after account opening. The Citi Mobile App lets you select your monthly payment due date and gives you 24/7 account access.
What Is a 0% APR Credit Card?
A 0% APR card offers you an introductory period in which you can carry balances from month to month without incurring interest. These periods typically extend six to 21 months from account opening. 
Credit cards may offer intro 0% APR promotions on purchases, balance transfers, or both. Sometimes, the intro period differs for the two types of transactions. Your unpaid balances will accrue interest at the card's standard annual percentage rate (APR) after the introductory period expires.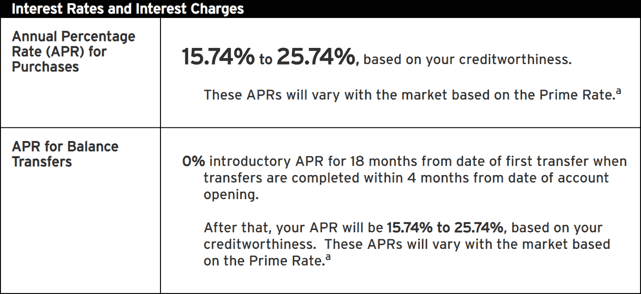 You can view the no-interest introductory period as an extended grace period. Normally, grace periods extend from the end of a billing cycle (the statement date) to the payment due date, typically 21 to 27 days.
You'll avoid interest on purchases if you pay your entire balance no later than the end of the grace period. With a few exceptions, most credit cards have grace periods. 
Grace periods and 0% intro APR offers do not apply to cash advances. You incur compound interest daily until you repay a cash advance. Fees of 3% to 5% usually apply for cash advances. The cash advance interest rate may differ from the standard purchase and balance transfer APRs.
You must still make the monthly minimum payment even in the 0% APR introductory period. If you miss a payment, the card issuer can cancel the 0% introductory APR offer, charge you a late fee, and perhaps impose a high penalty APR. Moreover, the issuer will report missed payments to a credit bureau after 30 days, damaging your credit score.
Always check the fine print for details on the introductory 0% offer. Compare each card's perks to see what you sacrifice for the 0% deal.
How Do Banks Decide My Credit Limit?
Banks determine your credit limit by reviewing your credit risk, credit card history, debt capacity, and any previous experience you had with the issuer. Each card has its special sauce for calculating credit limits, but most consider similar data.
Let's take a closer look at the four factors that help set your credit limit:
Credit risk: The major credit bureaus assign your FICO and VantageScore scores using credit report information. Credit card issuers use your reports and scores to decide whether to approve your application and how much credit to extend. You can expect a higher credit limit if you have a good or excellent credit score. 
Credit card history: Issuers dive deep into your credit card track record when determining your credit score. They may increase your credit limit if you have demonstrated consistently responsible credit card use. In fact, issuers often overweight the impact of your card history versus other types of debt.
Debt capacity: Issuers want to set credit limits to reflect your ability to pay your bills. They use metrics such as your debt-to-income (DTI) ratio to measure your debt capacity. Reducing your existing debt before applying for a new credit card is a good idea. A high DTI may cause a credit card issuer to decrease your credit limit.
Your previous experience with the issuer: Credit card companies are like elephants: They never forget. Unlike credit bureaus that must remove items from your report after specified periods, card issuers maintain enduring customer records. You can expect any issuer that has ever written off your credit card balance due to default or bankruptcy to reject your new card application.
The good news is that this country has plenty of credit card issuers. You're free to try others if you don't get the desired results from one. 
Which Card Will Give Me the Highest Credit Limit?
Among generally available credit cards, Chase Sapphire Reserve® and Chase Sapphire Preferred® Card have the highest credit limits, potentially as high as $500,000. But they don't currently offer 0% APR promotions.
Boutique no-preset-spending-limit (NPSL) cards, such as the Centurion Card from American Express (the "Black Card"), may provide seven-figure spending limits.
If you want a $10,000 minimum credit line, check out a World Elite Mastercard or Visa Infinite credit card. These top-level cards offer the highest starting limits and best perks. American Express offers its high-limit Platinum Card, a tier below its Centurion Card. Cards at these levels charge annual fees ranging from $95 to $695 and up.
What Is a Good Credit Score For a 0% APR?
Generally, it would be best if you had a good credit score (above 670 in the FICO scoring system/660 VantageScore) to get a 0% APR. If you have poor or average credit, consider recruiting a cosigner or applying for a card from a credit union with more favorable terms.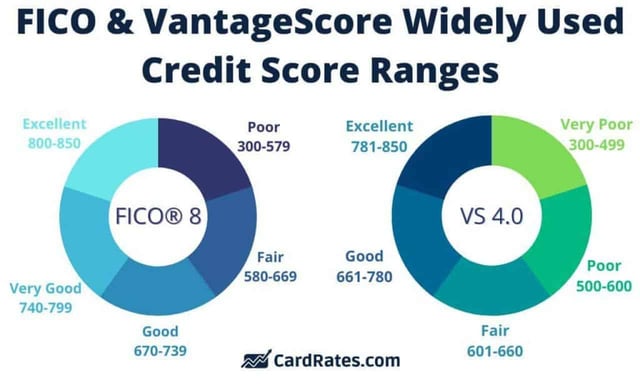 The 670 threshold isn't universal. Some 0% APR cards may reject applicants with higher scores or approve lower-scoring ones. In other words, credit scores may be the most crucial underwriting factor, but card issuers also look at additional information when evaluating card applications.
For example, you may receive approval if you've recently improved from a poor to an average credit score.
How Do I Increase My Credit Limit?
Short of dramatically improving your credit score, you may be able to increase your credit limit by updating your income, applying for a new card, asking your current issuer for a higher limit, or waiting for the card's standard re-evaluation cycle. 
Several issuers, including Capital One, Discover, Chase, Bank of America, and Citi, provide automatic credit limit increases to patient cardmembers. Let's dig deeper:
Improve your credit score: Higher scores often presage higher spending limits. Good habits that can raise your credit score include paying bills on time, reducing indebtedness, keeping old accounts open, and avoiding new credit applications.
Update your income: A higher income decreases your debt-to-income ratio and helps you justify a larger credit line. Be sure to include all household income sources from work, government benefits, financial aid, pensions, and alimony. 
Apply for a new card: A new issuer may view your credit history more favorably and offer you a card with a higher limit.
Ask for an increase: Contact a customer rep and explain why you deserve (rather than need) a credit boost. Cite your card loyalty, timely payments, and low debt levels. You can try dangling balance transfers as an incentive, as issuers love to inherit your outstanding card balances (and the fees they generate). Limit your requested increase to a range of 10% – 25%, as greediness may backfire. 
Be patient: Do all things come to those who wait? Well, maybe. But many issuers periodically review your credit performance and provide increases to responsible cardmembers without any prompting.
There's no guarantee that these steps will bear fruit, but they certainly will increase the odds of a credit limit boost in your favor.
How Does a 0% Balance Transfer Work?
A 0% intro APR balance transfer promotion lets you consolidate the outstanding balances from your other credit cards to your new one without interest charges during the promotional period. Each transfer will trigger a balance transfer fee, usually between 3% to 5% or higher. 
The promotion period must last at least six months but sometimes reaches 21. The typical period is 15 to 18 months. Any remaining transferred balance will accrue interest at the card's standard balance transfer APR once the promotional period ends.
It's pretty easy to transfer credit card balances. Many issuers also provide an online form to move one or more balances, although you can arrange the transfers by speaking with a customer rep. 
Upon your request, your new card issuer will contact your existing cards and arrange to pay off your balances in total or in the amounts you specify. If you pay off a card's entire balance, you make future payments to the new card. But if you transfer less than the old card's complete balance, you must make payments to your old and new cards.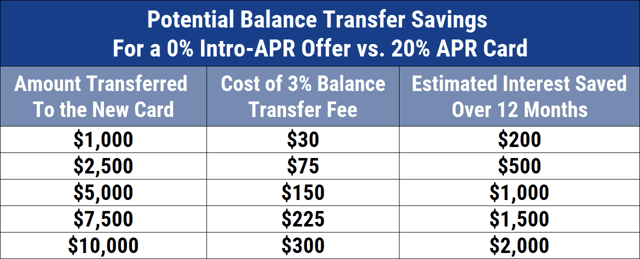 It takes five days to three weeks to complete the balance transfer process. You should continue to make at least the minimum payments to the old card until it confirms the transfer. You can collect a refund If you accidentally overpay on the old card.
Make sure your new card has a lower APR than that of the old card if you don't plan to pay off the consolidated balance before the introductory period ends. Otherwise, you will pay more interest in addition to the balance transfer fee. 
Knowing whether you must complete your transfers within a specified period to participate in the promotion is crucial. For example, a card may offer a 0% APR on transferred balances for 18 months but impose a 90-day deadline for completing the participating transfers. 
Any transfers after the deadline will incur interest at the card's standard rate. Read the card agreement carefully because most balance transfer cards impose this kind of deadline.
Your new balance transfer card should have a credit limit sufficient to accommodate all your existing balances so you can consolidate your credit card debt. Otherwise, you'll need to make multiple monthly payments. Failure to fully consolidate makes it more challenging to pay down your balances and increases the odds of forgetting to pay on time.
It's good to compare your old balances against the new card's credit limit, current balance, and transfer fee to ensure a complete balance transfer is feasible. Check whether the new card limits the maximum transferable amount for a given period.
Does Carrying a Balance on a 0% APR Card Hurt My Credit?
Carrying any credit card balance may hurt your credit score because it increases your credit utilization ratio (i.e., credit used divided by total credit available). FICO sets a target ratio of 1%, whereas VantageScore penalizes ratios above 30%.
CUR relates only to revolving credit card accounts, not installment loans or home equity lines of credit. The cards include those from the four major issuers — Visa, Mastercard, Discover, and American Express — plus store and gas cards.
Many online sources misstate that CUR's impact on your FICO score is worth 30% of your total. CUR is only part of a category that contributes 30% to your score. The category also contains several other unrelated metrics.
Installment debt has a negligible impact on your credit scores. Additionally, credit scores often decline after you pay off installment debt. So, if you have installment and credit card debt, paying off the cards first will maximize the positive impact on your credit scores.
A High-Limit, Interest-Free Card Is Just Minutes Away
Our review of the best high-limit 0% APR credit cards reveals a cornucopia of options for consumers with good or excellent credit. These cards are a great choice if you plan some big-ticket spending that you'd like to finance over a year or more. Cards with a significant signup bonus are extra tasty, so if you're craving a scrumptious new credit card, bon appetit!
Advertiser Disclosure
CardRates.com is a free online resource that offers valuable content and comparison services to users. To keep this resource 100% free, we receive compensation for referrals for many of the offers listed on the site. Along with key review factors, this compensation may impact how and where products appear across CardRates.com (including, for example, the order in which they appear). CardRates.com does not include the entire universe of available offers. Editorial opinions expressed on the site are strictly our own and are not provided, endorsed, or approved by advertisers.