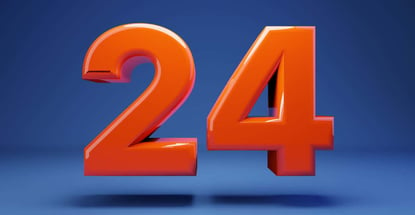 While they may say you can never be too rich or too thin. I say your credit card's balance transfer promotion can never last long enough. Just think of it! A year or two of 0% interest on the debt you consolidate from your other credit cards.
Balance transfers provide an excellent opportunity to chop down the forest of debt you've accumulated without the drag of demon interest. Of course, a deal this good can't go on forever. But just how long can it last? 
Most Issuers Offer 21 Months or Less
The harsh reality is that it's hard to find balance transfer promotions lasting longer than 21 months. But you may be able to find a longer balance transfer promotion from a local credit union. Also, a few banks offer balance transfer periods of up to three years, but not at 0% — the promotional rate is usually 4.99% or something similar.
Virtually all credit card issuers extend their balance transfer promotions for 12 to 21 months. Of course, not all credit cards offer this perk, but if your goal is to reduce your debt, you have plenty of balance transfer cards from which to choose. In fact, there are enough balance transfer cards to fill an article, which is why we invite you to continue reading.
Best 21-Month 0% Balance Transfer Cards
The following cards currently offer new cardmembers 21 months of 0% interest charges on transferred balances. One large financial institution, Citibank, dominates this market segment. We rate the Citi® Diamond Preferred® Card as the best credit card in this group. 
Be sure to read the fine print explaining how these interest-free promotions work. These cards provide the 0% introductory rate only on balance transfers you complete within a short period, typically within four months of account opening.
Best 18-Month 0% Balance Transfer Cards
Discover joins the balance transfer bandwagon when the promotional period drops to 18 months. That's still a lengthy interval for a 0% APR, and these cards may offer a broader range of perks in addition to balance transfers. 
This group of credit cards offers rewards in the form of cash back or travel points. They are excellent cards even if you do not need a balance transfer promotion. But the Discover it® Balance Transfer card may not be your best choice unless balance transfers are your primary objective, as the other Discover cards (such as the Discover it® Cash Back) offer a variety of perks that may suit you better.
Best 15-Month 0% Balance Transfer Cards
You'll have more choices if you're willing to settle for cards with a 15-month balance transfer promotion. These cards make sense if you have a moderate amount of accumulated credit card debt, as their promotional periods are six months shorter than the 21-month cards. 
The Luxury Card™ Mastercard® Black Card™ is the only card in this review that charges an annual fee, and a steep one to boot. It can be a good choice if you're looking for a premium card with fancy perks — we suspect most of its cardmembers don't shell out the big bucks for its 15-month balance transfer promotion.
What Is a 0% Balance Transfer Card?
A 0% balance transfer credit card is a traditional bank credit card that has a promotional offer for new customers. This promotion provides interest-free financing on balance transfers for six to 21 months, although the best balance transfer card may occasionally have a longer promotion period.
Many cards offer 0% financing promotions on new purchases instead of, or in addition to, balance transfer promotions. Each card's mix of costs and benefits is unique, so the length and terms of the introductory promotions depend on the card you choose.
A balance transfer card accepts the balances from your other credit cards — up to your new card's credit limit — and lets you pay down the balance over the promotional period without interest. Credit cards usually charge a 3% to 5% transaction fee for each transfer.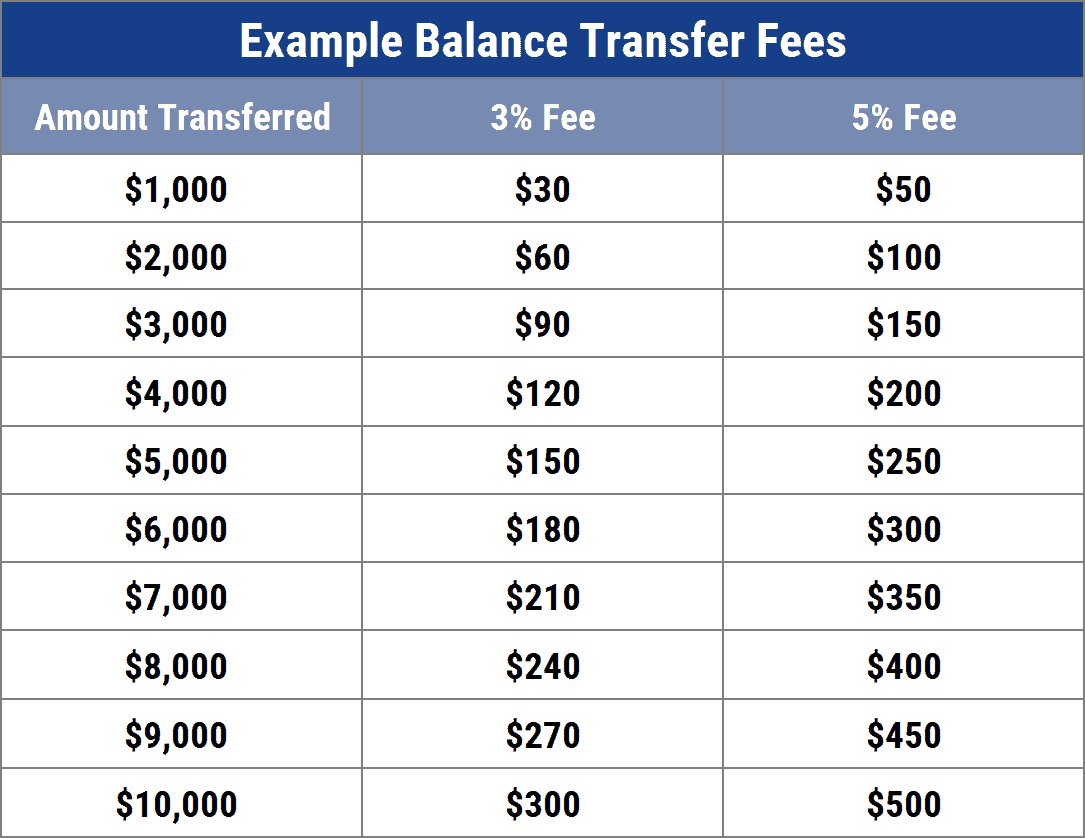 Balance transfers are beneficial if your current credit card balances incur high interest rates. By moving your balances to a 0% interest card, your money reduces your principal balance without the drag of interest charges slowing your progress. 
A balance transfer is a type of debt consolidation. An added benefit of balance transfers is that you won't have to juggle multiple monthly card payments. A single monthly payment is easier to budget for and remember.
Aside from the 0% intro APR, a balance transfer credit card works just as any other unsecured credit card. You can use it to charge purchases, take cash advances, and carry a balance from one month to the next. 
Because cards offering this promotion usually require cardmembers to have good credit, you should expect handsome benefits and rewards from your card.
Be sure to read your card's terms and conditions before you apply to ensure you understand the rules regarding the promotional period. Doing so can eliminate future surprises. For example, some balance transfer cards cancel the promotion if you miss a payment date. 
How Do I Do a Balance Transfer?
Moving your existing balances from your old cards to a new balance transfer card is relatively easy, though the process may vary slightly from one card issuer to the next. Once the issuer approves your card application, you can request transfers online or over the phone. 
Gathering the necessary information before contacting your card issuer is helpful. 
For each credit card, you'll need the account name, account number, and the amount you wish to transfer. Be sure to let your issuer know you will use your card's 0% intro APR offer.
The online transfer dialog or your customer service rep will walk you through the transfer process step by step. After the issuer approves your request, it will contact your existing card companies to arrange the balance transfers.

Assuming that you've transferred all your balances, you'll now make all future payments on the transferred balances to your new card issuer. But if your balance transfer pays off only a portion of your credit card debt, you must make monthly payments to your new and old cards.
Balance transfers take time, sometimes weeks, to complete. One of the biggest consumer mistakes when transferring balances is to stop payments on their old accounts. 
You may face a late fee and damage to your credit score if you don't make a monthly payment while the balance transfer is still taking place. 
The time it takes to complete your credit card balance transfer will depend on your new and old card issuers. According to our research with each of the major credit card issuers, here's how long you can expect your balance transfer to take:
American Express: A minimum of five to seven business days and a maximum of six weeks
Barclays: Up to four weeks
Bank of America: Up to two weeks
Capital One: Between three and 14 days
Chase: Between one and three weeks
Citi: Up to two weeks
Discover: Between one and two weeks
US Bank: Up to two weeks
Wells Fargo: Between one and five business days
Factor in these time frames when planning your transfer strategy. The credit card company will issue you a refund if you overpay the amount you owe on an old card.
To avoid this potential issue, consider scheduling your balance transfer for the beginning of a billing cycle so you can clear your balance before the next bill is due.
Remember that most balance transfer offers only work for the balances you transfer within a short period (often 60 to 90 days) after you activate your card. This means you may get as many as 21 months of interest-free financing, but only on balances you transfer within three months of your card's activation.
Your window of opportunity for 0% balance transfers varies by card. Before applying for a balance transfer card, check with the card issuer to learn how much time you'll have to transfer balances and still enjoy the promotional rate.
How Much Can I Save With a Balance Transfer?
A balance transfer is a credit card transaction in which you move debt from one or more credit cards to your new credit card account. Depending on the card issuer's terms, you may also transfer other types of debts.
Transferring debt from one credit card account to another may seem like an empty gesture because you still owe the same amount of money. But, if you've got good credit, you may qualify for a new credit card with a 0% introductory APR. 
The following chart shows the potential savings you'll accrue from a 12-month balance transfer offer: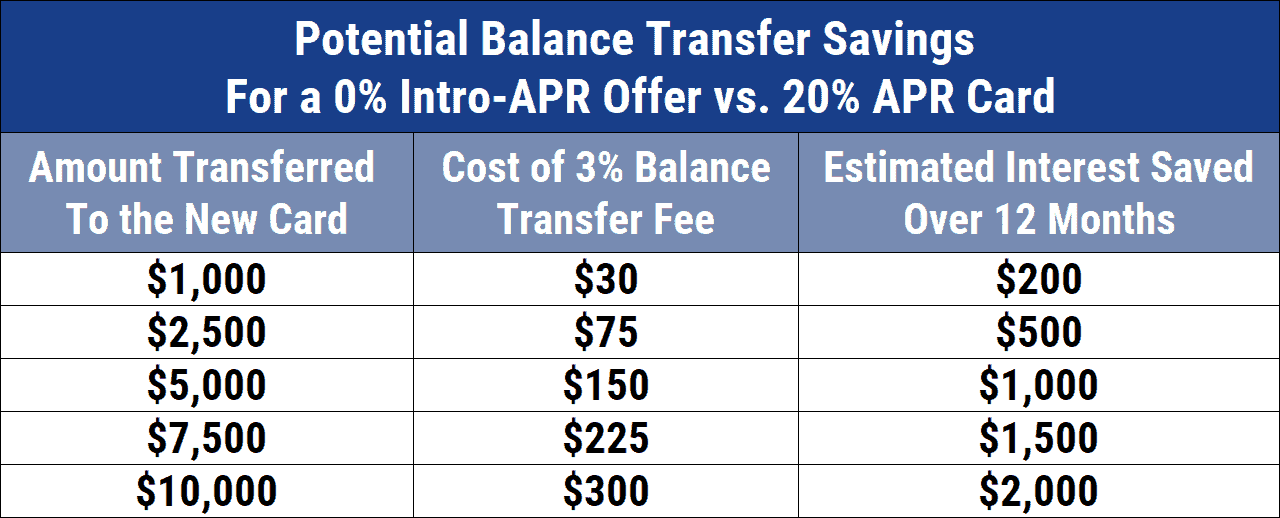 A 0% APR means you're now borrowing money from your new credit card issuer for free.
The 0% introductory interest rate makes balance transfers attractive if you want to get out of debt. Moving high-interest debt to your new balance transfer card can pay off big time.
The chart indicates that transaction fees reduce your net savings from balance transfers. These fees usually range between 3% and 5% of your transfer amount. Additionally, most balance transfers charge a minimum transaction fee of $5 to $15 for each transfer, which may increase your costs when you transfer a small balance. 
Sometimes, you can negotiate with your new credit card issuer to reduce or eliminate the fee. Here are a few negotiating tips that may help:
Look for deals: Call the card issuer and ask if the issuer is currently offering new cardmembers any deals that may eliminate your balance transfer fee. Ask to speak to a supervisor if the customer service rep does not have the authority to waive fees. Speaking directly with a supervisor may increase your odds of success.

Threaten not to apply: Banks are generally greedy for new business, which you may be able to use to your advantage. Tell the account rep that the balance transfer fee is a dealbreaker preventing you from applying for the card.

Research the competition: Mention to the supervisor that you found a competing issuer offering free or reduced balance transfer fees. The supervisor may have the authority to match a competitor's promotion.

If all else fails, you can apply for a different credit card, pay the balance transfer fees, or consider another option for eliminating your debt. For example, you could use a personal loan to consolidate your debt, but first check if this option is less expensive than balance transfers.
Is a 0% Balance Transfer a Good Idea?
It's always a good idea to reflect upon the pros and cons of any financial move. Here are some factors to consider before you perform your first balance transfer.
Pros
Here are some benefits to consider if you're not sure whether a balance transfer credit card is right for you:
You'll save money: Moving your debt to a credit card that has a zero interest rate can save you a bundle. According to the Federal Reserve, the average credit card interest rate is 20.09%. And credit card interest rates can climb much higher if the prime rate rises. The savings potential with a balance transfer card can be significant if you obtain a card with a 0% intro APR and aggressively pay down your debt.

You will reduce debt faster: A 0% introductory rate on a balance transfer card will help you pay down your debt. Your entire payment goes toward your principal balance each month when you pay no interest, even if you make the same monthly payment. A 0% balance transfer card will reduce your debt faster if you can increase your monthly payments.
You will consolidate payments: A balance transfer card can move outstanding debt from several credit cards onto one new account. This will reduce the number of creditors you must pay each month — making it easier to manage your budget. Making one monthly payment on time is easier than making several payments on time.

You may improve your credit scores: A new balance transfer card may help your credit scores. If you don't close your pre-existing credit card accounts, your credit utilization ratio (i.e., credit used divided by credit available) should decrease, a positive for credit scores. This strategy only works if you don't use your new card to finance a shopping spree.

None of the above advantages are automatic. But a good balance transfer card may allow you to enjoy most or all of these benefits.
Cons
Here are a few drawbacks to consider before applying for a balance transfer credit card:
Balance transfer fee: These fees are typically 3% to 5% of your transfer amount. Suppose the balance transfer fee is 5%, and you transfer $10,000. You'll pay $500 to move your debt to the new account, which will offset your savings. Consider using a balance transfer calculator to make sure the math works. Naturally, saving thousands of dollars in interest at the cost of $500 is a winning strategy.

Credit problems may disqualify you: Virtually all 0% balance transfer cards require applicants to have a good to excellent credit rating. You may be unable to qualify for a balance transfer card if you're struggling with low credit scores or poor credit history.

You may have to change your habits. Paying your statement balance on time each month is the best way to manage a credit card. It makes little sense to obtain a balance transfer card, move all of your debts to it, and then continue to overspend on your original accounts. Furthermore, late payments may damage your credit scores and prompt the issuer to cancel the 0% APR deal.
For these reasons, you should only apply for a balance transfer credit card if you're confident you can use it wisely. 
What Happens When a 0% Balance Transfer Expires?
You will not have to pay any interest on the transferred balance for the life of your promotion. But this great deal will eventually expire, at which time your card reverts to its regular APR. 
After the 0% rate ends, you'll start paying interest on any transferred balances you didn't repay before the promotion expired. 
Use your promotional period responsibly and pay off as much of the debt before the 0% rate ends so you avoid the card's regular APR.
Do Balance Transfers Hurt Your Credit?
Balance transfers can help or harm your credit — it depends on your behavior after you transfer debts to the new card. 
Opening a new credit card increases the amount of credit at your disposal. Additional credit improves your credit utilization rate — so long as you do not build a large balance immediately.
You calculate your credit utilization rate by dividing your current credit card balances by the total amount of credit available from your credit cards.
Suppose you have a credit card with a $2,000 credit limit and a $1,000 balance. Your credit utilization rate is 50% — meaning you are currently using 50% of your available credit.
If you add a credit card with a $1,000 limit, you'll increase your available credit to $3,000, and your credit utilization rate will decrease from 50% to 33%.
The following chart shows the benefit of adding a balance transfer card and moving your other balances to it: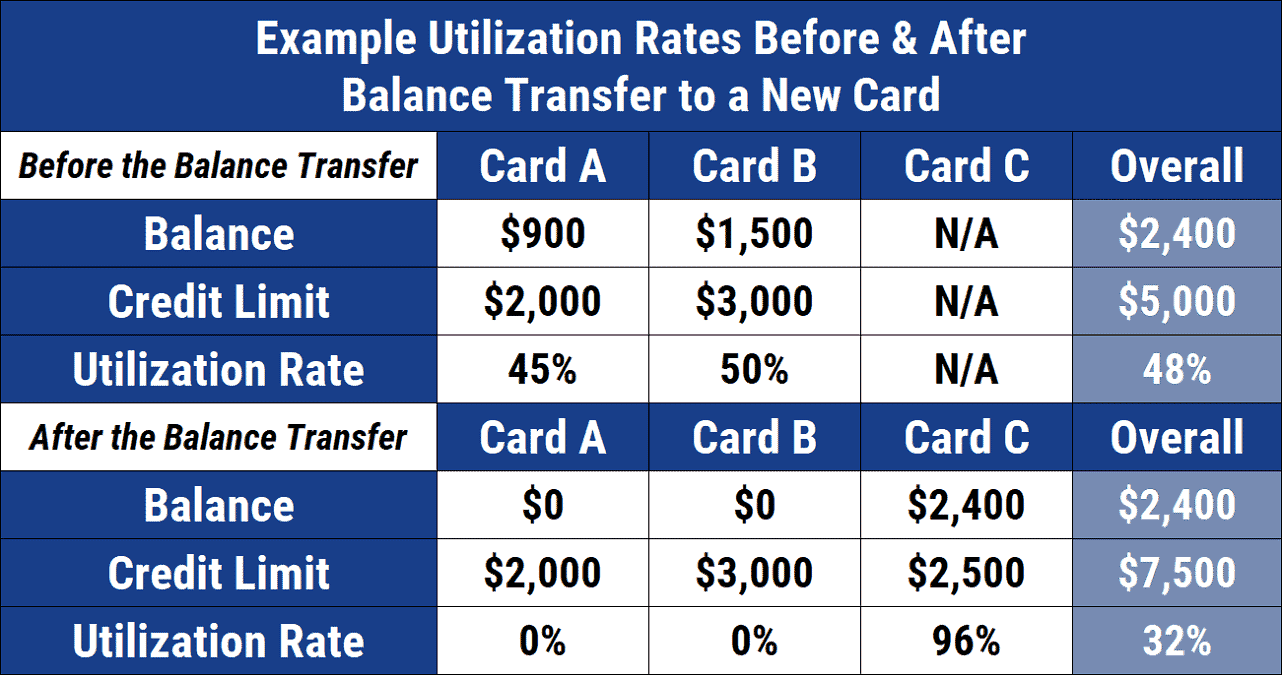 The amount you owe counts for 30% of your FICO credit score. The lower your utilization rate and other debt, the better your credit score.
This benefit requires you not to add too much new debt to your overall balances. Otherwise, your credit utilization will rise, and your credit scores will suffer.
Adding a balance transfer card helps your credit score the most if you use the card to eliminate your existing debt. Consolidating and repaying your credit card balances will significantly improve your credit score.
And, since you won't pay interest on the transferred balances during the promotion, you can eliminate your debt faster and get your credit score back on track sooner. The key to maximizing your benefit from a balance transfer card is to avoid using your emptied credit cards until you've paid off your balance.
You may be tempted to cancel the credit cards that you just paid off through balance transfers. But when you close a credit card, you decrease your available credit and increase your credit utilization rate. 
Closing credit cards may also reduce the average age of your credit accounts. The age of your accounts makes up 15% of your FICO score.
You are best served by shelving your old cards for a while. You may have to charge something to these cards at least once a year to keep the accounts active. Pay those charges immediately and return the card to the shelf. 
Your credit score will benefit from your discipline.
What If I Don't Qualify For a 0% Balance Transfer?
Several reasons can account for a credit card issuer rejecting your application for a balance transfer card. You may be under 18 or live outside the US. Perhaps you don't have a bank account or steady income. But the most likely reasons are your poor credit score or high debt-to-income (DTI) ratio.

Here are a few tips to reduce your debt, some of which can help boost your credit score and decrease your DTI ratio. But if you choose to take the settlement or bankruptcy options, your debt reduction will come at the cost of a dramatically lower credit score. 
Personal Loan
You can use a personal loan to consolidate your debts. Use the loan proceeds to pay off your credit cards and, if possible, your other debts. 
You can then devote your energy to paying down the personal loan. This strategy should help your credit score improve.
Credit Card Payoff Calculator
You don't need a balance transfer card to reduce your debts. Consider using a credit card payoff calculator to help you schedule your payments in the most cost-efficient way. 
To use the calculator, enter each credit card's balance, minimum monthly payment, and APR. Then enter the amount you budget each month for credit cards.
The calculator will estimate how long it will take you to repay your balances, including the principal and interest components. It will also sequence your payments so you repay the cards in the least costly way — a strategy called the avalanche method. 
This method enables you to pay back the high-interest card first while making the minimum payments for the other cards. This schedule assumes you do not add new unpaid balances to the credit cards.
Alternatively, you can adopt the snowball repayment method, which is generally more expensive than the avalanche method, because it doesn't repay the card with the highest interest first.
Debt Settlement
In a debt settlement, you negotiate with creditors to have them reduce the amount you owe. This strategy is expensive, risky, and applies only to unsecured debt.
In a nutshell, debt settlement works this way:
You hire a debt settlement company.
You stop repaying your debts and funnel your payments into an escrow account that the settlement company administers.
The settlement agent negotiates with your credit card issuers and other unsecured creditors. The agent tries to strike deals with your creditors to have them forgive some of the money you owe.
The agent collects a portion of the money you save.
Debt settlement is tricky. There's no guarantee of success, but your credit score will suffer whether you succeed or fail. The agent's fee takes a substantial portion of your forgiven debt (typically up to 40%). Don't expect your creditors to forgive more than 30% of your debt, if they forgive any amount at all.
If you win some concessions, you may have to pay income tax on the debt your creditors forgive. Creditors can ignore your settlement attempt and sue you in court to recover their debts.
If you choose this course of action, work with a reputable debt settlement company. Debt settlement remains on your credit reports for seven years and reinforces a bad credit score.
Bankruptcy
Bankruptcy is a legal process in which a court restructures or discharges your unsecured debts. 
In Chapter 7 bankruptcy, the court completely dismisses your debts after selling off your assets to pay what you can. The court permanently discharges most unsecured debts not covered by your asset sale, except for child support, alimony, court fees, and some tax debts.
Under this bankruptcy, cosigners may have to repay your debts. Chapter 7 bankruptcy remains on your credit reports for 10 years.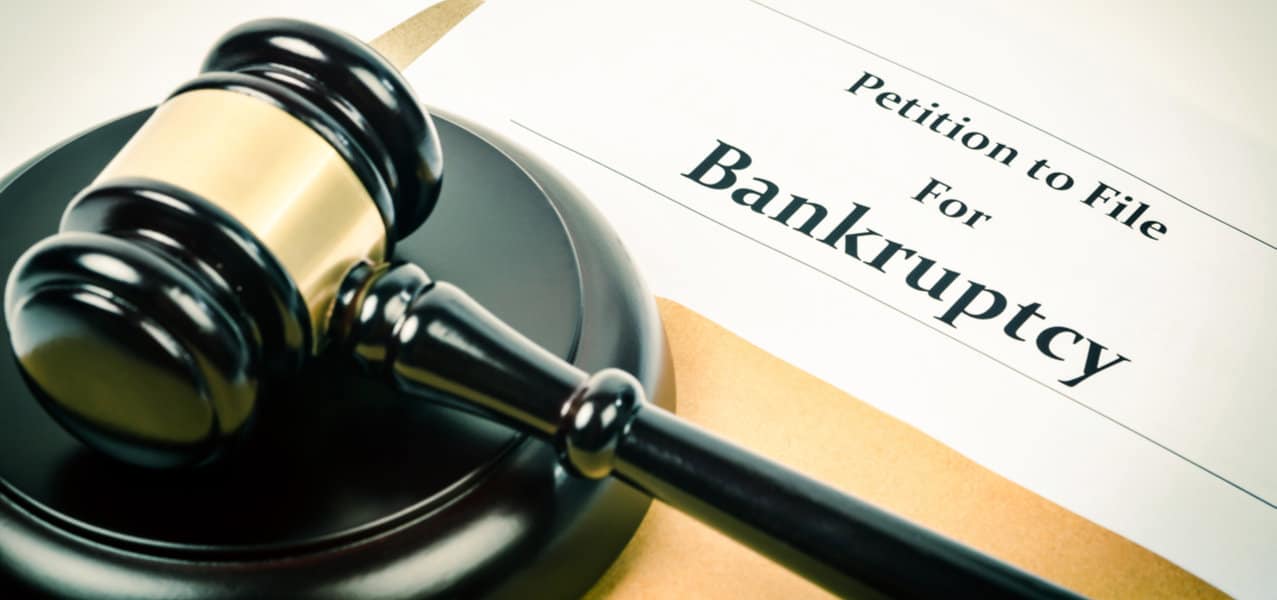 Chapter 13 allows you to restructure your debts under the court's supervision. The restructuring will enable you to repay your debts in a way you can afford over a period of three to five years. 
The court discharges any debt remaining after the repayment period ends. Chapter 13 remains on your credit reports for seven years and helps contribute to a bad credit score. This chapter protects most cosigners from creditors.
While bankruptcy is unpleasant, it can be a legitimate tool to help you survive major financial devastation. It can put you back on the path to financial stability.
Consolidate Your Debt With a 0% Balance Transfer Card
Despite some possible drawbacks, consolidating debt with a 0% balance transfer card is an excellent way to regain control of your finances. Our review of balance transfer cards identifies the best options for 15 to 21 months of no-interest credit card repayment. 
Using a balance transfer card responsibly can improve your credit status, reduce your debts, and spend less on interest. It's a good thing.
Advertiser Disclosure
CardRates.com is a free online resource that offers valuable content and comparison services to users. To keep this resource 100% free, we receive compensation for referrals for many of the offers listed on the site. Along with key review factors, this compensation may impact how and where products appear across CardRates.com (including, for example, the order in which they appear). CardRates.com does not include the entire universe of available offers. Editorial opinions expressed on the site are strictly our own and are not provided, endorsed, or approved by advertisers.