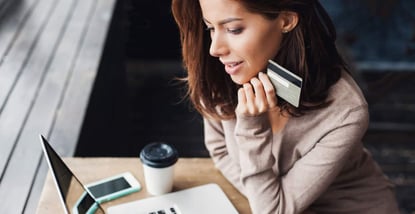 The average credit card balance was $5,910 in 2022. Combined with sky-high Federal Reserve interest rates and inflation, now has never been a better time to consider a 0% APR balance transfer card to better manage your credit card debt.
The benefit 0% APR balance transfer cards provide cardholders is relief from high-interest debt. These cards allow consumers to transfer balances from one or more high-APR cards to a single card offering interest-free payments on new purchases and balance transfers anywhere from 12 months to two years. 
Typically extended to borrowers with excellent to good credit, 0% APR balance transfer cards are also known for having rewards, no annual fees, and other perks that reward you for simply using the card. Continue reading to learn more about our top recommended balance transfer cards, the eligibility criteria for obtaining one, their benefits, and much more.
Balance Transfer Cards With the Longest 0% APRs
With dozens of 0% APR balance transfer cards on the market (hundreds or thousands if you count cards from local banks and credit unions), we've managed to narrow down our preferred selections based on the introductory 0% APR length and strength of their rewards programs.
Whichever card you choose, you will be in good hands with any of our top-rated picks below:
One of Citi's most popular credit cards is the Citi® Diamond Preferred® Card. It offers several benefits, including a 0% APR introductory period on new purchases and balance transfers, all for no annual fee. The regular APR will kick in once the interest-free promotional period expires.
On top of its exceptionally long introductory period on balance transfers, the Citi® Diamond Preferred® Card offers free access to FICO scores and access to Citi Entertainment, its loyalty program with exclusive offers to all types of events and experiences including concerts, shows, and backstage tours.
You must have good to excellent credit to qualify for the Citi® Diamond Preferred® Card.
One of Citi's most popular cards is the Citi Simplicity® Card. Like the Citi® Diamond Preferred® Card, it offers a long introductory 0% APR on new purchases, balance transfers, and a Citi Entertainment membership. The regular APR kicks in once the promotional period ends.
Other perks include no late payment fees, no penalty APRs, and Citi Quick Lock, a security feature that allows you to lock and unlock your Citi card using the mobile app.
One knock on this card is the lack of a rewards program. Forget signup bonuses and cash back opportunities — it's strictly a 0% introductory APR card. Other cards may offer better value if you want rewards on new purchases.
More Balance Transfer Cards With Long 0% APRs
These cards don't offer quite as long 0% APR promotions, but they're not too far behind. Most consumers can appreciate what the following cards have to offer, particularly their ability to help them save a bunch of money on interest charges.
The Discover it® Balance Transfer is another highly rated card with a generous welcome bonus: Discover automatically matches your first year's cash back. For example, if you ever earn $200 in cash back, Discover will double it to $400 at the end of your first year. 
Outside of cash back redemption options, cardholders can also opt for a statement credit or digital gift card with the opportunity to donate to charity. For gift certificates/eCertificates, there is a minimum cash-out amount of $5.
In short, the Discover it® Balance Transfer card is worthwhile thanks to its no annual fee, solid 0% intro APR period, cash back rewards, new cardholder bonuses, and many redemption options.
The Citi Double Cash® Card is a highly rated 0% APR balance transfer card that allows cardholders to earn a flat rate cash back on all purchases. But note balance transfers do not earn cash back — only new purchases.
Other benefits include no annual fee and inclusion into the ThankYou Points program, where you can redeem points at participating partners and retailers, including JetBlue, Aeromexico, Air France, and Qatar Airways.
The Chase Slate Edge℠ has an excellent 0% introductory APR offer for new purchases and balance transfers. However, it's best known for its travel and protection benefits with purchase/extended warranty protection, secondary auto rental coverage, and even access to roadside dispatch services.
Another area where this card shines is with automatic credit line increases. You will receive an automatic credit line increase if you make on-time payments and hit a minimum spend level during the first six months of card ownership. Other cards require that you call to request credit line increases, so the Chase Slate Edge℠ helps save you time. 
Plus, automatic credit line increases can help you boost your credit score by lowering your credit utilization ratio as long as spending remains the same across all your cards.
The U.S. Bank Visa® Platinum Card is a solid all-around performer, offering a long introductory period on new purchases and transfers with additional benefits, including cellphone protection, which offers up to $600 reimbursement in case your phone is damaged, lost, or stolen. 
To take advantage of this benefit, you must use the card to pay your cellphone bill each month.
What is a Balance Transfer Credit Card?
Balance transfer credit cards allow cardholders to transfer the outstanding balance from one or more cards to a single card. For example, cardholders with three 28%+ APR cards can transfer all those balances to a single balance transfer credit card with a lower APR. 
Not only do you save on interest payments, but you cut down the number of cards paid each month. Other benefits to using balance transfer credit cards include 0% APR introductory periods, typically for between 12 and 21 months. 
Some cards even offer $0 balance transfer fees, but those are harder to find. You might try your luck at a local credit union to see if you can get a balance transfer card without a transfer fee. But you can expect to pay a fee of between 3% and 5% of the amount transferred for most balance transfer cards.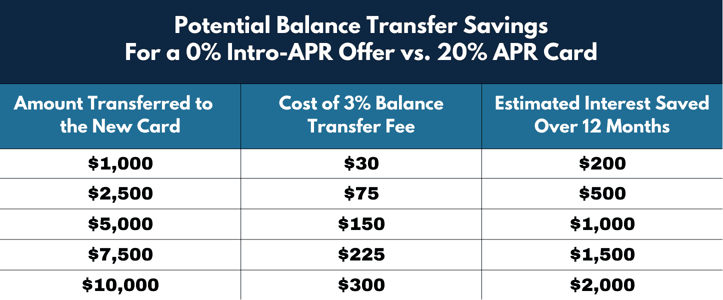 But even with a fee, the total savings can be hundreds or even thousands over the course of the 0% promotional interest rate. You can use a balance transfer calculator to estimate how much you could save.
How Does a 0% APR Balance Transfer Card Work?
It is easy to explain how 0% APR balance transfer cards work. Any zero-interest balance transfer offer starts with an application. As long as you meet all eligibility requirements (minimum income and credit score, etc.), you can transfer existing debt to your new balance transfer card by providing your new issuer with your old credit card account name, account number, and the amount(s) to be transferred.
The introductory period begins once your new balance transfer card posts the transferred balance. Our recommended cards have 0% APR introductory periods as long as 21 months.

For example, the Citi® Diamond Preferred® Card has a 0% APR introductory period and charges a small transfer fee. Purchases made on the card for the next 12 months accrue 0% APR, and balance transfers made during the next 21 months accrue 0% APR. Variable APRs kick in once the introductory period ends.
Can I Make New Purchases On a 0% APR Balance Transfer Card?
Yes, making new purchases on a 0% APR balance transfer card is possible. But new purchases may be subject to interest charges, depending on the card and whether it offers a promotional rate on new purchases. 
Some cards only offer 0% interest on transferred balances, whereas others offer 0% on new purchases for a set period, too. The period of time may match the balance transfer offer, or it can be shorter, or nonexistent.
As with all credit cards, your APR for new purchases depends on the issuer and your credit score. Most cards offer a variable APR that is based on your credit report and score. The higher your credit score, the lower your regular purchase APR. 
Can I Transfer Balances from Any Credit Card to a 0% APR Card?
Most credit cards allow balance transfers to a 0% APR card. But each card issuer has its own rules and restrictions, including a minimum required credit score, transfer fees, the credit limit on your new balance transfer card, and whether you're transferring balances from one card to another card from the same card issuer.

Review your credit card's terms and conditions to know whether transferring balances from one card to the other is possible. And do your best to pay off the balance before the 0% promotional rate is over to avoid interest charges.
What Happens After the 0% APR Promotional Period Ends?
After the 0% APR promotional period on a balance transfer card ends, several things will take place. The first is that interest charges are applied to what's left of the original transferred amount and new purchases made on your card. On top of that, you can also expect higher monthly payments now that you are paying both the principal balance and accrued interest.
Thanks to your newfound interest-paying obligations on both transfers and new purchases, we highly recommend paying off the entire transferred balance during the 0% APR introductory period. Although making only the minimum monthly payment is tempting, avoid doing so to help pay off your debt faster.
What Are the Requirements to Get a Balance Transfer Credit Card?
Specific requirements for getting a balance transfer credit card depend on the issuer. Each has requirements regarding minimum income, debt-to-income ratio, and credit rating.
Age: You must be 18 years of age or older.
US Citizenship or Permanent Residency: Most credit card issuers require that you be a US citizen or permanent resident. A few credit cards accept foreign nationals as long as you can provide all the appropriate documentation.
Proof of Income: You will need a recurring source of income. One balance transfer card may have a higher income requirement than another. Regardless, your income should be enough to cover your monthly expenses, including existing credit card debt.
Good to Excellent Credit Score: You will need a minimum FICO score of 670, with the highest tier cards requiring a 740+ credit score.
Healthy Debt-to-Income Ratio: You will also need a low debt-to-income ratio (ideally under 36%) and a reliable source of income. Your debt-to-income ratio is your total outstanding debt relative to your income. The lower your DTI, the higher your chances of approval, so several existing debts may disqualify you from one or more cards.
Solid Credit History: By solid credit history, we mean no recent derogatory marks on your credit reports, such as late payments, delinquencies, and collections activity. We encourage you to make monthly on-time payments, as a single late payment could quickly cause your FICO score to drop by 50 points or more.
By nailing down all the above requirements, you'll increase your chances of qualifying and getting approved for a 0% APR balance transfer card.
What Benefits Can I Expect with Balance Transfer Credit Cards?
Balance transfer credit cards from American Express, Capital One, Citi, Chase, and other major issuers offer numerous benefits:
0% Intro APR Promotional Periods
Arguably, its number one benefit is a 0% or low APR, which allows you to avoid paying any interest charges on qualifying balance transfers anywhere from several months up to 21 months or more when you open a new credit card account. It's an excellent way to consolidate high-interest credit card debt onto a lower APR card.
Rewards
Outside of promotional interest-free financing, balance transfer cards may offer cash rewards or points. By spending at participating retailers or in select categories, your rewards can add up quickly and be redeemed for travel, statement credits, and much more. 
Debt Consolidation
Balance transfer credit cards allow cardholders to consolidate multiple balances into a single monthly payment, allowing you to breathe easier with monthly bills. It also provides lower minimum monthly payments, allowing you to free up extra money for other expenses.
Improved Credit Utilization Ratio
Opening a new credit card account will automatically lower your credit utilization ratio, as long as you don't rack up a higher balance. The ideal credit utilization ratio is 30% or less for good credit, 10% or less for excellent credit.
Strategic Planning
With 0% APR balance transfer cards, you can better strategically plan by paying down your principal balance much faster. Plus, the interest you would have paid on the freed-up funds can be best used toward other expenses, such as paying an emergency medical expense or past due utility bill.
Simplified Payments
By consolidating multiple high APR cards into a single lower APR card, you save money on interest and lower the chances of missed payments because you only need to focus on paying a single card. You can also avoid having to track various interest rates.
In short, a balance transfer card's excellent combination of a 0% APR promotional period and financial planning opportunities allows cardholders to regain control of their finances and, hopefully, become debt-free.
What Should I Consider Before Applying for a 0% APR Balance Transfer Card?
Consider the following before applying for a 0% APR balance transfer card: 
Credit Score: Most balance transfer cards require excellent to very good credit (FICO 670+). Avoid applying for multiple balance transfer cards in quick succession, which may trigger hard inquiries that can temporarily drop your credit score.
Your Existing Credit Card Debt: Secondly, total all of your existing credit card debt. The total debt/amount you wish to transfer to your new 0% APR balance transfer card should be lower than the credit limit. If you want to transfer higher balances than your new balance transfer card's available credit limit, applying to two balance transfer cards and splitting the balance is perfectly fine. 
Introductory Period: A third point to consider is the length of the introduction period. Note that there are two 0% APR introductory periods, one for new purchases and one for transfer balances. Only consider balance transfer cards with long enough promotional periods to comfortably fit your repayment timeline.
Miscellaneous Perks: Balance transfer cards carry many of the same rewards as rewards-based credit cards, such as high credit limits, rewards/cash back on new purchases, no annual fees, and no foreign transaction fees. Many credit cards charge foreign transaction fees of up to 3%, so using a balance transfer card internationally can save you hundreds of dollars on a long trip.
Consider your credit score, existing credit card debt, the introductory period, and miscellaneous perks so you can find the right balance transfer card for your needs.
How Long Does a 0% Balance Transfer Take?
How long a 0% intro APR balance transfer takes depends on several things, including the credit card issuer, its policies, and application processing times.
First, you must complete an application for a 0% balance transfer card. You may see instant approval or a weeks-long wait, depending on whether the issuer requests additional documentation.
Once your application is approved, you must request a balance transfer by providing the new card issuer with your account details (account numbers) and the amount/s you wish to transfer. You can expect balance transfers to be completed within anywhere from a few days to a few weeks. 
Remember, your new card may need to contact your old creditors for additional information, which can add days to your request. In short, expect your balance transfer to take up to four weeks, with your 0% APR period kicking in once your transfer is posted.
Regardless of whether your balance transfer takes a few days or a few weeks, make sure you continue making on-time payments across all your existing credit cards to avoid any dips in your credit score.
How Many Times Can You Make a 0% Balance Transfer?
The number of times you can make a 0% APR balance transfer depends on your credit card issuer and its policies. Some issuers allow you to make multiple balance transfers using the same cards, while others do not. 
Additionally, you can open new cards with introductory 0% APR balance transfer offers as long as you maintain excellent to good credit. However, we recommend that you check your credit utilization ratio before doing so. If your credit utilization is at or above 30%, your request for new credit may be denied. 
Is It Okay to Max Out a Balance Transfer Card?
We highly recommend that you not max out any credit card. Doing so may raise your credit utilization ratio above the recommended percentage (30%) with any remaining balances on the card after the introductory period subject to the card's regular APR.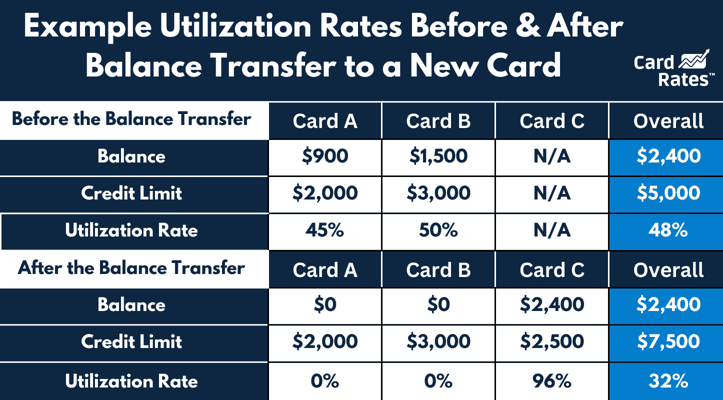 Obviously, the lower your transferred balance, the less likely you will pay any interest on it, assuming you maintain a healthy repayment schedule.
What Are Some Disadvantages of a 0% Interest Balance Transfer Card?
Although 0% interest payment transfer cards have advantages, they also have disadvantages.
Three that come to mind are balance transfer fees, temporary promotional periods, and the potential for more debt if you are not careful.
Almost all balance transfer cards charge a balance transfer fee (a percentage of your transfer amount). Although not as problematic as interest charges, it is still an expense. Secondly, introductory periods end with balance transfer cards, and regular interest rates kick in on the remaining balance.

Lastly, without a solid repayment plan, it's easy to accumulate additional debt on the card rather than pay it down as intended. Remember to pay down your transferred balance before the end of the promotional period to avoid paying interest.
When using a 0% interest balance transfer card, we recommend creating a repayment plan to keep you on your toes. Otherwise, your new balance transfer card is just that, another card.
Balance Transfer Credit Cards Help You Save Money
In short, 0% APR balance transfer cards are an excellent choice for individuals looking to save and reign in credit card debt by temporarily not paying any interest. These cards allow cardholders to focus on paying down balances with one monthly payment. Balance transfers are one of a few small things you can do to better take control of your financial situation.
Advertiser Disclosure
CardRates.com is a free online resource that offers valuable content and comparison services to users. To keep this resource 100% free, we receive compensation for referrals for many of the offers listed on the site. Along with key review factors, this compensation may impact how and where products appear across CardRates.com (including, for example, the order in which they appear). CardRates.com does not include the entire universe of available offers. Editorial opinions expressed on the site are strictly our own and are not provided, endorsed, or approved by advertisers.