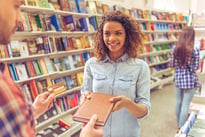 CardRates.com Guide: Student Cards
Given that few students have robust credit histories, your best bet for qualifying for a credit card as a student is to apply for cards specifically designed for students. These cards can be obtained with no or limited credit history and often provide student-specific perks, such as cash rewards for maintaining good grades.
Student credit cards can be a great way to build your credit history and learn about managing debt. The earlier you begin, the better off you'll be down the road. But building a credit history is only helpful if you build it the right way, so here are five tips to help you on your credit journey.
1. Read the Terms Carefully
Reading the fine print is rarely fun, but it can help save you a lot of heartache — and money, and credit score points — to become familiar with the terms of your credit card long before you start using it.
For example, some student cards charge an annual fee, even if you never use the card. This can end up being expensive and unnecessary. Others charge you very high interest, which can cost you hundreds more in charges every year if you don't know about the grace period for avoiding interest.
2. Always Pay Your Bill On Time
Your payment history is the biggest factor in your credit score calculations, so it can not only help you build good credit quickly, but it can also cause a lot of damage in a short period. Even one missed payment can cause your credit score to tank, so always be sure to make at least your minimum payment well before your due date every month.
In today's digital era, it's easier than ever to avoid missing payments thanks to tools like text message alerts and automatic payments. Most mobile banking apps will let you customize settings for reminders to ensure you always know when your bill is due.
3. Don't Overspend
Just like staying up and partying all night can lead to regrets the next day, excessively using your card can cause a financial hangover. Don't overspend on your student credit card — you'll need to pay every penny back eventually.
Before using your card to make a purchase, ask two questions: Can I pay cash for this instead? and, Do I really need this item?
A good rule of thumb is to never charge more than you can repay before your next due date. By always paying your balance in full, you can avoid interest fees thanks to the interest-free grace period offered by most credit cards, which is always at least 21 days.
4. Avoid Cash Advances
Although most things can be paid for directly with your credit card, some occasions simply call for cash. But while it may be tempting to give in to convenience and use your credit card at an ATM, avoid making a cash advance if possible, because credit card cash advances are expensive.
Not only will each cash advance likely come with a cash advance fee of 3% to 5% of the total amount, but cash advances also tend to be charged much higher APRs than regular purchases. Plus, there's no grace period for cash advances, so you'll start accruing interest as soon as it posts to your account.
5. Take Your Debts Seriously
Get into the habit of treating debt as a valuable tool — but one to use sparingly. Respect the power of credit and the responsibility that comes with it. If you establish good credit habits now, you'll be less likely to wind up in over your head in the future.
Editorial Note: Opinions expressed here are author's alone, not those of any bank, credit card issuer, airlines or hotel chain, and have not been reviewed, approved or otherwise endorsed by any of these entities.
The information on this page was reviewed for accuracy on .
About the Author