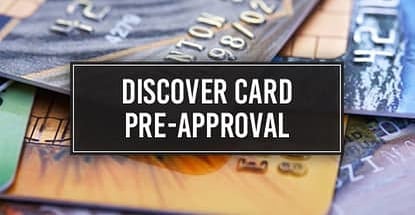 The modern era is a lovely place, full of technology and convenience. Vacuums run themselves, the sofa plugs in, and there are televisions in the refrigerators. With all this digitization, it's hardly shocking that just about everything hits our inboxes instead of our mailboxes.
So what's the surprising part? Anytime I check the mail, there always seems to be at least one letter from a credit card company. These pre-approval offers and pre-qualification notices are forever showing up, enticing me to apply for a shiny new credit card.
Whether you've received your first Discover card pre-approval offer or your 50th, you may not know what pre-approval actually is — or what to do about it. Use the navigation to learn more about pre-approval, how to know before you apply, and what to do after you pre-qualify.
Apply Online | What it Means | How to Check | Denial Options | Opt Out
From Pre-Qualified to Approved: Start with the Right Card
In many ways, which Discover card you choose to apply for will be the deciding factor when it comes to getting approved. If you are a student with a limited credit history, you should know ahead of time that you are unlikely to qualify for a prime rewards card aimed at people with good to excellent, established, credit histories. Check to see which of Discover's top cards fit you — and your credit.
Best Discover Card for Cash Back Rewards
One of the best reasons to have a credit card these days is to cash in on the cash back (and other rewards). Discover's best bonus rewards card offers big rewards in a new category every quarter, including gas and groceries, as well as a flat-rate bonus on everything else. Your cash back never expires, and you can redeem your rewards at any time.
+See More Cash Back Rewards Cards
Best Discover Card for Airline Rewards
When you know that you're going to be using your credit card rewards for your next big flight, you should opt for the airline rewards card. You'll usually get more bang for your bonus buck if you use miles to purchase your next ticket instead of redeeming for cash and buying one. Learn more about Discover's top airline rewards card below.
+See More Airline Rewards Cards
Best Discover Card for Balance Transfers
The interest rates on a credit card can really add up after a while if you carry a balance on your card. In that case, you should look into a good balance transfer card, like our pick from Discover. New cardholders enjoy an introductory APR on your transferred balance as well as new purchases, though lengths vary. You also get great cash-back rewards, including quarterly bonus categories.
+See More Balance Transfer Cards
Best Discover Card for Students
As a student, it can be hard to get started in the credit world, but Discover has a card just for you. The student card offers the same perks as any other Discover card, such as reporting to the credit bureaus and cash back rewards. It also has the benefit of giving you your FICO score on each statement, letting you track you growing credit.
What it Means to Pre-Qualify
The Fair Credit Reporting Act allows credit bureaus to give the information of its consumers (namely, anyone with credit) to the various credit card companies, like Discover. The people at Discover then filter the information by various factors — such as the length of credit history, or general credit score range.
If they determine you fit the filter criteria, indicating you may be a good candidate for one of their cards, you're considered to be pre-approved, or pre-qualified. You can likely expect to see a letter in the mail. Really, that's it.
The thing to keep in mind about pre-qualification is that it's a form of direct advertising, one that signifies you fit the general credit demographic for a certain card. It is not a guarantee of approval — or rejection — for that card. You still need to apply for the card, and meet other qualifications (like income), before you'll actually receive any credit.
How to Check Your Pre-Approval Status
If you have been watching your mailbox for a pre-qualification offer and been coming up empty, you can take it online to the Discover "Find My Offer" tool. The only information you need to input is your name and Social Security number, indicate if you're a student, then click "Find My Option." Discover will display all of the cards for which you're considered to be pre-approved.
Use the Find My Offers Tool to Check For Pre-Qualification Offers From Discover
Checking for pre-approval offers through Discover's website is nearly instantaneous, and you don't need to worry about the impact to your credit score because there's no hard pull to check your pre-qualification status, so there is no effect on your credit.
Don't Be Discouraged By Denial
Don't be discouraged if you don't qualify — or pre-qualify — for an offer from Discover; you still have a few options to try. The first is the reconsideration line, a designated telephone number for customers who believe there may have been a mistake on their application, or otherwise wish to appeal their denial. To appeal your Discover rejection, contact:
888-676-3695
An appeal that is denied due to your credit may mean you need to try applying for a credit card designed specifically for those with poor credit. These cards have more forgiving standards, though they may have lower limits or higher interest rates. Responsibly using a credit card can increase your credit score over time and may help you become eligible for a Discover card in the future.
If Pre-Qualification Offers Aren't For You
If you're tired of seeing pre-approval offers in your otherwise pristine mailbox, or already have the Discover card you've always wanted, you can choose to stop receiving them. Do not just throw out these letters — they'll just keep coming, like a science fiction monster. Instead, you need to officially opt out of the offer program. Opting out is a simple process, and you can opt-out online or call 1-888-5-OPT-OUT (1-888-567-8688).
Remember that pre-qualification offers can be a good way to gauge your ability to get approved for a credit card, without impacting your credit. You may wish to stay in the program or at least check for your offers online, so you can know all of your credit card options. After all, those robot vacuums and refrigerators with televisions in them don't come cheap — you may need to put those types of purchases on a credit card.
Advertiser Disclosure
CardRates.com is a free online resource that offers valuable content and comparison services to users. To keep this resource 100% free, we receive compensation for referrals for many of the offers listed on the site. Along with key review factors, this compensation may impact how and where products appear across CardRates.com (including, for example, the order in which they appear). CardRates.com does not include the entire universe of available offers. Editorial opinions expressed on the site are strictly our own and are not provided, endorsed, or approved by advertisers.