When your credit profile isn't so hot, finding unsecured credit cards with $1,000 limits can tax your stamina. Relax; we've got you covered.
Our review focuses on cards that give you a little wiggle room to spend money before being told you've exceeded your limit.
Unsecured Cards For Fair Credit With $1,000 Limits
These three unsecured credit cards for fair credit all carry credit limits potentially higher than those from the cards for poor credit, though you may have to wait six months or longer to get a credit line increase. Two of them offer rewards on purchases, and one card even has a signup bonus. Only one charges an annual fee, and that fee is low.
The Capital One Platinum Credit Card features a credit limit of between $300 and $500. You may get a higher limit in as few as five months by paying your monthly bill on time. Someone commenting on a forum reported getting credit lines as high as $13,000, although it took a dozen years to achieve.
Though that may be an atypical experience, it certainly qualifies this card as an excellent choice for rebuilding your credit before moving on to more rewarding credit cards. As with most Capital One credit cards, your income must exceed your rent or mortgage payments by at least $425 per month to qualify.
If you have average credit, the Capital One QuicksilverOne Cash Rewards Credit Card may be your best choice from this issuer. The starting credit limit is $300, but the average cardholder, even with a less than perfect credit score, should be able to boost that limit up to $2,000 or more over time with responsible use.
Moreover, if you can raise your credit score into the good range, your credit line may reach $5,000. Although it carries an annual fee, the card provides a good cash back rewards rate.
The Fortiva® Mastercard® Credit Card offers a maximum credit limit of $1,000 to qualified applicants. Your initial limit may not be that high, but the bank will periodically review your account to see if you qualify for a credit limit increase. The higher your credit score and income, the more likely you are to receive a $1,000 (or close to it) credit limit.
When you consistently pay your bill on time, you'll both build a positive payment history and remain in good standing with the bank, tilting future credit limit increase approvals in your favor.
Unsecured Cards For Students With $1,000 Limits
Although student credit cards are easy to get (if you happen to be a student), they don't necessarily offer high credit limits. These three appear to be the most generous in this regard.
There is something to be said for restricting the spending limits of student cards — it would be unfortunate to graduate owing big money on both your credit cards and your student loans.
The Discover it® Student Cash Back card is an attractive choice because of its Cashback Match and high cash back rate on quarterly rotating merchants. Forums and reviews have several references to credit lines of $1,500 to $3,000.
This card provides several protective features, including free security and activity alerts, $0 fraud liability, and immediate account freezes. Lost or stolen cards will be replaced quickly via free overnight shipment.
There is only one thing that distinguishes the Discover it® Student Chrome from the Discover it® Student Cash Back, and that's its simpler cash back structure. You get a nice reward rate without having to activate a new merchant category each quarter, something a busy student may neglect to do.
We expect the two Discover student cards to manage credit limit decisions in the same way, so you may be able to grab a credit line of $1,500 to $3,000 on the chrome card. However, one surprised forum correspondent reported getting a $7,500 credit limit, so higher amounts may be possible.
Unsecured Cards For Bad Credit With $1,000 Limits
This pair's relatively high credit limits and easy acceptance are their best features. Only consider them if your credit is so bad that you can't qualify for better cards, like those that offer signup bonuses, rewards for purchases, introductory 0% APRs, and balance transfer promotions.
Be sure to read the fine print disclosing each card's interest rates and fees, which are high enough to prompt consideration of secured credit cards instead.
The Surge® Platinum Mastercard® is offered by Continental Finance. It is a no-frills card featuring $0 fraud liability and an initial credit limit of up to $1,000. Be prepared for a high APR and fees that include an annual fee as well as fees for monthly maintenance, cash advances, foreign transactions, expedited phone payments, additional cards, and a returned or late payment.
You may get a higher credit line of up to $2,000 by paying your bills on time for at least six months. To get the most value from this card, explore its mobile app and its optional credit protection plan.
Except for the fact that the Reflex® Platinum Mastercard® audience includes consumers with no credit history, the card is the spitting image of the Surge® Platinum Mastercard®. Not surprisingly, it comes from the same sponsor and issuer, offering the same high interest rates and fees.
Both cards ban cash advances during the initial 95-day period after account opening. The monthly fee for maintenance is waived for the first year.
What Is an Unsecured Credit Card?
When people talk about credit cards, they're probably referring to unsecured cards. These dominate the credit card market and do not require you to deposit cash collateral.
In contrast, a secured credit card requires you to make a cash deposit that will equal your credit limit (with one or two exceptions).
If you compare unsecured and secured cards, you'll find the following:
Both types of cards are equally accepted by merchants. In fact, you can't tell the card's type by its appearance.
Secured cards are aimed at consumers with bad credit — so bad that they can't qualify for an unsecured card.
On average, unsecured cards have the potential to offer much higher credit limits than secured cards can.
Owners of secured cards who always make timely payments may be upgraded to an unsecured card in as little as six months. If that happens, your security deposit will be refunded, and you may also receive a credit limit increase.
Secured credit cards are not included when calculating credit utilization ratio.
Unsecured cards are available to consumers with bad credit. However, we think most of those cards are too expensive and restricted, weighed down by nuisance fees and tight credit limits.
If your credit is poor, consider getting a secured card first and using it to improve your credit before graduating to an unsecured card.
What Does a $1,000 Credit Line Mean?
Your credit limit is a leash the card issuer places on your ability to charge purchases. It represents the total amount you have available to make purchases before the bank cuts off additional spending.
A credit limit of $1,000 is modest but certainly better than the $200 to $300 range found on certain unsecured cards for poor credit. It's high enough to finance the purchase of some big-ticket items but not so high as to land you in financial hot water.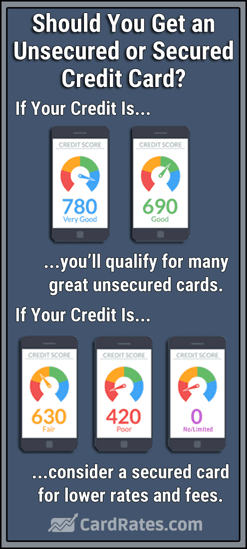 On the other hand, the average American has a total credit limit of $31,005 across all their credit cards, according to 2019 data from Experian. Folks with far-from-perfect credit scores should certainly expect to receive a much lower credit limit, and some will have to settle for secured cards only.
If you attempt to spend beyond your credit limit, your card is likely to decline further purchases until you pay down your balance. In some cases, the card may approve an above-limit purchase but then hit you with an over-limit fee.
Maintaining a card balance near your credit limit can hurt your credit score. In fact, 30% of your FICO Score is based on your credit utilization ratio, which is your total card balance compared with the credit limit authorized.
The credit scoring models (namely FICO and VantageScore) frown upon a CUR above 30% and will drop your score accordingly. You can recover quickly by paying down your balances and keeping them relatively low.
For example, if you have just one credit card and it has a $1,000 limit, you should plan to keep your month-to-month unpaid balance below $300. If you receive a monthly statement indicating your unpaid balance is $700, plan to pay at least $400 by the next due date or face the credit scoring consequences.
Besides hurting your credit score, a perpetually high CUR will make it harder for you to get additional credit cards, and those you can get may offer you a lower-than-normal credit limit.
It's not a bad idea to apply for additional credit cards (preferably cards with no annual fees) if you are having trouble lowering your CUR because each card provides you with more available credit, thereby reducing your CUR.
The trick is not to use your new cards until you can consistently maintain a CUR below 30%. But your credit scores will benefit the most by maintaining a CUR below 10%.
If you find yourself with a $1,000 credit limit and think it's too low, you can ask for a higher limit. However, you may have to provide considerable documentation — including previous tax returns, bank statements for your checking account and/or savings account, and pay stubs — to justify your request.
It may be easier to simply apply for a new card and hope it offers you a higher limit. Alternatively, you can take the patient approach and wait for the issuer to offer you a higher credit limit, based on your spotless payment record and low CUR.
Do Unsecured Credit Cards Have Credit Limits?
Of the four major payment network brands, virtually all Visa, Mastercard, and Discover credit cards (both unsecured and secured) have preset credit limits.
The one exception is American Express, which offers conventional credit cards as well as charge cards that have no explicit spending limit. A smaller company offers Diners Club charge cards, but they are primarily marketed internationally.
Charge cards operate pretty much like credit cards except for these three differences:
No preset spending limits: All cards, including those from Amex, have spending limits. However, the charge card difference is that its spending limits are not preset. That makes charge card spending more flexible and they can better accommodate big-ticket purchases.

The charge card issuer knows how much credit it can comfortably extend to a cardholder based on their income, wealth, and credit history. If you've missed payments, your spending limits may be cut, or in the worst case, your account may be canceled.


Full balance due each month: Historically, charge cards did not extend credit beyond the payment due date for the current billing cycle. Your full balance is due by that date, and late payments are subject to fees.

Due to competitive pressures, Amex changed the way some of its charge cards work. It introduced its Pay Over Time program that permits you to spread your payments for purchases greater than $100 over multiple periods at a set interest rate. You receive an explicit Pay Over Time Limit, which functions like a credit card's credit limit and applies to the total of your Pay Over Time, Cash Advance, and Plan It balances.

The Amex charge cards offering the Pay Over Time feature include the American Express® Gold Card, The Platinum Card®, and the American Express® Green Card. In addition, selected Amex business charge cards offer this feature.

Amex also offers its Plan It® feature that lets you stretch out payments for a fixed charge with no interest. Up to 10 eligible purchases of $100 or more can receive its own Plan It option, or you can set a qualifying amount for this feature.

You select from up to three monthly payment amounts and fees for each Plan It purchase or for your qualifying amount. The amount you can finance through Plan It is subject to limitations: You cannot create a plan if it would cause you to exceed your Pay Over Time Limit or if your plan balance exceeds 95% of your last statement balance.


Fees and perks: Charge cards usually carry high annual fees and offer generous benefits, characteristics that once distinguished them. But nowadays many premium credit cards are available that offer equal or better perks, including the Chase Sapphire Preferred® Card.
In addition to their credit limits, unsecured credit cards usually have a much smaller cash advance limit. Both limits and their current balances can be found on your monthly billing statement.
What Is the Minimum Credit Score Required For an Unsecured Card?
Except for a student credit card, a FICO score of 550 is about the lowest you can have and still qualify for an unsecured credit card. A student credit card doesn't set credit score requirements and does not demand that you have a credit score.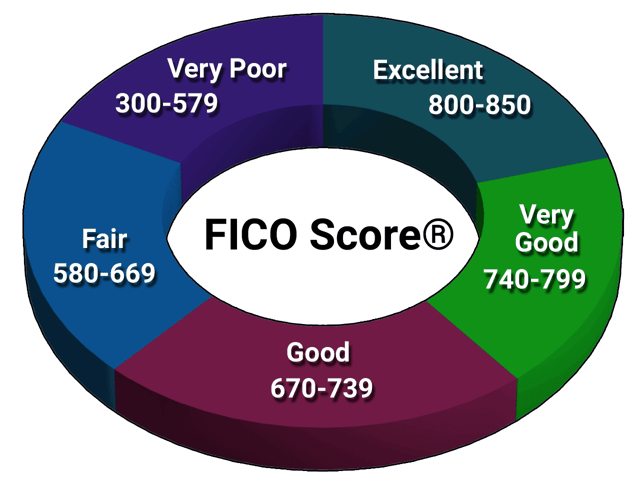 Some people on internet forums claim they got a credit card with a score well below 550. These cards generally do not require a credit check, but they are largely confined to student and secured credit cards. Some reviews have discussed unsecured credit cards that accept any credit score, but we can't confirm their reliability.
If your credit score is below 580, expect any card you get to charge an APR in excess of 25%. These cards also carry high fees and have meager initial credit limits.
For those who can't obtain (or don't like the cost of) a credit card for bad credit, consider getting a prepaid reloadable card instead. This is similar to a debit card except that it is funded by the card's account rather than the bank checking or savings account that funds a debit card. You make a cash deposit into your prepaid card account and then can spend the money without fear of interest charges or late fees.
A prepaid card is different from a gift card in that a gift card isn't reloadable. Otherwise, they are both debit cards funded by the amount loaded into the card account.
Another option for consumers with bad credit is to apply for a card with a cosigner. Naturally, you will want a cosigner to have a good credit report and who will easily qualify for the card you want.
What Is the Highest Credit Limit For the Reflex Mastercard?
You may, over time, receive a credit limit as high as $2,000 from the Reflex® Platinum Mastercard®. To achieve this limit, you will have to consistently pay your monthly bill on time, avoid making a late payment, and keep your balance low.
As mentioned earlier, the price for this credit card may exceed its value after you consider the high APR and fees charged. It does offer $0 liability protection and can be used wherever merchants accept Mastercard. Its biggest benefit is its ability to help you build your credit with responsible use.
Do Unsecured Credit Cards Build Credit?
Virtually all credit cards give you the potential to build credit by reporting your activity to one or more of the three major credit bureaus. Payment history is responsible for 35% of your FICO score, so paying on time can slowly lift your credit report score into better territory.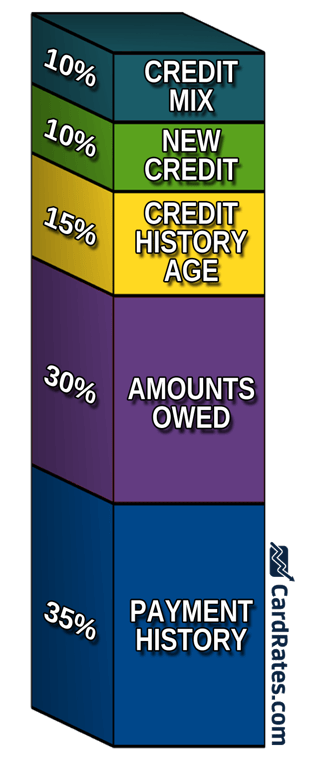 You can also help improve your score by keeping your credit utilization ratio below 30%. That usually means paying considerably more than the required minimum payment each month.
That may be difficult to do if your income is low, in which case a secured card may make more sense.
As your credit score improves, you will be able to command a higher credit limit and access better credit cards with lower interest rates and fees.
Don't jeopardize your progress by closing old credit card accounts, as this can raise your CUR and hurt your credit score. Plus, longer credit histories earn higher credit scores, as 15% of your FICO Score is based on your length of credit history.
You can also help your score to a minor extent by branching out to other forms of credit and loans. FICO awards 10% of your score to your credit mix, and the more variety in the types of loans you have, the better.
It also helps to refrain from applying for too many credit cards within a short period. FICO suspects that frequent hard credit check inquiries may indicate financial desperation and mark down your score accordingly.
How Do I Choose a Credit Card?
Several factors can help you choose which credit card to get. When getting an unsecured card, much depends on your credit score, and higher scores give you a wider array of choices.
Students can choose credit cards without regard to their credit profile, as can consumers who opt for secured credit cards. Whichever cards you consider, pay attention to the interest rates and fees charged versus what you get for those costs.
A good credit card offers rewards and benefits. Those rewards take the form of cash back, points, or miles. If you travel often, consider a card that maximizes rewards for the money you spend on flights, hotel stays, rental cars, and so forth.
Also, think about how you want your rewards doled out. Look at each card's reward rates as well as any signup bonuses and introductory 0% APR promotions for purchases and/or balance transfers.
Some cards offer a flat reward percentage on all eligible purchases, while others offer two or more tiers of rewards for purchases at different types of merchants. Several cards rotate the merchant category every quarter and require you to register quarterly to receive the higher reward rates.

A few credit card issuers are well known for specific types of benefits. For example, Discover credit cards offer a Cashback Match (or Matching Miles) that doubles the rewards you earn during the first year of card ownership after opening the credit card account.
Another example is the Chase Ultimate Rewards program that offers discounts on purchases and, for some cards, expands the purchasing power of the rewards points you earn. For instance, the points you earn using the Chase Sapphire Reserve® card are worth 50% more when redeemed for travel through Chase Ultimate Rewards.
Capital One is known for its many cards that pay flat cash back or mile rewards on all purchases, such as the Capital One VentureOne Rewards Credit Card and the Capital One Quicksilver Cash Rewards Credit Card. However, it also offers cards like the Capital One SavorOne Cash Rewards Credit Card that have multiple reward tiers.
American Express is both a payment network and a card issuer. It is known for its wide array of credit card and charge card offerings, including many co-branded cards. Its Centurion® Card (also known as the Black Card) is available by invitation only, and if you have to ask about the fees, then you can't afford this card.
Other big card issuers include CitiBank and Bank of America. They each offer several attractive cards that may earn a place in your wallet. You can link your credit card to your bank account (savings or checking account) to accept a direct deposit or transfer.
Finally, pay attention to the benefits provided by the cards under consideration as well as the type of credit limit you may expect. Travel-related benefits can make your trips less expensive and more convenient.
Other benefits increase the security and utility of the card. Business credit cards can help you cut your costs and reward you for business-related purchases.
Research Unsecured Credit Cards With $1,000 Limits
Our survey of unsecured credit cards with $1,000 limits has turned up a few gems and a couple of stinkers. It's important for you to distinguish between the two, which you can do by reading our comments and visiting the cards' websites.
We make that easy by providing a live link to each card. Simply click on the APPLY HERE link and you'll be whisked to the card's website where you can prequalify and perform deeper research.
We always urge you to read the fine print accompanying each credit card's application. The uniform format of the Schumer Box reveals many of the important costs you will encounter, but it is followed by pages of disclosures that also demand your attention.
Advertiser Disclosure
CardRates.com is a free online resource that offers valuable content and comparison services to users. To keep this resource 100% free, we receive compensation for referrals for many of the offers listed on the site. Along with key review factors, this compensation may impact how and where products appear across CardRates.com (including, for example, the order in which they appear). CardRates.com does not include the entire universe of available offers. Editorial opinions expressed on the site are strictly our own and are not provided, endorsed, or approved by advertisers.