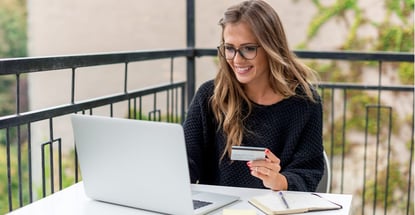 Folks regularly ask us, "What is the best starter credit card?" These cards represent the means to build credit history, which is an important consideration for young people starting their work or academic careers and not-so-young folks who are reluctant to use any type of credit. 
That's why we've assembled a list of our highest-rated cards that welcome new cardmembers who have little or no credit history. Read on to see which one works best for you.
Best Starter Cards For No Credit History
Not surprisingly, this list includes a fair number of student credit cards geared toward college-bound consumers who don't necessarily have any credit card experience. But we've also included general-purpose credit cards that serve the same function for everyone else. 
You can get your first credit card only once — we judge these cards to be the best candidates to initiate you into the world of credit.
The Capital One SavorOne Student Cash Rewards Credit Card offers students many benefits but few fees. You can redeem your rewards on everyday purchases for cash or a statement credit, to cover recent purchases, or buy gift cards. The card provides travel accident insurance, extended warranties, virtual card numbers from Eno, and many other perks that distinguish Capital One credit cards.
It's easy to manage the Capital One Quicksilver Student Cash Rewards Credit Card, even for first-time credit card owners. You can manage your credit anywhere, anytime, with the assistance of the Capital One mobile app, 24/7 customer service, Eno, and CreditWise. Keep things running smoothly by setting up autopay to make automatic payments every month. You can also identify where you've stored your student credit card online with recurring and frequently used merchants.
You can prequalify for the Capital One QuicksilverOne Cash Rewards Credit Card without affecting your credit score. The card allows you to set up personalized account alerts, add authorized users to your account, and reduce your high-rate balances via a balance transfer program. Capital One's Eno alerts you to suspicious purchases, and you can immediately lock your card if it's stolen, lost, or misplaced.
The Capital One Platinum Credit Card is a good, basic starting card for folks not interested in collecting rewards for everyday purchases. You may qualify for a higher credit line in as few as six months, and you can see whether you're preapproved for the card before applying.
Students should give a good, long look at the Discover it® Student Cash Back card. In addition to cash back, this student credit card provides several important safety features, including free security and activity alerts, zero fraud liability, and immediate account freeze if your card is lost or stolen.
If you'd like a simpler rewards scheme, consider the issuer above's other student credit card, the Discover it® Student chrome card. Hurried students can shave a few seconds off each transaction by using the card's tap-to-pay feature. Around-the-clock customer service is just a phone call or online chat away, even when problems crop up in the middle of the night. 
The PREMIER Bankcard® Mastercard® Credit Card accommodates consumers who have experienced credit problems or who have no credit history at all. This card charges an annual fee and a one-time setup fee. This card waives the first-year maintenance fees on accounts with smaller credit lines and, unlike some other starter cards, offers cash advances.
The PREMIER Bankcard® Grey Credit Card gives you a choice of different card designs at no additional fee. The grace period on PREMIER Bankcard® cards is unusually long, giving you more time to make a full payment and avoid interest charges on your purchases.
If you'd rather have a secured card from this issuer, consider the PREMIER Bankcard® Secured Credit Card. The card supports convenient cash advances from any Cirrus ATM and streamlines payments with the PREMIER Credit Card mobile app.
The Capital One Platinum Secured Credit Card offers all the goodness of its unsecured twin in a secured-account format. The card provides several features you'd expect, including email or text account alerts and paperless statements. You may be able to deposit less than your initial credit limit to secure this card.
The Bank of America® Customized Cash Rewards credit card for Students has many of the bells and whistles you'd expect from a good-quality credit card. Exercise vigilance paying your credit card bill — the card's Penalty APR saddles you indefinitely with a high interest rate (and a fee) if you make a late payment.
What Does it Mean to Have No Credit?
You may be among the nearly 20% of American adults who do not have a credit score. Several reasons can explain why you may not have a score, including:
You are young and new to credit.
You stopped using credit long ago and no longer have a credit score.
You are opposed to the use of credit cards.
You have a background that prevents you from getting a credit card. 
You prefer using a debit card or a prepaid card.
You're afraid of high fees, late fees, or identity theft.
Not having a credit history means you have never had a loan or credit card, or if you did, it was decades earlier. You can get a credit score in several ways, including obtaining a starter credit card or loan or by opening a credit builder account.
If you get a starter credit card, your account activity will be reported to at least one of the three major credit bureaus (Experian, Equifax, and TransUnion). That activity, particularly how promptly you pay your credit card bill, will determine your credit score.
Do not confuse a lack of credit with bad credit. A low credit score results from financial missteps, such as defaulting on a loan, not paying your taxes, or entering into bankruptcy. A blank credit score makes you an enigma to the providers of financial products and services — they have no idea whether extending you credit is risky or safe. 
Because of your indeterminate status, many credit products will be beyond your reach until you establish a credit score, hopefully, a good one. A starter credit card gives you the opportunity to display creditworthy behavior and earn a good credit score with prolonged responsible use. 
How Do You Use a Credit Card?
The primary function of a credit card is to allow you to make purchases without cash and then possibly finance said purchases over an extended period. 
Credit cards contain several data items that facilitate the card's functioning, including:
Account number: Each credit card account has a unique 16-digit number assigned to the card owner and any authorized users.
Security code: A three- or four-digit card verification code that you may have to supply when using your card. The security code is meant to be kept secret and prevent strangers from using your account number without your authorization.
Expiration date: All credit cards expire, but they also are automatically extended as the expiration date approaches.
Your signature: In-person transactions may require you to sign a receipt. The clerk may check your signature against the signature on the credit card to verify your identity.
A chip: Most credit cards now carry a microchip containing additional information, such as your Social Security number, credit limit, and balance. They also have a magnetic stripe that holds less extensive information.
The issuer's name and logo: This is the name of the bank, credit union, or store that issued the credit card.
The payment network logo: Your card will carry the logo of your payment network (i.e., Visa, Mastercard, Discover, or American Express). The payment network is responsible for handling card-related transactions. Part of the 16-digit account number identifies the payment network.
In addition, most credit cards assign you a credit limit, establishing the maximum amount you can owe on your card (i.e., the unpaid balance). If the credit card is secured, you will have to post a cash deposit to collateralize your credit limit. Most credit cards are unsecured, but if you have no credit history, expect a limited credit line.
You can make purchases with your credit card at several places:
In stores: You present your card when checking out at a store by inserting, swiping, or tapping it on a payment terminal. The cashier will verify that the card was accepted and hand you a receipt. You may also have to sign a payment authorization, and the signature should match the signature on the back of the card.
Online: You can use your card for online purchases of goods and services by entering the card's account number, security code, and expiration date. This is called a card-not-present (CNP) transaction. 
Over the phone: Another type of CNP transaction is to make a purchase over the phone. This usually requires you to recite your credit card information.
In-app: Some phone apps allow you to make purchases within the apps. The phone may have you enter the account data, or it may reference the information already stored in its database. Alternatively, the app may use your phone to scan your credit card and retrieve the necessary information.
Via a mobile wallet: A mobile wallet is an app that stores your credit card data and other financial information. Some merchants allow you to make a purchase using a mobile wallet instead of a physical card.
For most purchase transactions (that is, those mediated electronically), the card's payment network verifies the credit card and its available balance, and then approves or declines the transaction.
However you use your card, the merchant, the card issuer, and the payment network records the transaction information in their databases. You receive a monthly statement that lists all your transactions and the amount you owe.
Many cards offer rewards for eligible purchases in the form of cash back, miles, or bonus points. You can redeem your rewards for cash back, a statement credit, goods, or services.
How Do You Pay a Credit Card Bill?
Credit cards work in billing cycles roughly one month long. The card posts and records transactions throughout the billing cycle until the cycle's closing date. 
Any balance you owe on that date is due by the specified payment due date. Virtually all cards grant a grace period of 21 or more days between the statement close date and the payment due date. If you had no unpaid balance as you entered the previous billing cycle, you will not owe interest on purchases made during the cycle and paid before the due date. 
Cash advances (i.e., short-term credit card loans charged against the limit on your credit card) do not have a grace period and begin accruing interest right away.
You must make at least the specified minimum payment before the due date or your payment will be considered late. Late payments trigger fees, possibly a higher interest rate, and can hurt your credit score if it is reported to the credit bureaus.
If you don't pay the full balance by the due date, the card will charge you a daily interest rate on each day's open balance until it is repaid. New charges, interest, and fees increase your balance, while payments, credits, and refunds decrease it. 
If your balance equals or exceeds your credit limit, you won't be able to use the card until you reduce your balance.
Credit cards specify your interest rate as an annual percentage rate (APR), which represents the card's daily interest rate on an annualized basis. Typically, the daily interest rate is the APR divided by 365. Interest is compounded daily.
Your next statement will report your unpaid balance and interest charges (if any), any new charges and payments, and your closing balance for the cycle. If you had an unpaid balance going into the cycle, the grace period on purchases will not apply.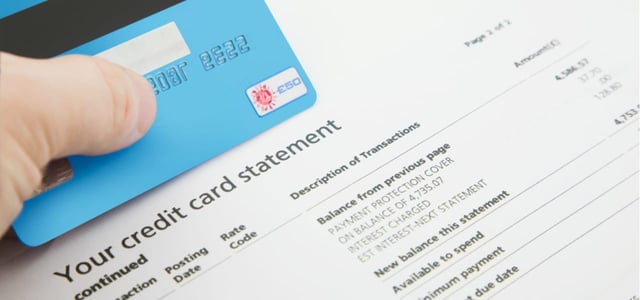 The issuer delivers your statement on paper through the mail or electronically via email. You can pay your bill by mailing in a check (from your checking or savings account) to the issuing bank or credit union.
Virtually all credit cards provide online access to your account information that is updated daily. You can pay your bills online rather than wait for your statement to arrive. In fact, you can make multiple payments throughout the billing cycle.
You must link your bank checking or savings account to the credit card to make an online payment. When you authorize an online payment, the card issuer will take the money from your account and apply it to your balance in descending APR order (i.e., when you have multiple APRs due to different cash advance and/or balance transfer interest rates). 
You can set up an auto payment schedule online to make at least the minimum payment or some other specified amount. Doing this eliminates late fees (unless you have insufficient funds in your bank account).
Carrying a credit card balance is expensive. The average credit card APR is about 20% and can reach as high as 36%. By paying your entire balance before each cycle's due date, your effective APR will be 0%.
Your statement will also report any fees charged during the period, including annual fees, late fees, overlimit fees, the occasional foreign transaction fee, and so on. Your payments are usually applied against your fees first, then your balances.
Note that a few credit cards do not offer a grace period and charge interest immediately on all purchases. We advise that you avoid this type of credit card. 
Can You Qualify for a Credit Card with No Credit History?
Your first credit card is often how you establish your credit history, so naturally, there are credit cards designed for this purpose. You can qualify for the 13 starter cards in this review without a credit history. 
Don't expect starter cards to offer the full range of rewards and benefits you'd find on cards designed for consumers with good credit. Nonetheless, starter cards help you build your credit profile by reporting your activity to the major credit bureaus.
As your credit history grows (hopefully in a positive way), you may soon become eligible for better-quality cards. Until then, you can build your credit by paying your bills on time and keeping your unpaid balances low.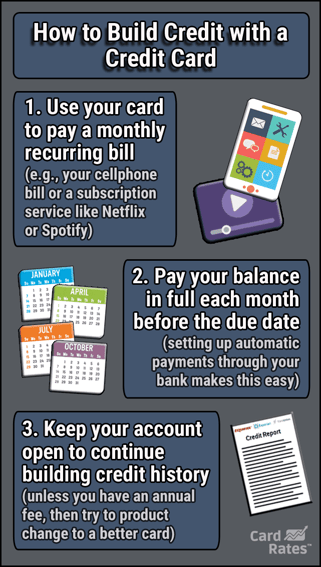 If you initially apply for a card designed for excellent credit, you'll likely be turned down. You'll have much better luck confining your search to cards that require little or no credit history. 
Students have an advantage in that the issuers of student credit cards don't expect you to have any credit history. They are playing the long game, attempting to instill brand loyalty by making it easy to obtain one of their student cards. Don't expect the best rewards and perks from a student card, but also don't settle for cards that saddle you with high fees and APRs.
Credit card companies offer secured credit cards to folks who otherwise would have trouble obtaining an unsecured credit card. A secured credit card may offer you a better deal than what you will get from a similar unsecured credit card if you have no credit history.
True, you have to post a cash deposit to cover your secured card's credit limit. But in return, you should expect instant approval, a relatively low APR, and at least some modest benefits. Secured cards usually report your payment activity to each major credit bureau, making the cards an excellent vehicle for building credit.
With on-time payments, you can expect the issuer of your secured card to offer you an unsecured card in as little as six months. In fact, it may unilaterally refund your security deposit and convert your card to unsecured. 
Of course, failing to pay your starter card's bills will create a bad credit history that will be tough to repair. Never apply for a credit card if you aren't confident that you can afford it, as the damage inflicted by missed payments can be severe. However, many credit card issuers accommodate unexpected financial hardships if you are willing to work with them.
By the way, you shouldn't automatically assume that you have no credit history. Some strange things can show up on your credit reports, so it's a good idea to check them out before applying for a starter card. You can get free copies of all three credit reports at AnnualCreditReport.com.
How Much Credit History Do You Need to Have a Credit Score?
Although some worthy competitors (such as VantageScore) exist, FICO dominates the consumer credit score industry. In all cases, you first must have a credit history before you can receive a credit score. 
To get your FICO credit score, your credit report must:
Contain at least one account that has been open for at least six months
Contain an account that has been updated within the last six months
Not indicate that you are deceased
FICO's six-month rule neatly coincides with the minimum time requirement that secured cards impose before upgrading you to an unsecured card. 
An item can remain on your credit report no longer than 10 years. So, if you have no credit-related activity for more than a decade, your credit report may contain no history upon which to base a credit score. 
How Can a Credit Card Help You Establish and Build Credit?
Most credit cards report your activity to at least one major credit bureau. Your starter card may report to all three. These reports indicate whether you are paying your bills on time and how much credit you've used.
In terms of your FICO score, five different factors directly relate to your credit card usage:
Payment history (35% of your FICO score): Missed payments hurt your score. Timely payments help it. Pay your bills on time, and your score should do well.
Amounts owed (30%): FICO calculates your credit utilization rate, which is the amount of credit you are using versus the total amount you have available. A CUR above 30% can hurt your credit score, so try to keep your ratio below this level. 
Age of credit (15%): Older accounts help your score, on the theory that you have successfully managed them over a long period. That's why experts recommend that you not close old credit card accounts.
New credit (10%): When you apply for a credit card, the issuer usually does a hard pull of your credit report. Each hard pull can lower your credit score by five to 10 points, although the effect lasts only one year. Therefore, it's a good idea to wait at least six months before each new request for a credit card or loan.
Credit mix (10%): Your credit score receives a mild boost as your experience with different types of credit expands. FICO likes to see a mix that includes credit cards and various types of loans.
Of these five factors, the first two are the most important. Simply paying your bills on time is the best way to help your credit score improve.
Why is Your Credit History Important?
The importance of your credit history is that it provides a powerful tool to people and entities whose decisions can affect your life. The list starts with creditors and lenders:
Creditors: You need a good credit score to get a good credit card and a good credit history to get a good credit score. Without a credit card, it becomes much harder to finance your purchases. You may also need good credit to open utility accounts (i.e., electric, gas, cable, etc.) and to save money on insurance premiums.
Lenders: It's harder to get a loan if you don't have a good credit history. With no history at all, lenders have no way of assessing your creditworthiness. In the event you are offered a loan, the terms will probably be harsh if your credit is bad.
Landlords: When you search for an apartment, landlords may pull your credit report to assess the likelihood you will pay your rent on time. If you have no credit history, it will take a leap of faith for a landlord to rent you an apartment. Alternatively, bad credit won't help you secure a favorable mortgage when buying a home.
Employers: Don't be surprised if a potential employer references your credit history prior to your interview. Typically, employers prefer workers with a positive credit history, not those with credit histories filled with derogatory credit information. Employers can check credit histories, even though they don't have access to your credit score.
Vendors and suppliers: If you happen to own a small business, your credit report may affect which vendors and suppliers will be willing to work with you and on which terms. You may not be able to get a business credit card without a credit history, but ultimately your goal should be to obtain at least one business credit card. 
It's hard to overstate how decisively your credit history can impact your life and your lifestyle. While it's possible to go through life without ever using credit, most folks don't choose that path, and a good credit history can make a material difference in their quality of life.
What Should You Look For in Your First Credit Card?
Your first credit card will probably appeal to consumers with no, scant, or bad credit. While you can always apply for a top-drawer credit card, lacking a credit history will likely prove to be a formidable obstacle.
If you aren't interested in financing your purchases, then disregard a credit card's APR, as you probably will never incur an interest charge. Instead, pay attention to the following attributes when considering your first credit card:
Fees: Ideally, you'd like a starter card that doesn't charge an annual fee. At the other extreme are starter cards that charge an annual fee and application fees, monthly maintenance fees, a foreign transaction fee, and other nuisance charges. The higher-rated cards in this review tend to have the lowest fees, while those at the bottom of the list show no mercy.
Security deposit: If you are contemplating a secured credit card, check to see the minimum and maximum security deposits it will accept. Also, investigate its stated policy regarding an upgrade to an unsecured card. We strongly believe that a secured credit card should charge a low APR, but as mentioned earlier, this may not apply to you if you don't plan to finance your purchases.
Rewards: Many starter credit cards do not offer cash back, bonus points, or other types of reward for eligible purchases. You'll also find few welcome bonuses, rewards points, or 0% introductory APR offers. In this regard, student credit cards such as the Capital One and Discover card pairs are rather generous in their rewards. For non-students, check the rewards offered by the higher-ranking starter cards.
Benefits: Some starter cards offer $0 liability protection and little else. Others provide many perks related to card management and security. As with a starter travel credit card, a card for no credit history may even offer travel benefits, such as free flight insurance and other travel credit card perks. All things being equal, look for a card that offers the benefits that appeal to you the most.
Credit limit: Unsecured cards can offer you any credit line they choose, but starter card limits are usually low. Most consumers prefer a higher credit line since it allows them to make larger purchases.
Other transactions: Some starter cards support secondary transactions such as a cash advance or balance transfer. If these are important to you, compare the fees charged and any limitations on availability. For example, the amount of the balance transfer fee can vary from one card to the next.
Fixed versus variable APR: It's pretty tough to find a fixed-APR credit card nowadays, especially a starter card, but this kind of card is preferable because your APR is locked in. In theory, variable APRs can go up or down, but they seem to follow only an upward trajectory most of the time.
Virtually all credit cards perform credit reporting to at least one major credit bureau. You should eliminate any starter card that fails to do so and favor those that report to all three bureaus.
Do You Need a Cosigner to Apply For Your First Credit Card?
A cosigner is a friend or relative willing to add their name to your credit card application. From a credit card issuer's point of view, cosigners are great because they guarantee payment if you fail to pay on time. Not all issuers allow cosigners, and none require them.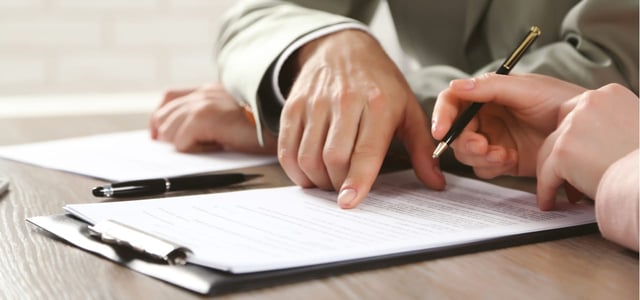 Our top issuers (Capital One and Discover) do not permit cosigners. However, there is a catch that affects many students. 
The 2009 CARD Act requires that young people ages 18 to 21 need either a cosigner or an income source (not including grants and scholarships) to get a credit card. Students and other young folks may be forced to apply to less attractive credit cards to comply with the Act's requirements.
Before seeking a cosigner, consider how your relationship will be affected if you can't make timely card payments. Friendships have been lost and relatives estranged over smaller matters.
Choose the Best Starter Card to Launch Your Credit
If you want to know which is the best starter credit card, we trust that this article has given you important information that directly addresses the question. We suggest that you click on the APPLY HERE link of any card that intrigues you and find out more about it.
Be sure to compare the features and limits that affect you the most when comparing different starter credit cards. As always, we advise that you read the entire credit card agreement before making your final selection — there may be surprises lurking in the fine print. 
Advertiser Disclosure
CardRates.com is a free online resource that offers valuable content and comparison services to users. To keep this resource 100% free, we receive compensation for referrals for many of the offers listed on the site. Along with key review factors, this compensation may impact how and where products appear across CardRates.com (including, for example, the order in which they appear). CardRates.com does not include the entire universe of available offers. Editorial opinions expressed on the site are strictly our own and are not provided, endorsed, or approved by advertisers.