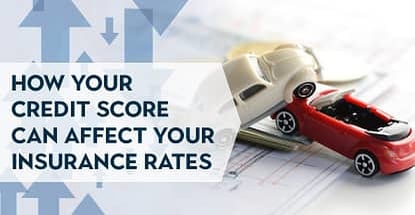 In a Nutshell: Consumers already know how their credit scores can affect their ability to purchase a home, a car, or other high-dollar item. What some consumers don't realize, though, is that credit issues can also affect the premium price, or even their overall eligibility, for many types of insurance. Most states allow insurance providers to use credit-based insurance scores to predict the likelihood of a consumer having an insurance loss. The office of an insurance commissioner, which every state has, acts as a regulatory body and advocates for consumers' rights in the insurance space. We recently spoke to the Office of the Insurance Commissioner of Washington State to learn more about how insurance companies use credit scores. //
Purchasing insurance is one of life's necessary evils. While some policy premiums can kill a monthly budget, not having insurance can be far more expensive over the long run.
Many consumers understand that the premiums for a new home, health, or other insurance plan hinge on a medical exam or property value, but they don't realize that a late cable bill payment can be just as hazardous to a policy as a trick knee or bad hip.
That's because several insurers in most US states use credit-based insurance scores as a factor in determining policy pricing and eligibility. Credit scores first appeared in the early 1990s and incorporate certain elements of a person's credit history to predict how likely they are to have an insurance loss.
The scores rose in popularity when research found a correlation between credit characteristics and insurance losses. Today, approximately 95% of auto insurers and 85% of homeowners insurers use credit-based insurance scores in states that allow them.
While a regular credit score looks at many factors to determine the likelihood of an applicant repaying a loan or a line of credit, a credit-based insurance score looks at some, but not all, factors within a credit history to determine how the applicant manages his or her risk exposure.
Every insurer uses its own formula to create insurance scores. FICO, one of the country's largest credit scoring agencies, factors its insurance scores using payment history (40% of the score), outstanding debt (30%), credit history length (15%), the pursuit of new credit (10%), and credit mix (5%).
Most insurance scores weigh recent transactions more heavily than old credit history. Insurers typically use the credit history of the first person named as the insured on a policy to determine rates and eligibility.
Only a few states — California, Massachusetts, and Hawaii for auto insurance and Maryland and Hawaii for homeowners insurance — prohibit insurers from using consumer credit information for insurance decisions.
The Office of the Insurance Commissioner of Washington State is one of several state insurance department offices that act as regulatory bodies within the insurance marketplace on behalf of consumers. The Office's website allows users to file a complaint against an insurer, inquire if an insurance company has any active complaints filed against it, find individual health plans and premiums, and connect with an insurance specialist to answer any questions they may have.
State Laws Determine Credit Score Usage
Not every state allows the use of credit-based scoring to determine premiums. Some states only allow it as a factor to determine property insurance — like auto or homeowners insurance plans — while others allow it for any type of insurance.
Washington state credit scoring laws apply to personal lines of insurance, which include property and personal liability insurance, and does not include health or life insurance.
In other states, state or federal law requires insurance companies provide customers with some important notifications — the most important of which is the federal Fair Credit Reporting Act (FCRA) adverse action notification.
The FCRA requires any user of a credit report to notify the consumer if the use of that report resulted in an adverse action, which, in the case of insurance, would be a denial of coverage or a higher premium than that of a consumer with an average insurance credit score.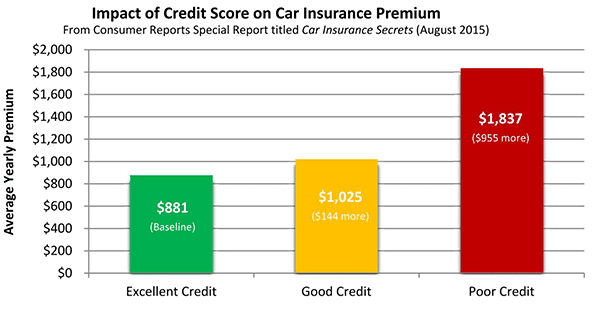 But insurers cannot punish consumers who apply for insurance for every kind of credit issue.
"Insurers cannot use the absence of credit history to deny coverage," said Kara Klotz, Social Media Manager and Public Affairs at the Washington State Office of the Insurance Commissioner. "However, they can use that factor to set rates if they have data showing that consumers without credit histories are more likely to file claims."
Insurance companies can only lawfully use credit-based insurance scores as one factor in its underwriting process and, depending on the type of insurance, must include several other factors it used in any premium decisions.
For example, most auto insurers consider zip code, the age of the operators, the make, model, and age of the insured car, and the number of miles the customer drives annually, when making decisions regarding premiums.
The practice isn't popular among all government officials. Washington state law allows insurers to include consumers' credit information when making decisions about rates. According to Klotz, "Commissioner Mike Kreidler has long opposed the practice, but cannot disallow it as long as it's legal under state insurance laws and rules."
What if I'm Denied Because of My Credit Score?
Any adverse action notification sent to consumers should list up to four reasons why their insurance score resulted in a denial of service or other adverse action. Although most notices include the reasons, most people don't understand the reason codes used in most states.
If you receive an adverse action notification, you're entitled to a free copy of your credit report from the credit agency your insurer used (either Experian, TransUnion, or Equifax). While these reports won't explain the reason codes in an adverse action notification, they should shed some light on any credit issues that are holding your score down.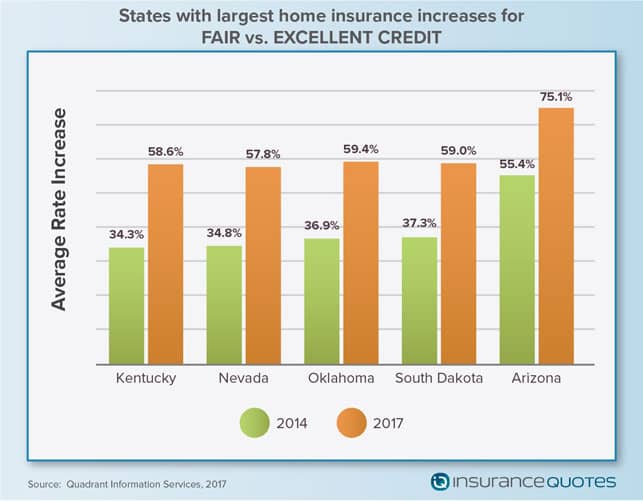 Klotz said consumers who are policy shopping should start with a conversation with a representative of the insurance company.
"Ask your insurance agent or company if they use credit information to decide if they'll insure you and to set your premium," she said. "Also ask if they check the credit history of other people insured on your policy, such as family members, and how their credit history will impact your policy."
Additionally, Klotz told us that starting June 6, consumers in Washington state won't have to pay to freeze or unfreeze their credit.
"In order to get lower premiums, consumers who have frozen their credit can temporarily unfreeze their credit when their insurer checks their credit history. Right now, each of the three credit bureaus charges $10 each time a consumer freezes or unfreezes their credit. The new state law doesn't allow credit bureaus to charge consumers for that."
Consumer Protection Agencies Keep an Eye on Insurers
Washington State's Office of the Insurance Commissioner is just one example of a regulatory body that advocates for consumers' rights in the insurance space. Every state has a similar office that handles customer complaints and makes certain that insurance companies adhere to proper business practices.

Washington's Office has an entire division dedicated to helping consumers who have problems with their insurance. The division can answer questions, help consumers file complaints against insurers, and conduct outreach on behalf of consumers.
The office recently fined GEICO for not properly notifying consumers that it was raising their premiums. Several other insurance companies also received fines for charging premium rates the commissioner had not approved.
If you've received an adverse action notification and want more information on what it means, contact your state's insurance department office and request assistance in understanding the notice.
Advertiser Disclosure
CardRates.com is a free online resource that offers valuable content and comparison services to users. To keep this resource 100% free, we receive compensation for referrals for many of the offers listed on the site. Along with key review factors, this compensation may impact how and where products appear across CardRates.com (including, for example, the order in which they appear). CardRates.com does not include the entire universe of available offers. Editorial opinions expressed on the site are strictly our own and are not provided, endorsed, or approved by advertisers.