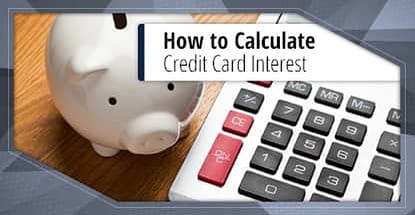 One of the most important factors in choosing a credit card is its interest rate, and it's also important to know how to calculate credit card interest. All credit cards must disclose their annual percentage rate, or APR, which expresses their interest rates in a single annual number. Almost all credit cards charge interest only on balances that you don't fully pay off in the most current billing cycle. But how does APR translate into the amount of interest you'll actually pay?
Read on to learn more about, including an in-depth look at how you can find your daily periodic rate, simple versus compound interest, how to calculate your average daily balance, and more. Or skip ahead to learn how your APR is calculated or to compare the best balance transfer offers to avoid paying interest.
Step 1: Divide APR by 360 (or 365) to Find Out Your Daily Periodic Rate
Before we can explain the first step, we should clarify a few important terms:
Grace Period: The normal billing cycle for a credit card can range from 28 to 31 days. The due date for your monthly payment is no less than 21 days after the end of the billing cycle. Each billing cycle provides a grace period, which means you don't incur interest on purchases made within the billing cycle if you pay them in full by the due date. Your outstanding balance is the accumulated amount you haven't paid within a grace period.
Simple Versus Compound Interest: Simple interest is the amount you pay on your outstanding balance without including the effect of compounding. Virtually all cards figure your interest with compounding, which means they add the interest you already owe to the amount subject to interest – you are paying interest on interest.
In the good old days, credit cards used monthly compounding, but the current fashion is daily or continuous compounding, which will cost you more. As an example of daily compounding, if your outstanding balance is $1,000 and the day's interest is 71 cents, then tomorrow's outstanding balance will be $1,000.71 (assuming no other purchases or payments).
Nominal Versus Effective APR: When you see an ad for a credit card, the interest rate is expressed as the nominal APR, which is based on simple interest and excludes fees. The more appropriate number is the effective APR, which includes the effects of compounding and any fees that are not paid separately. Some cards charge the annual fee (if any) as a lump sum, but others spread the annual fee over the entire year, making it part of the effective APR.
If possible, obtain the effective APR of any credit card you are considering. Fees for late payments or for exceeding your credit limit are not included in any APR, since they are charged separately.
To illustrate the three-step process for calculating your interest charges, imagine that you have an outstanding balance of $3,500 on a credit card with an interest rate of 25 percent.
In this example, the credit card uses a 360-day year (some cards use 365, terms will vary), so the daily percentage rate, or DPR, is equal to 25% / 360, or .06944%. This is the interest rate you pay each day on the balance subject to interest. Assuming daily compounding and no other activity, your daily balance would grow each day by the interest charged on the previous day.
Step 2: Calculate Your Average Daily Balance
The average daily balance is computed by adding together each day's outstanding balance and dividing by the number of days in the billing period. For simplicity's sake, we set the average daily balance to $3,500.
Step 3: (Avg. Daily Balance x DPR) x Days in the Month
Finally, we calculate the interest charged for the billing cycle, which in this example, is $3,500 x .06944% x 30 days, or $72.91. This is the amount of interest you would be charged on a card with a $3,500 balance and a 25% interest rate.
How Banks Determine Your APR
The APR on your credit card is based on the bank's opinion of your creditworthiness, which is in large part derived from your credit score. Most banks use FICO credit scores, which range from 300 (the worst) to 850 (the best).
Each of the three major credit bureaus, Equifax, Experian, and TransUnion figure their FICO scores a little differently, but the scores tend to cluster closely. Interpretations differ, but generally, 700 is considered the dividing line between good and fair scores. The lower the score, the higher APR you'll pay. If your score is too low, you could have difficulty qualifying for any credit at all.
Sometimes, banks will take into account other factors when determining your APR, such as black marks on your credit history (bankruptcies, court decisions, garnished wages, etc.). You will save money on interest if you can raise your FICO score – check out the myFICO website for tips on how to do that.
Delay Interest Payments with a Balance Transfer Offer
Many credit cards offer special balance transfer deals that can save you money. In a balance transfer, you move your outstanding balance from one credit card to another. To entice new customers, the balance transfer offers usually include a set number of months during which you don't owe any interest on the transferred amount.
Some of the best balance transfer offers grant interest-free periods of 15 or even 21 months. In addition, some cards will also grant a multi-month grace period on new purchases made after you transfer a balance. If you combine that with a zero-percent annual fee and a reasonably low APR, you have the makings of a great credit card. Here are some of our favorites:
+See more balance transfer cards
Pay Your Balance in Full to Avoid Interest Altogether
Now that you know how interest is calculated, you can follow this strategy to lower your interest expenses:
Improve your credit score
Shop around for a credit card that combines the lowest effective APY with the best balance transfer program
Transfer debt from other credit cards to your new one
Pay down your credit card debt during the 0% interest intro period of your balance transfer
Avoid accumulating outstanding balances in the future
For almost all credit cards, you'd never shell out any interest if you paid off your balance in full each month. However, some credit cards do not provide grace periods, so it's worth the extra effort to look into this before applying. One other point – cash advances incur interest immediately and never have a grace period, so if you're looking to avoid interest, that may not be the route for you.
Advertiser Disclosure
CardRates.com is a free online resource that offers valuable content and comparison services to users. To keep this resource 100% free, we receive compensation for referrals for many of the offers listed on the site. Along with key review factors, this compensation may impact how and where products appear across CardRates.com (including, for example, the order in which they appear). CardRates.com does not include the entire universe of available offers. Editorial opinions expressed on the site are strictly our own and are not provided, endorsed, or approved by advertisers.