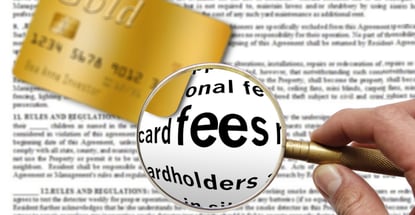 Credit cards can be hard to resist, thanks to enticing sign-up offers from free cash back to zero-percent interest for the first year on purchases to enough miles that could cover a couple of roundtrip tickets to an exotic destination. Some even extend a one-time discount off your store purchase or may provide a rebate when booking a hotel.
Though all these rewards and promotions seem great on the surface, spending time to understand a credit card's terms and conditions is more important than worrying about what you will get for opening an account. 
Credit card agreements contain details on interest, fees, fraud protection, reward offerings and redemption options, among other terms.
For instance, the terms and conditions can tell you how much you will pay in interest if you carry a balance from one month to another. And it lays out the penalty fees you may face for paying late, using your card abroad, or spending over your limit. You can also see which card perks, such as fraud protection and purchase or travel protection, are offered.
Where To Find Your Credit Card Agreement
Credit card agreements are sent in the mail along with your new credit card, but if those pieces of paper are long gone, don't fret. Credit card companies post their terms and conditions online, too.
To find an agreement, go directly to the credit card issuer's website and scroll to the bottom, where you should be able to find a link that takes you to their agreement page. From there, you should be able to find the agreement associated with your specific credit card.
On Citi.com, for instance, you can find a page that lists all the credit card agreements by card name or card type.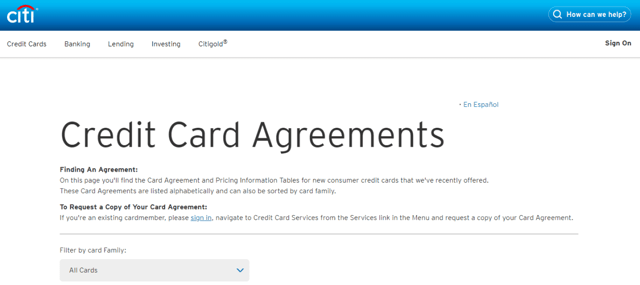 Otherwise, the Consumer Financial Protection Bureau (CFPB) has an extensive database of credit card agreements from hundreds of card issuers.
What to Look For
Although there are important details hidden in the fine print of these agreements, consumers aren't doing their due diligence to review and understand their card's agreement.
Only 26% of Americans polled regularly read their card agreements, according to a 2016 study from CreditCards.com. That means a whopping 74% of consumers are signing up for credit cards without doing their due diligence.
In fact, the study discovered 24% of cardholders polled said they "never" read the contract, 22% "hardly ever" look over the terms and conditions, and only 26% "sometimes" review their card agreements.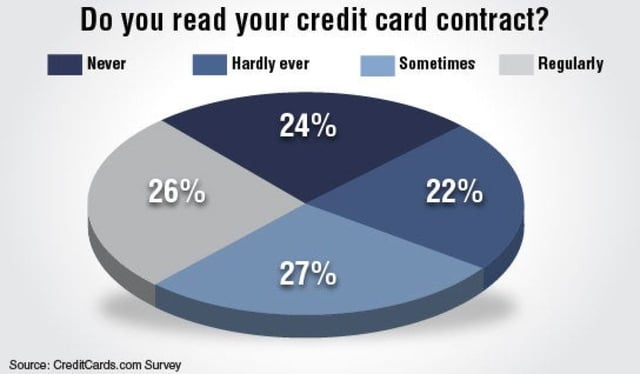 Considering these financial agreements are legally binding contracts containing pertinent information about the potential charges and fees you face, it's imperative to review the terms before applying.
However, credit card agreements are not exactly easy to read, which may explain why many consumers don't bother to do so or give up upon starting. 
A 2018 study published in Finance Research Letters found that credit card terms and conditions are written at a ninth-grade reading level, which is actually higher than the average American reading level of about seventh grade, as reported by the Department of Health and Human Services.
If you're struggling to understand how your credit card works, here's specifically what you should read over in the terms and conditions:
Interest Rates
One of the most important items to understand about your credit card is how much you will have to pay in interest for using that card.
You will find a table within your credit card agreement that lists interest rates and interest charges, indicated as the annual percentage rate or APR. It's important to note that APRs may differ based on card use or activity.

For instance, you may be charged a higher APR on cash advances compared with the APR you are charged for a balance transfer or when making a purchase. You may even get slapped with a penalty APR, which increases the original APR due to poor account management, such as a series of late payments.
Your credit card agreement will also let you know when interest will be assessed on your account.
Fees and Penalties
Credit card companies charge various fees, and understanding how these fees are applied to your account is the key to avoiding them. Look out for balance transfer fees, cash advance fees, and foreign transaction fees.
You may have to pay an annual membership fee, which will be listed in this section too. Other fees that can become costly include late payment fees, over-the-credit-limit fees, and returned payment or check fees.
Payment Instructions
Most credit card companies offer multiple payment options, including paying by check, money order, or bank transfer. But these payment instructions also explain how your minimum payment is calculated and how to avoid paying interest on a purchase.
Look for details on your credit card's grace period. This is the number of days you have from when you make a purchase to when the payment is due. As long as you pay within this grace period, you will not be on the hook to pay interest for that purchase.

Keep in mind that grace periods do not apply to all credit card transactions, including balance transfers or cash advances, so make sure to double-check before making any assumptions.
Rewards Program
Many credit cards offer rewards such as cash back, air miles, points, or gas rebates. Though this may sound appealing at first glance, there may be more restrictions than advertised on how you earn these rewards and how you can redeem them.
This is why you want to spend some time reviewing the reward program outlined in the credit card agreement to ensure it will meet your needs.
Other Benefits
Beyond reward offerings, credit cards come with a variety of other perks that can make your life easier and save you money and hassle. Such perks include extended warranties on purchases, travel insurance, purchase and price protection, and fraud protection.
Taking the time to look over these benefits can help you better understand how they work so you know when to lean on your credit card to get you out of a sticky situation.
Don't Overlook the Credit Card Agreement
When used wisely, credit cards can be useful financial tools, but don't overlook the credit card agreement. This document can help you determine which card will work best for you, and you won't be caught off guard when the bill comes due or when you go to redeem your rewards.
Advertiser Disclosure
CardRates.com is a free online resource that offers valuable content and comparison services to users. To keep this resource 100% free, we receive compensation for referrals for many of the offers listed on the site. Along with key review factors, this compensation may impact how and where products appear across CardRates.com (including, for example, the order in which they appear). CardRates.com does not include the entire universe of available offers. Editorial opinions expressed on the site are strictly our own and are not provided, endorsed, or approved by advertisers.