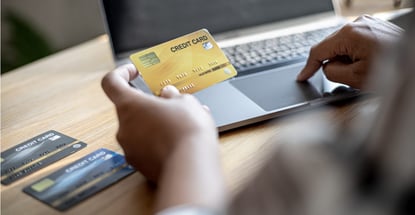 Balance transfer credit cards are often touted as a solution that could help you get a handle on your credit card debt. The question is, as it often is with credit products, is opening a new credit card to pay off another one actually a good idea? Isn't that just using debt to pay off debt?
Everyone's debt situation is different, of course. Yet, in many cases, a balance transfer credit card can be a very useful tool to help you save money on interest, pay down credit card debt, and perhaps even improve your credit score.
If you're able to do all three of these highly desirable things by just opening and using a balance transfer card, then it's certainly worth your consideration.
Balance Transfers Can Pay Off Big
A balance transfer is a credit card transaction where you move debt from one (or several) credit cards to a newly opened credit card account. You may be able to pay off other types of debt with a balance transfer as well, depending on the card issuer's terms.
But for the purposes of our time today, we'll focus on credit card debt because that is likely the most expensive debt you have.
Now, simply transferring debt from one credit card account to another credit card account may seem like a neutral transaction because you still have the same amount of debt. But, if you've got good enough credit, you may be able to qualify for a new credit card with a lower annual percentage rate (APR) than what you are currently paying on your existing cards.
Balance transfer credit cards often feature low interest rates or even 0% APRs for an extended period after you open the account and move your existing balances over. For example, you may find a balance transfer card that offers a 0% introductory APR for the first six to 18 months after account opening.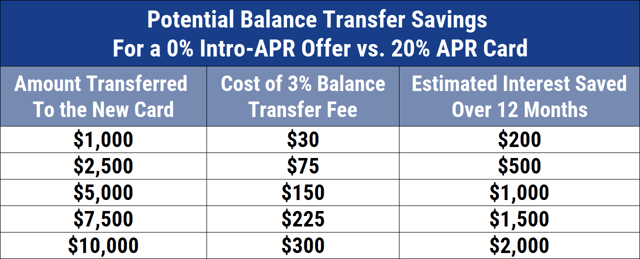 Zero percent is important because it means you're essentially now borrowing money from your new credit card issuer for free.
The potential for these low (or no) introductory interest rates is what makes balance transfers an attractive option for people trying to get out of debt. When you can move high-interest debt to your new lower-rate balance transfer card, it could pay off in a big way.
Balance Transfers Credit Card Pros
If you're not sure whether a balance transfer credit card is right for you, here are some benefits to consider:
You will save money. Moving your debt to a credit card that has a lower interest rate than you're paying now will save you money. The average credit card interest rate is 15.91% (for accounts that assessed interest, according to the Federal Reserve). And it's not unusual to see credit card interest rates climb much higher than that, especially if they are retail store credit cards. If you can secure a 0% introductory APR and aggressively pay down your debt, the savings potential with a balance transfer card can be significant.
You will get out of credit card debt faster. A lower introductory rate on a balance transfer card will help you pay down your debt faster. When you're paying less interest per month, more of your payment goes toward your principal balance, even if you're making the same monthly payment. If you can find ways to put extra money toward paying off your debt each month, a lower-rate balance transfer will mean you'll get out of credit card debt faster.
You will consolidate bills and payments. With a balance transfer, you will be able to move outstanding debt from several credit cards onto a new, single account. This action will consolidate the number of creditors you have to pay each month — making it easier to manage your budget. And to the extent you're worried about missing payment, certainly making one payment on time is easier than making several payments on time.
You may even improve your credit scores. As long as you don't close your pre-existing credit card accounts, a new balance transfer card may help your credit scores. FICO and VantageScore credit scores have a metric called revolving utilization — or credit utilization ratio — which is essentially the relationship between your balances and credit limits. Adding a new credit card to your credit report should increase your aggregate credit limits and, in turn, lower your credit utilization ratios. And, if you reduce the number of credit cards with balances through consolidation, that too is a credit score improvement strategy.
It is important to point out that none of the above perks are automatic. But if you find and qualify for a good balance transfer deal, and you manage the balance transfer process wisely, you may be able to enjoy some or even all these benefits.
Balance Transfer Credit Card Cons
It's nice to consider the perks that balance transfer cards have to offer. But you'll want to take a moment to at least consider the potential drawbacks of balance transfer cards before you start filling out applications.
Most credit card issuers charge a balance transfer fee when you move debt to your new card. Balance transfer fees typically run around 3% to 5% of the total amount you transfer. Let's say you transfer $10,000 and the balance transfer fee is 5%. It will cost you $500 to move your debt to the new account in this scenario. It goes without saying that the cost of a balance transfer fee can offset your potential savings. So, you may want to use a balance transfer calculator to make sure the math adds up in your favor. HINT: If you save thousands of dollars of interest and it costs you $500 to do so, you win!
Credit problems can disqualify you. Most balance transfer cards — especially those with the best offers — require you to have a good to excellent credit rating to qualify. If you're struggling with a poor credit history or low credit scores, you may not be in a position to take advantage of a balance transfer offer.
Retroactive interest. Read the language in your new card's cardholder agreement and look for language regarding retroactive interest. If you do not pay off the transferred credit card debt before the expiration of the 0% interest period, you may have to pay interest on some or all of the original debt — all the way back to when you opened the new account. The point being, you may be on a clock that will incentivize you to get out of debt faster.
You may have to change your habits. The best way to manage a credit card is to pay on time and pay off your full statement balance each month. It's a bad idea to open a new balance transfer card, move all of your debts to it, and continue to overspend on your original accounts. Further, these actions can damage your credit scores and cost you any savings in interest fees.
For these reasons, you should only apply for a new balance transfer credit card if you're confident that you can avoid overspending in the future.
How to Choose the Best Balance Transfer Credit Card
If you think a balance transfer card could help you pay down your credit card debt, it's important to find the best account for you. Choosing the best credit card for you will involve some research on your part. Here are some tips to help you navigate that process.
Check Your Three Credit Reports
You should always review your three credit reports (and, ideally, your credit scores as well) before you apply for a new credit card. Checking your credit reports will give you an idea of your credit standing before the lender does the same thing. Then you can determine which cards you're likely to qualify for based on your credit rating.
A credit check can also help you discover if you have any errors on your credit reports. If you do find mistakes, you should dispute them with the appropriate credit reporting agency. You can get your three credit reports for free every week through April 2022 at www.AnnualCreditReport.com.
Compare Balance Transfer Offers
As you're reviewing available balance transfer card options, you should pay attention to four important factors — introductory APR, length of the promotional rate period, balance transfer fees, and annual fees.
The best deals will have the lowest APR (preferably 0%), the longest zero-interest promotional period, the lowest balance transfer fee, and no annual fee.
You can compare more balance transfer offers here.
You Could Save a Lot of Money With a Balance Transfer
You must be 100% committed to managing your balance transfer card the right way. Otherwise, it's probably not a great idea. If you're worried that you'll continue to overspend after transferring your balance to a new card, a balance transfer may not be right for you.
However, a well-managed balance transfer card can be the tool you need to dig your way out of debt and save you a ton of money in the process.
Advertiser Disclosure
CardRates.com is a free online resource that offers valuable content and comparison services to users. To keep this resource 100% free, we receive compensation for referrals for many of the offers listed on the site. Along with key review factors, this compensation may impact how and where products appear across CardRates.com (including, for example, the order in which they appear). CardRates.com does not include the entire universe of available offers. Editorial opinions expressed on the site are strictly our own and are not provided, endorsed, or approved by advertisers.