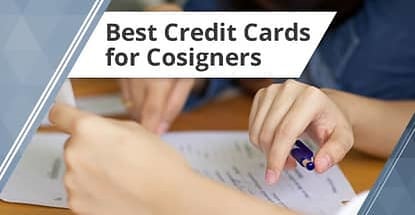 Credit cards that allow cosigners can open the doors to a world of possibilities for consumers who may not otherwise have access to a line of credit — whether it's needed for unforeseen emergency expenses or rebuilding credit. 
In the consumer credit world, a good portion of your financial clout is represented by your credit report, and those with the best credit reports see the most open doors. What's more, if your credit report isn't up to snuff, many credit doors will remain closed — indefinitely.
However, just as a celebrity can say, "They're with me," to open the door for someone less popular, so, too, can someone with excellent credit. Called cosigning, having someone with well-established credit vouch for your poor or limited credit history can make all the difference.
Allows Cosigners | Alternatives
Credit Card Issuers That Allow Cosigners
Not to be confused with authorized users — who have the ability to make purchases on a credit account, but no obligation to make payments on that account — cosigners are effectively joint account holders. This means cosigners will be held responsible for repaying any credit card debt that the primary account holder is unable (or unwilling) to pay off.
Moreover, issuers understand that cardholders who need cosigners to apply are likely underqualified for a particular card. This means an issuer may go after the cosigner first if the primary cardholder misses a payment.
While nearly every credit card company will allow authorized users, few major credit card issuers allow cosigners, likely because of the risk inherent in lending to consumers who need cosigners to qualify. Though your local community bank or credit union may be more flexible, your major-bank options are basically limited to the following issuers.
Best Bank of America Credit Cards
As the pioneer of the mass-market consumer credit card, Bank of America has a long history of giving cardholders what they want — and that may include the ability to cosign credit cards. Anecdotal reports around the web state that some users can bring a cosigner when applying, but only if they've previously been rejected when applying on their own, and they can't do it online — cosigners can only be added over the phone by calling BoA's credit card customer service at 800-732-9194.
Bank of America's card selection includes something for just about anyone, including both Visa and Mastercard options, cash back and travel rewards options, plus co-branded options for extra customization.
+See More Bank of America Credit Cards
Best U.S. Bank Credit Cards
Although perhaps not as well known as its ubiquitous competition, U.S. Bank has over 150 years of experience in the consumer banking industry. The issuer's range of credit cards is broad, offering rewards cards with cash back and travel, as well as low-interest cards and U.S. Bank members-only cards.
The application will ask whether you want to include a cosigner, or you can add a cosigner after you've been approved by calling customer service at 800-285-8585.
7. U.S. Bank Altitude™ Reserve Visa Infinite® Card
The U.S. Bank Altitude™ Reserve Visa Infinite® Card is a big-benefit card exclusive to US Bank customers. The card will likely be most valuable for frequent travelers who can take full advantage of the extra rewards and annual travel reimbursements.

Earn 3X points per $1 on eligible travel purchases and mobile wallet spending
Receive up to $325 annual travel reimbursements
Receive 12 annual complimentary wifi passes
Since the Altitude Reserve is a Visa Infinite card — one of only a handful in the US — cardholders will also enjoy exclusive Visa Infinite benefits, including potentially valuable airfare discounts and other traveler-centered perks.
8. U.S. Bank Cash+™ Visa Signature® Card
The U.S. Bank Cash+™ Visa Signature® Card gives you control over your rewards, letting you select your bonus categories, including two 5% cash back categories.

Earn 5% cash back in two categories of your choosing, plus 2% cash back in an additional category you select
Earn 1% cash back on all other purchases
Pay no annual fee, ever
New cardholders can enjoy an extra 0.5% rewards for the first year. Plus, receive the perks of being a Visa Signature cardholder, including a bevy of special travel benefits.
9. U.S. Bank FlexPerks® Gold American Express® Card
The U.S. Bank FlexPerks® Gold American Express® Card can help you earn no matter how you travel, offering bonus points on travel-related expenses like restaurants, gas, and airline purchases.

Earn 3X points per $1 at restaurants, plus 2X points per $1 on airline and gas station purchases
Earn 1X points per $1 on all other purchases
Enjoy complimentary Boingo Wi-Fi
Rewards earned with your FlexPerks card can be redeemed toward air travel, hotel stays, merchandise, gift cards, and statement credits.
+See More U.S. Bank Credit Cards
Alternative Cards That Don't Require a Cosigner
Although some credit card applicants may be required to use a cosigner if their credit history is particularly poor or very limited, the most common situation in which cardholders need a cosigner is for compliance with the CARD Act of 2009. Among other consumer protections it put in place, the CARD Act sought to reduce the risk of young people falling into credit card debt by limiting its availability.
Specifically, the CARD Act requires that young people, ages 18 to 21, need to have either a cosigner or a verifiable income source to apply for a credit card under their own name. This can be particularly challenging for students, as grants, loans, and/or scholarships typically do not count as income sources.
Unfortunately, the only real way around the CARD Act cosigner requirement if you're under the age of 21 is to obtain an actual income. While there is no hard-and-fast minimum income requirement, issuers need to determine that you can at least afford to pay the maximum limit on the card. If you have a limited income, a student credit card can be a good option.
For cases in which you need a cosigner due to credit score concerns, you may be able to avoid the requirement by selecting a credit card designed for poor-credit consumers. Consisting of subprime unsecured and secured credit cards, these options tend to have much more flexible credit requirements, making them easier to qualify for without a cosigner.
Best Credit Cards for Students
Although 18-year-olds are technically adults — in the eyes of the law, anyway — students often exist in a world of their own, somewhere between teenager and responsible adult. As students start to think about heading into the "real world," it's a good time to think about establishing credit, and a student-centered credit card, like our favorites below, can be a great way to get started.
+See More Credit Cards for Students
Best Credit Cards for Poor Credit
While it can be hard to establish credit, rebuilding credit after it's damaged can be even more challenging. Thankfully, you can rebuild, and using a credit card to reestablish a positive payment history can be a great way to start the process. Our top-rated credit cards for poor credit below include options for unsecured and secured credit cards so you can compare your options.
+See More Credit Cards for Poor Credit
If You Build It, Card Offers Will Come
Whether you choose to use a cosigner to obtain credit or to go it on your own, you'll want to maintain the same healthy credit habits. Pay your debts on time each month, be sure to always make at least your minimum credit card payment, and maintain low balances across your credit accounts, and your credit score will start to grow.
However, it's important to remember that a great credit score can't be built overnight. As with a strong reputation and the personal clout to open doors, the kind of credit scores that open financial doors take time — and dedication — to build. With healthy credit behaviors practiced over months and years, you can have a score that's popular with lenders of all kinds.
Advertiser Disclosure
CardRates.com is a free online resource that offers valuable content and comparison services to users. To keep this resource 100% free, we receive compensation for referrals for many of the offers listed on the site. Along with key review factors, this compensation may impact how and where products appear across CardRates.com (including, for example, the order in which they appear). CardRates.com does not include the entire universe of available offers. Editorial opinions expressed on the site are strictly our own and are not provided, endorsed, or approved by advertisers.