If you're worried about making your credit card payment this month, you're not alone. With the U.S. economy in a steep downturn and applications for unemployment benefits spiking, many people who can usually pay their bills without difficulty are struggling.
Though you won't be able to pay your card with another card, you can take other steps to manage your situation. Here are four to consider:
1. Take Advantage of Your Card's Grace Period
If you usually make your payment as soon as you receive your statement, you may be surprised to learn that most cards have a grace period, usually 21 days, that starts when the billing cycle closes. That means you don't have to make your payment right away.
Your actual payment due date should be displayed on your card statement. Make a note on your calendar a few days before that date so you can figure out then whether you can make your payment (if you can't, don't panic, read on).
2. Pay Only the Minimum Due
If you usually pay your entire balance every month to avoid interest charges, you may not realize how low your minimum payment is. It's not a good practice to pay only the minimum every month (or even most months) because the minimum usually isn't enough to pay all the card interest you owe and reduce your balance so you can pay off your card in a reasonable time.
However, if you're in a temporary cash crunch, paying only the minimum could help you avoid late payment fees, penalty interest rates, a drop in your credit score, or other negative consequences.
3. Request a Hardship Accommodation
If you can't make your minimum payment on or before your due date because of financial hardship, your card company may offer you some relief to keep you as a customer. This relief is referred to as hardship accommodation.
Examples of hardship accommodations include:
Deferred payments
A lower minimum payment
Waived or refunded late-payment fees
A temporary lower interest rate
A later payment due date
A hardship payment plan
A credit limit increase
More time to qualify for a new card signup bonus
Hardship accommodations vary from one card company to another, and most companies don't publicize the specifics of these offers. Instead, they say only that accommodations are available on a case-by-case basis.
What you're offered may depend on how valuable your card company perceives you to be as a future customer as well as how much financial difficulty you're experiencing.
How to Request a Hardship Accommodation
To receive a hardship accommodation, you'll usually have to reach out to your card company. Your card company's phone number is usually printed on the back of your card.
Below are customer service numbers for several popular credit card issuers: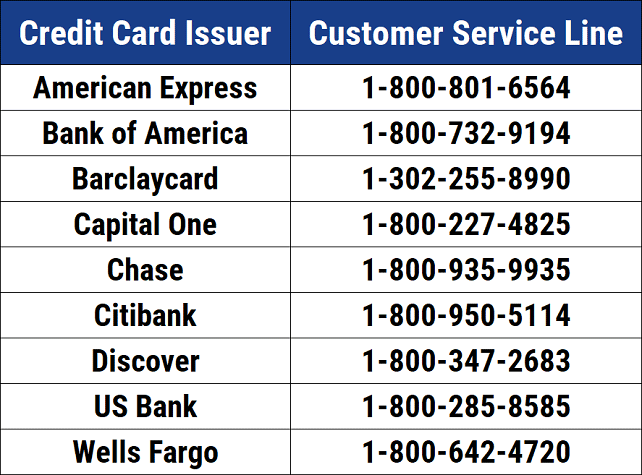 When you call, listen carefully, ask questions, and take notes. If your hardship is due to the coronavirus pandemic, be sure to say so since some accommodations may be tied to this particular crisis.
Card companies have warned customers that wait times for phone calls are longer than normal. If you can't reach a live person by phone, you may be able to contact someone by email or through an online contact form or chat function.
Some companies also offer accommodations online through their website or mobile app. Be persistent and try a variety of ways to connect.
Accommodation Caveats
Hardship accommodations can trigger a variety of consequences that you may not expect. Examples include:
Ongoing interest charges while payments are deferred
Temporary restrictions on how you can use your card
Temporary limits on your ability to redeem points, cash back, or other rewards
Before you accept an accommodation, read the disclosures and small-print footnotes. If you don't understand the jargon, ask for an explanation in plain English.
Requesting an accommodation may feel uncomfortable, but if you don't do it, your card company may assume you don't intend to make any more payments ever. That could trigger more severe penalties and onerous collection efforts.
Accommodations and Your Credit Scores
In normal circumstances, a hardship accommodation can hurt your credit score. The COVID-19 crisis is an exception.
That's because the federal Coronavirus Aid, Relief, and Economic Security (CARES) Act created some special credit-reporting rules for creditors who extend COVID-related hardship accommodations, according to the Consumer Financial Protection Bureau.
Here are the details:
If your account was current when you accepted a COVID-related accommodation, your card company must continue to report that status while that accommodation is in effect.
If your account was already delinquent when you accepted a COVID-related accommodation, your card company can continue to report that status while that accommodation is in effect unless you bring your account current. In that case, your card company must report that new status even if your accommodation is still in effect.
These rules apply to accommodations made from Jan. 31, 2020, to 120 days after March 27, 2020, or 120 days after the national COVID-19 emergency ends, whichever is later. Credit-reporting agency Experian says these rules can help to protect your credit history and credit scores.
4. Refinance Your Card Debt
If a hardship accommodation won't resolve your issues — or even if it will — you may also want to think about refinancing your card debt to make your payments more manageable.
The simplest way is to use a balance transfer offer, which lets you move all or part of your balance from one card to another. The advantage is that many balance transfer offers come with a temporary 0% rate for the transferred amount.
You may get a temporary 0% rate for new purchases as well. These promotional rates could last up to a year or even longer.
Some balance transfers involve a fee, typically 3% to 5% of the amount transferred, but not all balance transfer cards charge this type of fee. If you don't have a card with a balance transfer feature, you may want to apply for a new one.
Advertiser Disclosure
CardRates.com is a free online resource that offers valuable content and comparison services to users. To keep this resource 100% free, we receive compensation for referrals for many of the offers listed on the site. Along with key review factors, this compensation may impact how and where products appear across CardRates.com (including, for example, the order in which they appear). CardRates.com does not include the entire universe of available offers. Editorial opinions expressed on the site are strictly our own and are not provided, endorsed, or approved by advertisers.