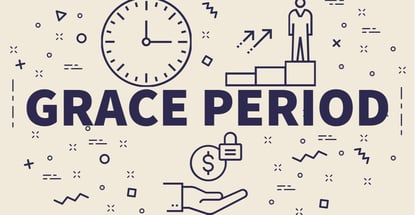 Credit cards come with many pros and cons that can positively or negatively shape your financial situation.
On one hand, credit cards provide many benefits, such as extra layers of purchase and fraud protection, and the ability to earn valuable rewards in the form of cash back, gift cards or even free flights and hotel stays. On the flip side, those who aren't paying attention to what they're charging can easily rack up a credit card balance that's too high to pay off and end up in debt, something many cardholders have dealt with in the past.
In fact, a report from LendingTree found that more than 3 in 4 cardholders have been in credit card debt.
This doesn't mean you are destined for poor financial outcomes if you use a credit card. On the contrary, studying how your credit card works can help you benefit from all its perks and provide some financial relief.
One important advantage offered by many credit cards is something called a grace period. In a nutshell, a credit card grace period is the window during which interest on your credit card purchases is paused. Sound appealing? Let's explore what it is, how it works, and how it benefits the cardholder.
A Grace Period is the Time During Which You Won't Be Charged Interest on Purchases
A credit card grace period refers to the length of time during which you will not be charged interest on your purchases. A grace period typically begins when your billing cycle ends, also referred to as the statement closing date, and continues until your payment is due for that billing cycle, typically from 21 to 25 days.
During this time, you will not be charged interest on any purchase you make with the card as long as you are not currently carrying a balance, and you pay your bill in full and on time. Essentially, it's like borrowing money for free.
When your billing period ends, you will receive a billing statement from your credit card company detailing all the charges made during the last month. This will include a total amount that is due after adding up all the transactions made during that billing cycle along with your payment deadline.
As long as you pay your credit card bill in full and on or before the due date, you will not accrue any finance charges. What's more, any transactions that were made after the closing date will appear on your next month's bill and will not be subject to interest until payment for that billing cycle is due.
It's important to note though that any late payment or partial payment may jeopardize your privilege to a grace period. In fact, credit card companies do not have to offer a grace period, though most do. That means credit card issuers reserve the right to cancel a grace period if you do not keep up your end of the bargain — a.k.a., not making payments on time.
If your grace period is eliminated, you will be charged interest immediately after every transaction. That means, everything you pay for with that card will automatically cost more thanks to the interest fee.
One easy way to avoid a grace period from being canceled is to maintain a manageable balance and never charge more than you can afford to pay off by the statement due date.
For example, let's say that your billing cycle closes on the fifth of the month and your credit card payment is due on the 30th. When your billing cycle ends, you will receive a statement from your credit card company showing you a list of charges made during that period and the total due after adding up all your transactions, minus any credits for returns or other adjustments.
If you pay your balance in full by the 30th, you won't be on the hook for any interest. However, if you only pay the minimum due or any amount less than the total statement balance, interest will automatically begin applying to your current and future transactions.
When it comes to purchases made after the fifth, you will not have to pay these off until the following billing statement's due date, which will be on the 30th of the following month.
This buys you more time to make purchases even if you don't have the cash immediately to pay off the balance. However, grace periods can vary among credit cards, so take time to review the terms and conditions of your current credit card to understand how you can benefit from this perk.
Pros of a Grace Period
A grace period allows you to borrow money at no additional cost if you know how to use it wisely. The advantages are many — for instance, a grace period allows you to pay for something you need urgently or to cover a necessary repair, even if you don't have the cash on hand at that very moment, without being charged interest.
This gives you extra time to save up to pay off the purchase without any additional fees. It also allows you to spread payments throughout the grace period to alleviate the financial stress that comes with trying to pay the entire balance all at once.
With this strategy, you take smaller amounts of money from multiple paychecks over the course of several weeks to ensure you pay off the statement balance in full and on time without straining your budget.
In addition to timing your payments, timing your purchases can also ensure you get the maximum benefit from your credit card's grace period. For instance, if you plan to make a big-ticket purchase right after your billing cycle ends, you will have the entire billing cycle up until the closing date, plus the grace period, to come up with cash to pay off that purchase before the payment is due.
Alternatively, this allows you to make smaller weekly payments leading up to the due date, so you don't feel stretched too thin by trying to come up with one lump sum by the payment deadline. If you make an expensive transaction right before the billing cycle ends though, you will have less time to pay off that purchase before interest will start accruing, so buyer beware.
Cons of a Grace Period
As with anything good in life, there's often a catch, and the same goes with credit card grace periods: If at any time you fail to pay your credit card bill on time or you pay less than the total statement balance that's due, your unpaid balance will accrue interest, and you may lose your grace period privileges.
If that happens, you may be charged interest immediately after every transaction and that means your purchases will come with a premium at the interest rate set by your card issuer.
Losing your grace period doesn't mean it's gone forever, though. You may be able to earn it back by making full and timely payments for several consecutive billing cycles. However, you must call your credit card company to find out how this works because each credit card company's policy varies.
Keep in mind that grace periods only apply to purchases. When it comes to a cash advance or using a check provided by your credit card issuer, you will begin accruing interest immediately, and the interest rate may be higher than what your credit card charges for unpaid balances.
Advertiser Disclosure
CardRates.com is a free online resource that offers valuable content and comparison services to users. To keep this resource 100% free, we receive compensation for referrals for many of the offers listed on the site. Along with key review factors, this compensation may impact how and where products appear across CardRates.com (including, for example, the order in which they appear). CardRates.com does not include the entire universe of available offers. Editorial opinions expressed on the site are strictly our own and are not provided, endorsed, or approved by advertisers.