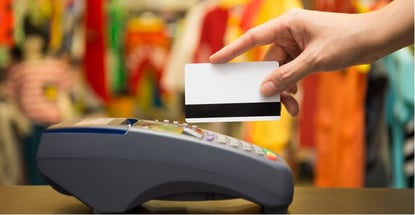 Running afoul of your card's credit limit can be a mortifying experience. Imagine being told by the waiter that your card has been declined as your guests look on in embarrassment. You soon find out that your sumptuous dinner for eight puts you way over your card limit.
That's when you resolve that you'll never go over your credit card limit again. And here you are — reading all about the credit cards with the highest limits. Naturally, you've resolved to maintain reasonably low balances on your cards, but isn't it nice to know that the occasional splurge is well within reach?
It's even nicer when you don't have to pay a humongous annual fee to get an exclusive high limit card. No need to seek ways to get an invite for the infamous Black Card, you can choose from among dozens of rewards cards that won't make you hyperventilate when the annual fee comes due.
Highest Overall | Air Miles | Balance Transfer | Cash Back | Points | Business | Student | Fair Credit | Bad Credit | Amex | Bank of America | Capital One | Chase | Citi | Discover
You probably don't need a credit card limit of half a million dollars, but it's good to know that high-limit cards are available when you are contemplating a big-ticket purchase. Imagine plunking down your credit card to pay for your child's five-star wedding attended by hundreds of (hungry and picky) guests. Or perhaps you just bought your first home and need to drop some serious coin at the big box store.
The winners of the nosebleed award for the highest credit limit among cards for mere mortals are these twins: Chase Sapphire Preferred® Card and Chase Sapphire Reserve®, with annual fees in the mid-triple digits and high-double digits, respectively. Both are very impressive cards, and remarks on Quora indicate that it's possible to get a credit limit of up to $500,000.
Back here in the real world, the average credit limit on the Chase Sapphire Preferred® Card is $10,000, with a minimum limit loosely set to $5,000 (so first prequalify for the minimum limit before wasting a hard inquiry).
Credit Karma reports that about a third of Sapphire Preferred cardholders have a credit limit of at least $10,000, with 10% obtaining a limit above $20,000. Only 3% received credit limits below $5,000.
The credit limits on the
Chase Sapphire Reserve®
card are even higher, with forum visitors routinely reporting lines of $50,000 to $80.000. But Chase doesn't publish a credit limit for this card, so the ceiling probably matches or exceeds the Preferred card's high of half a million smackeroos. Look for this card to offer a minimum credit limit of $10,000.
Both cards offer abundant benefits and perks, and we consider them among the very top travel cards currently available. The points you earn are worth more when you use them for travel purchases on the Chase Ultimate Rewards website.
Credit cards offering rewards in the form of air miles can help reduce the cost of a trip or vacation. With costs rising every year, air miles are a welcome money-saver for millions of consumers. By choosing an air miles card with a high credit limit, you have the flexibility to take longer and/or more expensive vacations without sweating every expense.
The Capital One Venture Rewards Credit Card earns kudos for the highest credit limit among cards offering air miles rewards. The card is available to consumers with fair or better credit scores, with the average credit bureau score hovering around 725 and the average credit line approximately $10,000.
Some reviewers reported higher limits and lower scores, such as the person with a 662 score and a $15,000 limit. But we've also seen higher limits, in the $30,000 to $50,000 range. The minimum credit limit should be $5,000 because this is a Visa Signature® card.
Several reviewers mentioned that it was fairly easy to get a credit line increase from Capital One. Only occasionally were cardholders treated to an unsolicited credit line increase. The card boasts blackout-free travel rewards applicable to any airline or hotel, as well as the ability to transfer miles to participating frequent flyer programs.
It can happen – your credit card balances accumulate over time and you find yourself making a half-dozen minimum payments each month. Obtaining a high-limit balance transfer card can break the cycle by allowing you to consolidate all your balances onto your new card. The high limit allows you to concentrate your attention and money on paying down all your credit card debt using a single balance transfer card.
Research indicates the Bank of America® Customized Cash Rewards credit card offers the highest credit limit — $95,000 — among balance transfer cards. This is considerably higher than the competition and probably is not representative of the vast majority of cardholders. Nonetheless, this is a remarkable limit for a credit card that has no annual fee.
The card offers an extended 0% promotional intro APR after opening the account. To participate in the offer, you must complete the transfers within 60 days of opening the card. A balance transfer fee applies.
This is a cash back card in which you earn the top purchase reward rate on the merchant category you choose. Other purchases earn lower cash back rates, depending on the merchant category. There is also a modest signup bonus when you spend the required amount on purchases during the first 90 days after opening the account.
Who doesn't love cash? If you'd like more of it, then perhaps a cash back credit card should occupy a privileged spot in your wallet. By choosing a cash back card with a high credit limit, you don't have to worry about juggling multiple cards when you're in shopping mode. A high limit card can provide peace of mind when you're shopping for a big family or simply need to handle large expenses.
After Chase won the overall top spot with its Sapphire doppelgängers, you shouldn't be surprised that it's got another set of twins that lead the high limit pack of cash back cards. The Chase Freedom Unlimited® and Chase Freedom Flex℠ siblings win this category with reported credit limits of up to $24,000 for qualified applicants. That's a pretty high limit considering both cards are meant for everyday purchases and charge no annual fees.
These cards have much in common, including high cash back rewards, signup bonuses, and 0% introductory interest rate offers for new cardmembers. In fact, just about the only difference between the two is the way you earn cash back.
Chase Freedom Unlimited® offers several cash back tiers depending on the merchant categories for your purchases. Chase Freedom Flex℠ adds quarterly rotating bonus categories (which you must activate) to the mix.
While a relative few will qualify for the highest credit limits, average cardholders will receive card limits in the $3,000 to $5,000 range. However, many cardholders have reported successfully getting a higher credit limit from Chase. If you do so, remember that you'll have a hard inquiry added to your credit report that may lower your score a few points for up to a year.
Points are a flexible type of reward because you can use them to pay for purchases or convert them into cash back or miles when it suits you. The cards with the highest overall credit limits, Chase Sapphire Reserve® and Chase Sapphire Preferred® Card, are points cards, so they win this category as well.
A few well-heeled applicants will qualify for six-figure limits, but most will qualify for limits closer to the $5,000 to $10,000 minimum.
These two cards offer many benefits beyond a high credit limit. Furthermore, your points grow in value when you redeem them for travel via Chase Ultimate Rewards. If you prefer, you can transfer your points to any airline or hotel partnering with Chase.
Also, you can cash in your points for a statement credit, an electronic deposit to your bank or credit union account, or gift cards from well-known merchants.
Owners of small-to-medium enterprises (SMEs) can use business credit cards to cut their expenses and earn rewards, but the cards are also widely used at large corporations. Most business cards offer free employee cards that allow owners to accumulate rewards much faster. Business credit cards often provide higher rewards for business-related purchases and travel.
The Ink Business Preferred® Credit Card offers credit limits as high as $25,000 to its best applicants. However, the minimum credit limit for this card is $5,000. You may qualify for higher limits (initially or later on) based upon your income, credit, and debt.
The card rewards you well in return for its moderate annual fee. Rewards are in the form of points that you can redeem at Chase Ultimate Rewards for 25% more value when used for travel.
You can transfer your points 1:1 to the leading frequent flyer program, spend them through Chase Ultimate Rewards, or redeem them for cash back and gift cards. There's no charge for employee cards, foreign transactions, or liability protection. The card also bestows you with various types of travel and purchase protections.
You shouldn't expect student credit cards to have high credit limits because students can obtain these cards without a payment history. In other words, issuers of student credit cards are usually flying blind regarding an applicant's creditworthiness. Expect most of these cards to offer limits in the $300 to $1,000 range.
The Deserve® EDU Mastercard for students usually has a starting credit limit of around $500, but the limit can climb as high as $5,000 over time, earning it top honors in this category. This card offers cash back rewards, no annual or international transaction fees, and a mobile app to manage the account. In addition, the card provides cellphone protection and one free year of Amazon Prime Student.
Unlike many of its competitors, the Deserve® EDU Mastercard is available to international students who lack a Social Security number. The card does not support cash advances or balance transfers. You can earn a small bonus when you refer a friend who gets the card.
FICO scores in the 600s generally indicate fair credit. If you belong to this group, you may not qualify for the best credit cards, but you're not relegated to the worst. In fact, some pretty good cards are readily available for consumers with fair credit, and some have reasonably high credit limits.
The Capital One QuicksilverOne Cash Rewards Credit Card has an average credit limit around $2,000, and top applicants may be assigned a limit of up to $5,000.
Credit limit increases are possible, but you first must observe responsible behavior (i.e., paying every credit card bill on time, staying below your credit limit), for six months. The card charges a low annual fee and lets you earn a flat cash back rate on all purchases.
The card offers very modest benefits. There are no bonus offers and the interest rate is on the high side. Still, you can perform balance transfers with no transfer fee at the transfer APR, get unlimited access to credit information, and receive $0 fraud coverage.
The Surge® Platinum Mastercard® offers a $1,000 initial credit limit that may double to $2,000 when you make consecutive on-time payments for at least six months. There is an annual fee that will cut into your available limit, but this amount is still much higher than the usual $300 credit limit for most unsecured cards for bad credit.
Note that not all applicants will qualify for the initial $1,000 limit. Your credit limit depends on other factors, such as your recent payment history and income.
There are secured cards for bad credit available that can provide higher limits, but secured cards are collateralized by your cash deposit that the issuer uses to ensure you meet your payment obligations. A secured card's credit limit equals (with rare exception) the amount you deposit.
Whoever coined the phrase "the sky's the limit" must have owned The Platinum Card® from American Express because it has no preset spending limit. This is a charge card, which means you are expected to pay your entire balance each month. However, you can use Plan It® to stretch out the payments for large purchases for a fixed fee, up to your Pay Over Time limit.
While it's true that this card has no preset spending limit, it doesn't mean you can go hog wild if you want to pay over time. The Pay Over Time limit sets the total amount you can finance, including purchases, cash advances, and your current balance. You must immediately pay any balance in excess of your Pay Over Time Limit.
Let's be frank: The financing options for The Platinum Card® are a kluge to make up for the card's original charge-only nature. The card is aimed at affluent consumers, so you may never need to finance your purchases. However, if you do need to stretch your payments, you should delve into the paragraphs of fine print that define your options, but first, brew up a pot of strong coffee.
The card is festooned with generous rewards and benefits, as befitting a card charging an annual fee in the mid-three-digit range. The APR for the Pay Over Time feature is relatively low, but that's not the case for the cash advance and penalty APRs. Fees apply to cash advances, late payments, and returned payments, but not to foreign transactions.
Research indicates that the Bank of America® Customized Cash Rewards credit card offers the highest credit limit — $95,000 — among Bank of America cards. This is considerably higher than the competition and probably is not representative of the vast majority of cardholders. Nonetheless, this is a remarkable limit for a credit card that has no annual fee.
Our hunch is that only the top tier of Bank of America customers — those with $100,000+ on deposit — would qualify for this credit limit. In fact, the minimum credit limit of $1,500 is probably way closer to the average.
The card itself offers three tiers of cash back, a signup bonus when you spend the required amount on purchases during the first 90 days after account opening, and a 0% introductory APR for purchases. You have many options for redeeming your rewards, including the Premium Rewards Program in which your other Bank of America accounts can boost the value of your rewards.
One reviewer received an initial $50,000 credit limit from the Capital One Venture Rewards Credit Card. That's pretty good for Capital One, which aims its credit card offerings to a wide swathe of credit profiles. The average credit limit is in the $5,000 to $10,000 range, depending on your creditworthiness.
The card lets you earn unlimited double air miles on all purchases, and the miles don't expire while the account remains open. You'll be reimbursed for Global Entry or TSA Precheck fees, and you can transfer your miles to more than 10 frequent flyer programs.
It's worth mentioning that Capital One recently introduced its first premium card offering — the Capital One Venture X Rewards Credit Card — but because the card is so new, we can't find any reports of credit limits higher than the $50,000 we found for the original Venture card. That said, we expect credit limits to at least meet (and likely exceed) those of the Venture card.
The hands-down winners among the Chase cards are the Chase Sapphire Reserve® and Chase Sapphire Preferred® Card twins sporting an overall credit limit as high as $500,000.
We think anything approaching that limit is as rare as hen's teeth, but if you're a wealthy cardholder, perhaps you will score a six-figure credit limit. More likely, your initial credit line will range from $5,000 to $10,000, followed by a credit limit increase for creditworthy behavior.
If you don't mind shelling out a stiff annual fee, the Chase Sapphire Reserve® is one terrific card, with many bells and whistles that should satisfy all but the fussiest travelers. If you'd like 80% of the features for 20% of the cost, consider the Chase Sapphire Preferred® Card card that arrives with many benefits in a much more affordable package.
Among Citi credit cards, the competition for the highest credit limit is spirited. The Citi® Double Cash Card just edges out the competition at a whopping $50,000, according to a couple of in-the-know sources.
Caveat: Credit card issuers don't publish maximum credit limits, so sussing out the highest one from Citi or any other credit card company often relies on random comments in a forum or review.
The Citi® Double Cash Card pays cash back when you purchase an item and again when you pay the credit card bill. It also offers one of the longest balance transfer 0% introductory offers in the business. Another nice feature: No annual fee.
FICO® Forums has a reported user with a $62,000 Discover credit limit, which is the highest we could find. This is not an initial credit limit, but rather was likely accrued over several years of on-time payment history and income increases reported to the card issuer.
It also doesn't mention which Discover card it was on, but we'd guess the Discover it® Cash Back or Discover it® Miles. It certainly wouldn't be on the student or secured cards.
These cards both offer Unlimited Cashback Match only from Discover and award-winning customer service. You'll also receive fraud protection and free FICO credit scores, among other valuable features and rewards, depending on the card you choose.
The credit limit on your credit card defines how much you can charge for purchases and cash advances. If you attempt to spend beyond your credit limit, the card issuer will likely decline the transaction and/or charge you a penalty fee.
If your end-of-cycle balance exceeds your credit limit, your minimum payment will be at least the amount of the overage.
Issuers impose credit limits to protect itself and its customers. Allowing a cardholder to have an unrealistically high credit limit may lead to late and missed payments. Therefore, card issuers take care to evaluate an applicant's financial condition and payment history before setting a credit limit.
For unsecured credit cards, issuers determine credit limits based upon an applicant's credit score and credit history, as well as the general guidelines for each card. Cards are often pitched to different types of credit profiles, from poor to excellent, and the general range of credit limits varies accordingly.
When you apply for a credit card, the issuer will usually conduct a hard inquiry on your credit report. This gives the issuer a complete look at your credit history, including any derogatory items that occurred up to 10 years ago.
Issuers apply algorithms that look at an applicant's income, current indebtedness, creditworthiness, and other factors before approving an application and assigning a credit limit.
Secured credit cards work a little differently. Their credit limits match the amount deposited by the cardholder as collateral. Secured card credit limits generally range from $300 to $5,000, depending upon the issuer's practices.
Of the cards reviewed in this article, the Chase travel card twins, Chase Sapphire Reserve® and Chase Sapphire Preferred® Card, are purported to have credit limits as high as $500,000.
That's probably exceedingly rare, but limits of up to $100,000 are more achievable. The minimum credit limits on the Preferred and Reserve cards are $5,000 and $10,000, respectively.
Some luxury cards are geared to the ultra-rich rather than the general public. American Express and Mastercard offer "black" cards that may carry seven-digit credit limits. The American Express Centurion® Card is available only through invitation, and if you aren't a multimillionaire, you need not hang around your mailbox waiting for your invite.
The Luxury Card™ Mastercard® Black Card™ was once a Visa card before it was rebranded. You can apply for this card online and, if approved, receive an initial credit limit starting at $20,000 (although much higher limits are feasible).
Naturally, black cards have high annual fees, but if you have a sudden urge to buy a Maserati, one of these cards may do the trick.
You have a few ways to obtain a credit increase, depending on the card issuer's policies. The most direct method is to call a card rep and ask for a higher limit. Your chances of approval will depend on your credit history.

Naturally, to maximize your chances of approval, you should be able to demonstrate a solid record of paying your bill on time, every time, and staying within your card's current limit. It helps to have a relatively low credit utilization rate (i.e. total credit used divided by your total available credit) that is no higher than 30% and a net income that will support a higher limit.
Another alternative is to apply for a new card with a higher limit. This makes sense if your credit score has improved since you obtained your current card. If you take this route, do not close your current account because it could hurt your credit score.
Some cards are aimed at consumers with bad or fair credit and initially have a lower credit limit. Often, these cards will automatically reevaluate your credit limit after a set period (usually six months or more). If you've paid your bills on time and kept your credit card balance low, you may be awarded a higher limit.
If you get a secured card, the issuer may have strict rules governing the maximum initial credit limit it will allow you. Once again, the card issuer may re-evaluate your limit after a set period and grant you a credit increase with or without requiring a larger deposit. Eventually, the issuer may convert the card to unsecured by refunding your deposit.
The average credit limit depends on your credit score range, as this chart shows:

The top category represents consumers with very good to excellent credit. As you can see, it has the highest average, and it accommodates limits that are occasionally very high. Generally, the higher your score within your range, the more likely you are to receive an above-average credit limit.
The median is the middle value, with 50% of values above and 50% below. If the chart were based on median credit limits rather than average ones, there would be a lower credit limit in the highest score range and higher in the lowest range. The reason is that median statistics are not subject to the skewing by outliers that affect averages.
A good starting limit for someone with bad or fair credit would seem woefully inadequate to folks with good to excellent credit. The previous chart shows the average limit by score range, so it's safe to say that starting credit limits would be below average within each range.
If your credit is bad, you may start off with a limit as low as $300 for secured and unsecured cards. Some issuers of secured cards may allow you to increase your initial deposit (say, up to $1,000) and thereby boost your starting credit limit.
If you have reasonably good credit, your initial credit limit may be in the four-to-five-digit range, depending on your credit history, income, other debt, and other factors.
For most consumers, credit card credit limits are not all that important as long as the limits are reasonable. By reasonable, we mean that the limit is high enough to accommodate your monthly shopping without going over the limit.
Of course, your lifestyle may demand a higher credit limit. But whatever your requirements, you can take a few steps to improve your credit, prompting your credit limit to rise over time:
Increase your income and/or decrease your expenses (both fixed and variable). The more money you have left over at the end of the month, the easier it will be to get a higher credit limit.
Pay your bills on time, without fail. Late or missed payments can devastate your credit score and prevent you from getting a higher credit limit.
Pay down your existing debt. When your debt levels are high (i.e., credit utilization rate of used credit / available credit above 30%), a creditor may worry that you may be in or nearing financial distress, making it less likely your credit limit will rise.
Fix your credit reports. You can do it yourself or hire a credit repair service. The goal is to remove inaccurate or incomplete negative information from your credit reports, after which you should see your credit bureau score rise and your credit limit following suit within six months to a year.
Improving your credit profile can pay off in other ways as well, including unlocking better access to credit, lower APRs, and lower fees.