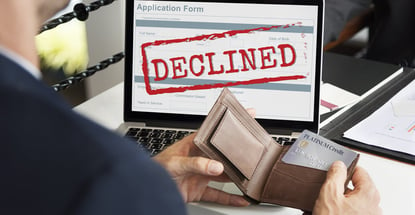 No one enjoys having their credit card application denied. But if it happens to you, you're certainly not alone.
A Federal Reserve survey from October of 2019 found that almost 17% of credit card applicants were rejected.
Getting declined for a credit card can sting. But the denial doesn't have to be the end of your story.
This guide offers four steps you can take to recover from credit rejection and set yourself up for success the next time you apply for a credit card.
1. Ask for Reconsideration
Just because your initial credit card application was declined, that doesn't mean "no" is necessarily the final answer. You can call the card issuer's reconsideration line and possibly change the outcome of your application.
When you call a card issuer's reconsideration department, you get the chance to speak with an actual live human about your denial. The representative can go over your application with you and give you more details about why it wasn't approved.
Once you know why you were declined, you have an opportunity to make your case. Say you didn't get an automatic approval due to income concerns, for example.
You may consider including all of your household income on the credit card application, not just the income you earn on your own. Claiming your household's income, when you expect to have access to it, is allowed on credit card applications.
The goal of calling the reconsideration line is to get someone to approve your application after an initial denial. These tips may help:
Be polite to your phone representative.
Find out why your application was denied, if you don't already know.
Explain why you believe the denial should be reversed.
Aside from a new signup bonus, explain why you want the new card. For example, you may like the card's travel protections, zero foreign transaction fees, or other perks.
2. Check Your Credit Reports
If you've been denied credit, it probably had something to do with your credit reports or credit scores. You'll know for certain if you received a Notice of Adverse Action or, informally, a denial letter, which is more fully explained below.
The denial letter must include the basis for the card issuer's decision. If it was because of your credit report, the Adverse Action Notice is how you'll find out.
Going forward, it's best to check your credit reports with Equifax, TransUnion, and Experian before you apply for any type of new financing, credit cards included. If you skipped this step prior to your credit card denial, go ahead and check your three reports now.
If your credit report was used as the basis for the card issuer's decision, you're entitled to a free copy. You can also claim a free copy of all three credit reports once every 12 months at AnnualCreditReport.com.
You may find mistakes on your credit reports. If you do discover credit reporting errors, federal law gives you the right to dispute them with the credit bureaus. Once a credit bureau receives your dispute, it has 30-45 days to investigate and resolve your claim.
During the investigation, the credit bureaus must either verify that the disputed information is correct or otherwise delete it from your credit reports. If a negative, incorrect item is removed from your credit reports, it may improve your credit scores.
Naturally, better credit may make it easier to qualify for financing in the future.
3. Watch Your Mailbox
As previously mentioned, the credit card issuer that denied your application will send you an adverse action notice. Adverse action notices fully explain why your credit card application was declined. They also include the exact credit score the lender used as a basis for its decision.
It's not much fun to receive a declination letter in the mail. But don't make the mistake of tossing the letter in the trash. Declination letters contain helpful information that you can use to improve your situation.
For example, you may discover that your application was denied because your credit score is too low. Your letter may also contain the top four reasons why your credit score isn't higher. You can piece this information together to formulate a plan.
Imagine you discover that your credit score is low because of high credit card utilization. Although it stinks that your application was denied and your credit score wasn't higher, at least now you know how to make your situation better.
You can pay down your credit card balances to lower your utilization and possibly boost your credit scores. Without an adverse action notice, you would simply be in the dark.
4. Consider Applying for a Different Credit Card
Credit card issuers want to approve your application. That's their reason for existing. They don't make a dime by denying your application.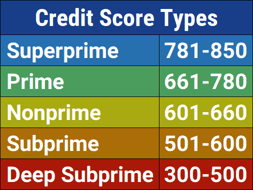 You may need to adjust your expectations and simply apply for a different credit card from a different card issuer. Sure, a premium rewards credit card may come with some amazing perks, and who doesn't love a great signup bonus and killer rewards?
But, it's not a good idea to apply for a credit card that requires excellent credit if your credit score isn't even close to excellent.
You need to figure out which cards are a better fit for your credit rating. That's not that difficult. This guide on what credit score is needed to get a credit card may be a good place to start.
Before You Reapply
Before you reapply for another credit card, it's smart to have a plan to increase your credit card approval odds. A solid plan may reduce the risk of being declined a second time.
And, while the denial of credit isn't indicated on your credit reports, you will end up with another hard credit inquiry.
This underscores the importance of preparing in advance of any credit card applications. Improving your credit, finding a card option that's right for you, and then applying will greatly improve your chances of approval.
Advertiser Disclosure
CardRates.com is a free online resource that offers valuable content and comparison services to users. To keep this resource 100% free, we receive compensation for referrals for many of the offers listed on the site. Along with key review factors, this compensation may impact how and where products appear across CardRates.com (including, for example, the order in which they appear). CardRates.com does not include the entire universe of available offers. Editorial opinions expressed on the site are strictly our own and are not provided, endorsed, or approved by advertisers.