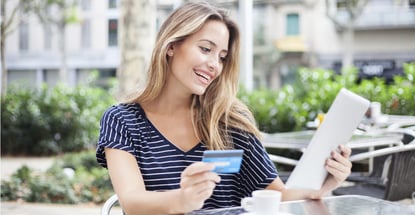 Every time you make a purchase with a credit card, you get the basic benefits that all cards offer: fast, easy credit, and convenience. Depending on which card you use, you may also be getting a long list of very valuable transaction protections, including some you may not even know exist.
The details vary from one card to the next, so it pays to read the disclosures when you apply for and use your cards. Some cards offer a lot of protections, while others only offer a few or none at all. Premium cards generally have the most.
You'll need good credit to qualify for premium cards, and you may have to pay an annual fee. Whether the fee is worth paying or you'd prefer a card with no annual fee is up to you.
To get you started, here's a summary of eight protections you may want from your credit cards.
1. Fraud Liability Protection
If you already have even one credit card, you probably know fraudulent charges can pop up on your account from time to time. Transactions you didn't authorize or even know about can occur even if you're careful about where you use your card and who you give your card credentials to.
Zero-dollar fraud liability protection means you usually won't have to pay for those unauthorized transactions. The protection typically applies whether your card is used in a store, online, over the telephone, or with a mobile device.
There are two rules to fraud liability protection:
You must use reasonable care to secure your card and account information from loss or theft.
You must report a loss, theft, or a suspicious charge to your financial institution as soon as you discover it.
You may be asked to submit a statement or provide other details you may have. Most cards come with $0 fraud liability protection, but a few card types may not have it. These exceptions can include business cards, unregistered prepaid cards, and preloaded gift cards.
If your card is used fraudulently, $0 fraud liability protection can save you hundreds or even thousands of dollars for unauthorized charges. This protection can also give you peace of mind, which may be worth just as much or more.
2. Purchase Price Protection
Purchase price protection, also called price match or price guarantee, helps you get the best price available for purchases made with the card even if the lower price is offered at a different store and even if you didn't discover the lower price until after you buy.
With this protection, you can contact your card company and file a claim online or on the phone if you find a lower advertised price after you make a purchase. If your purchase fits the rules and limitations, you'll be reimbursed for the price difference.
Here are some rules and limitations that may apply:
You must use your card to pay the full cost of your purchase.
The purchased and advertised items must be identical.
The purchased item must be new and bought for personal use or as a gift.
Purchases through an auction are excluded.
The lower price must have been advertised within a certain number of days, usually 30, 60, 90, or 120. A longer time frame is more valuable.
The reimbursed amount may not include sales tax or other additional charges.
Eligible reimbursements may be limited to a certain dollar amount, such as $250 or $500, per item.
The number of claims filed per year may be limited in number and/or maximum dollar amount.
Purchase price protection may also cover items you bought and had shipped to you, but didn't arrive or were damaged during transit.
Purchase price protection used to be offered more widely. It's a valuable perk if you have it or can qualify for a new card that still offers it.
3. Return Protection
Some credit cards offer return protection, which provides a 60- or 90-day return policy for purchases you make with the credit card. If the seller refuses your return, your card company may reimburse you for all or part of the amount you spent.
Some rules and limitations include:
Electronics, jewelry, and books may be excluded.
Returns may be capped at certain dollar amounts, such as $300 per item, or $1,000 total per year.
You may have to send the item to your credit card company and pay shipping costs.
You may have to provide documentation, such as a sales receipt, a copy of your card statement showing the purchase, the seller's return policy, or evidence that your return was refused.
This protection can give you peace of mind about your purchases even if you never use it.
4. Trip Insurance Protection
Trip insurance, also called travel insurance, protects you from financial losses when you use your credit card to pay for travel-related expenses. This protection may reimburse you for a canceled trip, a missed flight, lost or stolen luggage, or in case of a medical emergency or natural disaster that ruined your travel plans.
Booking your travel with a card that offers trip insurance protection can give you peace of mind and may make it easier for you to decide whether to purchase a separate trip insurance policy as well.
Card trip insurance protection tends to be skimpy, but it's still worth the effort to find out if you have it, and if so, what it covers and what the maximum reimbursements are.
For inexpensive trips, your card's coverage may be all you want. For costly journeys, more insurance makes sense. With no protection at all, you'll be on the hook for any unreimbursed costs if your travel plans change or your trip is interrupted.
If you're shopping for a card with trip insurance protection, check out premium cards and travel rewards cards co-branded with a travel partner. These cards are more likely to offer this benefit.
5. Rental Car Insurance Protection
Rental car insurance protection saves you from financial losses if a car you rent becomes damaged while in your possession. Using a card that has this protection may make it easier to decide whether you need additional coverage such as personal auto insurance that includes rental coverage or collision insurance from your car rental company.
Rental car insurance protection typically comes with limitations and restrictions. Here are some to look out for:
Insurance may be primary or secondary. Primary insurance will be used first. Secondary insurance will be used only after your personal auto policy benefits have been exhausted.
Liability, medical expenses, and damage you cause to someone else's vehicle or property may be excluded.
Car coverage may be limited to rentals of 30 days or less when you pay for the entire rental with an eligible card.
Coverage levels may vary depending on whether you rent a car in the U.S. or internationally. Some countries may be excluded.
Some types of vehicles may be excluded.
Coverage levels may differ based on whether you rent a car for business purposes or personal use.
You may have to decline your rental company's insurance to take advantage of your card's car rental insurance protection.
Damaging a rental can be expensive, so this type of protection is worth having when you rent a vehicle.
6. Extended Warranty Protection
Extended warranty protection extends the manufacturer warranty of an eligible item. That means you can feel confident buying expensive items knowing that, if the item breaks after the manufacturer's warranty expires, you may be able to get a refund for the full price or a portion of it.
Again, there are usually rules and limitations. Here are some that may apply:
The extended warranty will have an expiration date, such as double the original warranty or an extra year of coverage after the manufacturer's warranty expires.
You may need to report your loss within a certain time frame, such as 60 or 90 days after your new item stops working.
You may need to provide documentation, such as a purchase receipt, card billing statement showing the purchase, or a copy of the manufacturer's warranty. In some cases, you may be asked to provide a repair estimate.
Items with an original warranty longer than five years may be excluded.
Damage that appears to be deliberate typically isn't covered.
Items that are difficult to value, such as collectibles, antiques, items for professional or commercial use, or living things, such as plants or pets, may be excluded.
Your refunds may be capped at a certain dollar amount, such as $10,000 per item or $50,000 per year.
This protection could save you a lot of money if you use an eligible credit card to purchase a costly item that conks out quickly due to no fault of yours.
7. Cellphone Insurance Protection
Replacing a broken, damaged, lost or stolen cellphone can wreak havoc on your finances. Cellphone insurance can protect you from this unplanned expense.
Some cards offer this protection as a card benefit. You may have to use your card to pay your cellphone bill every month to activate the protection.
There are usually other rules and limitations as well. For example:
If you have your own insurance, the card benefit may reimburse the deductible amount.
There may be a cap on the amount of reimbursement you can receive.
There may be a limit on how many claims you can file per year.
You may have to provide documentation, such as a purchase receipt or repair estimate if your phone was damaged. If your phone was stolen, you may have to provide a copy of a police report to substantiate your claim.
Refurbished phones may not be covered.
If you normally pay upfront for your phone, you may be able to save some money by getting this protection from your card company for no additional cost rather than spending more to buy cellphone protection from your phone's manufacturer.
8. Freebies
Getting something free from your credit card company may not sound like a protection, but in a way it is. That's because a freebie protects you from overpaying for something that, if you use the right card, you shouldn't have to pay for at all. It may be called "no payment for freebies protection."
Here are three examples:
Free credit reports and scores.
Credit reports and scores help you monitor your credit history, protect your credit, and identify ways to boost your credit rating. That's all good. Getting your reports and scores free is even better.
Some card companies offer this perk to their customers and people they hope may become their customers.
Most consumers have three credit reports and two types of credit scores. The three reports come from the three major credit bureaus: Experian, Equifax, and TransUnion. The two scores are the FICO score, from the company of the same name (formerly Fair, Isaac & Co.), and the VantageScore score, from the credit bureaus themselves.
Understanding your scores can help you shop for cards or other credit products that fit your financial situation. A high credit score will typically give you better access to premium cards with bigger rewards and more desirable protections and perks.
Free checked bags on airplanes.
Whenever you fly, checked luggage fees can add a hefty expense to your trip. Some airlines charge as much as $60 per bag! For a family of four, traveling with one checked bag each, those fees add up to $240 per flight. Round trip, you'll be paying $480 in bag fees.
If you purchase your ticket with a card that includes free checked bag protection, you won't have to pay the fee for at least one bag, or maybe more. Tickets purchased with card reward points generally get this protection, too, if it's included with that card.
Cards that offer this freebie tend to be airline co-branded. Shopping for this type of card could help you find one that works for you.
Free access to airport lounges.
Airport lounges can be a welcome alternative to the public areas of any airport. Lounge benefits vary but may include comfortable seating, free snacks and beverages, cocktails, WiFi access, play areas for kids, private shower facilities, and quiet spaces to rest or work before, between, or after your flights.
Without the right card, it can cost you $25 or more just to walk into an airline lounge. If your card comes with this benefit, admission is free.
Read the Disclosures Before You Apply
If the cards you currently have don't give you all of these protections, you may be ready to shop for some new cards to fill in the gaps. Be sure to read the disclosures before you apply so you know what protections are offered and what the rules, limitations, and exclusions are for these valuable card benefits.
Advertiser Disclosure
CardRates.com is a free online resource that offers valuable content and comparison services to users. To keep this resource 100% free, we receive compensation for referrals for many of the offers listed on the site. Along with key review factors, this compensation may impact how and where products appear across CardRates.com (including, for example, the order in which they appear). CardRates.com does not include the entire universe of available offers. Editorial opinions expressed on the site are strictly our own and are not provided, endorsed, or approved by advertisers.