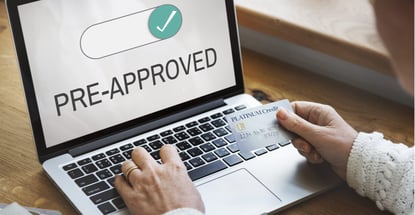 In this review of pre-approved credit cards by issuer, we describe how to get a credit card with a minimum of fuss. We look at the pre-approval processes of five major card issuers: Capital One, Chase, Discover, American Express, and Citi.
While pre-approval does not guarantee final approval, it's a pretty good indication that your credit card application will ultimately sail through, barring unexpected problems.
Credit card preapproval is a nice feature for all consumers but especially important to folks with bad, thin, or no credit. For this reason, we've included credit cards for those with less-than-excellent credit. In all cases, credit card pre-approval will not harm your credit score nor obligate you to complete the application process.
Pre-Approved Capital One Credit Cards
About 10.5% of the cardmember population have a Capital One credit card in their wallets. That's approximately 62 million cards held by consumers who choose Capital One for its wide range of acceptable credit scores, around-the-clock customer service, and free services like Credit One and Eno (where you can get a virtual card number upon request).
Here are our top-ranked Capital One credit cards — you can click the See Details links to learn more about each offer.
Capital One has will allow you to prequalify for some of its most popular cards. You'll receive a credit card pre-approval decision in seconds and can complete the application process without reentering any information.
Capital One allows you to own up to two of its credit cards at any one time, and it is the fourth-largest card issuer in terms of outstanding balances.
Pre-Approved Chase Credit Cards
JPMorgan Chase is the largest credit card issuer, with a market share of 16.6% and about 92 million cards in circulation. But Chase no longer offers a page on its site that allows users to see which cards they qualify for.
The only way to find Chase preapproval is to log in to your Chase account, go to "Open an account," and select "Just for you" to see which Chase credit card offers you may be prequalified to apply for.
Chase caters to cardholders with good to excellent credit, choosing not to compete for consumers with bad credit. It does not offer a secured card. Our favorite Chase cards are as follows:
This issuer stresses the synergies between its credit card and banking operations to attract and keep customers. In addition, the issuer has one of the most impressive loyalty programs, Chase Ultimate Rewards, where you can use reward points for travel and shopping.
Be careful not to get tripped up by the Chase 5/24 rule limiting you to no more than five credit or charge cards (from any issuer) opened within the last 24 months. This will shut down your preapproved offer in its tracks.
Pre-Approved Discover Credit Cards
Discover is both a credit card issuer and payments network, with an outstanding balance market share of 8.2%. Its cards are accepted at 99% of all locations that accept any credit card. You can obtain pre-approval for any of its cards by completing a short online questionnaire.
Our top-ranked Discover cards include offers for cash back, miles, and lengthy 0% APR promotions.
Discover cards are popular because they never charge an annual fee and offer a first-year Cashback Match or Mile-for-Mile Match to a new cardmember. They also attract thousands of students each year with two different credit card offerings just for them.
You are allowed to own up to two Discover credit cards at the same time.
Pre-Approved American Express Credit Cards
American Express has the fifth-largest market share — 10.4% of outstanding balances — and is the third-largest credit card payments network, behind Visa and Mastercard. Originally an issuer of charge cards, it now also offers a full roster of credit cards — including the infamous Amex Platinum Card — for consumers and businesses.
Its best offerings include a mix of no-, modest-, and high-annual-fee cards, as well as its legendary, invitation-only Centurion Card.
You can fill in this pre-qualification form to see which American Express cards you may be eligible for. You may be offered personalized deals, such as a higher signup bonus or lower APR.
At one time, you could own five Amex credit cards and charge cards, but reports indicate Amex tightened up to just four lending products per customer in 2020.
Pre-Approved Citi Credit Cards
Citibank is the second-largest U.S. credit card issuer based on its $101 billion in outstanding balances and its 11.8% market share. Citi credit cards appeal to consumers who care more about low APRs and fees than fancy rewards.
Nonetheless, its roster of cards includes those offering 0% introductory APRs for eligible purchases, balance transfer transactions (including a 0% introductory APR balance transfer promotion), cash advances, and/or cash rewards on each qualifying purchase. Our top-ranked Citi cards are as follows:
You can pre-apply for any Citi credit card without a hard credit inquiry that could hurt your credit profile directly through their website.
How Do I Get Pre-Approved For a Credit Card?
Pre-approval is an initial step you can take to see whether it's feasible to own a particular credit card. Unlike a formal application, credit card preapproval does not require a hard pull of your credit and, therefore, won't drive down your credit profile.
Most of the major credit card issuers have at least one pre-approved offer, and the procedure is pretty much standard across the industry. You can kick off the process by supplying some basic data — name, address, Social Security number, email address — on a card's prequalification page.
The card issuer will give you an instant approval decision after you submit your data. If you are pre-approved, you'll be asked to enter more extensive information and submit to a hard credit check. On the other hand, if you are turned down, you may be offered an alternative card, although this is not standard practice.
It is only after you apply for a card that you'll know the final decision. At that time, you'll be offered a customized APR and credit limit. If all seems good, you can e-sign the credit card agreement and receive your new card in seven to 10 days.
Is Credit Card Pre-Approval Guaranteed?
A pre-approval decision is guaranteed, but the decision can go either way. Normally, the decision is instantly rendered, so you won't be left waiting for an answer.
A positive response to your pre-approval request is clearly a step toward getting you your credit card, but it is not a guarantee of final approval. The difference is the amount of checking a card issuer performs when you fill out a formal application, or more precisely, the additional information gathered by the credit card company.
If the application is successful, it means that you meet the issuer's standards for a particular card. But if a hard credit check uncovers disturbing details, it can result in a decline notice.
The list of problems that can derail your card application include:
A credit score below the card's minimum.
A large amount of existing debt relative to your income.
Information that cannot be verified.
Indications of irresponsible behavior, including missed payments, collections, repossessions, and bankruptcies.
Previous debt settlements.
Previous felonies or civil judgments.
Previous negative experience with the issuer.
Already owning the maximum number of credit cards permitted by the issuer.
Failure to meet residency and/or age requirements.
Current military status.
Pre-qualification will not necessarily turn up any of these derogatory items, but even so, neither you nor the issuer is obligated to reach a final agreement.
Which Credit Card Companies Offer Pre-Approval?
Almost all issuers offer at least one pre-qualified credit card. This is especially true for cards designed to meet the needs of consumers with bad credit.

Remember, a preapproved offer is an option that can be terminated at any time, as we saw during the COVID pandemic. Indeed, many issuers stopped accepting any new card applications during parts of the pandemic.
What Is the Easiest Credit Card to Get Approved
For?
There is no doubt that it's easiest to get a secured credit card. The reason is simple: You must post a security deposit to guarantee that the credit card will be paid.
This removes the risk that the card issuer will have to take a loss on your credit account, making instant approval virtually automatic.
In almost all cases, the size of your security deposit will match your credit limit. After a period of on-time payments, the issuer may choose to increase your limit without requiring a further deposit, thereby converting your account to partially secured. Eventually, the issuer may refund your deposit and present you with an unsecured credit card.
If you have average credit or above, you should have no problem qualifying for most unsecured credit cards. But even if you have bad credit, certain unsecured cards are specifically designed for you. They usually include features like:
High APRs: Expect an APR above 25% if your credit is bad. APRs as high as 36% are possible.
Fees galore: Beyond the usual annual fee, these cards may charge a monthly maintenance fee, a signup fee, and fees for foreign transactions, extra cards, and even credit line increases.
Tight credit lines: An unsecured credit card offer with credit lines as small as $200 is possible. Eventually, you can expect your credit line to increase, though probably not dramatically.
Shorter grace periods: The grace period is an interval in which you do not have to pay interest on your card if your opening balance was zero. It extends from the last day of the billing cycle to the payment due date. Many credit cards routinely give you a 25-day grace period, but some cards for bad credit may cut the period to 21 days or eliminate it entirely.
Few amenities: Expect the card to offer no cash back or other rewards and few benefits. About the only common perk is $0 fraud protection coverage.
Student credit cards are also easy to get if you qualify as at least a half-time student at an eligible institution. These cards do not require you to have good credit or even any credit at all. In addition, many offer rewards and benefits that you wouldn't necessarily expect.
At the opposite end of the spectrum, it may be hardest to get a business credit card. You usually have to personally guarantee a business credit card or recruit a cosigner.
Do Pre-Approved Credit Cards Hurt Your Credit?
Fortunately, the pre-approval process does not affect your credit profile in any way. At most, the issuer may do a soft pull of your credit history, which does not count against you on your credit report.
However, even when a preapproved credit card skates through the process harmlessly, don't expect the same treatment if you formally apply for a card. At that point, the issuer is likely to perform a hard credit check (except if you are applying for a secured or student card).
Here's the rub: Your FICO score is composed of several factors, of which one, new credit, accounts for 10% of your overall score.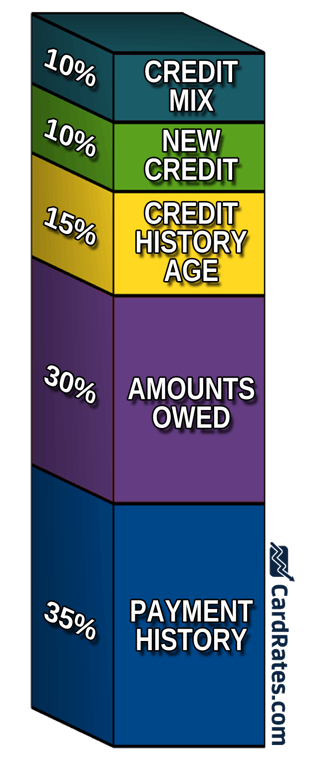 A credit bureau using FICO considers new credit, measured by hard pulls of your credit, to be a potential negative, especially when the credit bureau sees you making multiple attempts to get new credit within a relatively short period (i.e., six to 12 months).
The reason FICO dislikes new credit is that it may indicate financial distress. Your credit score may drop five to 10 points when a hard credit check occurs, and the damage can be worse if many hard checks occur within the same month or two.
Another negative occurs if your new credit card application is accepted. Fifteen percent of your FICO score stems from your credit history age — FICO rewards you for managing your credit accounts successfully over an extended period (i.e., seven years or more).
By adding new credit accounts, you reduce your average credit history age, putting downward pressure on your credit score.
On the other hand, a new credit account can also help your score by decreasing your credit utilization ratio (your credit used divided by total available credit). FICO counts your amounts owed as 30% of your score, and it wants to see your CUR below 30%.
A new credit card increases your available credit and lowers your CUR, but only if you don't use the new credit line. If you deplete your new credit and increase your debt, your CUR will increase and do further damage.
Here's an example: Suppose you have available credit of $10,000 and have used $5,000 of it, giving you a CUR of 50%. You then get a new card with a $2,000 credit limit that you immediately exhaust. Your new CUR is now ($7,000 divided by $12,000), or 58.33%.
Had you kept the preapproved credit card on the shelf, your new CUR would have been ($5,000 divided by $12,000), or 41.67%. In support of your credit score, this would be the wiser choice.
The most important factor to your credit score is your payment history — always make your credit card bill payment on time to maintain healthy credit scores. Most card issuers offer you a free credit score, usually updated monthly, to help you track your credit history.
Compare Pre-Approved Credit Cards By Issuer
Our review of pre-approved credit cards by issuer strongly indicates the card issuers' desire to recruit new cardholders. By offering a pre-approval option with no negative consequences, issuers can start you on a journey that they hope will end in you getting a new card, making many eligible purchases, and financing those eligible purchases over multiple billing periods.
A pre-approved credit card is good for you too. It won't hurt your credit score and keeps you from wasting time applying for a card that is beyond your reach.
You can use this review to identify the cards with pre-approval that interest you the most. Then, simply click on the APPLY NOW link to begin the pre-approval process that will, hopefully, get you the credit card you want.
Advertiser Disclosure
CardRates.com is a free online resource that offers valuable content and comparison services to users. To keep this resource 100% free, we receive compensation for referrals for many of the offers listed on the site. Along with key review factors, this compensation may impact how and where products appear across CardRates.com (including, for example, the order in which they appear). CardRates.com does not include the entire universe of available offers. Editorial opinions expressed on the site are strictly our own and are not provided, endorsed, or approved by advertisers.