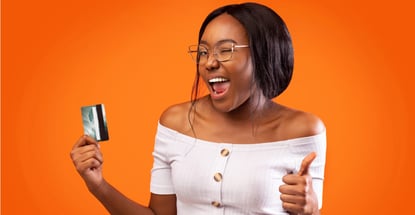 Even if your credit is battered and bruised, these easy credit cards to get approved for can find their way into your wallet. These cards make shopping more convenient and give you an opportunity to improve your personal credit score, and some even come with great rewards and perks.
Easy Cards to Get Approved For With Bad Credit
You can get the following credit cards even if your credit score is below 600. The two unsecured cards are virtually identical, sharing the same basic features and fees. The group's secured credit card is the easiest credit card to get — if you can afford the security deposit.
The Surge Mastercard® provides $0 fraud liability and you can increase the low initial credit line by paying your bills on time for at least six months after opening the account. To get the most convenience from this card, check into its mobile app and its optional credit protection plan.
The Capital One Platinum Secured Credit Card is the easiest credit card to get as long as you are willing to post a security deposit and accept a high APR. The card offers features like emergency replacement of stolen or lost cards, ATM location services, and automatic payment scheduling. A definite plus is instant card number access and virtual card numbers via Capital One Eno®, a great way to protect your account number from theft.
The Reflex Mastercard® is a twin of the Surge Mastercard®, offering the same $0 fraud liability and the opportunity to earn a higher credit limit by making six consecutive on-time payments. The card charges fees for cash advances, additional cards, foreign transactions, and late or returned payments. The monthly maintenance fee is waived for the first year.
Easy Cards to Get Approved For With No Credit
You have to start somewhere, and in the world of credit, this easy approval credit card trio is that somewhere. Two are student cards and assume that many applicants have never owned a credit card. If you don't happen to be a student, Capital One has a card for you even when your credit history is a blank slate.
The Business Platinum Card® is willing to look past your lack of credit history if you can meet its other requirements. These include having a monthly income that exceeds your housing payments by at least $425. The Platinum card offers quick preapproval, which isn't a guarantee of final approval but is nonetheless a good first step.
The Discover it® Student Cash Back card offers a lot of value, even beyond its high cash back rewards and first-year Cashback Match. You also get $0 fraud liability, overnight card replacement, free alerts, and immediate account freeze and unfreeze. Your cash back rewards never expire and can be redeemed in any amount, any time.
The Discover it® Student chrome card offers all the same goodness as its sibling, Discover it® Student Cash Back, but with a simpler reward scheme that does away with quarterly rotating merchant categories. Once you use its tap-to-pay feature, you'll never again want to insert or swipe your card. The card's U.S.-based customer service is staffed around the clock with real humans available to answer your questions.
Easy Cards to Get Approved For With Fair Credit
Fair FICO scores range from 580 to 669, indicative of some previous credit challenges. Credit cards in this range offer middling rewards and benefits. If your credit was once bad, they mark a way station on your journey toward excellent credit.
The Capital One QuicksilverOne Cash Rewards Credit Card is a popular choice among cash back fans with fair credit. It offers several convenient features, including scheduling of recurring monthly payments, around-the-clock customer service, and contactless payment. Other benefits include immediate card freeze and unfreeze (using the Capital One Mobile App), ATM location services, and no foreign transaction fees.
The Navy Federal Credit Union (NFCU) is the issuer of the More Rewards American Express® Credit Card. In general, credit unions have a more lenient attitude toward credit scores than do banks, which makes this card a solid choice if you're a member of NFCU. You can prequalify for this low-APR card without affecting your credit score.
You don't have to be a racing fan to own the Credit One Bank® NASCAR® Credit Card, but you probably are, considering the steep annual fee. The card charges a foreign transaction fee as well as an unusually high cash advance fee. Beware that purchases accrue interest from the transaction posting date — there is no grace period.
What Makes a Card Easy to Get Approved For?
Creditworthiness is the biggest factor that credit card issuers consider when you apply for an unsecured credit card. The reason is simple enough — a credit card company isn't likely to approve your application if it's afraid you won't pay your bills.
That's why each issuer of an easy approval credit card has found a way to accept cardmembers who have fair, bad, or thin credit. They use various formulas to reduce the risks involved in issuing credit cards to risky consumers.
Characteristics of easily obtained unsecured credit cards include:
A low minimum required credit score: You may be able to get an unsecured credit card even if your score is in the 500s. A student credit card or secured credit card may not even check your credit score.
A prequalification step that checks your income: In lieu of a good or excellent credit score, these credit cards turn to other criteria to judge creditworthiness. When you apply or attempt to prequalify for the card, you'll probably be asked about your income and your housing expenses. For example, Capital One cards require an income cushion of at least $425 above your housing monthly payment.
High interest rates: Expect to pay an interest rate well above 18%, the national average APR. In some cases, the interest rate is applied on the date a purchase is posted rather than after a 21+ day grace period (from statement end date to payment due date) that most credit cards grant.
High fees: If your credit is bad, the credit card companies will want to collect numerous fees to reduce their exposure to loss. In addition to an annual fee, be on the lookout for a signup fee, a monthly maintenance fee (usually waived during the first year), a fee for an extra card, and the usual fees for cash advances, foreign transactions, exceeding your credit limit, and late or returned payments.
Tight credit limits: Easily obtained unsecured credit cards typically start with a credit limit of around $300. The issuer will reduce your initial credit limit by the amount of your setup or annual fee. Only after paying these fees will your full credit limit become available. You may be able to negotiate a higher limit over time, but the issuer may charge you a fee for it.
No rewards: As a rule, unsecured cards for bad credit do not offer cash back, point, or mile rewards, signup bonuses, or 0% introductory APR deals for your eligible purchases and balance transfer transactions. All of these items become possible once you graduate to a credit card for fair credit.
Few benefits: About the only benefit in this card category is $0 fraud liability. Things like travel insurance, purchase protection, shopping discounts and so forth are not likely to be available.
Penalty APR: If you miss a payment or fail to pay the minimum amount, you may be assigned a Penalty Fee, typically around 30%, which will replace your regular APR for an indefinite time period. If you miss a second monthly payment, your card account may be terminated.
Payment reporting: Many credit card options in this category report your payments to each credit bureau. That's a plus for you, as long as you never miss a payment. Usually, six months of on-time payments are enough to start lifting your credit score.
If this menu looks rather unappetizing, you may want to consider getting a secured card. They are easier to get approved for, have lower fees and APRs, and you can obtain higher credit limits by depositing additional collateral. Many also offer rewards.
What Is the Easiest Card to Get With Bad Credit?
Among the unsecured credit cards, we rank the Surge Mastercard® as the easiest to get. You can prequalify for this card in less than a minute by completing a short request form. The process requires you to disclose your monthly income and your Social Security number.
If you are not enamored of the card's high fees and low credit limit, consider the Capital One Platinum Secured Credit Card. It doesn't saddle you with annual or maintenance fees, and you can deposit up to $1,000 to establish a credit line of the same amount.
Our only knock against the card is the APR, which is high for a secured card.
If you happen to be a student, getting either the Discover it® Student Cash Back card or the Discover it® Student chrome card is a snap. A Discover student credit card doesn't require you to have a credit history and it delivers nice benefits.
If you have fair credit, the Capital One QuicksilverOne Cash Rewards Credit Card is our choice as the easiest card to get. This is an honest everyday credit card with a no-nonsense cash back policy. It does charge a small annual fee and the APR is high, but you will be automatically considered for a higher credit limit in as little as six months.
What Is the Easiest Business Card to Get With Bad Credit?
While not covered in this review, we believe that the Wells Fargo Business Secured Credit Card should be easy to get for business owners with bad credit. It no longer charges an annual fee, and it delivers 1.5% cash back on every purchase.
You can establish a credit line as high as $25,000 by making a security deposit of the same amount. Obtaining this card is much easier than getting an unsecured business card, as it is aimed at businesses with little or no credit history or with past credit challenges.
(The information related to Wells Fargo Business Secured Credit Card has been collected by CardRates.com and has not been reviewed or provided by the issuer or provider of this product or service.)
What Fees and Interest Rates Can I Expect to Pay?
Without a doubt, consumers with bad credit face a direct trade-off between the ease of getting a credit card and the costs of owning it.
First, the APRs in this class of credit card options are likely to range between 25% and 30%, which is steep compared with the 18% average APR for all credit cards.

You should be able to select a card that offers a standard grace period of at least 21 days. Without a grace period, you'll find yourself paying interest on all your eligible purchases from Day One, a very bad deal indeed.
But the real killer is the fee structure of cards, particularly unsecured cards, aimed at consumers with bad credit. Here is an unnamed example of a high-fee card:
Annual fee: This fee starts at $75 for the first year and then climbs to $99 thereafter. This is the kind of annual fee usually associated with airline credit cards that offer a smorgasbord of extra benefits. Seeing it charged on a card with virtually no benefits makes clear the penalty you'll pay to obtain a credit card when your credit is bad.
Monthly maintenance fee: This fee varies from $0 to $10 per month and is waived for the first year your account is opened. Only unsecured cards for bad credit dare to charge a monthly maintenance fee. It almost seems like the card issuer is coaxing you to go get a different card. If you accept a card with a monthly maintenance fee, we advise you to use the first-year waiver to work on improving your credit score so you can move up to a better card.
Additional card fee: There is a one-time charge of $30 for getting an additional card, such as for authorized users. Credit cards for better credit usually don't exact this type of charge.
Cash advance fee: The 5% fee on cash advances is a little high, but well within the usual range for this type of fee.
Penalty fees: The $40 charge for late or returned payments is pretty much standard within the credit card industry.
This example card is not the worst high-fee offender. Another unsecured card in this category also tacks on a one-time setup fee of $89 and a credit limit increase fee equal to 20% of the amount of the increase.
There is even a $10 fee for a "premium card design." The cherry on this sundae is a 34.99% APR, which is about as high as it gets.
You can expect lower fees with a secured credit card. Typically, the annual fee is small or zero, and there aren't any additional fees for setup, maintenance, credit limit increases, additional cards, and so forth.
The highest APR we've seen on a secured credit card is 26.99%, but many others have a much lower interest rate. In addition, most secured cards offer cash back rewards and other perks not available from their unsecured cousins.
How Do I Choose the Right Card?
Getting a credit card should not be a hit-or-miss exercise, as a mistake could burden you with unnecessarily high costs, scant benefits, or a puny credit line.
To do the job right, start with reviews like this one to get a summary of each card's pros and cons. You can click on the APPLY NOW links to get further information on the cards that interest you, but we recommend that you, in fact, do not apply now.
Instead, fill out the short forms to prequalify for the cards of interest. Here's why:
Attempting to prequalify for a credit card will not hurt your credit score. Credit cards do not do a hard pull of your credit file when you preapply. You therefore have nothing to lose through prequalification.

You'll know whether it makes sense to apply for the card. Obviously, if you do not pass the prequalification step, there is no point in applying, since doing so will trigger a hard inquiry that could cause your credit score to dip five to 10 points.

During prequalification, you have access to the fine print describing the card's rates and terms. You seriously need to look at all of it before accepting a credit card because there may be surprises lurking that you won't find on the signup page. For example, the fact that the Credit One Bank® NASCAR® Credit Card has no grace period will come as a rude surprise unless you spend the time to read the online disclosures.
Assuming you narrow your choice down to a few cards, how do you compare them? Here's is what to look for:
Redemptions: Earning rewards is only half the story because some credit cards give you extra value when you redeem your points or miles. These cards stretch the value of your rewards to give you more bang for the buck. You may have to follow special procedures to obtain the extra redemption value, such as booking travel through the card's travel agency. Be alert to cards that let rewards expire before you close the account, a definite no-no in our estimation.

Signup bonuses: Many reward cards offer a one-time bonus to new cardmembers. Usually the bonus requires that you spend a set amount on purchases during the first three months after opening the account. If you fulfill the requirements, you'll earn a set amount of cash, miles, or points. This type of promotion is available only to new cardmembers.

0% intro APR: This is another promotion offered by many of the better credit cards. It consists of a 0% APR on purchases and/or balance transfer transactions. You don't pay interest on balances you carry during the introductory period, which usually runs from six to 18 months. Once the introductory period ends, your APR will revert to normal.
Credit card benefits: The unsecured cards aimed solely at consumers with bad usually offer meager benefits. At the very least, you should expect this kind of card to report your payments to each credit bureau and to provide you with $0 fraud liability protection. As your score ascends the FICO scale, you'll find yourself eligible for credit cards that offer a wide range of benefits. We recommend you concentrate on the benefits you will really use. For instance, if you don't travel much, free airport lounge access may not be worth the heavy annual fee charged by premium airline credit cards.
Costs: Not to beat a dead horse, but high fees and APRs rob you of money you could use to pay down your balances. All the fee information is available in a card's Schumer Box, which is a standardized presentation of a card's costs. For folks with bad, fair, or scant credit, we recommend you consider getting a secured card, since they usually have a lower cost profile than the unsecured cards in the same class. In addition, secured cards usually offer rewards and benefits not available in unsecured cards for bad credit.

Credit limit: How much credit do you need, and how much can you afford? Keeping your credit limit low is an excellent way to discipline yourself against overspending. On the other hand, if the limit is too low, then the card becomes an inconvenience, and even a possible source of embarrassment. Having a card declined is never a good thing. In short, don't necessarily grab for the card with the highest credit limit unless you need it and can afford it.
While we urge you to take your time choosing a credit card, remember that you aren't married to the thing. If you happen to get a card that disappoints, replace it with something better.
If you simply can't get the instant approval credit card you like, consider using a prepaid card instead. Although a prepaid card can't be used for building credit, your credit score won't prevent you from getting one.

These cards don't provide credit, so you'll never face an overdraft or late fee. You can find some that offer rewards and benefits that you would never get from a credit card for consumers with poor credit.
How Can I Use the Card to Improve My Credit?
You need a card that reports your payment activity to all three major credit bureaus — Experian, TransUnion, and Equifax. When the issuer can report that you've paid your bill on time, the major credit bureaus will take note. Keep it up for six months in a row, and you should start to build credit.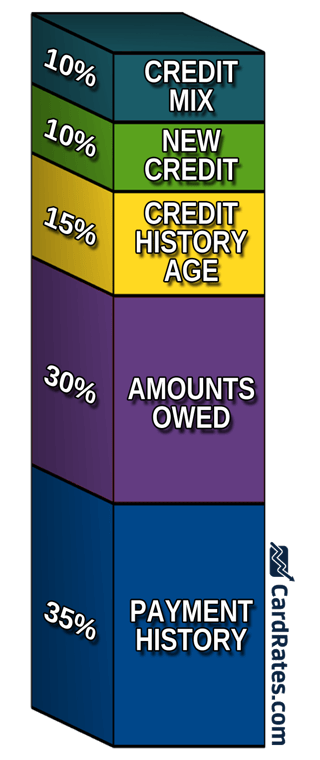 It turns out that 35% of your FICO score is based on your payment history. If you are more than 30 days late making a payment, the issuer will alert the credit bureaus, which won't help you build credit.
That late payment may persist on your credit report for up to seven years. That seems like a pretty heavy toll if your credit record is otherwise clean.
Avoid the damage to your credit score by making sure you pay on time. Use tools like an electronic calendar, personal financial software, and autopayments to ensure you stay up to date on your bills.
Another 30% of your FICO score is derived from how much credit you use. There is an important metric, called credit utilization ratio (CUR), that is central to FICO's scoring algorithm.

CUR is defined as the amount of your credit card balances as a percentage of your total credit limits. For example, a card with a $1,000 credit limit and a $500 balance has a 50% utilization rate. If your CUR climbs above 30%, your credit score will suffer.
Therefore, you can help your score by paying down your card balances so none of them individually or in the aggregate exceeds 30%.
Finally, check your credit report with each bureau for errors and fix them, either on your own or with the help of a credit repair service. One of the easiest mistakes to correct is an authorized hard pull of your credit.

You can dispute this and other errors with the credit bureaus. If they can't provide proof of a derogatory item, it must be removed within 30 days, which should send your score higher.
Compare Easy Credit Cards to Get Approved For
Our review of easy credit cards to get approved for isn't all rainbows and unicorns. When you have bad credit, you will be consigned to costly credit cards that offer little in return.
Still, it's nice to know that you can get an instant approval credit card even if your credit is down in the dumps. If you use the card right, you can build your personal credit score and gain access to much better credit cards.
Advertiser Disclosure
CardRates.com is a free online resource that offers valuable content and comparison services to users. To keep this resource 100% free, we receive compensation from many of the offers listed on the site. Along with key review factors, this compensation may impact how and where products appear across the site (including, for example, the order in which they appear). CardRates.com does not include the entire universe of available offers. Editorial opinions expressed on the site are strictly our own and are not provided, endorsed, or approved by advertisers.