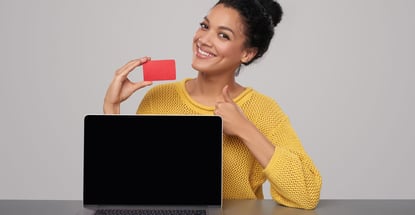 Prequalified credit cards for bad credit can help you get a card, improve your credit score, and build your credit history. Without damaging your credit score, prequalification gives you a reasonable idea of whether you'll be approved for a credit card.
Let's take a look at five cards that offer applicants the ability to see their chances of approval before submitting an application.
Cards | FAQs | Methodology
Cards You Can Prequalify for with Bad Credit
The following five cards specialize in providing credit to consumers with less-than-perfect (cardspeak for "bad") credit. This group is a mix of secured and unsecured cards.
Issuers of secured cards can assume the risk of approving bad credit applicants by requiring a cash deposit, whereas unsecured cards must depend on limiting credit lines and charging one or more fees. All five prequalify applicants to reduce unnecessary hard credit inquiries that can hurt your credit score.
No annual or hidden fees. See if you're approved in seconds
Building your credit? Using the Capital One Platinum Secured card responsibly could help
Put down a refundable security deposit starting at $49 to get a $200 initial credit line
You could earn back your security deposit as a statement credit when you use your card responsibly, like making payments on time
Be automatically considered for a higher credit line in as little as 6 months with no additional deposit needed
Enjoy peace of mind with $0 Fraud Liability so that you won't be responsible for unauthorized charges
You can prequalify for the Capital One Platinum Secured Credit Card in about a minute by filling out a short form. Simply fill in your name, address, Social Security number, desired card benefits, and credit level (excellent, average, or rebuilding).
Capital One may then offer you the most appropriate credit cards, including the Capital One Platinum Secured Credit Card. This card requires a security deposit of between $49 and $200 that gets you a minimum credit line of $200. You can make a larger deposit to secure a higher credit line, up to $1,000. The card charges no annual fee.
at Discover Card'ssecure website
No Annual Fee, earn cash back, and build your credit with responsible use.
Using your secured credit card helps build a credit history with the three major credit bureaus. Generally, prepaid and debit cards can't do that.
Establish your credit line with your tax return by providing a refundable security deposit of at least $200 after being approved. Bank information must be provided when submitting your deposit.
Automatic reviews starting at 8 months to see if we can transition you to an unsecured line of credit and return your deposit.
Earn 2% cash back at Gas Stations and Restaurants on up to $1,000 in combined purchases each quarter. Plus, earn unlimited 1% cash back on all other purchases – automatically.
Discover is accepted nationwide by 99% of the places that take credit cards.
The Discover it® Secured Credit Card collects prequalification information that includes your name, address, age, Social Security number, job/student status, annual gross income, housing status and payments, and bank accounts. Discover will perform a soft pull of your credit report that won't hurt your credit. It then may invite you to apply one of its cards, including Discover it® Secured Credit Card.
Prequalify for a card today and it will not impact your credit score
Less than perfect credit is okay
Mobile account access at any time
Protection from fraud if your card is stolen
Account history is reported to the three major credit bureaus in the U.S.
*Dependent on credit worthiness
You may obtain a Milestone® Mastercard® by completing a prequalification form that is almost identical to its application form. The difference is that the issuer performs a soft-pull of your credit report for prequalification and a hard pull for applications.
You'll provide your name, address, Social Security number, date of birth, and phone number. The application also obtains your monthly income and expenses. If you don't prequalify for the Milestone® Gold Mastercard®, you may be offered a credit card from another issuer.
Pre-qualify for a card today and it will not impact your credit score
Less than perfect credit is okay
Mobile account access at any time
Fraud protection for stolen or lost cards
Account history is reported to the three major credit bureaus in the U.S.
The Indigo® Mastercard® can prequalify you in 60 seconds with no impact on your credit score. Just provide your name, address, date of birth, Social Security number, email address, and phone number on the prequalification form.
Based on your prequalification results, you may be offered to apply for the Indigo® Platinum Mastercard® or a card from another bank. Your credit profile will determine your annual fee.
5. Credit One Bank® Unsecured Visa® with Cash Back Rewards
This card is currently not available.
The Credit One® Unsecured Platinum Visa® provides a prequalification form that collects your name, address, date of birth, Social Security number, monthly income, email address, and phone number. If you prequalify, you'll fill out an application form for this card or for another offer of credit.
This card is one of two on this list that provides cash back, as well as access to your credit score and report. You may be charged an annual fee.
What is the Easiest Credit Card to Get with Bad Credit?
Secured credit cards are among the easiest to obtain when you have a bad credit score. That's only natural since you must deposit cash into a special account to collateralize the card's credit limit.
The card issuer will use your deposit if you miss a payment or go over your credit limit. It's a win-win proposition, but only if you have the necessary cash available for a deposit.

In this review, the Capital One Platinum Secured Credit Card is our top choice, and it is a secured card. The required security deposit is $49, $99, or $200 for an initial credit limit of $200. The lower deposit requirements are generally not available to applicants with bad credit.
We also like the Discover it® Secured Credit Card, which determines your credit line by your income and ability to pay. Your credit line must be secured dollar-for-dollar by your deposit.
What Does Prequalified for a Credit Card Mean?
Prequalification is a good idea for folks with bad credit, as it lets you know in advance whether you should bother to apply for a specific credit card. Prequalification differs from the application process in at least four ways:
The information requested for prequalification is usually a subset of that required for the application.
The issuer performs a soft pull of your credit report for prequalification but does a hard pull when you submit your application. Therefore, prequalification does not hurt your credit score whereas submitting an application may.
Prequalification does not guarantee your subsequent application will be approved.
Many credit cards will offer you alternative cards based upon your prequalification information. This is not necessarily standard practice when you apply for a particular card.
If you prequalify for a card, the issuer may transfer the information to its application form and request any additional information it requires. Even if you are prequalified, you are not under obligation to apply for the card, and the issuer is not required to approve your application.
How Do I Get Prequalified with Bad Credit?
The five card issuers in this review provide simple prequalification or preapproval forms for you to complete. The typical information requested deals with your identity and residence.
Some issuers will also ask about your gross income and expenses, while others postpone asking for these data items until you fill out the application form.
When you send in your prequalification form, the issuer will use some information from your credit report that it obtains via a soft pull from one of the major credit bureaus. By requesting prequalification, you authorize the issuer obtaining the information it requires from your credit report and other sources.
You can increase your chances of being prequalified by taking a few steps, including disputing errors on your credit reports, making all payments on time, and reducing your current indebtedness. You can get free copies of your three credit reports from AnnualCreditReport.com.
Many card issuers use a preferred credit bureau. For example, Discover uses Equifax about half the time. Knowing this can help you prioritize which credit report you clean up first.
Is it Better to Be Preapproved or Prequalified?
It may seem obvious to some that preapproval would be better than prequalification, but a lot depends on how the card issuer uses these terms. For example, Discover uses the term "preapprove" the way other issuers use "prequalify."
The truth is that any "pre" word is not to be confused with "approval," which can come only when you fill out an application form, not a prequalification or preapproval form.
"Preapproval" is also used in another context — when you receive mailed offers for preapproved credit cards. Generally, this means you can enter a special approval code when you fill out the card application form.
By law, these pre-screened offers must be "firm" and honored if you accept. However, the issuer may review your credit anyway to verify it hasn't changed since the offer was mailed.
Preapproved offers have some benefits. They use soft inquiries, so you are not penalized when issuers send them out. In addition, these offers may provide you with better product choices, terms, and rates.
Ranking Methodology
Our list of prequalified credit cards for bad credit evaluated the cards designated for credit scores below 579 (the "bad" range under the FICO credit scoring model) that offer prequalification before submitting an official application. This helps prospective applicants get an idea of their chances of approval before undergoing a hard credit pull and possible denial.
CardRates' reviews undergo a thorough editorial integrity process to ensure that content is not compromised by advertiser influence.
Advertiser Disclosure
CardRates.com is a free online resource that offers valuable content and comparison services to users. To keep this resource 100% free, we receive compensation from many of the offers listed on the site. Along with key review factors, this compensation may impact how and where products appear across the site (including, for example, the order in which they appear). CardRates.com does not include the entire universe of available offers. Editorial opinions expressed on the site are strictly our own and are not provided, endorsed, or approved by advertisers.