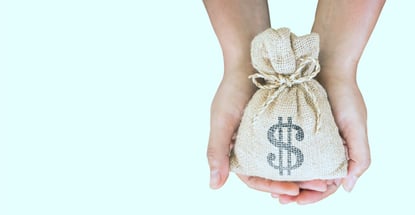 The easiest loans to get approved for won't deny your loan application because you have a bad credit score. These lenders welcome your business and will work to give you a second chance to build a good credit history.
Unlike a bank or credit union, the lending networks listed below specialize in curating bad credit personal loan options with a competitive interest rate, loan term, and monthly payment. Each network partners with many lenders that offer fast approvals and next-day funding for most loans — including personal loans, auto loans, and credit cards.
These easy loans allow you to apply from anywhere in the world and at any time of the day or night. And you could receive an email with multiple bad credit loan offers to choose from within minutes of submitting an application.
Easiest Personal Loans To Get Approved For 
An unsecured personal loan is sought after in the financial world because you can use the loan proceeds in any way you choose. You can use an installment loan for debt consolidation, to fund a big purchase, or to take a vacation, among other things.
After you submit your loan request to one of the networks below, every lender that partners with the network will quickly review your application to determine whether to bid for your business. Loan amounts vary by network.
Short-term loans up to $5,000
Online marketplace of lenders
Funds available in as few as 24 hours
Simple online form takes less than 5 minutes
Trusted by more than 2 million customers
Not available in NY or CT
Loans from $500 to $10,000
All credit types accepted
Receive a loan decision in minutes
Get funds directly to your bank account
Use the loan for any purpose
Quick loans of up to $5,000
Submit one form to receive multiple options without harming your credit score
All credit ratings welcome to apply
Requires a driver's license, bank account, and SSN
Get your funds as soon as tomorrow
Loans from $250 to $5,000 available
Cash deposited directly into your account
Get money as soon as tomorrow
Bad Credit OK
More than 750,000 customers since 1998
Loan amounts range from $500 to $10,000
Compare quotes from a network of lenders
Flexible credit requirements
Easy online application & 5-minute approval
Funding in as few as 24 hours
Once you choose a loan offer you like, you'll head to the lender's website to finish the loan paperwork. Once complete, the lender will transfer your loan funds to your linked checking account or savings account within one business day.
Personal installment loans and short-term payday loans are both unsecured loans that do not require collateral.
Easiest Auto Loans To Get Approved For
Auto lending networks operate similarly to personal loan networks. But instead of only connecting you to lenders, the networks below can also put you in touch with a local car dealership that can help you find the car — and loan — you need.
Dealers typically have relationships with more than one direct lender, which improves your chances of finding a quick loan with a good annual percentage rate and monthly payment.
Dealer partner network has closed over $1 billion in auto loans
Can help those with bad credit, no credit, bankruptcy, and repossession
Established in 1999
Easy, 30-second pre-qualification form
Bad-credit applicants must have $1500/month income to qualify
Free, no-obligation application
Specializes in auto loans for bankruptcy, bad credit, first-time buyer, and subprime applicants
Affordable payments and no application fees
Same-day approval available
Connects thousands of car buyers with auto financing a day
Loans for new, used, and refinancing
Queries a national network of lenders
Bad credit OK
Get up to 4 offers in minutes
Receive an online loan certificate or check within 24 hours
The networks listed above are not lenders. They're referral services that can connect you to an online lender or dealer that's ready to fund your request for an auto loan.
You don't pay for the network's services. Instead, the network will collect a referral fee from the lender you work with. 
Easiest Credit Cards To Get Approved For
A credit card is technically a loan that is referred to as a revolving line of credit. Every time you use your card, your card's issuing bank lends you the money to pay for your purchase. You then repay the bank with your monthly payment.
The following credit cards are some of the easiest to obtain with a poor credit score. But if you need an emergency loan, these may not be your best option, considering you'll have to wait to receive your card in the mail before you can use it.
You also have the option to take out a cash advance loan from your credit card. This is suitable for emergencies that require cash in hand. Cash advances don't require a credit check and can be obtained as soon as you can get to an ATM.
But you should know that cash advance interest rates are usually higher than the card's purchase APR, and there is no credit card grace period — you'll begin accruing interest on the amount you borrow on the withdrawal date.
What Makes a Loan Easy To Get?
Consumers must often jump through several hoops to get approved for a loan. This includes researching options to avoid encounters with a predatory lender, completing the credit check, and waiting long periods for loan approval.
With the lending networks listed above, you can apply in less than five minutes and typically receive preapprovals within seconds after submitting your loan application.
And you don't have to worry about embarrassment because of your bad credit. The lenders that partner with the networks listed above all specialize in bad credit loan applications.
Even better, you don't have to concern yourself with negotiating the terms of your loan. If you receive multiple loan offers, you can choose the one that best fits your needs. That simply isn't possible with a bank or credit union.
Whether you need a personal loan, small business loan, or payday loan, the lending networks above can offer you a secured loan or an unsecured loan that suits your credit profile. And you don't have to dress up and head down to the bank to apply — you can complete the entire process from anywhere you're comfortable.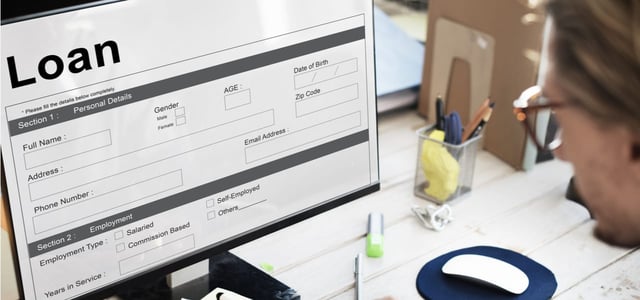 These loans may also help you rebuild your credit score by reporting your payment and balance history to at least one credit bureau. But this will depend on the loan offer you accept — not all lenders report to the bureaus.
But by paying your loan or credit card payment on time, your positive payment history will replace previous negative data on your credit report and help you get the fresh start you deserve.
What Is the Easiest Loan To Get With Bad Credit?
The easiest loan to get with bad credit is a secured loan. That's because these loans require collateral to back your loan in case of default.
There are several types of secured loans, but they all have one thing in common — they place most of the risk with the borrower.
An auto loan and a mortgage loan are both examples of secured loans. If you stop making payments, the lender can foreclose on your home or repossess your vehicle.
But there are also secured personal loan options, such as:
A pawnshop loan: A pawnbroker will provide you with a cash loan equal to a percentage of the value of an item you pawn as collateral for the loan. There's no credit check required to get this type of secured personal loan. But if you don't pay your loan back on time, the pawnbroker will keep your item, and you'll be left with much less than what they're worth.

A title loan: With a car title loan, you'll hand the title to your vehicle over to a lender in exchange for a small loan that's far less than the vehicle's true value. If you don't pay your loan back in time, the lender will repossess your car, and you'll be left with nothing to show for the loan.

Secured cash loans are easy to get for a reason. In most cases, you can skip a credit check altogether and have your cash loan in a matter of minutes. But you're also taking on a tremendous amount of risk when accepting an easy loan.
Aside from losing your collateral, these loans often charge a high annual percentage rate and origination fee, offer an oppressive loan term, and are difficult to pay off on time.
Instead of taking this risk, consider an installment loan with a longer repayment term from one of the lending networks listed above. You can attempt to prequalify for a loan without harming your credit, and you may be surprised by the offers you receive.
These loans are more affordable and allow you to repay your debt over time through a series of monthly payments. They offer fast approvals and payouts and won't hassle or overcharge you if you have bad credit.
Can I Get an Auto Loan With Bad Credit?
Many auto lenders are willing to consider a loan application from someone who has bad credit. This is because, as previously mentioned, an auto loan is a form of secured loan.
When you agree to a vehicle loan, you also agree to use your newly purchased vehicle as collateral. That takes much of the risk out of the lender's hands.
As with any loan product, your credit score will determine your loan rates. If you have poor credit, you can expect a higher interest rate and possibly an origination fee or other charges.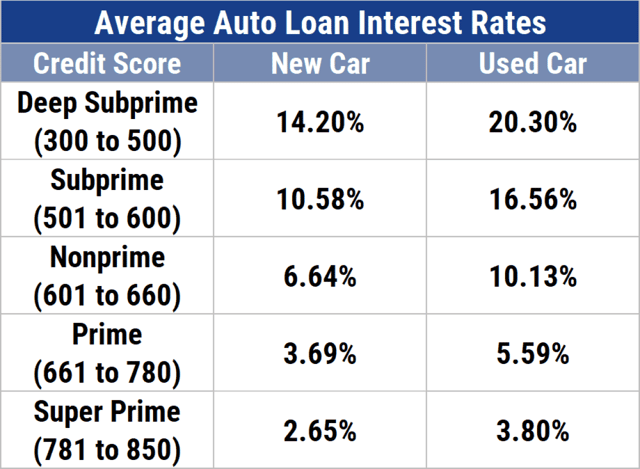 But just because the borrower assumes more risk doesn't mean the loans will come cheap. The fees you're charged may slightly increase your monthly payment and overall cost of credit.
However, they're still worth it compared with the cost of taking public transportation or purchasing a cheaper vehicle that may need extensive — and expensive — repairs.
Which Credit Card is Best For Bad Credit?
We have long recommended the Surge® Platinum Mastercard® for consumers who have bad credit and want to rebuild their credit score.
This is because the Surge card typically offers a decent starting credit limit and reports every cardholder's payment and balance history to all three credit bureaus each month.
If you make on-time payments and maintain a low balance, you can begin to replace negative data on your credit profile with new positive information. Over time, that will help your credit score improve.
This card typically offers between $300 and $1,000 in credit to new cardholders. It has very flexible approval criteria, so your bad credit may not disqualify you from adding this card to your wallet.
Just keep in mind that the Surge card is similar to other credit cards for bad credit in that it charges several fees — including an annual fee and a monthly maintenance fee.  
What's the Difference Between a Secured and Unsecured Credit Card?
A secured credit card will require a refundable security deposit for approval. An unsecured credit card does not require a deposit to open your account.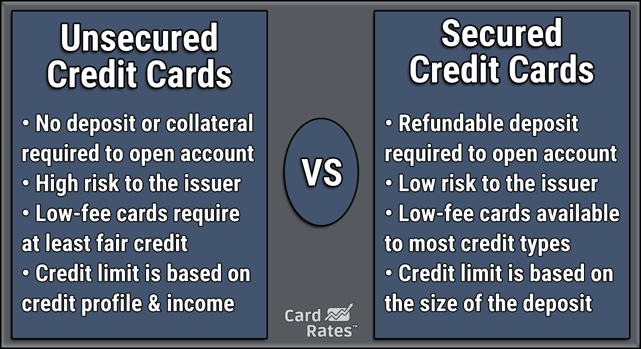 Secured cards are typically reserved for consumers who have bad credit or those who want to stick to a budget. That's because these cards allow you to choose your credit limit based on the amount of your refundable security deposit.
For example, a $2,000 deposit will net you a card with a $2,000 credit line.
If you eventually close your account or graduate to an unsecured card, you'll get a full refund of your deposit. If you default on the card or close the account with a balance, the card issuer will use a portion of your deposit to pay off your remaining credit card debt and refund the remaining amount to you.
An unsecured card requires no deposit for approval. But if you have a bad credit score, you'll likely start with a higher interest rate and lower credit limit than you would with a secured card.
Thankfully, both cards will report your monthly payment and balance history to at least one credit bureau to help you improve your credit score.
What Credit Score Do I Need To Get a Loan?
The credit score you'll need for a loan will depend on the type of loan you seek. For example, 580 is considered the minimum to get a mortgage loan to purchase a house.
But you may qualify for a small loan with a very poor credit score. Most payday loan providers don't have a minimum credit score requirement — all they usually want is proof you can repay the loan.
A general rule of thumb is that larger loans require higher credit scores. This stands even for personal loans. 
A small personal loan under $2,000 may accept someone who has bad credit. But as you increase your loan amount, having a good credit history becomes more important.
And your loan qualifications aren't tied solely to your credit score. Lenders rarely publicize a minimum credit score requirement because they look at more than just your credit score when considering your loan application. A lender will also look at:
• Your income
• Your recent payment history
• Your current debts
• The reason for your loan
• Your employment and residential history
You may not think your residential history is important on your loan application, but it's a sign of stability. Just as changing jobs frequently, if you jump around and change addresses every year, a lender may see you as someone who would be hard to track down if you stop making payments on your loan.
Is a Bank Loan Better Than an Online Loan?
Online loans beat out bank loans in many ways — including affordability, ease of use, and flexibility.
When you apply for a loan at a bank or credit union, you're only applying to that one institution. If it turns you down, you have no other recourse, and you're left with a hard inquiry on your credit report.
When you apply to an online lending network, such as those listed above, your single loan request goes to every lender that partners with the network. That means you could potentially apply to several lenders at once.
And since these lenders need your business, they may compete to win you over. That means they'll give you the best possible loan offer, and you may receive several offers to choose from.
Also, unlike banks, these lenders specialize in bad credit loans — which means you won't get turned away simply because you have poor credit. 
Online loans also work with your schedule, which means you aren't restricted by a bank's business hours. And since a lending network can prequalify you with a soft credit inquiry, you don't have to worry about piling up inquiries as you apply for loans.
What Is an Installment Loan?
An installment loan is a loan that allows you to repay your debt over a series of monthly payments — or installments. These loans are easier on your budget and provide a more affordable option for borrowing money.
A payday advance loan, for example, will require repayment in one lump sum — including interest — within seven to 30 days or so. Some of the loan offers you receive may come from a payday lender if you live in a state where payday loans are legal.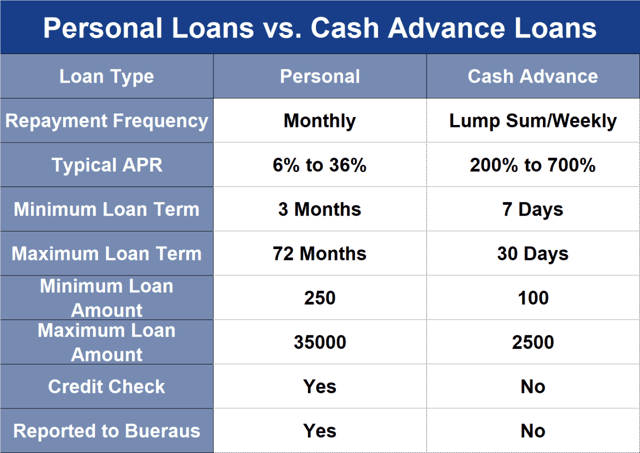 A small installment loan may give you six months or longer to satisfy your debt. Loan terms for mortgage loans can extend up to 30 years. Your loan amount will determine the time you have to repay an installment loan.
Apply For the Easiest Loans To Get Approved For Online
We have you covered, whether you need a personal loan, an auto loan, or a credit card. The lending networks and card options reviewed above can handle your loan application and won't turn you down simply because you have bad credit.
The online lender you choose to work with will have a history of working with bad credit borrowers and can offer you more than one loan option to meet your needs. This means you may qualify for a small loan or a larger installment loan to make a large purchase, such as a car.
But don't discount a good credit card when considering every loan option available to you. With a credit card, you can reuse your loan funds and continue to build your credit score while enjoying one of the easiest loans to get approved for.
Advertiser Disclosure
CardRates.com is a free online resource that offers valuable content and comparison services to users. To keep this resource 100% free, we receive compensation for referrals for many of the offers listed on the site. Along with key review factors, this compensation may impact how and where products appear across CardRates.com (including, for example, the order in which they appear). CardRates.com does not include the entire universe of available offers. Editorial opinions expressed on the site are strictly our own and are not provided, endorsed, or approved by advertisers.