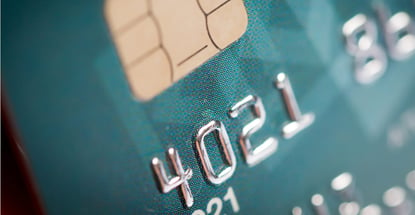 If you've ever wondered whether Chase bank offers a secured credit card, you're in good company. We regularly profile Chase credit cards, and the failure to mention anything about Chase secured cards is conspicuous.
The answer has to do with the audience Chase pursues.
Chase Does Not Offer a Secured Credit Card
Although Chase is the country's largest credit card issuer, there is no Chase secured credit card at this time. We think the reason stems from the fact that virtually every Chase credit card is designed for consumers with good credit. 
The one exception is the Chase Freedom® Student credit card that students can use to establish and build credit. As with virtually all student credit cards, this card does not require cardholders to have a credit score or any credit history. 
Chase does offer a wide array of unsecured personal and business credit card offerings that are quite popular regardless of whether you have a Chase banking account. Their roster of offerings includes cards that charge no annual fees and cards that charge annual fees that range from low to high, and all provide rewards on purchases plus many additional benefits.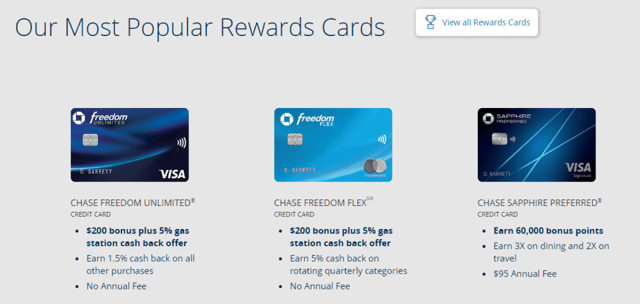 All Chase credit card offerings benefit from its top-notch customer service and the perks available through Chase Ultimate Rewards. Chase also offers a surprisingly large portfolio of co-branded credit cards with hotel and airline partners that include Marriott, IHG Hotels and Resorts, United, Southwest, and British Airways.
The issuer's collection of Ink business credit card offerings, headed by the Ink Business Unlimited® Credit Card, allow business owners to earn handsome rewards and benefits that help them manage their company's use of credit.
The only thing Chase is missing is a secured credit card.
Secured Cards From Other Major Banks
Several major banks are more than happy to fill the secured-card vacuum in the Chase card lineup. All allow consumers with bad or no credit to access the credit card market through a small cash deposit. 
Moreover, these secured cards provide a path for consumers to rebuild their credit and graduate to unsecured cards simply by paying their bills on time. A couple even offer cash back rewards on purchases, something not always associated with secured cards.
No annual or hidden fees, and you can earn unlimited 1.5% cash back on every purchase, every day. See if you're approved in seconds
Put down a refundable $200 security deposit to get a $200 initial credit line
Building your credit? Using a card like this responsibly could help
Enjoy peace of mind with $0 Fraud Liability so that you won't be responsible for unauthorized charges
You could earn back your security deposit as a statement credit when you use your card responsibly, like making payments on time
Be automatically considered for a higher credit line in as little as 6 months with no additional deposit needed
The Capital One Quicksilver Secured Cash Rewards Credit Card is a newer offering from Capital One that features cash back rewards on every purchase. You can pre-qualify for this card before applying with no effect on your credit score. You'll receive account alerts, virtual card numbers from Eno, and access to your credit history via CreditWise.
No annual or hidden fees. See if you're approved in seconds
Building your credit? Using the Capital One Platinum Secured card responsibly could help
Put down a refundable security deposit starting at $49 to get a $200 initial credit line
You could earn back your security deposit as a statement credit when you use your card responsibly, like making payments on time
Be automatically considered for a higher credit line in as little as 6 months with no additional deposit needed
Enjoy peace of mind with $0 Fraud Liability so that you won't be responsible for unauthorized charges
The Capital One Platinum Secured Credit Card is unusual in that it may let you deposit less than the initial $200 credit line, depending on your credit profile. In as little as six months, you may qualify for a higher credit line without having to make additional deposits.
at Discover Card'ssecure website
No credit score required to apply.
No Annual Fee, earn cash back, and build your credit history.
Establish your credit line by providing a refundable security deposit of at least $200. That means a $200 deposit for a $200 credit line. Or a $500 deposit for a $500 credit line. Bank information must be provided when submitting your deposit, and the security deposit equals your credit limit.
Automatic reviews starting at 7 months to see if we can transition you to an unsecured line of credit and return your deposit.
Earn 2% cash back at Gas Stations and Restaurants on up to $1,000 in combined purchases each quarter. Plus, earn unlimited 1% cash back on all other purchases – automatically.
Discover helps remove your personal information from select people-search websites. Activate by mobile app for free.
| | | | | |
| --- | --- | --- | --- | --- |
| | 10.99% Intro APR for 6 months | | | |
The Discover it® Secured Credit Card stands out as one of those rare secured cards that offers cash back rewards. It also provides valuable features that include low-rate balance transfers, cash advances, free overnight card replacement, and no fee for the first time you pay late.
5. Bank of America® Customized Cash Rewards Secured Credit Card
This card is currently not available.
The Bank of America® Customized Cash Rewards Secured Credit Card is another secured card that offers cash back rewards. The financial institution will periodically review your credit card account and may refund your deposit if your credit history warrants it. You may also benefit if you have a Bank of America savings account or checking account.
5. Citi® Secured Mastercard®
This card is currently not available.
Additional Disclosure: The information related to Citi® Secured Mastercard® has been collected by CardRates.com and has not been reviewed or provided by the issuer or provider of this product or service.
The Citi® Secured Mastercard® charges no annual fee and offers no rewards. What you do get is a solid yet simple credit card that requires a minimal deposit and offers excellent protection against fraud and identity theft. 
What Is a Secured Credit Card?
The distinguishing characteristic of a secured credit card is that you must post cash collateral to qualify for one. The deposit helps reduce your perceived riskiness when you have a low credit score or no score at all. 
The audience for secured credit cards are mainly marketed to consumers who don't qualify for unsecured cards. Secured cards help these consumers build credit by reporting their monthly payments to the three credit bureaus. Another quality of these cards is their easy approval, and a few even let you earn rewards.
On the minus side, you may have trouble coming up with the security deposit. Also, you must be careful when choosing a secured credit card because some charge higher APRs and fees than warranted, given the low-risk nature of the cards. 
How Does a Secured Credit Card Work?
A secured credit card looks and operates like any other traditional credit card. There is no indication on the card that it is secured. You can use the card to charge purchases in-store, over the phone, online, and in-app, with no one aware that the card is not a traditional credit card.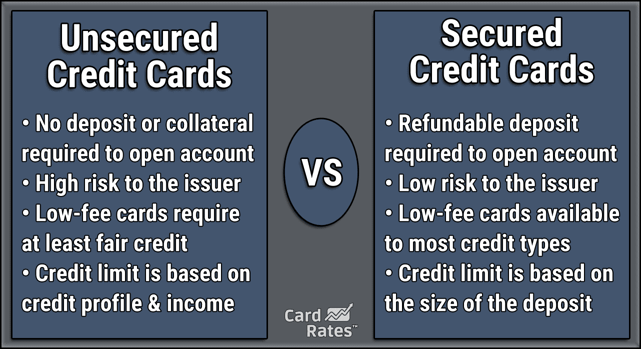 Credit limits on secured cards are almost always equal to your cash deposit. The Capital One Platinum Secured Credit Card is unique in that it may let you establish its standard $200 credit line with deposits of $49, $99, or $200, depending on your credit profile. 
Most credit card issuers will evaluate your qualifications for an unsecured credit card after you make timely payments on your secured card for a set number of months. Alternatively, some issuers may raise your credit limit without requiring an additional deposit. If you pay on time and in full, you should expect the issuer to refund your deposit within a year. 
How Do You Get a Secured Credit Card?
You can apply for a secured credit card online by filling out the application form and e-signing the credit agreement. It's important to read the agreement in its entirety before signing it so you won't be surprised by any of the card's limits, conditions, or fees.
If you prefer, you can apply for the card over the phone with a customer service rep. Either way, you will usually get a decision right away.
In some cases, you may receive an unsolicited invitation in the mail for a pre-approved secured credit card. If you're interested, you can fill out and mail back the form, although you'll also have the option of completing the process online.
While you may receive instant approval, the issuer will not send you the card until it receives your deposit. Once the deposit clears, the issuer will mail you the card. When you receive it, you'll have to activate it by phone or online before you can use it.
What Credit Score Does Chase Require For a Card?
To be clear, Chase does not publish official minimum credit scores for its cards. Nonetheless, forums and other sources give us a pretty good idea of the approximate minimum scores required by Chase's popular credit cards:
Chase Slate Edge℠: 551
Chase Freedom Flex℠: 600
Chase Freedom Unlimited®: 636
Chase Sapphire Preferred® Card: 645
Chase Sapphire Reserve®: 660
Ink Business Unlimited® Credit Card: 660
Ink Business Cash® Credit Card: 670
Ink Business Preferred® Credit Card: 688
If these scores seem surprisingly low, keep in mind that Chase may turn down many applicants with scores in this range. Chase cards generally require good credit, which translates to a minimum FICO score of 670.
We chalk up this bit of cognitive dissonance to a certain wiggle room built into Chase's approval process. The amount of wiggle probably varies over time and by card. 
It's possible that Chase will approve you for a credit card even if your score is lower than those listed. Those expecting scientific precision from Chase may be delighted or disappointed, depending on your results. 
What Are the Differences Between Secured and Unsecured Credit Cards?
In the bluntest terms, unsecured cards are designed for the full gamut of credit scores, while secured cards are for consumers with bad credit or no credit.
Let's elaborate on these differences:
Deposits: Because secured credit cards set credit limits based on the size of your deposit, these limits tend to be lower than those available from unsecured cards.
Risk: Credit card issuers don't like the idea that you won't pay your bill on time, or at all (i.e., default risk). If it weren't for that concern, they'd no doubt offer their cards to anyone with a pulse. Which is pretty much the case with secured cards — you can get them even if your credit is dismal. Your cash deposit shields issuers from the risk of default, as they will simply dip into it if you don't pay your bill. In some ways, a secured credit card resembles a debit card or prepaid card, as all are backed by cash.
Fees: Our strong belief is that fees and risk should be bound to each other. Secured cards represent a low-risk source of revenue to their issuers, which means there is virtually no cost associated with a cardholder who defaults. 
Therefore, it seems a little greedy when a secured credit card has an APR above 20% or charges an annual fee. We'd like to see secured cards charge an APR no higher than 16% and skip the annual fee. Unfortunately, none of the reviewed cards fit the bill.

While big banks may be reluctant to offer low interest rates, you can find secured card issuers with a more generous attitude. For example, the First Progress Platinum Prestige Mastercard® Secured Credit Card charges a refreshingly low APR, albeit with an annual fee. Many credit unions offer their members low-cost secured credit cards.
Owners of secured credit cards can graduate to unsecured cards, but only by exercising responsible behavior. That means paying at least the minimum payment on time each month and keeping your unpaid balances low.
How Does a Secured Card Help You Build Credit?
Your credit profile is encapsulated into a single number — your credit score. FICO dominates the consumer credit scoring system market. FICO scores range from 300 (the worst) to 850 (the best).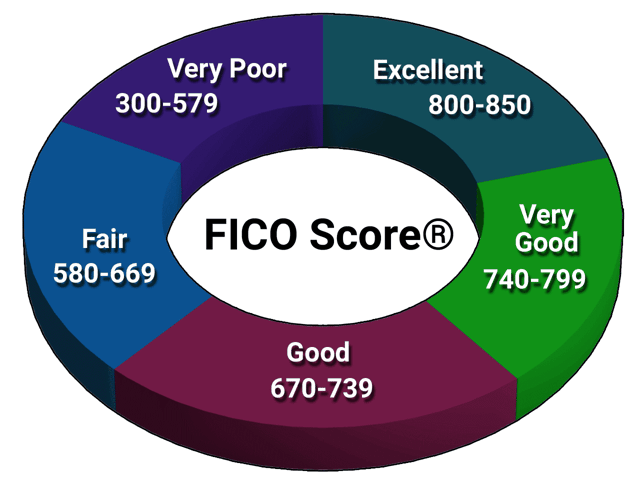 The major credit bureaus (TransUnion, Equifax, and Experian) individually calculate a credit score, creating a triplet of FICO scores for each consumer with a credit history. 
In addition, the credit bureaus may compute other credit scores, such as VantageScore, which is similar to FICO. The bureaus base their calculations on the information in the credit reports they compile on consumers with credit. 
The most important factor in determining your credit score is your payment history. If you always pay your bills on time, your score should slowly rise. However, late and missed payments quickly damage your credit score, causing it to drop toward the low end of the range. Other actions that hurt your score include defaults, write-offs, repossessions, collections, and bankruptcies.
Secured cards allow you to build your credit by reporting your payment activity each month to all three credit bureaus. Timely payments are the most important factor impacting your credit score.
The second-most important factor (worth 30% of your score) is the amount you owe, as measured by your credit card credit utilization ratio (i.e., credit used divided by your total credit available). CURs above 30% hurt your credit score since it may predict trouble paying your bills on time.
If your one and only credit card is secured, your credit available is equal to your security deposit. If you deposited $200 to obtain the secured card, you'll begin driving down your credit score if your unpaid balance exceeds $60, which represents 30% of your CUR.
The length of your credit history accounts for 15% of your credit score. If your secured card represents your first foray into the world of credit, your credit history is scant or non-existent, so this factor will have little impact on your score. 
However, if you got a secured card to rebuild a bad credit score, you may have a long credit history encompassing more than one credit card account. In that case, you'll want to keep your accounts open to receive the most benefit from this factor.
The other two factors, new credit (10% of your score) and types of credit (10%) are minor and may not have much impact if you own only a starter, secured card. The same can't be said for prior negative items recorded on your credit report. These take a long time to expire, as this chart shows: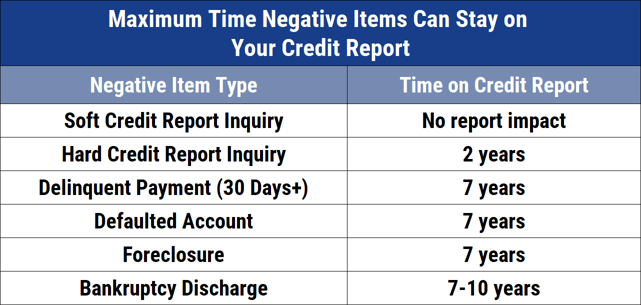 Naturally, the more of these items that appear on your credit report, the longer it will take to rebuild your credit. Major negative items can cause your score to drop by more than 100 points, sometimes considerably more. But here are two helpful points:
Although hard inquiries remain on your credit report for two years, they don't affect your credit score after the first year. In any event, the impact is minor — five to 10 points per occurrence.
The hit to your credit score from a major negative item occurs immediately, but its impact begins to wear off in two to three years. It may take more than a year to make any progress against a major negative item, but adopting creditworthy behavior will help rebuild your credit sooner or later.
The last thing you want is to have one or more negative items on your credit report that are inaccurate, unfair, unverifiable, or expired. You can guard against this by ordering a free set of your credit reports from AnnualCreditReport.com. 
If you find mistakes, you can dispute them directly with any of the three credit bureaus, either on your own or by hiring a credit repair service.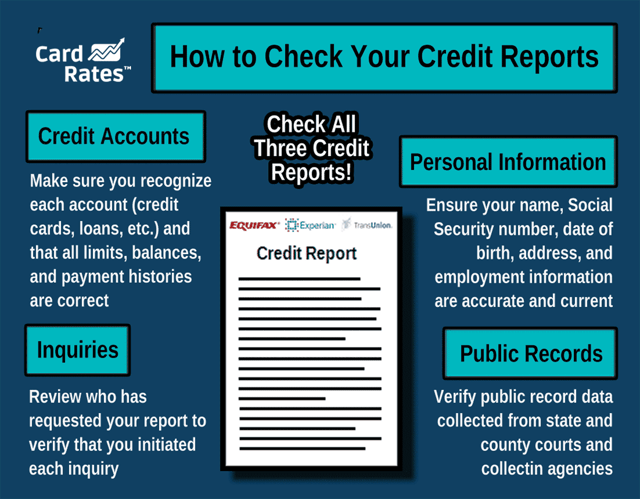 When you lodge a dispute with a credit bureau, it must investigate and make a judgment within 30 days. If it validates your claim, it will expunge the item and your credit score should receive a boost the next time it is updated.
How Should You Choose a Secured Credit Card?
We've made it easy to research secured credit cards through published reviews like this one. We assign each card a rating on a scale of 0 to 5, based on its overall cost, benefits, and other independent reviews. The highest-rated cards are the most likely to appeal to the widest audience of readers.
Each reviewed card links to its website, where you can perform further research and apply for the card. Pay attention to these items when choosing a secured credit card:
Deposit limits: Some cards limit your initial deposit to as little as $200 and don't permit additional deposits without their permission. Others have higher initial limits and give you more leeway to increase your deposits over time. Check to see what your card indicates is the maximum permitted deposit, especially if you'd like to have a high credit limit. It's unusual to encounter a maximum credit limit above $4,900.
APR: The interest rate is only important if you plan to finance your purchases over multiple billing cycles. If that's your plan, look for cards with relatively low APRs, preferably below 16%. You may get the lowest interest rates from a secured card issued by a credit union. 
Fees: Some secured cards charge annual fees. If you are considering one such card, ask yourself what the fee is buying you. You may find another card without an annual fee that provides similar features. Secured cards seldom tack on nuisance charges, such as application or monthly maintenance fees. Most secured cards do not pay interest on your deposit.
Rewards: Although rare, you can narrow your choices to secured cards that pay cash back or reward points on eligible purchases. In that regard, the clear winner is the no-annual-fee Capital One Quicksilver Secured Cash Rewards Credit Card, which pays a nice cash back rewards rate.
Benefits: A few secured cards offer more than plain vanilla zero liability protection. Don't expect anything too grand, but you may receive benefits like virtual card numbers, security alerts, and/or free credit scores.
Graduation to an unsecured card: Most secured card issuers will graduate you to one of their unsecured cards sooner or later, unless you are late making payments. Some issuers are more aggressive than others. Read the card's full explanation of the procedures they follow to promote you to an unsecured card.
One warning: We know of at least one secured credit card that doesn't provide a grace period with 0% interest on new purchases. The grace period is the time between the close of a billing cycle and the subsequent payment due date. 
Most cards offer a grace period of at least 21 days. If you are considering a card that doesn't, we advise you to look elsewhere.
What Is the Easiest Secured Credit Card to Get?
Trick question! All secured credit cards are easy to get because the issuers of these cards don't really care about your credit score or lack of credit history. You are purchasing their nonchalance with your security deposit. 
It's hard to think of circumstances that would lead to a rejected application for a secured credit card. One reason may be that you already own other credit cards from the same issuer and another card would put you over its prescribed limit. 
Having little or no income may prove to be an obstacle, as would an active or recent bankruptcy, collection, foreclosure, or repossession. Other reasons for rejection may be not having a Social Security number, being under age 18, having a rock-bottom credit score, or currently residing in a correctional institution. 
Aside from these regrettable circumstances, we think you can get any secured credit card you want, as long as you have the cash deposit. 
In that regard, we have to mention the Capital One Platinum Secured Credit Card. A deposit as small as $49 will be enough for some applicants to get this card with a $200 credit limit. 
No annual or hidden fees. See if you're approved in seconds
Building your credit? Using the Capital One Platinum Secured card responsibly could help
Put down a refundable security deposit starting at $49 to get a $200 initial credit line
You could earn back your security deposit as a statement credit when you use your card responsibly, like making payments on time
Be automatically considered for a higher credit line in as little as 6 months with no additional deposit needed
Enjoy peace of mind with $0 Fraud Liability so that you won't be responsible for unauthorized charges
Coupled with no annual fee, we'd have to say that no other card is as easy to get.
Which Fees Are Associated With Secured Cards?
By and large, secured cards don't have the full range of fees you'll find on some unsecured cards for poor credit. Costs you are likely to encounter include:
Interest rate charges: If you carry an unpaid balance beyond the payment due date, you'll be charged an APR on a daily basis. Secured card APRs generally run below 23%, with some cards charging as little as 9.99%. Or you can avoid interest charges altogether by paying your bill in full each month.
Annual fee: While we think you should give top consideration to secured cards that don't charge an annual fee, some good options do charge this fee. An annual fee above $50 for a secured credit card is unconscionable, but most secured cards that charge this fee will keep it below that threshold. 
Foreign transaction fee: This is about 3% of the dollar value for each foreign purchase. If you don't plan to make travel purchases abroad, you can ignore this one.
Cash advance fee: All credit cards charge a fee for a cash advance. The fee is usually 3% to 5% of the advance with a $10 minimum. Note that the APR on cash advances may be higher than the card's standard APR and that interest starts accruing immediately — there are no grace periods for cash advances.
Balance transfer fee: Many secured credit cards do not offer balance transfers. One reason is that secured credit cardholders may own only one card. Another may be the fairly tight credit limits imposed by several issuers of secured cards. Your card may offer an introductory 0% APR on balance transfers for six or more months, but the card will nonetheless assess the balance transfer fee. Look for fees in the 3% to 5% range.
Late fees: If you are late paying at least the minimum amount due, expect a late fee in the $35 to $49 range. Amazingly, the Discover it® Secured Credit Card doesn't charge this fee the first time you pay late. Usually, a similar fee applies if your payment is returned.
Miscellaneous fees: There are some nuisance fees to watch out for. These include fees for adding an authorized user, requesting additional cards, and expedited card shipments.
We haven't come across many secured credit cards that impose application or monthly maintenance fees, which seem to be the exclusive province of unsecured cards for very poor credit. 
Compare Secured Credit Cards From Chase Competitors
You can get a secured credit card from many banks and credit unions, but only the biggest banks can be considered Chase competitors. In this review, we've identified Discover, Citibank, and Bank of America as its chief big-bank competitors, and all nicely fill in the void left by Chase's lack of a secured card offering.
Big banks may be impersonal and expensive, but they do have certain advantages. If you move frequently, it's nice to know you can keep your savings account or checking account open and simply change branches. In addition, large banks may offer services not available from smaller banks, especially in the realm of international banking.
We are not aware of any plans for a Chase secured credit card. If that were to happen, it would be blockbuster news, and we'd give it the thorough coverage it would deserve.
Advertiser Disclosure
CardRates.com is a free online resource that offers valuable content and comparison services to users. To keep this resource 100% free, we receive compensation for referrals for many of the offers listed on the site. Along with key review factors, this compensation may impact how and where products appear across CardRates.com (including, for example, the order in which they appear). CardRates.com does not include the entire universe of available offers. Editorial opinions expressed on the site are strictly our own and are not provided, endorsed, or approved by advertisers.