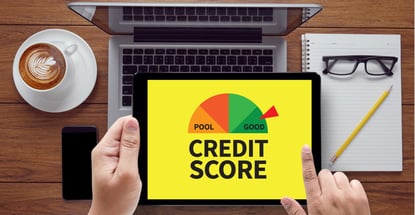 From the moment you apply for your first apartment lease, loan, cellphone, or utility account, you will start to understand the importance of your credit scores, especially their importance to your lenders and service providers. Solid credit scores lead to more opportunities from mainstream lenders and can help you save money on fees and interest.
Poor credit, on the other hand, can make it harder to qualify for the financing and services you want and will make your options less attractive even if you do qualify.
Most of the commonly used FICO branded credit scores, the credit scores that are the most widely used in the United States lending environment, are built with a range or "scale" of 300 on the low end to 850 on the high end. As your FICO scores climb higher, it signals to lenders and others that you are more likely to repay the money you borrow as agreed to in the terms of your lease, cardholder agreement, or promissory notes.
Where you fall in the FICO score range will certainly impact your credit card options as well, including the APRs card issuers offer you, your credit limits, and other terms. What follows is a representation of how credit card issuers view you depending on where you fall within FICO's score range.
The 5 FICO Score Ranges
In general, FICO Scores fall into one of five categories, although that's really more of an informal distribution rather than any formal industry standard. Depending on the score you have earned, you may be generally considered to have exceptional, very good, average, subprime, or very poor credit.
Here's a general idea, based on the numbers, of how a card issuer may rate your FICO Score:
Exceptional: 780-850
Very Good: 720-779
Average: 670-719
Subprime: 580-669
Very Poor: 300-579
Keeping in mind that, ultimately, every credit card issuer is on its own to define where your FICO scores fall within any scoring range. Some card issuers target a low-risk population while others are more tolerant of higher risk applicants and are less concerned about lower credit scores.
Credit card issuers will generally consult your credit report and credit score, many times a FICO branded score, from at least one of the three credit bureaus when you apply for a new account. These credit bureaus — Equifax, Experian, and TransUnion — maintain reports on over 200 million consumers.
Because your reports and scores are so important, it's smart to check them before you apply for a new credit card account (or other forms of financing). Since the average FICO Score reached 706 in 2019, many consumers in the United States have at least average or better credit scores.
The Fair Credit Reporting Act (FCRA) gives you the right to access your credit reports free of charge once every 12 months at AnnualCreditReport.com. The FCRA, however, does not give you the right to free credit scores.
Still, numerous websites offer free credit scores in exchange for the chance to market products and services to you. If you are willing to become a registered user of some of these websites, you can have access to free credit reports and free credit scores weekly or monthly.
Additionally, if you have existing credit cards or other accounts with any number of large lenders, that lender may already be providing you free monthly access to your credit score through the FICO Open Access Program. American Express, Chase, Discover, and many others have been giving away FICO scores to their customers for years.
Of course, any credit score you pull from any source is not likely to be the same three-digit number that some lender is going to see in the future when you apply for new credit. For example, you may check a VantageScore credit score online or a different generation of the FICO score. These are certainly real credit scores that are commercially available and compliant with the Equal Credit Opportunity Act requirements for use.
And any credit score you see online will give you a sense of where you stand with all other scoring models. The point being, if you have great credit, you're going to have great credit scores regardless of where you get them or who developed them. This is called directional similarity.
In other words, if the credit score you access online is moving upward over time, other versions of your credit score will likely behave the same way. The same can be said if the scores you access online are trending downward.
How Your FICO Score Impacts Your Credit Card Options
When you apply for a new credit card, the issuing bank will want to know whether taking you on as a customer is a good investment of its money and resources — as in, are you an acceptable credit risk?
To help them make this call, card issuers rely heavily on credit scores to help them vet new applicants and predict risk.
FICO's credit scores are designed specifically to predict the likelihood that you will pay any credit obligation late (by 90 days or worse) within the next 24 months. This is technically referred to as the model's performance definition or its stated design objective.
As your score climbs higher on the 300 to 850 scale, the better your odds of not paying any of your obligations late. And, of course, if you're less likely to pay late, you're also less likely to default on your obligations.
Because FICO's scores help credit card companies anticipate your level of risk, where you fall in the FICO score range affects the types of accounts for which you can qualify. Exceptional credit scores will open the door to premium rewards cards and other attractive offers when you're shopping around for a new account.
Poor credit scores, meanwhile, may make it difficult to qualify for such valuable credit cards — at least for the moment. And some card issuers will respectfully decline your applications straight away.
Each credit card issuer sets its own rules and tolerance for credit score requirements and decides for itself what it considers to be an acceptable credit score (the minimum score you need to qualify for a new account). Card issuers may also have different FICO Score cutoff points that determine your APR, annual fees (or lack thereof), the size of your credit limit, and more.
In short, where you fall in the FICO score range can affect your ability to get a credit card, the perks you'll receive from a credit card, and the cost (fees and APR) of your account.
How to Earn Better Scores
Working to earn and maintain the best credit scores possible is a goal that's always worthy of your time. If you know you want to apply for a new credit card in the near future, the following tips may help you improve your credit and potentially even level up to the next score range.
Keep in mind the following tips apply not only to FICO's credit scores but also VantageScore's credit scores. Collectively these two score brands have about 100% of the credit score market in the United States.
Check your credit reports. You should review all three of your credit reports. Keep an eye out for mistakes as these may lower your credit scores. If you do find credit reporting mistakes on your reports, you can dispute them with Equifax, TransUnion, and Experian. Disputing credit report errors is free if you choose to do it on your own.
Pay down credit card balances. The relationship between your combined credit card balances and combined credit limits (as they appear on your credit reports) is called your credit utilization rate. It's also called your revolving utilization ratio. Using a smaller percentage of your overall credit limit — aka a lower utilization rate — is better for your credit scores. Conversely, the higher your utilization ratios, the lower your scores will be.
Pay on time. Payment history is worth 35% of the points in your FICO scores. Consistently paying on time is the best way to keep your credit scores in good shape. Late payments can remain on your credit report for up to seven years. So it should go without saying that you need to pay your bills on time, every time, without exception.
If you do these three things over and over during the span of your consumer credit lifecycle then you will inevitably have elite-level credit scores. If the above tips sound simplistic, they are.
Earning and maintaining solid credit scores is not rocket science. All it takes is paying on time and maintaining reasonable credit card balances. The rest will take care of itself.
Advertiser Disclosure
CardRates.com is a free online resource that offers valuable content and comparison services to users. To keep this resource 100% free, we receive compensation for referrals for many of the offers listed on the site. Along with key review factors, this compensation may impact how and where products appear across CardRates.com (including, for example, the order in which they appear). CardRates.com does not include the entire universe of available offers. Editorial opinions expressed on the site are strictly our own and are not provided, endorsed, or approved by advertisers.