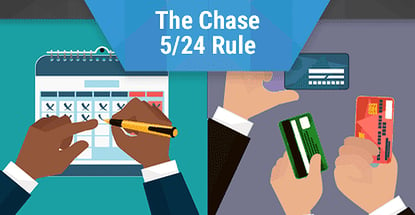 The simplest way of judging your approval chances for any particular credit card is generally to look at your FICO credit score. For example, if your credit score is above 700, you probably have a decent chance of being approved for cards that typically require good credit. If your credit score is 600, however, those chances go way down.
Of course, while your credit score is an easy way to gauge your chances, it's important to remember that card issuers look at more than just your score when you apply. Your entire credit profile is up for examination, and each individual credit card issuer may have its own criteria that must be met that may cause you to be rejected regardless of your score. One of the most prominent examples of this phenomenon is those who have been stung by Chase's 5/24 Rule.
In the article below, we'll take a look at the Chase 5/24 Rule and what this means for consumers, including which cards to apply for first, exempt cards, and other workarounds.
What It Is | Cards to Get First | Rule Exceptions
Chase's 5/24 Rule Limits You to 5 Cards in 24 Months
Infamous among credit card churners and rewards collectors, Chase's 5/24 Rule is a somewhat informal policy that limits the number of new credit accounts you can have on your credit reports and still be approved for most Chase credit cards. Specifically, if you have five or more new bank card accounts (credit or charge cards) opened within the last 24 months, you'll most likely be rejected for a new Chase credit card even if you otherwise qualify.
And this Rule is not limited to only new Chase accounts. Any credit or charge card accounts that show up on your personal credit reports can count toward the five-card total. For example, say Pretend Polly opened five new credit cards in the last year, one from Bank of America, two from Amex, one Discover, and one Citi card. Even without a single Chase card to her name, Polly will likely be turned down if she applies for a new Chase credit card, regardless of her credit score.
While significant cardholder data points indicate that the 5/24 Rule is a company-wide policy that is strongly enforced, the Rule has only sporadically appeared in writing. The most commonly cited case of the Rule appearing in writing was a note on the application page for the extremely popular new travel card, the Chase Sapphire Reserve® for the first month or so after its 2016 launch, which read:
You will not be approved for this card if you have opened 5 or more bank cards in the past 24 months.
While this was possibly the first time the 5/24 Rule was put into writing by Chase, it was not its inception. Reports of otherwise perfectly qualified applicants being rejected for new Chase cards started to surface in mid-2015, with the Chase Freedom Flex℠, Chase Freedom Unlimited®, and new travel card, the Chase Sapphire Preferred® Card, as the subjects of the newly enforced (but still as-of-yet unofficial) Chase 5/24 Rule.
The Rule didn't stay limited to those three cards for long. As of May of 2016, the Rule was expanded to include all of Chase's single-brand credit cards, as well as a good number of its co-branded cards. A number of reports also indicate Chase business cards are subject to "too many new card" rejections under the 5/24 Rule.
Since there's limited official information regarding the Rule, cardholders and credit card experts have had to cobble together their own explanations and answers based on the experiences reported by other cardholders. This essentially means that everything we know about the 5/24 Rule comes with the fine-print message of, "your experience may vary."
For example, while the commonly upheld interpretation of the Rule — and its printed version — says that applicants with "5 or more" new accounts will be rejected, some reviews indicate being right at five new accounts may really go either direction. Additionally, it's been cardholder trial-and-error that has put together the list of co-branded Chase cards that seem to be exempt from the 5/24 Rule (see below for the list).
Which Chase Cards You Should Apply for First
While the Chase 5/24 Rule is inconvenient for any potential cardholder who happens to have a number of cards, it's downright obnoxious to those who like to maximize their credit card rewards, as Chase's roster contains many of the top rewards cards and one of the best travel rewards programs available. So, given the issuer's limitations, it makes sense to prioritize any Chase cards you intend to obtain.
But with such a wide range of cards, how do you determine where to start? There are four main cards frequently recommended as a first Chase card, but the specific card you start with will depend on two things: your rewards objective and your credit. If you have very good to excellent credit and intend to accrue travel rewards, then the Chase Sapphire Reserve® or the Chase Sapphire Preferred® Card are strong contenders.
The Chase Sapphire Reserve® and Chase Sapphire Preferred® Card cards belong to the same product family, offering the same bonus rewards categories of dining and travel. However, the Chase Sapphire Reserve® provides a higher bonus rate — 3X points vs. 2X points — as well as a variety of additional perks, including a $300 travel credit that largely offsets its higher $550 annual fee.
Other than doubling down on signup bonuses, there's really no reason to hold onto both cards, so choose the one that best suits your particular lifestyle. If you travel enough to make the most of the Chase Sapphire Reserve®'s extra benefits, it can be well worth the higher annual fee. Otherwise, go with the more modestly priced Chase Sapphire Preferred® Card.
If travel isn't a priority at all, then you may want to start your Chase collection with one — or both — of its cash back options, the Chase Freedom Flex℠ and the Chase Freedom Unlimited®. The Chase Freedom Flex℠ card offers top-tier cash back rewards on travel purchased through Chase as well as on rotating bonus categories each quarter when activated subject to a purchase limit. Categories are typically useful, including things like restaurants, gas stations, and grocery stores.
For those who aren't fond of rotating categories, the Chase Freedom Unlimited® is a good all-around option, providing unlimited cash back rewards on all card purchases. And what's more, the Freedom cards can complement each other well when used in conjunction. That's because you can earn a higher rate of return than solely using one card or the other by pairing the Chase Freedom Flex℠ rotating bonus with the higher unlimited rate of the Chase Freedom Unlimited®.
If you've gone for one of the Sapphire cards first, consider the Chase Freedom Flex℠ card as a second card to maximize travel rewards, as you can actually turn your cash back rewards into Ultimate Rewards® points so long as you have a card that already earns Ultimate Rewards®. This means you could potentially turn the bonus category rewards from your Chase Freedom Flex℠ card into 5X Ultimate Rewards® points — and you can pool them with your existing Ultimate Rewards® points.
Exempt Cards & Other Potential Workarounds
If you're feeling like your lofty rewards dreams have just been deflated — you're not alone. But you may not be completely out of luck if you're looking to get your hands on a Chase credit card. A number of potential workarounds have been reported by consumers in forums and card blogs that may help you get around the 5/24 Rule.
The easiest workaround for rejections based on being over the 5/24 limit is for those who are rejected due to being an authorized user on another person's card, and simply requires you to call into the Chase reconsideration line and request a manual evaluation. Most reports indicate a human reviewer can discount any cards on which you are only an authorized user and may approve you if this puts you under the limit.
Reconsideration (Personal): 888-270-2127
Reconsideration (Business): 800-453-9719
What used to be a simple way to get a Chase credit card without being thwarted by the 5/24 Rule was to choose a credit card that was exempt from the Rule. At one point, several of Chase's co-branded airline, hotel, and retail credit cards were exempt from the rule and could be obtained even if you were over the limit.
However, at this point in time, it seems that Chase has extended the rule to cover all of the cards issued by the bank.
Some rumors suggest that, if you already have a Chase account (banking or credit), you may be able to get around the 5/24 Rule with "Selected For You" offers that appear in your online account. Other anecdotal evidence also suggested that certain types of mailed card offers can also bypass the 5/24 Rule, however your mileage may vary.
Keep the Rules in Mind When Choosing Your Next Card
For the majority of the credit card world, your credit score will be the biggest factor in whether you're approved. But that's not the case for every card — and we're not just talking about those elite, invitation-only cards, either. Chase's infamous 5/24 Rule has easily become the bane of rewards junkies everywhere by putting the majority of its credit cards out of reach for even those with excellent credit scores.
Whether you want a Chase credit card for its specific rewards or simply wish to churn, baby, churn, the 5/24 Rule will likely play a big role in your journey toward the Chase card of your dreams. With a little know-how and some careful planning, however, the 5/24 Rule doesn't have to be the end of that journey.
Advertiser Disclosure
CardRates.com is a free online resource that offers valuable content and comparison services to users. To keep this resource 100% free, we receive compensation for referrals for many of the offers listed on the site. Along with key review factors, this compensation may impact how and where products appear across CardRates.com (including, for example, the order in which they appear). CardRates.com does not include the entire universe of available offers. Editorial opinions expressed on the site are strictly our own and are not provided, endorsed, or approved by advertisers.