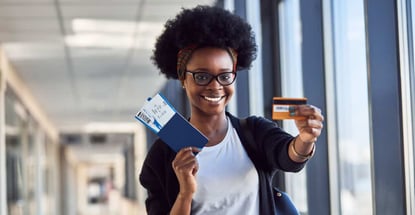 Indiana Jones said it best: "It's not the years, it's the miles." And miles are what some of the best travel cards deliver. Whether you are an occasional tourist or a business-class warrior, these cards can save you money and make flying more pleasant.
Below are our top picks for air mile credit cards. You'll likely find the perfect card for your requirements — consumer or business traveler, brand loyalist, or eclectic opportunist. These rewards cards offer frequent flyer perks, bonus flight miles, and many other great benefits.
Best Travel Cards With General Purpose Miles
These cards distribute their rewards in miles, but a mile is more like a bonus point since you can use it on any airline and for non-travel purposes. You can even redeem these miles for cash, something you generally can't do with co-branded loyalty miles.
The Discover it® Miles card gives new cardmembers a 0% intro APR on purchases and transfers (the regular APR will apply at the end of the introductory period). Your miles never expire, and you can redeem them to reimburse you for travel purchases. You'll receive a Miles-for-Miles match at the end of the first year on miles you posted during that period.
Eligible purchases include airline tickets, car rentals, hotel rooms, travel agents, online travel sites, commuter transportation, restaurants, and gas stations. If you prefer, you can cash out your miles for statement credits or deposits to your bank account.
Check out the Capital One VentureOne Rewards Credit Card if you have excellent credit and don't want to pay an annual fee. It offers a modest signup bonus and an introductory 0% APR on purchases and balance transfers. Your miles let you fly any airline, anytime, without restricting you to a particular carrier or travel schedule. 
You can redeem your miles to book travel on the Capital One Travel website, cover previous travel expenses, or convert to cash as a statement credit, check, or gift card, among other options. If you prefer more flexibility, you can transfer your miles to one of more than 15 travel loyalty programs. 
For those who don't mind a moderate annual fee, the Capital One Venture Rewards Credit Card provides generous tiered bonus miles and plenty of perks. You can receive premium benefits when you use the card to book a Lifestyle Collection hotel through Capital One Travel.
The card reimburses you for your Global Entry or TSA PreCheck expenses. You never pay a foreign transaction fee when you shop abroad, and you also receive travel accident insurance, around-the-clock travel assistance, extended warranties, and rental car insurance.
The Capital One Venture X Rewards Credit Card is the issuer's best credit card — and its most expensive. But the card's benefits are well worth the annual fee, starting with its generous signup promotion. This rewards card pays an anniversary bonus and a yearly travel credit. 
You and two guests receive complimentary access to any Capital One Lounge, where you can enjoy relaxation rooms, chef-inspired food, and high-speed internet. As a Visa Infinite card, Venture X also provides a Priority Pass card membership and unlimited access to more than 1,300 lounge locations.
The Capital One VentureOne Rewards for Good Credit provides mileage redemption options that resemble those of the issuer's other Venture cards. You can use your miles to purchase new tickets or receive a statement credit to reimburse you for your travel purchases in the last 90 days (not the 180 days of other Venture cards).
Other ways to redeem miles include converting them to gift cards or cash (as a statement credit or check). You can even exchange your miles for tickets to thousands of events through Capital One Entertainment. You'll earn the usual VentureOne travel rewards but won't be eligible for signup bonus miles or a 0% intro APR.
Best Co-Branded Travel Cards With Bonus Miles
Airlines earn customer loyalty through mileage programs, and the following cards are active in the space. A carrier partners with a card issuer, and voila — a new credit card is born. This miracle of creation can put valuable miles into your frequent flyer account, paving the way for free flights, seat upgrades, and other heavenly benefits.
Are you a Southwest Airlines fan and love rapid rewards? Then the Southwest Rapid Rewards® Plus Credit Card may be the best airline travel card for you. Its modest annual fee offers a handsome signup bonus, a yearly bonus award, and free baggage check-in. 
This rewards card also provides two EarlyBird check-ins each year, a 25% refund on in-flight purchases, and an annual boost of 10,000 qualifying points for a companion pass. You can use your miles (which never expire) to get unlimited reward seats with no blackout dates or restrictions.
The Delta SkyMiles® Reserve American Express Card is luxurious, with an annual fee to match. Its large signup bonus gives you an extended period to meet the spending requirement. You get complimentary access to the Delta Sky Club — and two complimentary guest passes yearly.
The card rewards eligible purchases with Delta Sky Miles for the airline's loyalty program. Your miles are worth 15% more when you redeem them for Delta flights. Other benefits include a free checked bag, discounts on in-flight purchases, priority boarding, and extra benefits when you book through American Express Travel.
The Citi® / AAdvantage® Platinum Select® World Elite Mastercard® waives its moderate annual fee for the first year. The card offers a signup bonus and a flight discount when you spend the required amounts on eligible purchases. There is no limit on the number of miles you can earn.
Card benefits include a free bag check on American Airlines domestic flights, no foreign transaction fees, preferred boarding, and a discount on in-flight food and beverage purchases. You can redeem your miles for flights, upgrades, car rentals, hotel stays, or vacation packages.
The JetBlue Card from Barclays Bank offers a modest signup bonus when you spend the required amount on purchases within the first three months. It also provides new cardmembers a 0% intro APR on balance transfers. It has no blackout dates, annual fees, or foreign transaction fees.
The card pays tiered rewards on purchases from JetBlue, grocery stores, and restaurants. It also offers discounts on in-flight food and drinks. You can redeem your rewards for any JetBlue seat and combine them through the card's Point Pooling program.
The FRONTIER Airlines World Mastercard®, another offering from Barclays Bank, provides limited benefits for its moderate annual fee. The card has a signup bonus and a 0% intro APR on balance transfers. Its reward rate tiers compare favorably with those of other airlines. 
As with several other airlines, Frontier's reward program requires you to achieve an elevated status before you qualify for the maximum benefits. The card lets you pool miles with family and friends and provides an annual flight voucher when you spend the required amount.
Best Business Travel Cards With Bonus Miles
Businesspeople can really rack up the miles each year. If you are self-employed or a small business owner, the benefits from these rewards cards can make a significant difference in your bottom line. Depending on travel requirements, you can choose between general-purpose or co-branded cards. 
The Capital One Spark Miles for Business rewards you with general-purpose miles on every purchase and an ambitious one-time welcome bonus when you spend the specified minimum within the first three months. The card lets you set up automatic payments and receive year-end summaries.
The card's tiered rewards program pays its top rate on hotels and car rentals you book through Capital One Travel. Benefits include an annual statement credit for Global Entry or TSA PreCheck, mile transfers to more than a dozen travel partners, and virtual card numbers. You can assign account managers to make purchases and payments, review transactions, and resolve problems.
The Southwest® Rapid Rewards® Performance Business Credit Card charges a moderately high annual fee of $199. In return, it offers bonus rewards for Southwest Airlines purchases, plus priority boarding and inflight wifi credits.
The card reimburses you for Global Entry or TSA PreCheck® fees. Your first two bags fly for free, and the card insures against luggage loss or delay. Other benefits include roadside dispatch, car rental insurance, purchase protection, extended warranties, and travel accident insurance. It does not charge for additional employee cards. This is Southwest's best airline credit card for business.
The United℠ Business Card lets cardholders earn bonus miles from selected United Airlines purchases and discounts on checked bags, up to a maximum number per round trip. You will appreciate the free passes to the United Club, featuring free food, high-speed internet, and places to rest.
You receive additional anniversary bonus miles when you own this card and another United credit card. This card's extensive perks, including a free checked bag and priority boarding, require only a moderate $99 annual fee.
The Southwest® Rapid Rewards® Premier Business Credit Card may be a perfect choice if you want a Southwest Airlines card with a lower annual fee. Its tiered rewards program lets you earn bonus miles for Southwest Airlines purchases, car rentals, and stays with hotel partners (such as Hilton Honors). You can check your first two bags for free and change your ticket for no extra charge.
The card insures your bags against loss or delayed arrival and covers the items you buy with purchase protection and extended warranties. You get access to reward seating with no blackout dates to more than 100 destinations in the Western Hemisphere. 
The CitiBusiness® / AAdvantage® Platinum Select® World Elite Mastercard® offers an extended signup promotion with an above-average ratio of rewards to spending. The card provides numerous travel benefits, including free baggage check, preferred boarding, and discounts on in-flight food and beverages. As with several other co-branded mileage cards, this one waives its moderate annual fee for the first year.
The card offers an American Airlines Companion Certificate, providing a free round-trip domestic ticket for a family member or friend after you spend the required annual amount on eligible purchases. You'll save money through in-flight discounts on food, beverages, and wifi. 
How To Choose a Travel Card
Travel cards sit atop the pyramid of coveted offerings from credit card issuers. They make it easier to go places and experience more for less money. When choosing a travel credit card, it is essential to consider your travel habits, preferences, and financial situation. 
Start by considering how frequently you travel. Some travel cards have annual fees, which may be too high if you only travel occasionally. Some cards are more beneficial for international travel because they waive the fees for foreign transactions or Global Entry.
Many cards are co-branded with airlines, offering rewards and perks limited to specific companies. Owning a single card can make sense if you prefer to fly on a particular airline. But you may want to own multiple cards from different carriers or a generic travel card if your travel requires you to use multiple airlines.
The following sections should help you select the right travel card for your requirements.
Understand the Reward Structure
You'll want to assess how you earn travel miles or points. Decide whether you wish to earn general-purpose miles/points or frequent flyer miles for a particular airline. All travel cards offer rewards for travel-related expenses, but some may also provide bonus points or miles for everyday purchases.
Consider how you redeem a travel card's rewards. Co-branded cards frequently restrict reward usage to travel, while general-purpose cards usually offer cash, gift cards, and merchandise.
Several cards let you use your miles retroactively to pay for recent past travel, while some allow you to use rewards only to book future journeys. Rewards may be worth more if you book trips through the issuer's travel agency.
Assess the Card's Costs and Requirements
Consider whether the card's benefits outweigh the annual fee. Some cards waive the fee for the first year. Many good travel cards charge no annual fee.
Look for a card with a relatively low APR if you plan to carry a balance from month to month. Consider cards with a 0% intro APR on purchases if you are planning an expensive vacation.
Check the card's credit score requirement. Premium travel cards typically require a good to excellent credit score.
Examine Additional Perks
More expensive cards may provide various travel insurance benefits covering trip cancellation, flight delay, rental car damage, and lost luggage. Cards may offer complimentary access to airport lounges, but read the fine print for limits. 
Avoiding foreign transaction fees is essential for international travel. Some cards offer a statement credit covering the application fee for Global Entry or TSA PreCheck. 
Other valuable benefits include annual travel credits, in-flight discounts, free seat upgrades, and exclusive access to special events or dining experiences. 
Get Preapproved
Some travel cards let you prequalify before formally applying. Prequalification enables you to know whether your final approval is feasible and does so without impacting your credit score.
Apply for a card with a bonus signup only if you can meet the spending requirements. You'll save money on interest if you pay the balance in full each month. Use the card's benefits and monitor your points or miles. 
How To Transfer Miles to Loyalty Programs For Maximum Value
General-purpose travel cards usually allow you to transfer rewards (miles or points) to one or more specific airline or hotel loyalty programs (e.g. Hilton Honors, Marriott Bonvoy, and others). 
Co-branded cards may let you use your frequent flyer miles with an airline partner. The major airline alliances include Star Alliance, Oneworld, and SkyTeam.
The following chart summarizes the transfer and redemption policies for three leading issuers of general-purpose travel cards.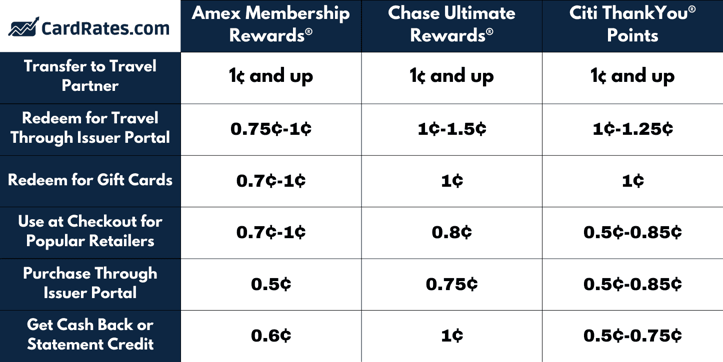 To maximize the value of transferred miles, you must understand your card's transfer ratios and the value of miles after moving them to a loyalty program.
Start by checking how many miles you'll receive from the loyalty program. Not all transfer ratios are 1:1. Look out for promotional offers from airlines or credit card companies that offer bonus miles for transferring rewards.
You should calculate the potential value of moving your air miles to different programs to maximize transferred rewards. Consider the value of miles or points before and after the transfer.
For example, suppose you own a general-purpose travel card and are planning a trip to London. You may have the option to transfer your miles to any of several frequent flyer programs, such as AAdvantage or SkyMiles. 
Determine how many frequent flyer miles each loyalty program requires for a free seat to London to get the most out of a transfer. Calculate the transfer ratio and the required miles to identify which airline needs the fewest general-purpose miles.
Factor in the time it takes to transfer your miles or points. If transfer times are long, you may need to book well in advance to obtain the deal you want. Also, consider any fees, taxes, or surcharges accompanying the transfer. 
Note that some programs offer better value for certain redemptions (such as international flights, business and first-class tickets, or hotel stays).
Here is a summary of the leading airline loyalty programs:
This just skims the surface of these complex loyalty programs. You will want to read the full descriptions on each airline's website before deciding which program makes the most sense for you.
Popular Alternatives to Bonus Mile Cards
Several leading general-purpose travel cards award cardmembers points rather than miles. You should consider these products before choosing your next travel card.
Any discussion of the best travel credit card should start with the premium Chase Sapphire Reserve® and the less expensive Chase Sapphire Preferred® Card. Sapphire Reserve delivers the market's most comprehensive package of travel benefits. Its Chase Ultimate Rewards points are worth 1.5X when you redeem them for travel through Chase. 
The Chase Sapphire Preferred® Card offers a more modest collection of benefits, and its points expand to only 1.25X when you book travel via Chase Ultimate Rewards. But the Preferred card's annual fee is much smaller than the Reserve's.
The Platinum Card® from American Express is another contestant for the world's best travel credit card. It charges a high annual fee but offers several credits when you use the card for hotel stays, digital entertainment, and other uses. You earn extra rewards when you book through American Express Travel.
The Bank of America® Travel Rewards credit card is a solid contender. It doesn't charge an annual fee yet offers a signup bonus, flat rewards on all eligible purchases, and a 0% intro APR on purchases and balance transfers.
+ See more recommended travel credit cards.
What Are Bonus Miles?
Credit cards offer three types of rewards: cash back, points, and miles. A bonus rate is greater than one unit per dollar spent (1X). So, a credit card that delivers 1.5X miles per dollar, 5X miles on travel purchases, or 80,000 miles in a signup promotion is paying out bonus miles.
The credit card type determines the major characteristics of the bonus miles.
The following table describes the differences between the two types of air miles:
| FEATURES | GENERAL-PURPOSE MILES CARDS | CO-BRANDED MILES CARDS |
| --- | --- | --- |
| Flexibility in Redemption | You can use the miles with any airline or hotel. There are no blackout dates or travel restrictions. | The card typically restricts usage to the affiliated airline or hotel (and their partners). It may have blackout dates and travel restrictions. |
| Redemption Options | Use miles for travel, cash back, merchandise, or gift cards. | Mainly for travel with a specific brand. |
| Value for Travel Redemptions | Miles may have a fixed value and offer a lower value for travel redemptions. | The card is potentially more valuable when redeemed for flights or stays with the affiliated airline or hotel. |
| Airline-Specific Perks | Fewer airline-specific perks. | The card may offer perks such as free checked bags, priority boarding, complimentary elite status, and in-flight or on-property discounts. |
| Earning Opportunities | May offer consistent earnings on all purchases. | Earn extra miles for purchases with the affiliated airline or hotel. |
| Dependence on a Single Brand | The issuer doesn't require loyalty to any particular airline or hotel chain. | The value ties to a specific airline or hotel chain. |
| Additional Travel Benefits | May offer travel benefits such as travel insurance, lost luggage reimbursement, and no foreign transaction fees. | May offer brand-specific travel benefits and bonuses. |
| Potential for Status Miles | Generally, they do not offer status miles. | May earn miles that count toward elite status with the airline or hotel. |
General Purpose Miles
General purpose miles are pretty much the same as points. You can redeem them for cash, gift cards, travel expenses, and other items. Owning a general-purpose miles card lets you decide where to apply your rewards. 
You can use the miles to pay for an airline trip and other travel expenses, such as hotel stays and car rentals. Typically, the miles are worth one cent each and don't expire while the account remains open.
Co-Branded Loyalty Program Miles
Co-branded travel cards offer frequent flyer miles/points. You can use these rewards only on the co-branding airline and its affiliates. The value of these miles varies according to the rules of the associated loyalty program. You typically cannot get cash for loyalty miles, but you may have the option to redeem them for the carrier's gift cards.
How Do Air Miles Credit Cards Work?
Although each air miles card has a unique set of rules, most operate similarly. You apply for the card online, as with any other credit card. Some issuers let you prequalify, but you should receive an instant response when you formally apply.
After you sign up for a card, you can use it to pay for travel, groceries, bills, entertainment, and other everyday or large purchases. You earn miles for every eligible purchase, and when you accumulate enough miles, you can redeem them for flights, upgrades, and other items.
You'll likely log onto your credit card or frequent flyer account portal to redeem your miles. There, you can explore various redemption options. Some cards may have blackout dates (during which you cannot redeem your miles for flights) or dates when flights cost significantly more miles.
Some general-purpose miles cards, such as the Capital One Venture cards, let you apply miles retroactively to pay for travel-related purchases you've already made. In other words, the issuer refunds your account for past travel purchases instead of using your miles to pay for future travel you book through the issuer's portal.
Some air miles credit cards pay flat-rate rewards on all eligible purchases. Others offer redemption options based on the flights you wish to take. Card issuers may set the redemption value using the price of the flights that interest you.
Every credit card is unique, so read the fine print and understand the details before you sign up. Don't hesitate to ask your issuer if you're unclear about something.
What Credit Score Do I Need to Get a Travel Card?
Most travel cards require applicants to have a credit score above 580, the borderline between fair and bad credit. Depending on the issuer, a travel card may require applicants to have good or excellent credit (i.e. above 670).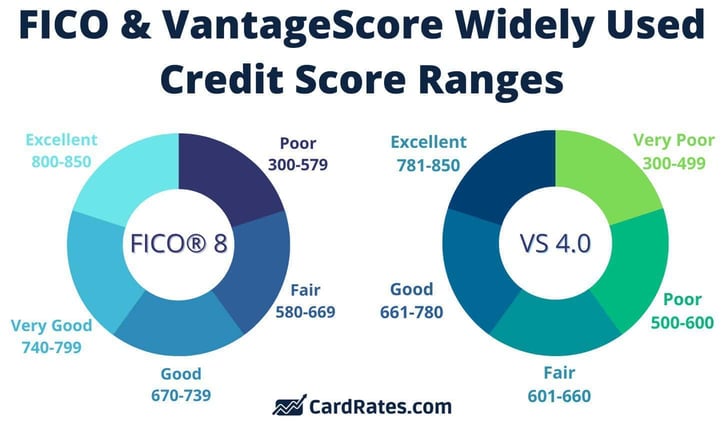 Some issuers offer prequalification checks that do not impact your credit score, giving you an idea of your approval chances. Applying for a new card results in a hard credit inquiry that may have a small impact on your credit score.
What Are Bonus Miles Worth?
The miles you earn from a general-purpose travel card are usually worth one cent each. The value of travel card miles (or points) may expand when you use them to book travel through the issuer's website. 
Co-branded travel cards issue miles with context-sensitive values. A card's frequent flyer program sets the value of miles based on several factors, including airline, flight distance, date and time of flight, destination, and cabin class. 
To calculate the value of a mile, divide the cash price of the ticket (or other redemption option) by the number of miles required for the redemption.
For example, if a flight costs $250 or 25,000 miles, each mile is worth one cent ($250/25,000).
What Can I Redeem Miles For?
Primarily, you can redeem miles for airline flights and seat upgrades. General-purpose travel cards give you many more redemption options than their co-branded counterparts. 
Items you can redeem general purpose miles for include cash, statement credits, travel expenses, gift cards, merchandise, and charitable donations. You can also transfer these miles to a travel partner's loyalty program.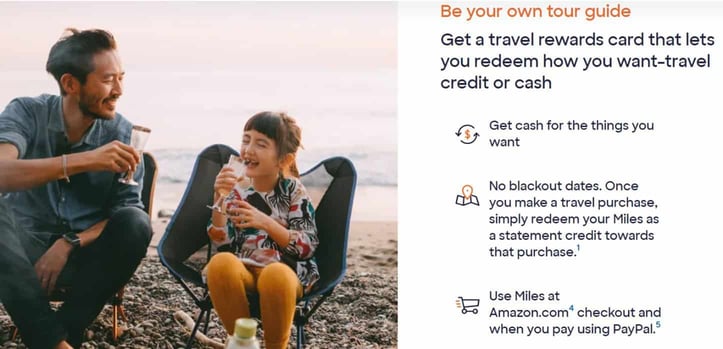 Cards that offer co-branded miles narrow your redemption options. You can use your miles to purchase seats and upgrades on the co-branding airline's flights and those of its affiliates. You may have the option to redeem them for hotel stays and rental cars, but it depends on the loyalty program. 
You typically cannot redeem loyalty miles for cash, although the program may allow you to use them to purchase the airline's gift cards. The loyalty program, not the credit card, determines how you can spend your co-branded miles.
What Are the Pros and Cons of Travel Cards?
Travel cards can deliver many valuable rewards and benefits, but the best ones usually charge a three-digit annual fee. Every miles card can get you a ticket for an airline flight (if you have enough miles), but they also have other superpowers.
Let's examine the pros and cons of travel cards.
Pros
The advantages of travel cards include:
Rewards: Travel cards typically allow you to earn miles on every eligible purchase, with bonus points on travel-related expenses
Travel perks: May include complimentary airport lounge access, priority boarding, free checked bags, travel insurance, and more
Signup bonuses: Many travel cards offer substantial signup bonuses, letting you earn a boatload of miles/points after you satisfy the spending requirement within the specified period 
Flexible redemptions: Depending on the card type, you may have the option to redeem your rewards for flights, hotels, car rentals, cruises, or statement credits
No foreign transaction fees: Many travel cards waive foreign transaction fees, making them ideal for international travel
Global acceptance: Merchants worldwide generally accept travel cards, especially those on the Visa or Mastercard networks
Travel protections: These can include trip cancellation/interruption insurance, baggage delay insurance, and rental car insurance
Currency conversion: Travel cards provide on-the-spot currency conversion, ensuring you receive a timely exchange rate when you make purchases abroad
Cons
Travel cards are pretty good but not perfect. Here are some things to consider before taking the plunge:
Annual fees: Many travel cards charge an annual fee. While the benefits can outweigh the cost, it's something to consider, especially when the yearly fee exceeds $100
Complex redemption schemes: Some cards have complicated reward structures or redemption options, making it challenging to maximize value
Interest rates: Travel cards can impose relatively high interest rates if you don't pay off the balance in full each month
Limited use for homebodies: You could miss out on most travel-related perks and rewards if you don't travel frequently
Blackout dates and availability: Some airline cards have blackout dates or limited seat availability that can thwart your plans when you redeem your miles. Thankfully, many travel cards have no blackout dates
Reward expiration: In a few frequent-flyer programs, your miles can expire if you don't redeem them within a certain period
Potential for overspending: The allure of earning juicy rewards and bonuses may tempt you to spend beyond your means
You can mitigate these disadvantages by choosing a travel card carefully and exerting discipline when you use the card.
Which Is Better: Miles or Cash Back?
Cash back is straightforward — a dollar of cash back is worth a dollar. Nothing beats the versatility of cold, hard cash since you can use it for any purpose. Cash back cards often have low fees and allow you to redeem your rewards in several ways, including checks, direct deposits, and statement credits.
But cash back cards often have relatively low (if any) signup bonuses and offer fewer benefits than travel cards. Additionally, many cash back cards charge foreign transaction fees.
Frequently, cards that reward you with miles provide travel perks such as free checked bags, priority boarding, and airport lounge access. Miles are potentially worth more than cash back when you redeem them for travel.
| Cash Back | Miles |
| --- | --- |
| Flat-rate, tiered, or rotating rewards | Flat or tiered based on specific purchases |
| Simplest to redeem | Can be co-branded with loyalty programs such as Delta |
| Rewards have a set value | Redemption values vary and may be transferrable to other loyalty programs |
| Can be redeemed for a statement credit, deposit to bank account, or for gift cards | Branded miles are redeemable with a specific airline |
| May be applied to online purchases with select retailers | Generic miles can be redeemed for eligible travel expenses outside of airfare |
| Cash back cards are available for all credit ratings | Miles cards require good to excellent credit |
Miles cards often have substantial signup bonuses and seldom impose foreign transaction fees. The best travel cards have high annual fees.
Co-branded miles cards often have complex, status-dependent redemption programs. This complexity means you may not be clear on how much your miles are worth. 
You should be aware of your card's redemption options, which could be quite limited (for co-branded credit cards). As with cash back, miles can cause you to overspend in an attempt to reach a particular reward goal.
Should I Own Multiple Travel Cards?
An excellent case can be made for owning multiple travel cards. Having more than one travel card can help you maximize your rewards because different cards reward diverse types of spending. Additionally, owning multiple cards may give you the full range of benefits unavailable in a single card.
Multiple cards give you more opportunities to earn signup bonuses, more ways to redeem your rewards, and a backup should you lose your primary card.
Before committing to multiple cards, remember you may have to pay more in annual fees. You'll also have to manage each card's payment due dates, reward programs, and benefits. Accumulating too many cards may lead to needless duplication of perks.
Multiple hard inquiries and a decreased average account age can harm your credit. You will want to guard against overspending when you own more than one credit card, as you may accumulate an uncomfortable level of debt. 
Ultimately, you should not own more cards than the number you can manage responsibly.
Are Travel Cards Worth Paying an Annual Fee?
The answer to this question is situational — it depends on your circumstances. Reasons to pay an annual fee include:
High earnings: A card may be worth its annual fee if it allows you to earn significantly more rewards than a no-fee card. You should evaluate how much you spend, particularly in bonus categories, and calculate your potential rewards.
Valuable promotions: Many travel cards offer a substantial signup bonus that can offset the annual fee for the first year (or more). You also may save money through a card's 0% intro APR promotion.
More perks: You may want to evaluate a card's other benefits, such as free checked bags, priority boarding, airport lounge access, travel insurance, and no foreign transaction fees. If you frequently use these perks, they can easily outweigh the cost of the annual fee.
You may prefer a no-annual-fee card for these reasons:
Limited use: The rewards might not justify the annual fee if you don't use the card frequently or spend much. 
Unused benefits: You may not realize enough value to justify the annual fee if you don't use the extra perks and benefits the card offers.
Available no-fee alternatives: Consider whether a no-fee card will provide your desired benefits and rewards.
Carrying a balance: The cost of interest from carrying a balance may outweigh the card's benefits, making the annual fee an additional unnecessary expense.
We recommend calculating the break-even point to determine how much you must spend to earn enough rewards to offset the annual fee. Evaluate how often you travel and use a card's additional travel benefits.
Take the time to analyze your spending, travel habits, and benefit use to decide whether paying an annual fee makes sense for you. The card's value should outweigh its cost for it to be a worthwhile investment.
Travel In Style With a Bonus Miles Credit Card
Owning a travel card means more than just prestige. It helps you save money on trips and can increase your comfort when traveling. 
If you're willing to pay a moderate to high annual fee, you can expect the best travel cards to repay you many times over. And if money is tight, you can get a no-annual-fee miles card and still receive valuable benefits. It seems like a no-lose proposition, but only if you use the card responsibly.
Advertiser Disclosure
CardRates.com is a free online resource that offers valuable content and comparison services to users. To keep this resource 100% free, we receive compensation for referrals for many of the offers listed on the site. Along with key review factors, this compensation may impact how and where products appear across CardRates.com (including, for example, the order in which they appear). CardRates.com does not include the entire universe of available offers. Editorial opinions expressed on the site are strictly our own and are not provided, endorsed, or approved by advertisers.