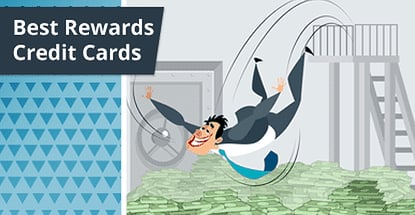 Saving is awesome. And that's not just an opinion. Studies have shown that coupons not only entice us to spend more and try new things but can actually decrease stress and just plain make us happier — as much as 11% happier, in fact.
That's right, your dedication to a good deal may be due to a physiological love of savings. And that sentiment for savings is hardly limited to clipping coupons from the paper. Indeed, so many consumers have experienced the oxytocin-rich rewards of a good deal that everyone from airlines to the local zoo offers coupons and rebates to entice new customers.
Despite the discount ubiquity, however, one of the most universal of all deals is still that of the credit card rewards program. Like a rebate you can use on just about anything, credit card rewards offer nearly endless opportunities to de-stress with a great deal. In the article below, we'll explore some of our choices for the best credit cards for rewards. These days, there is something for everyone — whether you're looking for cards geared toward cash back, travel rewards, or students.
Cash Back | Points | Travel | Balance Transfers |
Students | Business | Fair Credit | Bad Credit
Best Credit Cards for "Cash Back" Rewards
If there is one thing that most people can likely agree on, it's that cash is good — and more cash is better. Cash back credit card rewards put more cash in your pocket by giving you back a portion of your purchases in the form of rewards that can be redeemed for a statement credit or deposited into a qualifying bank account.
Nearly every cash back credit card will offer a low unlimited cash back rate for every purchase you make with your card, typically between 1% and 2% cash back. Many cash back cards will also offer bonus cash back rates for purchases made in specific categories, such as gas station or restaurant purchases. Start your search with our favorite cash back cards, which includes both program types.
+See More Cards for Cash Back Rewards
For those who spend a lot in a common category, cash back bonus categories can be extremely lucrative, but be careful not to overspend just for the rewards. Additionally, many cards have purchasing caps for bonus categories, meaning you'll only earn bonus rewards on category purchases up to a specified amount, after which purchases will earn rewards at the default unlimited rate.
Best Credit Cards for "Points" Rewards
Of all the credit card rewards, points are generally the most flexible, offering redemption options that include those of cash back rewards — i.e., a statement credit or bank deposit — as well a range of other options, like travel expenses, merchandise, or special events or experiences.
As with cash back rewards, most rewards points credit cards will provide an unlimited flat rate on all purchases, typically 1X point per $1, as well as offering bonus points on purchases made in specific categories. The top points cards on our list include lucrative bonus categories like travel, dining, and restaurants.
+See More Cards for Points Rewards
Besides the direct redemption options offered by the credit card issuer, a common way to maximize the per-point value of rewards points is to transfer them to a partnering airline or hotel loyalty program. This turns your rewards points into frequent flyer or hotel points that can be pooled with your existing loyalty program points to purchase flights or hotel stays.
Best Credit Cards for "Travel" Rewards
As evidenced by just about every online dating profile ever, we all love to travel — but few of us like to pay for it. Travel rewards credit cards allow you to earn points or miles that you can redeem for a variety of travel-related expenses, including using your rewards to book flights, hotel stays, and rental cars.
Similar to other credit card rewards, most travel rewards credit cards allow you to earn unlimited, flat-rate points or miles on every purchase, and a variety of cards also offer bonus points or miles for purchases in specified categories. Many of the travel rewards cards on our list provide blackout-free travel redemption without limiting you to specific airlines or hotel brands.
+See More Cards for Travel Rewards
When comparing travel rewards cards, an important thing to look out for, especially if you intend to travel abroad, are cards that charge foreign transaction fees. Typically ranging from 2% to 4% of your purchase amount, foreign transaction fees are charged whenever you make a credit card purchase in a foreign currency and can add up quickly.
Best Credit Cards for "Balance Transfers" and Rewards
A successful credit card balance transfer can be a great way to reduce your monthly interest fees by transferring your balance from a card with a high APR to one with a lower APR. This is particularly effective when you take advantage of a balance transfer introductory 0% APR offer, which can provide interest-free balance transfers for 12 months or more.
While you won't actually earn any rewards on the balance you transfer to your rewards card, you can earn rewards on any new purchases made with your card. What's more, many great introductory APR offers — including our favorites below — will apply to both new purchases as well as balance transfers, so you won't be charged interest on those rewards-reaping new purchases during the introductory period.
Earn 2% on every purchase with unlimited 1% cash back when you buy, plus an additional 1% as you pay for those purchases.
To earn cash back, pay at least the minimum due on time.
Balance Transfer Only Offer: 0% intro APR on Balance Transfers for 18 months. After that, the variable APR will be 18.24% - 28.24%, based on your creditworthiness.
Balance Transfers do not earn cash back. Intro APR does not apply to purchases.
If you transfer a balance, interest will be charged on your purchases unless you pay your entire balance (including balance transfers) by the due date each month.
There is an intro balance transfer fee of 3% of each transfer (minimum $5) completed within the first 4 months of account opening. After that, your fee will be 5% of each transfer (minimum $5).
| | | | | |
| --- | --- | --- | --- | --- |
| | 0% Intro APR Period 18 months on Balance Transfers | 18.24% - 28.24% (Variable) | | |
Additional Disclosure: Citi is a CardRates advertiser.
$200 online cash rewards bonus after you make at least $1,000 in purchases in the first 90 days of account opening.
Earn 3% cash back in the category of your choice, automatic 2% at grocery stores and wholesale clubs (up to $2,500 in combined choice category/grocery store/wholesale club quarterly purchases) and unlimited 1% on all other purchases.
If you're a Preferred Rewards member, you can earn 25%-75% more cash back on every purchase. That means you could earn 3.75%-5.25% cash back on purchases in your choice category.
No annual fee and no expiration on rewards.
New longer intro period! 0% Introductory APR for 18 billing cycles for purchases, and for any balance transfers made in the first 60 days. After the intro APR offer ends, 18.24% - 28.24% Variable APR will apply. A 3% fee (min $10) applies to all balance transfers.
Contactless Cards - The security of a chip card, with the convenience of a tap.
This online only offer may not be available if you leave this page or if you visit a Bank of America financial center. You can take advantage of this offer when you apply now.
| | | | | |
| --- | --- | --- | --- | --- |
| 0% Intro APR for 18 billing cycles for purchases | 0% Intro APR for 18 billing cycles for any balance transfers made in the first 60 days | 18.24% - 28.24% Variable APR on purchases and balance transfers | | |
Additional Disclosure: Bank of America is a CardRates advertiser.
Earn 20,000 bonus points after you spend $1,500 in purchases with your card within 3 months of account opening; redeemable for $200 in gift cards at thankyou.com
0% Intro APR on balance transfers for 15 months from date of first transfer and on purchases from date of account opening. After that, the variable APR will be 17.74% - 27.74%, based on your creditworthiness. There is an intro balance transfer fee of 3% of each transfer (minimum $5) completed within the first 4 months of account opening. After that, your fee will be 5% of each transfer (minimum $5).
Earn 2X ThankYou® Points at Supermarkets and Gas Stations for the first $6,000 per year and then 1X Points thereafter. Plus, earn 1X ThankYou® Points on All Other Purchases.
The Citi Rewards+® Card - the only credit card that automatically rounds up to the nearest 10 points on every purchase - with no cap.
No Annual Fee
| | | | | |
| --- | --- | --- | --- | --- |
| 0% Intro APR Period 15 months on Purchases and Balance Transfers | 0% Intro APR Period 15 months on Purchases and Balance Transfers | 17.74% - 27.74% (Variable) | | |
Additional Disclosure: Citi is a CardRates advertiser.
+See More Cards for Balance Transfers
If you're looking at taking advantage of an introductory APR offer to save on both new purchases and balance transfers, be sure to read the terms of the offer carefully. While many offers will have the same terms for both new purchases and balance transfers, some intro-APR offers will have different rates or lengths depending on the type of transaction.
Best Credit Cards for "Student" Rewards
As a student, it can seem as though the credit card odds are stacked against you. Not only do you probably suffer from a stunted (or nonexistent) credit history, but your income level is likely not particularly exceptional, either. All is not lost, however. You can use a student credit card to establish and/or build your credit history — and earn rewards while you do so.
Indeed, while not as sought-after an applicant as someone with a well-established credit history, the rewards options for students are still quite competitive, with cards offering both unlimited flat-rate rewards, as well as some options for bonus category rewards, as well. Our list includes both types of rewards cards, none of which will charge you an annual fee.
+See More Cards for Student Rewards
When considering applying for a credit card as a student, you should be aware that certain requirements will need to be met if you are under the age of 21. Specifically, the CARD Act of 2009 requires that credit card applicants between the ages of 18 and 21 must either have a parental cosigner on the account or be able to demonstrate a reasonable level of independent income to qualify for their own card.
Best Credit Cards for "Business" Rewards
Whether your business has one employee or 100, every business has something in common: expenses. From pens and paper to internet service and web hosting, even a digital small business can have its share of expenses, and bricks-and-mortar businesses only have it worse. Which means it's probably safe to say that many business owners experience the same physiological joy in saving a few bucks as do the rest of us.
For many business owners, a business credit card is a must-have tool to keep the business going, but a good rewards credit card can be more than that — it can also be a tool for saving money. Not only do most business rewards cards provide unlimited flat-rate rewards, but many also offer business-centric bonus categories to reward you for the things you buy most. Check out our top picks to start your search.
+See More Cards for Business Rewards
One of the best things about obtaining a credit card for your business is that a credit card account can help you establish and build a business credit profile, which is separate from your personal credit reports and scores. Your business will need an established business credit profile to qualify for many credit products, including many business loans.
Best Credit Cards for "Fair Credit" Rewards
To paraphrase the old saying, building credit isn't a sprint, it's a marathon. In general, it can take up to six months to even establish enough history to qualify for a credit score, and twice that long to reach a good to excellent score. At the same time, it can take just 30 days to have a late payment turn delinquent and drop that good score like a meteor.
No matter how you got your fair credit score, whether you're just starting out or recovering from a hiccup or two, you can often still find good quality credit cards — even ones offering purchase rewards. While fair-credit rewards cards may have an annual fee, including some of our cards below, if you spend enough with the card each year you can often earn enough rewards to cover the fee (and then some).
Earn unlimited 1.5% cash back on every purchase, every day
No rotating categories or limits to how much you can earn, and cash back doesn't expire for the life of the account. It's that simple
Be automatically considered for a higher credit line in as little as 6 months
Enjoy peace of mind with $0 Fraud Liability so that you won't be responsible for unauthorized charges
Help strengthen your credit for the future with responsible card use
Enjoy up to 6 months of complimentary Uber One membership statement credits through 11/14/2024
20. Blue from American Express®
This card is currently not available.
21. Credit One Bank® Platinum Visa®
This card is currently not available.
+See More Cards for Fair Credit
Since your payment history is the biggest portion of your credit score, it can tank your score the easiest. While missing a card payment by a day or two won't result in a payment being reported to the bureaus as delinquent, anything more than 30-days late will be reported. Setting up automated payments can be an effective way to ensure your credit card bill is always paid on time.
Best Credit Cards for "Bad Credit" Rewards
Having bad credit can be a financial bummer. Not only is it significantly harder to qualify for new credit, but the quality of that credit — including the rates, fees, and credit limits — often leaves much to be desired. But while it can be a challenge to rebuild your credit after a few missteps, it is hardly impossible. In fact, you may even earn rewards while you rebuild.
You shouldn't expect bad-credit rewards cards to provide a high earnings rate, but several options exist for obtaining at least an unlimited 1% cash back on your purchases. You can even find some cards (mostly secured cards) that provide bonus cash back categories, though they likely have spending caps. Compare some of expert-rated rewards cards for bad credit below.
22. Bank of America® Customized Cash Rewards Secured Credit Card
This card is currently not available.
23. Credit One Bank® Unsecured Visa® with Cash Back Rewards
This card is currently not available.
24. Credit One Bank® Visa® with Free Credit Score Access
This card is currently not available.
+See More Cards for Bad Credit
While cards for those with bad credit tend to have very flexible credit score requirements, remember that you aren't guaranteed acceptance. Certain types of derogatory credit marks may be deal breakers for some issuers. For example, you are unlikely to find new credit if you have a pending bankruptcy filing that has not yet been discharged by the court.
Turn Everyday Errands into Rewarding Experiences
Whether you like to shop online, in stores, or merely as little as possible, it turns out most shoppers share a biological love of savings. But you may not need to clip coupons or print promo codes to get that same warm-and-fuzzy oxytocin boost of savings delight; your favorite rewards credit card can likely offer nearly universal savings on anything you purchase with plastic.
Advertiser Disclosure
CardRates.com is a free online resource that offers valuable content and comparison services to users. To keep this resource 100% free, we receive compensation for referrals for many of the offers listed on the site. Along with key review factors, this compensation may impact how and where products appear across CardRates.com (including, for example, the order in which they appear). CardRates.com does not include the entire universe of available offers. Editorial opinions expressed on the site are strictly our own and are not provided, endorsed, or approved by advertisers.