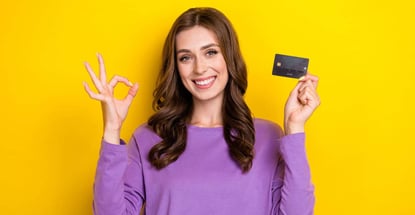 I still remember getting a signup-bonus credit card a few years back. Soon after, I collected 80,000 beautiful points for spending the required amount within three months (actually, it took only two weeks). That heady feeling can be yours if you acquire one of the cards we feature in this review.
You'll need a good credit score (670+ FICO) to get a credit card with a big signup bonus. That point aside, a signup bonus is a glorious thing — not a life event, but certainly memorable. It's super smart to get one of these cards when you're about to make a big-ticket purchase because you may satisfy the spending requirement in a single tap. 
One note of caution: Getting a card with a big signup bonus, which typically carries a sizable annual fee, doesn't make much sense if you can't afford the introductory spending requirement. Yeah, these are the best credit card offerings, but they aren't worth busting your budget over. With that plea for sanity out of the way, let's dive into the cards.
Best Cards Offering 25,000 Bonus Points
These two from Bank of America are almost identical, including in the signup bonus department. And while they currently don't offer top-tier bonuses (signup bonuses change all the time), they don't charge an annual fee. Couple that with their 0% intro APR promotions, and you have a solid incentive to get one.
These travel cards make sense if you are planning a trip or perhaps a year of study abroad. The bank also offers cash back signup bonuses on several other cards, including the Bank of America® Unlimited Cash Rewards credit card and the Bank of America® Customized Cash Rewards credit card, which you may prefer if you aren't planning any travel purchases.
Best Cards Offering 50,000+ Bonus Points
These are the heavy hitters in the issuers' lineups. They offer bonus jackpots of at least 50,000 points but require more significant initial spending.
You must have a good credit score to get one of these cards. Keep in mind that these signup bonus offers can and do change and may differ depending on where you apply.
The duo that offers Chase Ultimate Rewards has points that gain 25% to 50% more value when you redeem them for travel purchases. I know from experience that you don't get a second signup bonus if you upgrade from the Chase Sapphire Preferred® Card to the Reserve. That's hardly unusual, so check with your credit card issuer if you want to upgrade one of its cards. 
Remarkably, several of the cards in this group have annual fees of less than $100. In their case, the cash value of the signup points pays for the first year's fee with plenty left over.
The remaining cards have significant annual fees. But even the most expensive annual fee credit card may have signup bonuses that cover the first year's fee. They also offer the kinds of perks you'd expect from a costly card, so the signup bonuses are just icing on the cake for many cardmembers.
What Are Credit Card Signup Bonuses?
Unsurprisingly, reward credit card issuers are engaged in cut-throat competition to recruit new cardmembers. Many offer signup promotions (they also call them "welcome offers") to new members, who can earn a bonus for spending a set amount on purchases during an introductory period (typically 90 days from account opening).
The bonus rewards may be cash back, bonus miles, or the subject of this review, points. Interest-free introductory periods for purchases and/or balance transfer transactions are another attraction many issuers offer, frequently coupled with signup bonuses.
How Do I Earn Bonus Points?
Bonus points accrue from spending on eligible purchases when you become a new cardmember. The usual deadline to complete the spending is three months, but some cards offer longer periods.
Only purchases count toward welcome bonuses — balance transfers and cash advances don't apply. Neither does spending for any of these items: 
Any checks that access your account
Casino gaming chips
Fees of any kind
Foreign currency
Interest
Lottery tickets
Money orders
Other betting transactions
Other cash-like transactions
Racetrack wagers
Refunds and returns
Traveler's checks
Unauthorized or fraudulent charges
Wire transfers
Late payments during the promotion period are bonus killers. So is previous reward card ownership. Some card issuers will restart the clock if it's been a set number of years since you owned the card. Others are like elephants — they never forget you once held the card, so no bonus points for you!
As mentioned, you also may lose access to a welcome bonus if you have already received one from the credit card issuer and attempt to add another card or upgrade your present one. 
Another red flag is any violation of the issuer's terms and conditions, a little-known codicil in the card's constitution that may get you into hot water for prohibited transactions (i.e., purchasing illegal goods or services, such as drugs and prostitution). You'll need to dive into the fine print to see what obstacles the issuer places between you and the bonus.
You'll notice that the size of the signup bonus correlates with the other card features, including their reward levels, benefits, and annual fees. Expect cards with 80,000-point signup bonuses to deliver additional perks and extract annual fees starting around $95 or higher.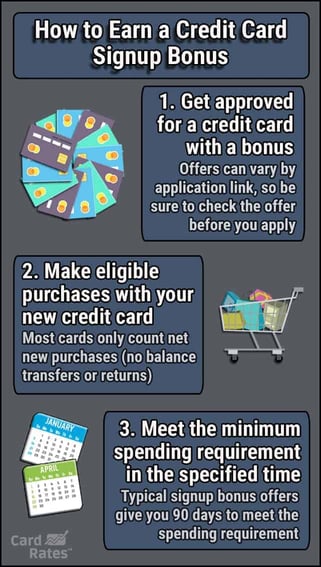 The yearly fee alone does not explain the bonus amount, as you can see from the Chase Sapphire duo. You must look at the whole package to see the bonus in context with the card's other goodies.
You'll also note that the bonus points and a card's regular purchase rewards share the same form. In other words, cards offering point rewards will denominate their signup bonus as points. The same holds for cash back and bonus miles.
Some credit cards offer different incentives to new cardmembers. The most prevalent is a 0% introductory APR on purchases and/or balance transfers for six to 21 months following account opening. Generous cards offer the ultimate reward — both new-member promotions, but others skip the signup bonus in favor of the interest-free deal (or vice versa).
Card issuer Discover is a special case: It never offers a signup bonus, instead provides new cardmembers a Cashback Match (or Miles-for-Miles Match) on rewards posted during the first year of card ownership. 
Since Discover's Match is unlimited, the payoff may be substantially larger than a signup bonus. In a way, you can think of it as the ultimate reward promotion — a 12-month introductory period and a bonus amount that varies depending on how much you spend on eligible purchases during that time frame.
There are a few downsides to signup promotions. Cards with large signup bonuses may extract hefty annual fees, but plenty of exceptions exist. A more serious potential problem is the temptation to overspend. 
Suppose you get a card with a big fat bonus that requires, say, $4,000 of spending on eligible purchases during the first 90 days. If you're on a tight budget, you may:
Be unable to meet the goal, or
Have to finance a large unpaid balance over an extended period. Unless the card offers a 0% intro APR promotion, stretching out repayment will cost you serious coinage for the monthly interest you'll pay.
Now, if you are already committed to spending a large chunk anyway (e.g., for a Bar Mitzvah, wedding, new baby, etc.), you may have figured that you need financing. In this case, getting a new card with a large signup bonus, hopefully, coupled with an intro 0% APR, can be a brilliant move.
How Much Are 25,000 Credit Card Points Worth?
The typical going rate for cashing in points is $1 per hundred, so you most likely will collect $250 to monetize 25,000 points (i.e., a 1% redemption rate). But you have other options that may yield more or less value.
For example, you may want to use your points for purchases. Many cards offer a 1% redemption rate for purchases, but some offer less or more, often depending on what you buy. 
Here are some examples: 
The Chase Sapphire Reserve®'s Ultimate Rewards Points pay a 1.5% rate when you redeem travel purchases through Chase Travel (it's 1.25% for Chase Sapphire Preferred). Sapphire cards have a regular redemption rate of 1%, but if you transfer the Chase Ultimate Rewards points to a partner program, the value may vary from 1.9% (Air Canada) to 0.07% (Marriott Bonvoy). 
Bank of America Rewards Points are worth $0.006 to $0.01 each, but the bank will boost the redemption value of your points by 25% to 75% if you're a Preferred Rewards member.
Citi ThankYou Points are worth up to 1.5 cents each when you transfer them to a partner's loyalty program. Otherwise, the points are worth a penny apiece, except when you redeem them for Amazon.com purchases — that value is 0.8 cents.
American Express Membership Rewards redemption rates vary between 0.5% and 1.2%. For instance, the rate when you redeem points for a statement credit is 0.6%, whereas you may get up to 1.2% for travel transfers or 0.5% for online shopping. Interestingly, your American Express card membership doesn't allow you to exchange your points directly for cold hard cash.
Point redemption values are most pertinent for welcome bonuses because the number of points you'll receive is fixed. Not so when you earn points through purchases. 
Sure, some rewards cards pay a flat rate on all eligible purchases, usually between 1% to 2%. But many offer tiered and/or quarterly rotating reward schemes, in which the purchase rate may range from 2% and 10%, depending on the merchant category and other variables. Moreover, credit cards usually limit the rewards you can earn on bonus categories each quarter (or some other period).
The point (pun intended) is: It's the combination of the purchase and redemption rates that determines the actual value of your credit card's reward program after you take into account fees, limits, and APRs.
What Is the Smartest Way to Redeem Credit Card Points?
Whether you earn your credit card points through welcome bonuses or purchase rewards, you likely want to maximize their value when redeeming them. The intelligent approach is to evaluate how much you'll get for each redemption option before deciding. 
As explained earlier, the value of reward points varies considerably, often from $0.005 to almost $0.02 each. Your redemption options may include the following:
Cash
Statement credits
Direct deposits
Gift cards
Travel
Merchandise (in-store and online)
Transfer to another program
Bills
Charitable contributions
Potentially, each category could offer a different reward rate. In addition, cards frequently run special bonus offers with high reward or redemption rates. So it would be best to do some homework to find the highest value.
We advise you not to spend money just to earn rewards. You could end up with too much debt that will cost you much more in interest than you'll gain through rewards. And anyway, what's the point of spending a dollar to earn a nickel or less?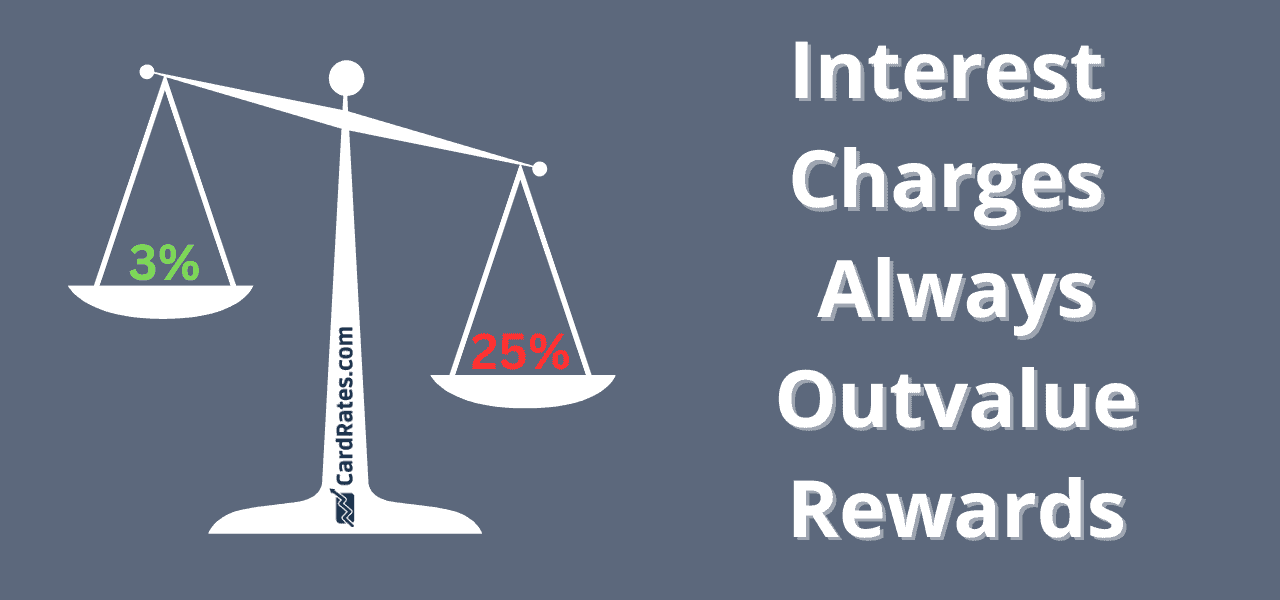 One last word on the topic: Never let your rewards expire. Typically, they won't until you close the account, at which point you may forfeit unredeemed rewards (Discover is the exception — it will send you a check for leftover rewards).
Are Points Better Than Cash Back?
It depends on what the points are worth. Generally, a points card is better than a cash back credit card if it can earn you more than one penny per point.
Travelers may face the easiest decision since several cards boost the value of points you redeem for travel, but often only when booking through the preferred agency (e.g., Chase Ultimate Rewards, Amex Travel, etc.). 
Transferring points to a partner's loyalty program is dicey since you may not know the transfer ratio or how much the points are worth in the partner's program.
For example, suppose you transfer your points to an airline's frequent flyer program. Even if you get a good transfer ratio (i.e., 1:1 or better), the points, now miles, have a value based on the reward structure of the airline's program. Some airlines offer good value for the miles you rack up, others not so much.
You also need to take annual fees into account. You may be able to get more generous cash back credit card rewards with a no-annual-fee credit card than with one that offers points or miles.
Cash back is so simple. Knowing what you'll earn is pretty easy, especially if you get a flat-rate card. Some cardowners depend on their cash back to help stretch their budgets and pay their bills on time. No muss, no fuss.
If simplicity appeals to you, you just may be a cash back person.
Do I Have to Pay Taxes on Signup Bonuses?
In most cases, signup bonuses aren't taxable if they are contingent on you satisfying the required spending goal. But it's different if you earn a reward immediately upon signup — the IRS may treat that as taxable income.
The two different use cases arise from how the IRS views the signup bonuses you must earn through your actions. To that august body, these signup bonuses are merely discounts or rebates — they simply lower the cost of your purchases. 
On the other hand, certain credit cards, such as the Amazon Prime Rewards Visa Signature Card, pay you a reward (i.e., an Amazon gift card) just for obtaining the credit card — no purchases are necessary. The IRS considers that gift card income, which you must declare on your annual tax return. 

Bear in mind that your annual taxable income must exceed a set threshold before you need to file a tax return. For example, individuals must file a return if they earn a gross income of at least $12,950 in 2023. 
But if you are married and filing separately, that threshold is a mere $5. If you fall into that category and your only taxable income (for example, if you live off your Roth IRA income and municipal bond coupon interest, both tax-free) was a $200 Amazon welcome bonus, you'll want to speak to a tax advisor about your filing obligation.
Earn a Big Bonus With Your Next Credit Card 
If you didn't have credit card acquisition syndrome before reading this article, the chances are good all this talk about signup bonuses has given you the bug. Those bonuses are good, clean fun as long as you can afford to meet the spending requirement. 
If your finances are in reasonable shape, well, hey, live a little! And remember, the best signup bonus cards continue to offer excellent value well after those welcome points are but a warm, distant memory.
Advertiser Disclosure
CardRates.com is a free online resource that offers valuable content and comparison services to users. To keep this resource 100% free, we receive compensation for referrals for many of the offers listed on the site. Along with key review factors, this compensation may impact how and where products appear across CardRates.com (including, for example, the order in which they appear). CardRates.com does not include the entire universe of available offers. Editorial opinions expressed on the site are strictly our own and are not provided, endorsed, or approved by advertisers.