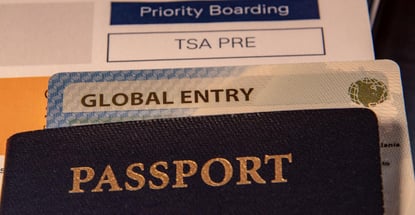 Airline travel typically involves a lot of waiting in lines. There's a security screening when you leave and, if you're traveling internationally, a customs check-in when you arrive.
A prescreening service, such as TSA PreCheck, Global Entry, or CLEAR, may give you access to an expedited security process so you can get to your gate faster.
These services can be pricey, but smart travelers who plan ahead can access all the benefits with none of the costs by applying for and using a credit card that reimburses the fees as a card benefit.
If you're planning a trip or shopping for a new travel card, you'll want to take a close look at the airport-screening benefits various cards offer. Some truly are better than others.
Global Entry, TSA PreCheck, and CLEAR: What's the Difference?
Not sure which airport screening service you need? Here's our quick guide to TSA PreCheck, Global Entry, and CLEAR.
TSA PreCheck®
TSA PreCheck® allows prescreened passengers at larger US airports to wait in separate TSA PreCheck lines and proceed through security screenings with fewer requirements. If no TSA PreCheck line is open, PreCheck passengers may be allowed to jump to the front of all passenger lines. 

TSA PreCheck passengers typically don't have to take off their shoes, belt, a lightweight jacket, or remove their "3-1-1" liquids or laptop from their carry-on luggage.
More than 200 airports and 85 airlines offer TSA PreCheck. Children age 12 or younger can check in with a parent or guardian with TSA PreCheck. Expedited screening isn't guaranteed, but the TSA PreCheck process can result in a faster experience with fewer hassles.
The TSA PreCheck application process includes an online application, in-person appointment with fingerprinting and a background check, and payment of a $78 fee for a five-year membership. If you pay the fee with a credit card that offers a TSA PreCheck statement credit, you should receive a reimbursement for the allowed amount. If the full amount is reimbursed, your out-of-pocket cost is $0.
Global Entry
Global Entry includes all the benefits of TSA PreCheck, plus expedited clearance for pre-approved, low-risk international travelers to enter the US through automated kiosks at certain US airports. The kiosk process requires a machine-readable passport or US permanent resident card, a completed customs declaration, and a fingerprint scan.
The Global Entry application process includes an online application through the Trusted Traveler Program (TTP) System, a rigorous background check, an in-person interview at a Global Entry enrollment center, and payment of a non-refundable fee of $100 per person for a five-year membership. 
Global Entry enrollment centers are few and far between. Some US states have only one center within the entire state.
CLEAR
CLEAR is a biometrics-based verification service in use at certain US stadiums, airports, and other venues. At airports, travelers enrolled in Clear Plus can use a kiosk-like "pod" to verify their identity with an iris or fingerprint scan instead of a government-issued photo ID. 

The pods are located in designated lanes at TSA checkpoints. Travelers whose identities have been verified are then escorted to physical screening by a CLEAR representative.
To enroll, you must:
Be a US citizen or legal permanent resident.
Be 18 years old or older.
Have a valid government-issued photo ID.
You can enroll online or in person at any CLEAR airport location. Online enrollment requires a mobile device with a working front-facing camera and must be completed at an airport location.
A one-year membership costs $189. United Airlines and Delta offer tiered discounts to their frequent-flyer members. Up to three additional family members can be added to one account for $60 each.
Some American Express Centurion, Platinum, and Green cards offer a statement credit reimbursement for up to $369 per year on CLEAR fees.
Cards With Global Entry, TSA PreCheck or CLEAR Benefits
Dozens of different cards come with some sort of member benefit that can help you pay TSA PreCheck, Global Entry, or CLEAR application fees. The gold standard is a statement credit that reimburses you after you use your card to pay any of these fees. 
Other benefits that are less valuable but still attractive are a statement credit for a portion of these fees or an opportunity to pay the fee with rewards points or airline miles that you earn for using your card.
Using points or miles means you won't have to pay the fee out of pocket, but the comparable dollar value of the points or miles you use for this purpose may be quite small. Points or miles may be more valuable if they're used for direct travel expenses, such as hotel stays or airline flights.
That said, here's a guide to some cards to consider that offer a Global Entry or TSA PreCheck application fee statement credit.
Cards With a Low or No Annual Fee 
These bank- and credit union-issued cards charge charge no annual fee or one that's less than $100. Some waive this fee for the first year that you have the card.
Best overall pick:
Only two cards on this list offer a TSA PreCheck or Global Entry statement credit worth up to $100 every four years with no annual fee. This card also has a nice signup rewards bonus with fewer bonus points than many other cards offer, but commensurately lower required spending to earn the bonus, as well.
Other options:
Premium Travel Cards With High Annual Fees
These cards have premium benefits and annual fees of up to $995.
Top picks:
These two cards hit the sweet spot among premium travel card options with very attractive signup bonuses and rewards programs, amazing travel perks, and long lists of other valuable benefits that, combined, can easily offset annual fees of about $400.
Other options:
Travel Brand-Affiliated Cards
These cards are co-branded with airlines, hotels, and other travel companies. Some offer a statement credit; others let you redeem points or miles to pay Global Entry or TSA PreCheck application fees.
From a mixed bag of standard and premium cards, the top pick for you depends on the level of benefits you want, the annual fee you're prepared to pay, and your loyalty to a specific travel brand.
Use Your Card to Breeze Through Airport Security
With so many cards from which to choose, there's little reason not to apply and take advantage of the statement credit reimbursement benefit to zero out your cost for one or more airport prescreening services. Use your card before you head to the airport, and skip the long lines when you get there.
Final Notes on "Global Entry vs. TSA PreCheck vs. CLEAR: Credit Card Benefit Comparison (Sep. 2023)"
We hope this guide "Global Entry vs. TSA PreCheck vs. CLEAR: Credit Card Benefit Comparison (Sep. 2023)" has been a helpful resource for you in learning more about your financial options. In this guide, we've covered:
Global Entry, TSA PreCheck, and CLEAR: What's the Difference?
Cards With Global Entry, TSA PreCheck or CLEAR Benefits
Use Your Card to Breeze Through Airport Security
To learn more about options not mentioned here, be sure to check out other popular reviews from our team of experts:
We also encourage you to check back at this URL regularly, as we update the offers listed in "Global Entry vs. TSA PreCheck vs. CLEAR: Credit Card Benefit Comparison (Sep. 2023)" and other guides on a daily basis.
Advertiser Disclosure
CardRates.com is a free online resource that offers valuable content and comparison services to users. To keep this resource 100% free, we receive compensation for referrals for many of the offers listed on the site. Along with key review factors, this compensation may impact how and where products appear across CardRates.com (including, for example, the order in which they appear). CardRates.com does not include the entire universe of available offers. Editorial opinions expressed on the site are strictly our own and are not provided, endorsed, or approved by advertisers.