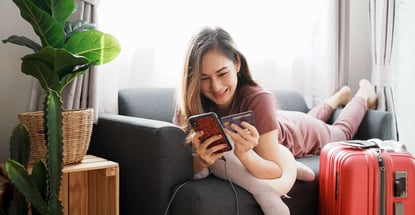 I find it impossible to spend less than $300 on my weekly grocery shopping trip, even though my cart is only half full. But knowing that my credit card awards me triple points takes away some of the sting. 
If you use credit cards, you may as well use the ones that offer the most bonus points. Here, we review the cards that offer the biggest rewards when you sign up — and when you make purchases. 
Adding one or more of these cards to your wallet can reduce the sticker shock when you go shopping.
Points Cards With the Biggest Signup Bonuses
Cards that offer the most generous signup bonuses attract new members by offering points usually worth $750 or more. These are our picks for the best of the bunch.
Remember that card issuers frequently alter their signup bonuses, so check their websites for the latest information.
The Chase Sapphire Preferred® Card provides plenty of perks for its moderate annual fee. Historically, it has offered a signup bonus equal to or larger than the one from the more expensive Chase Sapphire Reserve®.
As with the Ink Business Preferred® Credit Card, this card's points are worth 25% more when you redeem them for travel through the Chase Ultimate Rewards program. And according to Kayak, you can pay for a roundtrip flight to London using the points you earn from the card's welcome bonus.
Chase Sapphire Reserve® is one of the best credit cards for travel rewards. It has a high annual fee, but its welcome bonus is large enough to pay the first year's fee — with a bit left over. The card delivers the bank's largest value for points you redeem for travel (150%) through Chase Ultimate Rewards. 
The card provides numerous rewards, credits, reimbursements, and travel and consumer spending benefits. Note to owners of the Chase Sapphire Preferred® Card: You are not eligible for another signup bonus if you upgrade to the Chase Sapphire Reserve® card.
A large welcome bonus is just one of the reasons why business owners like the Ink Business Preferred® Credit Card from Chase Bank. You must spend a fair amount to earn the signup points, but a small company or startup may have no problem meeting the credit card's bonus requirement through routine business purchases. 
The card's Chase Ultimate Rewards points are worth 25% more when you redeem them for travel. Business travel is also much more affordable when you pay for your tickets with the card's super points. 
While most signup promotions give you three months to fulfill the spending requirement, The Platinum Card® from American Express stretches the deadline to six months. That should be plenty of time for many new owners of this premium credit card.
You'll have to fork over a hefty annual fee to own this travel card. But The Platinum Card repays you through various credits, rebates, and freebies. For example, free access to the Global Lounge Collection can save you hundreds in fees each year. This is the best rewards credit card American Express offers.
Points Cards With the Highest Ongoing Rewards Rates
It's not surprising that three of the cards with the highest annual fees also provide the best ongoing rewards rates. We've added reviews for some other beneficial credit cards to consider.
As the bank's flagship travel reward card, Chase Sapphire Reserve® delivers high to ultra-high rewards for the flights, hotels, and car rentals you book through Chase Ultimate Rewards. Those high reward rates begin once you fulfill the card's annual spending requirement. The card offers several credits and reimbursements for expenses, including TSA Precheck and Global Entry fees.
You can redeem points in several ways, including transferring them to more than a dozen travel and hotel partners at a 1:1 ratio. You can also redeem your points for cash, gift cards, or pay for Apple, Amazon, and PayPal purchases. 
Compared to Chase Sapphire Reserve®, the Chase Sapphire Preferred® Card offers a better ratio of bonus rewards to annual fee. For example, the two cards offer the same bonus rate for the flights you book through Chase Ultimate Reserve, yet the annual fee for the Chase Sapphire Preferred® Card is 17% lower.
The card provides generous insurance benefits for flights, car rentals, lost luggage, and an annual hotel credit. Each account anniversary year, you'll earn bonus points that equal 10% of your total spend from the purchases you made with your credit card during the previous anniversary year.
The Platinum Card® offers a high bonus rate on flights and hotel stays that you book through American Express Travel or directly from the provider. The card has no preset spending limit (NPSL) when you pay your total balance each month.
You can enroll in Pay Over Time to spread your payments over multiple months, up to your POT credit limit. Cardholders may also use Plan It® to split payments for select large purchases into monthly installments with a fixed fee.
The U.S. Bank Altitude® Reserve Visa Infinite® Card provides tiered reward points for hotel, car rental, travel, and mobile wallet purchases. Although it has a relatively high annual fee, you can recoup most of it through reimbursements on eligible purchases.
As a Visa Infinite card, it has a starting credit limit of $10,000. We appreciate its complimentary access to Priority Pass lounges, but the perk expires after 12 months. To receive the card's top bonus rate on hotel stays and car rentals, you have to book them in advance through the Altitude Rewards Center.
The Citi Premier® Card offers a tiered reward structure that provides bonuses on gas supermarket purchases, and other common spending categories. This card charges a moderate annual fee, but the introductory signup bonus and ongoing rewards justify it.
You can redeem ThankYou Points in several ways, but they generally deliver the best value when you use them for free flights through the Citi Travel Portal. And be on the lookout for limited-time travel offers that Citi occasionally adds.
What Is a Points Rewards Credit Card?
Credit cards typically offer rewards in the form of cash back, points, or miles. Points-based credit cards allow you to earn rewards by providing a specified amount of points per dollar when you make eligible purchases. 
Points cards may offer flat, tiered, or rotating rewards. A flat rate pertains to all eligible purchases, whereas a tiered rewards program provides additional reward rates. 
For example, if gas purchases earn three points per $1 spent, it's easy to see how quickly the rewards can accumulate. You'll pile up 3,600 points annually if you spend $100 monthly on gas. Most points are worth one cent each, so you could convert your 3,600 points to $36.

Some cards assign their highest point rate to quarterly rotating categories, such as entertainment and dining. You must enroll every quarter to receive the high payout. These cards may also have additional reward tiers, and all cards have an unlimited flat rate (typically 1% to 1.5%) on all remaining purchases.
Some points rewards cards have points that expire if you don't use them within a certain period. But most offer points that never expire as long as the account remains open and in good standing.
You can redeem points in several ways. You may purchase items through the card's online portal, and you can often find deals through the rewards program. Most issuers also allow you to redeem your points for cash back, gift cards, or statement credit. 
Some points rewards cards charge an annual fee, but many do not. Typically, cards with higher annual fees offer more benefits or a higher rewards rate. You should weigh the fee against the card's potential benefits and rewards to see if they justify the cost.
Most points cards provide multiple perks, which may include travel insurance, purchase protection, extended warranty coverage, or access to unique events or experiences.
What Is a Signup Bonus?
Credit card issuers frequently offer signup (or welcome) bonuses as promotional incentives when customers open new credit card accounts. They design these bonuses to attract new cardholders. 
Welcome bonuses can be quite lucrative. Credit card issuers offer a certain number of bonus points, miles, or cash rewards if a new cardholder satisfies specific requirements. For example, a card may offer 50,000 bonus points if the cardholder spends $3,000 on purchases in the first three months after account opening.
Some bonuses may have other requirements or limitations.

Once you earn the bonus, you can redeem it according to the card's rewards program. For example, you may use your bonus points for travel, statement credit, gift cards, or other specified rewards.
The actual value of a signup bonus can vary widely. For example, while 50,000 points may sound astronomical, the real-world value depends on how you redeem those points. In some programs, 50,000 points may be worth $500, while in others, they may be worth more.
You may be ineligible for a signup bonus if you have received one from the same issuer in the last several years. 
Compare a credit card's annual fee to its signup bonus and other benefits when deciding whether to apply for the card. 
How Do I Maximize My Rewards?
Maximizing credit card rewards requires you to decide which cards to own, ensure you use the best card for each purchase, and redeem your rewards to extract the most value.
Here are several strategies to get the most value from your credit card rewards. 
Choose the Right Card
Select a card that offers higher rewards in categories where you spend the most (e.g., travel, dining, gas, groceries, and others).
Consider cards with significant signup bonuses, but ensure you can meet the spending requirements without financially overextending yourself. You may want cards that also offer 0% APR promotions to new cardmembers for six to 21 months. 
A 0% intro APR on purchases allows you to stretch payments over multiple billing periods without incurring interest charges. Securing a 0% intro APR on balance transfers is valuable for consolidating credit card debt while avoiding interest payments.
Understand Your Rewards Program
Consider using multiple credit cards optimized for different spending categories to earn maximum rewards. For example, use Card A for gas purchases and Card B for travel based on each card's reward rates.
You should know the rewards rates for each card's different merchant categories to earn points. Some cards offer rotating categories or periodic promotions with enhanced rewards. 
If there's a signup bonus, ensure you meet the spending threshold within the required time frame.
Avoid Interest and Fees
To maximize rewards, avoid interest by paying the entire statement balance each month. Weigh the card's annual fee against the value of the rewards and benefits. 
Sometimes, a card with an annual fee offers rewards and benefits that far outweigh the cost.
Redeem Wisely
Issuers occasionally introduce promotional offers that allow you to earn extra points or cash rewards. Some rewards programs have special redemption offers, including discounted flights or gift cards.
Points and miles can vary in value depending on how you redeem them. Research the best redemption options to ensure you maximize the value.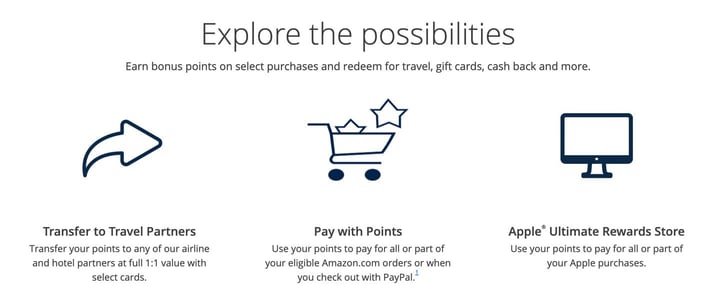 Co-branded airline cards typically offer frequent flyer miles with values based on the airline's loyalty program. These programs are subject to change with little notice.
Some cards allow you to transfer points to airline or hotel partners that may provide higher redemption values. Also, if your rewards have an expiration date, ensure you redeem them before they expire.
Use the Card's Benefits
Many rewards cards have additional benefits such as travel insurance, purchase protection, and airport lounge access. These perks can add plenty of value.
Some cards provide tools and apps to help you track your points across various programs. Credit card issuers may change rewards structures or terms, so stay informed and adapt your strategy accordingly.
Maintain Good Credit Habits
Ensure you pay at least the minimum due on time to avoid penalties and to keep your rewards intact. Also, try to use less than 30% of your available credit to maintain a good credit score.
Your spending habits, rewards programs, and available credit cards can always change. Periodically check your current cards to see whether they still make sense for your spending habits and goals.
It's not a good idea to overspend or carry balances month-to-month just to earn rewards. Your interest charges and potential debt can quickly wipe out any benefits you receive from your credit cards.
Are Points Better Than Cash Back?
Neither type of credit card reward is fundamentally superior, and your choice of reward type depends on several factors.
You may prefer cash back if you're looking for a straightforward rewards program. The rewards value is explicit, and you don't have to interpret how much they are worth. You can use your cash back for anything, and many cash back cards don't charge an annual fee.
Despite these advantages, cash back may not be as valuable as points, especially when it comes to travel rewards. For example, some Chase Bank credit cards offer point rewards that increase in value when you redeem them for travel through its Chase Ultimate Rewards portal.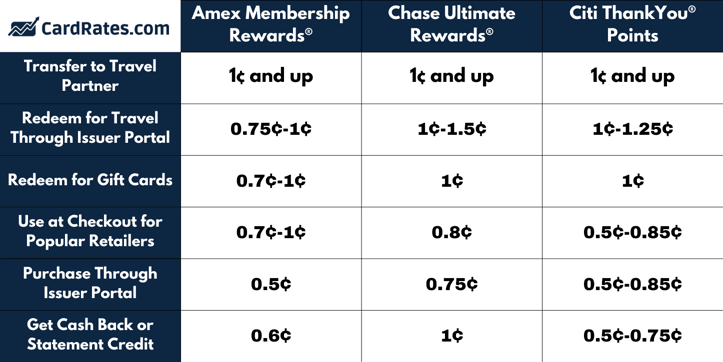 Many points cards allow you to redeem your rewards in several ways, including cash back, statement credit, gift cards, and purchases from select merchants. You may have the option to transfer points to other loyalty programs to provide more value.
Travel cards typically offer point or mile rewards. These cards often come with travel-related benefits, including airport lounge access, travel insurance, or no foreign transaction fees, that cash back cards may not provide.
Understanding how to maximize points value may require some effort. You may need to research how much your points will be worth if you transfer them to a partner program. Also, the best point cards often charge a substantial annual fee.
A points-based card may be a better choice if you like to travel and are willing to invest time and effort into maximizing rewards value. But If you prefer a simple, tangible reward and don't want to deal with complicated programs, a cash back card may be the better option.
How Do I Get a Credit Card With High Bonus Points?
Knowledge is the key to obtaining credit cards with the best points and rewards programs. You should survey the current marketplace to find which cards best meet your requirements. Here are some tips to guide you through the process:
Research current offers: You can use reputable credit card review websites like ours to research cards with big signup bonuses. Visit the websites of various credit card issuers to monitor for special promotions or limited-time offers. Check to see if you have any prequalified or pre-approved offers from card issuers, as these sometimes come with exclusive bonuses.
Understand the requirements: Most cards with high bonus points require you to spend a certain amount within the first few months of account opening to earn a bonus. You should also be realistic about meeting the spending requirements without overspending or carrying a balance.
Check eligibility criteria: High bonus point cards often require good to excellent credit scores. It's a good idea to check your credit score before applying. In addition, some issuers have rules limiting your eligibility for signup bonuses if you've previously owned their cards.
Consider annual fees: Cards with high bonus points often come with annual fees. Weigh the fee against the value of the bonus points and any additional benefits the card provides.
Apply for the card: Once you identify a card that matches your requirements, and you meet its eligibility criteria, apply online, over the phone, or in person, depending on the issuer. Many cards allow you to prequalify without impacting your credit score. Be accurate and thorough when you fill out the application, as discrepancies can cause issuers to delay or deny approval.
Use the card strategically: When you activate a new card, remember to meet the spending requirements within the specified time frame to earn the bonus. Use multiple credit cards to maximize point earnings based on bonus categories and special promotions. By joining a card issuer's email list or app, you can stay informed about exclusive offers to earn additional bonus points. Periodically review your portfolio of credit cards to see if you are maximizing points as your spending habits or needs change, or as new offers become available.
Maintain good credit habits: Always pay your entire balance each month to avoid interest charges that reduce the value of your rewards. Pay on time to avoid late fees and maintain a good credit score.

Credit cards with high bonus points can be enticing, but you should consider the overall package, including fees, other benefits, and interest rates. 
Whose Credit Card Points Are Worth The Most?
The points you earn from the Chase Sapphire Reserve® card gain 50% in value when you use them to book travel through Chase Ultimate Rewards. We think this makes Chase Sapphire Reserve® points the best in the business.
But the card charges a hefty annual fee and may not be your favorite choice. Here are some other issuers that offer valuable point rewards programs:
American Express Membership Rewards: Cards including The Platinum Card® from American Express and the American Express® Gold Card allow you to redeem points in many ways, including transfers to travel partners, which can sometimes yield high value.
Citi ThankYou Rewards: Cards such as Citi Prestige and Citi Premier® Card allow you to transfer points to several airline partners. The point redemption value can vary based on the airline you choose.
Capital One Miles: Products such as the Capital One Venture X Rewards Credit Card allow you to use miles to erase travel purchases or transfer them to several travel partners. You also have access to unique benefits when you book through Capital One Travel.
Hotel rewards programs: The Marriott Bonvoy, Hilton Honors, and World of Hyatt cards offer points redeemable points for hotel stays, or you can transfer them to partner airline programs.
When selecting the best points card to match your travel and spending habits, consider factors such as flexible redemption options, points transfers to travel partners, bonus redemption opportunities, and point valuations.
How Should I Choose the Best Points Rewards Credit Card?
Many consumers check reviews and simply pick the highest-rated card, but make sure you seek reviews and recommendations from reputable financial websites. They often provide updated lists of the best reward cards. It's a quick and effortless way to get a credit card that caters to your specific financial needs.
You may require a more elaborate strategy to choose the best points rewards credit card based on your spending habits, travel preferences, and the types of rewards you value most. 
Here are a few ways to address those factors:
Your Spending Habits
Start by determining where you spend the most money each month — including dining, groceries, gas, travel, and other costs. Choose cards that offer bonus points in those categories. 
Cards with attractive signup promotions specify spending thresholds and deadlines to earn bonus points. Ensure you can meet these targets without busting your budget.
Your Rewards Preferences
If you frequently travel, you may benefit more from a travel-specific card. Otherwise, a general rewards card may suit you better.
If you have a favorite airline or hotel chain, look for cards that partner with companies in those categories and allow point transfers.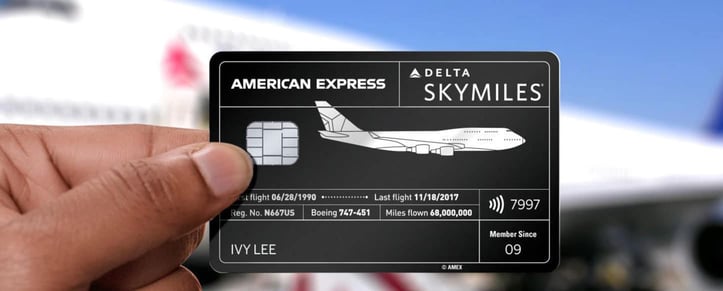 Consider how you'd prefer to redeem your points. Some cards, including the Chase Sapphire cards, offer higher redemption values for specific categories or through particular portals.
Credit Card Costs and Limitations
Weigh the card's annual fee against the potential rewards and benefits. An issuer can often justify a higher annual fee for cards that offer the rewards, benefits, or credits you want.
Some issuers have specific rules about how often you can earn signup bonuses or how many cards you can apply for within a certain period.
If you travel internationally, look for cards that don't charge foreign transaction fees.

Pay close attention to the card's APR if you regularly carry a balance. It's best to pay off your balances each month if you aim to maximize your net rewards. 
Check if the card's points expire or if there's a cap on how many you can earn. While merchants widely accept Visa and Mastercard worldwide, American Express and Discover may have limited acceptance in some countries.
Premium rewards cards often require a good to excellent credit score. Ensure you meet the card's credit requirements before applying — or see if you can prequalify for the card.
Additional Benefits
The best points cards offer travel insurance, lost luggage reimbursement, and trip delay coverage, among other perks. Extended warranties, purchase protection, and price protection also add value.
Some cards provide access to extraordinary events, concierge services, or airport lounges. You may want a travel reward card that allows you to transfer points to partner programs. The best cards support 1:1 transfers. 
The bottom line is that the best points rewards credit card for one person may not be the best for someone else.
Compare the Credit Cards With the Most Bonus Points
Consumers with good to excellent credit will have little trouble finding multiple credit cards that offer attractive signup bonuses and point rewards. We have reviewed the leading candidates for addition to your wallet.
Earning a boatload of bonus points when you obtain a new credit card is just the start. With careful planning, you can deploy your credit cards strategically to maximize point rewards on virtually any purchase. Before you know it, you may find a few hundred thousand points in your account, ready to pay for your next vacation or big-ticket purchase.
Advertiser Disclosure
CardRates.com is a free online resource that offers valuable content and comparison services to users. To keep this resource 100% free, we receive compensation for referrals for many of the offers listed on the site. Along with key review factors, this compensation may impact how and where products appear across CardRates.com (including, for example, the order in which they appear). CardRates.com does not include the entire universe of available offers. Editorial opinions expressed on the site are strictly our own and are not provided, endorsed, or approved by advertisers.