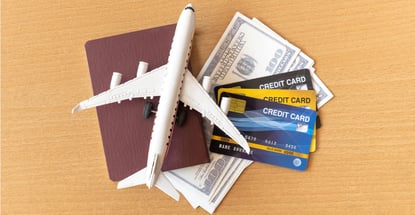 The miles vs cash back controversy is truly a tempest in a teapot. The reason is simple enough: Most consumers can qualify for at least one rewards card of each type.
However, each type has its strong and weak points that dictate when best to use them. And if you are the "one card is all I want" type (I'm looking at you, Gen Z), you'll have to live with your decision every time you go shopping.
With pressure like that, we suggest you continue reading to learn more about your options. We think you're likely to find at least one card that will harmonize perfectly with your lifestyle.
Miles Cards | Cash Back Cards | FAQs
5 Best Miles Cards
If you like to — or have to — travel often, these five cards are good choices. Three offer travel card miles, that is, miles issued by the card that can be redeemed for flights on any airline. The other two are co-branded cards that reward you with Delta SkyMiles. If Delta is your preferred airline, you'll find these two cards compelling.
Enjoy a one-time bonus of 60,000 miles once you spend $3,000 on purchases within 3 months from account opening, equal to $600 in travel
Earn unlimited 2X miles on every purchase, every day
Miles won't expire for the life of the account and there's no limit to how many you can earn
Receive up to $100 application fee credit for Global Entry or TSA Pre✔®
Redeem on travel—including flights, vacation rentals, car rentals and more. Plus transfer your miles to over 15+ travel loyalty programs
No foreign transaction fees
| | | | | |
| --- | --- | --- | --- | --- |
| | | 17.24% - 24.49% (Variable) | | |
You can redeem your Capital One Venture Rewards Credit Card miles to pay for past travel by using the Purchase Eraser® feature or book new travel reservations via the Capital One Rewards Center. Alternately you can cash in your miles, buy gift cards, pay for Amazon.com and PayPal purchases, or transfer them. This Visa card provides travel accident insurance, auto rental collision damage waiver, and 24-hour travel assistance services.
UNLIMITED BONUS: Only Discover will automatically match all the Miles you've earned at the end of your first year. For example, if you earn 35,000 Miles, you get 70,000 Miles.  There's no signing up, no minimum spending or maximum rewards. Just a Miles-for-Miles match.
Automatically earn unlimited 1.5x Miles on every dollar of every purchase - with no annual fee.
Redeem Miles to pay any part of your monthly bill, including your minimum payment.
Turn Miles into cash in any amount, any time. Or redeem as a statement credit for travel purchases like airfare, hotels, rideshares, gas stations, restaurants and more with no blackout dates. However you redeem, Miles keep the same value. And Miles never expire.
No Blackout Dates. Simply pay for travel purchases like airlines, hotels, rental cars, and more with your Discover it® Miles card.
Discover is accepted nationwide by 99% of the places that take credit cards.
| | | | | |
| --- | --- | --- | --- | --- |
| 0% Intro APR for 14 months | 10.99% Intro APR for 14 months | 11.99% - 22.99% Variable APR | | |
The Discover it® Miles offers several security features, including alerts if your Social Security number shows up on the dark web. This Discover card also provides $0 fraud liability and alerts when a new account is added to your credit report or when your credit report is pulled. A late payment won't raise your APR and this Discover card charges no over-limit fees, no foreign transaction fees, and no late fee on your first missed payment.
$0 annual fee and no foreign transaction fees
Earn a bonus of 20,000 miles once you spend $500 on purchases within 3 months from account opening, equal to $200 in travel
Earn unlimited 1.25X miles on every purchase, every day
Travel when you want with no blackout dates and fly any airline, stay at any hotel, anytime
Miles won't expire for the life of the account and there's no limit to how many you can earn
Transfer your miles to over 15+ travel loyalty programs
| | | | | |
| --- | --- | --- | --- | --- |
| | | 15.49% - 25.49% (Variable) | | |
The Capital One VentureOne Rewards Credit Card lets you redeem your reward miles to pay (retroactively via Purchase Eraser or in advance at the Rewards Center) for any travel purchase, including flights, rental cars, vacation rentals, and hotels. You can also cash in your miles, use them to buy gift cards, make Amazon.com purchases, or transfer them. You can manage the account online or with the mobile app, and the card automatically sends out account and security alerts.
Earn 10,000 bonus miles after spending $500 in purchases on your new card in your first 3 months of card membership
Earn 2X miles at restaurants (including takeout and delivery) and 2X miles for every dollar spent on eligible purchases made directly with Delta. Earn 1X miles on all other qualifying purchases.
Receive a 20% savings in the form of a statement credit after you use your card on eligible Delta in-flight purchases of food, beverages, and audio headsets
Take up to $50 off the cost of your flight for every 5,000 miles you redeem with Pay with Miles when you book on delta.com
$0 annual fee
The Delta SkyMiles® Blue American Express Card offers travel benefits that include around-the-clock help from the Amex Global Assist Hotline, no foreign transaction fees, and free car rental loss and damage insurance. Through American Express Experiences, you can access exclusive ticket presales for sporting events, concerts, shows, and more. You also get purchase protection against accidental damage and theft as well as a one-year extension on eligible warranties for your covered purchases.
Earn 50,000 Bonus Miles and 10,000 Medallion® Qualification Miles (MQMs) after you spend $3,000 in purchases and up to $100 back in statement credits for eligible purchases at US restaurants on your new Card in your first 3 months
Earn 15,000 Medallion Qualification Miles after you spend $30,000 in purchases on your card up to 4 times/year
Earn 3X miles on Delta purchases made directly with Delta -- all other purchases earn 1 mile per $1
Complimentary access into Delta Sky Club® plus two Delta Sky Club One-Time Guest Passes each year
Receive a domestic First Class, Delta Comfort+®, or Main Cabin round-trip companion certificate each year upon renewal of your Delta SkyMiles Reserve American Express card
$550 annual fee
| | | | | |
| --- | --- | --- | --- | --- |
| | | 15.74% - 24.74% (Variable) | | |
The Delta SkyMiles® Reserve American Express Card offers Delta's native frequent flyer miles that you can redeem toward the cost of a flight or for a Delta gift card that the recipient can use for any future Delta flight. You can also transfer your miles to other SkyMiles members, give them away to nonmembers, or donate them to a Delta-partnering charitable organization. You can even redeem them for magazine subscriptions.
5 Best Cash Back Cards
For many rewards card owners, there is simply no substitute for cash back. These five cards are popular, rewarding, and charge no annual fees — they are easy to get and easy to love.
One-time $200 cash bonus after you spend $500 on purchases within 3 months from account opening
Earn unlimited 1.5% cash back on every purchase, every day
No rotating categories or sign-ups needed to earn cash rewards; plus, cash back won't expire for the life of the account and there's no limit to how much you can earn
0% intro APR on purchases for 15 months; 15.49%-25.49% variable APR after that
$0 annual fee and no foreign transaction fees
| | | | | |
| --- | --- | --- | --- | --- |
| | | 15.49% - 25.49% (Variable) | | |
The Capital One Quicksilver Cash Rewards Credit Card offers a variety of benefits beyond the signup bonus, including a generous extended warranty program, travel accident insurance, and instant purchase notifications. You can redeem your travel rewards for cash, apply them to purchases from Amazon or PayPal, or use them to buy merchandise on the Capital One Shopping portal. As with all Capital One cards, Quicksilver lets you access Eno to obtain virtual card numbers that guard your account against theft.
The Discover it® Cash Back card provides free access to your FICO credit score via the Discover mobile app and on your monthly statements. Freeze it® lets you instantly switch your card off to prevent new transactions if you misplace your card. Discover cards are accepted by 99% of U.S. merchants that accept credit cards.
The Capital One SavorOne Cash Rewards Credit Card offers a nice variety of perks, including travel accident insurance, 24-hour travel assistance, complimentary service, special access to events, and extended warranty protection. You can apply your cash back to purchases made via Capital One Shopping, Amazon.com, and PayPal. SavorOne provides instant purchase notifications and charges no foreign transaction fees.
Technically, Chase Freedom Unlimited® provides cashback credit card rewards via easily redeemable points. You can use your points to pay for travel purchases or purchases made directly from merchants via Pay with Points, among other options. You receive $0 liability protection and frequent special deals with partners like DoorDash and Lyft.
If you also own a Chase Sapphire points card, you can convert your Freedom rewards points to Sapphire Ultimate Rewards points and increase their value by 25% or 50% when redeemed for travel on the Chase Ultimate Rewards website.
If you prefer a new bonus reward category each quarter, the Chase Freedom Flex℠ card gives you the same benefits as those from the Chase Freedom Unlimited® card, but with rotating travel rewards instead of fixed-tier credit card rewards. You can only get the welcome bonus if it's your first welcome bonus in the last 24 months.
Card benefits include free credit score reporting, $0 liability protection, and point upgrades if you also own a Chase Sapphire card.
What is the Difference Between Miles and Cash Back?
Competing for new cardmembers ain't beanbags. Every credit card company constantly evaluates how to attract new customers, and part of the card issuer strategy is to offer rewards on the eligible purchases you make with their cards. Those credit card rewards can take the form of credit card points, cash back, and miles.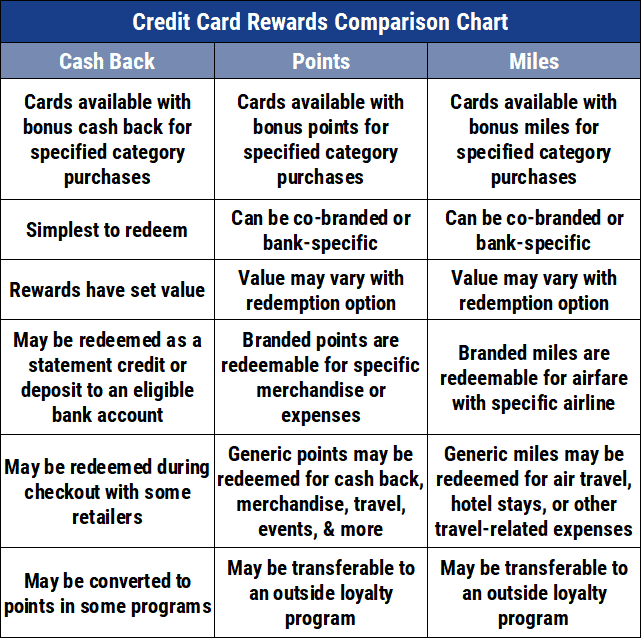 You can think of cash back as a permanent, after-the-fact cash rebate on the items you buy. You can receive your cash back by check, as a statement credit, or as a deposit to your bank account. In addition, many cards let you spend your cash back directly on purchases from selected sites and/or the credit card company's online rewards catalog, such as the Chase Ultimate Rewards shopping portal.
For folks who travel often, a travel credit card that dispenses travel rewards in miles can be advantageous. Normally, you earn one mile for each dollar you spend (i.e., 1X), but elevated reward rates, up to 5X, are often available on purchases from select merchants.
The redemption value of your miles rewards depends on a number of factors, including what you redeem them for and the nature of the miles rewards. Airline cards are co-branded, meaning they issue the partnered airline's frequent flyer miles.
Other credit cards issue their own general-purpose miles, called travel reward credit card miles, that can be used to purchase flights from any airline.
Are Miles Better Than Cash Back?
Miles can sometimes beat cash back, but in most situations, we prefer using a cashback credit card, since redeemed miles are often worth less than the nominal rate of one cent per point, and some miles cannot be directly exchanged for cash.
For example, you can't convert SkyMiles from the Delta SkyMiles® Reserve American Express Card or Delta SkyMiles® Blue American Express Card directly into cash. You can use them to purchase Delta gift cards on the shopping portal, but their value, in this case, is only about 0.7 cents each. You can sell your Delta SkyMiles to a third-party miles buyer, but the price is not guaranteed.
On the other hand, SkyMiles may be more valuable than cash when redeemed for Delta flights. Their value depends on the requirements of Delta's frequent flyer rewards program for your particular flight.
For a bonus miles credit card that is not co-branded, such as the Discover it® Miles, the cash value of each travel rewards credit card mile is normally 1 cent.
Cash back cards are straightforward because their cash value is explicit — there's no guesswork involved. That's why we generally prefer cash back cards, but there is a strong case to be made for owning both types. You may be able to maximize your rewards by using your air miles card for travel redemptions and your cash back card for everything else.
What Credit Score Is Needed For a Miles Card?
Generally, you need a good credit score to get a miles card. That's true of all five of the reviewed miles credit card offerings. On the FICO scoring range of 300 to 850, a good score is approximately 670 or higher.
If you check the travel credit card forums, you'll occasionally encounter reports of lower acceptable scores. In addition, a few secured airline cards offer mile rewards, such as the SKYPASS Visa Secured Card. No minimum score is required for a secured air miles card since you deposit cash collateral to cover your credit line.
What Credit Score Is Needed For a Cash Back Card?
The better cash back cards, including the ones reviewed above, are available to consumers with good credit. However, cards with a simple, unlimited flat rate, such as the Capital One QuicksilverOne Cash Rewards Credit Card, are available to consumers with average/fair credit scores (i.e., 580 to 669 on the FICO scale).
Student and secured cash back cards do not require any minimum score. Our top-ranked secured cashback card is the Bank of America® Customized Cash Rewards Secured Credit Card. Among student cash back cards, Discover it® Student Cash Back is our top choice.
How Many Miles Do I Need For a Free Flight?
The number of airline miles required for a free flight varies tremendously due to several variables, including:
your choice of airline
flight date, time, and departure/arrival locations
seating class
A survey conducted by our friends from ValuePenguin revealed the range of airline miles required for one free flight ranged from 5,000 to 147,000.
If you use a general miles credit card (such as the Capital One Venture Rewards Credit Card) that is not co-branded with any airline, the number of airline credit card miles required to buy a ticket is 100 times the ticket price. In effect, you are redeeming your travel rewards card miles for a penny each.
For co-branded miles credit cards, the required airline credit card miles needed for a free flight depends on the current travel rewards chart for the airline's frequent flyer rewards program. This changes over time, so you must refer to the latest information.
Cards that allow you to transfer their miles to partner airlines add another variable to the mix, namely the transfer ratio. A one-to-one ratio is best but is not always guaranteed.
Can Cash Back Be Redeemed For Travel?
Obviously, you use your cash back to purchase anything, including travel-related items. The real question is whether you can get a better deal than simply using your cash back to purchase travel.
Normally, the answer is no, with one glaring exception from Chase.
Chase Freedom Unlimited® and Chase Freedom Flex℠ are reviewed above as cash back cards, but they really offer Chase Ultimate Rewards points that can easily be cashed in.
They do have one secret power — if you also have a Sapphire points card from Chase, including the Chase Sapphire Reserve® or Chase Sapphire Preferred® Card, you can add your Freedom credit card points to your Sapphire stash.
Then, when you redeem your Sapphire rewards points for travel via the Ultimate Rewards website, they are worth 1.25X or 1.50X more, depending on the Sapphire card you have. Chase also allows you to transfer your points to someone you live with if you're feeling generous. This is especially advantageous if one person has a Freedom card and another has a Sapphire card.
The Great Debate: Miles vs Cash Back
As we often opine, cash back is simpler, easier to use for everyday purchases, and more flexible than miles. However, travelers, especially frequent ones of the sophisticated variety, can probably extract more value from a miles travel rewards card when optimally applied to travel expenses.
We say, get both! Click on the APPLY NOW buttons in the card summaries to get started. Always read the fine print and evaluate whether the cash back or travel card is the best choice for your lifestyle. We also prefer cards with no annual fee and no foreign transaction fees — so consider these tie-breakers when choosing between competing cards.
Advertiser Disclosure
CardRates.com is a free online resource that offers valuable content and comparison services to users. To keep this resource 100% free, we receive compensation from many of the offers listed on the site. Along with key review factors, this compensation may impact how and where products appear across the site (including, for example, the order in which they appear). CardRates.com does not include the entire universe of available offers. Editorial opinions expressed on the site are strictly our own and are not provided, endorsed, or approved by advertisers.