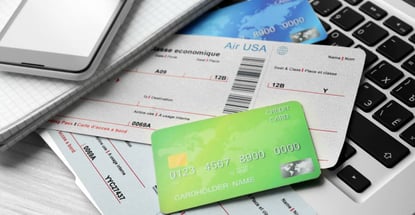 Americans travel a lot, whether for business or pleasure. If you have good credit, booking a car rental or a hotel isn't a problem — just whip out your credit card and you're ready to go. But if you've experienced financial challenges, you may have trouble qualifying for a travel credit card.
Fear not! This article reviews five travel credit cards for bad credit and a few for fair credit — a FICO Score above 580. These cards give you ample options for convenient and rewarding travel and the opportunity to improve your credit through prompt bill payment.
Best Signup Bonus
The Discover it® Secured Credit Card pays bonus cash back rewards for purchases at gas stations and restaurants, perfect for travelers embarking on a road trip. And at year-end, the Discover Cashback Match doubles the cash rewards earned by new cardmembers during the first year of card ownership. So all the cash back you earn over your first 12 months with Discover will be matched and credited to your account.
at Discover Card'ssecure website
No credit score required to apply.
No Annual Fee, earn cash back, and build your credit history.
Your secured credit card requires a refundable security deposit, and your credit line will equal your deposit amount, starting at $200. Bank information must be provided when submitting your deposit.
Automatic reviews starting at 7 months to see if we can transition you to an unsecured line of credit and return your deposit.
Earn 2% cash back at Gas Stations and Restaurants on up to $1,000 in combined purchases each quarter. Plus, earn unlimited 1% cash back on all other purchases – automatically.
Discover could help you reduce exposure of your personal information online by helping you remove it from select people-search sites that could sell your data. It's free, activate with the mobile app.
Get an alert if we find your Social Security number on any of thousands of Dark Web sites. Activate for free.
Terms and conditions apply.
| | | | | |
| --- | --- | --- | --- | --- |
| | 10.99% Intro APR for 6 months | | | |
The card is an excellent choice for rebuilding bad credit, as it reports to all three credit bureaus, requires no credit history or score to apply, and has low costs. 
Best For Cash Back
Our best cash back card for subprime travelers is the U.S. Bank Cash+® Secured Visa® Card, which pays 5% cash back on travel accommodations made online in the U.S. Bank Rewards Travel Center. This secured Visa card accepts security deposits of $300 to $5,000, depending on your qualifications. Your deposit goes into a secured savings account that earns interest while your account remains open and in good standing.
Earn unlimited cash back while building credit for the future. Start with a security deposit of $300 to $5,000.
Earn 5% cash back on your first $2,000 in combined eligible purchases each quarter in two categories you choose, 5% cash back on prepaid air, hotel, and car reservations booked directly in the Rewards Travel Center, 2% back on eligible purchases in your choice of one everyday category (like gas stations and EV charging stations, grocery stores and restaurants), and 1% back on all other eligible purchases.
Use your card everywhere Visa is accepted. Your secured card works and looks like any other credit card.
Choose your payment due date and enjoy zero fraud liability for unauthorized transactions.
No annual fee
The reward categories rotate each quarter or you can keep the same categories all year. This secured Visa card has several valuable benefits, including secondary auto rental insurance, $0 fraud liability, and automatic bill payment features. It charges a 3% foreign transaction fee, however, so we don't recommend it for travel abroad.
Best For Hotels and Car Rentals
The Capital One Quicksilver Secured Cash Rewards Credit Card offers the card issuer's best prices on thousands of trip options through Capital One Travel — even after you book. Hotels and car rentals booked through Capital One Travel earn 5% back, and you can apply your accumulated rewards toward the cost.
No annual or hidden fees, and you can earn unlimited 1.5% cash back on every purchase, every day. See if you're approved in seconds
Put down a refundable $200 security deposit to get a $200 initial credit line
Building your credit? Using a card like this responsibly could help
Enjoy peace of mind with $0 Fraud Liability so that you won't be responsible for unauthorized charges
You could earn back your security deposit as a statement credit when you use your card responsibly, like making payments on time
Be automatically considered for a higher credit line in as little as 6 months with no additional deposit needed
This card doesn't charge foreign transaction fees and provides an auto rental collision damage waiver for rental vehicles and automatic travel insurance for covered losses.
Best For Traveling Abroad
The Savings Secured Platinum Rewards Credit Card is suitable for international travel because it doesn't charge foreign transaction fees and offers a PIN, which some international merchants may require. You'll also earn rewards on every purchase you make, though not at a rate quite as high as those for the other cards on this list. 
All credit lines start at $250
Earn Flexpoints Rewards – 1 point for every $1 spent
Competitive low rate
Use the card responsibly and you can be automatically graduated to a Platinum Rewards Credit Card
Visa card benefits like Roadside Dispatch, a pay-per-use roadside assistance program
25-day grace period on purchases
But what this card lacks in rewards, it makes up for in spades with low fees and a low ongoing APR. This card is ideal for anyone who thinks they'll carry a balance from month to month.
Best For Flexible Rewards
The Bank of America® Customized Cash Rewards Secured Credit Card is the best credit card in this group for flexible rewards because it lets you choose a bonus reward category, including travel, dining, and gas. You can change your selected categories once per month. 
5. Bank of America® Customized Cash Rewards Secured Credit Card
This card is currently not available.
Additional Disclosure: The information related to Bank of America® Customized Cash Rewards Secured Credit Card has been collected by CardRates.com and has not been reviewed or provided by the issuer or provider of this product or service.
The minimum security deposit is low, there's no annual fee, and the bank will periodically review your account for an upgrade to an unsecured card.
You May Qualify For an Unsecured Travel Card With a Fair Credit Score (580+ FICO)
Consumers with fair credit can get a travel credit card without a security deposit. The following three cards rank well in our ratings and are suitable for domestic and international travel.
Earn unlimited 1.5% cash back on every purchase, every day
No rotating categories or limits to how much you can earn, and cash back doesn't expire for the life of the account. It's that simple
Be automatically considered for a higher credit line in as little as 6 months
Enjoy peace of mind with $0 Fraud Liability so that you won't be responsible for unauthorized charges
Help strengthen your credit for the future with responsible card use
Enjoy up to 6 months of complimentary Uber One membership statement credits through 11/14/2024
The Discover it® Secured Credit Card is a handy travel credit card because it doesn't charge foreign transaction fees and can provide emergency replacement of a lost or stolen card. You also get access to low-priced trip options at Capital One Travel. Other perks include cash back, credit scores and tools from CreditWise, and automatic credit line reviews in as few as six months.
at Aspire Card'ssecure website
Earn 3% Cash Back Rewards* on Gas, Groceries and Utility Bill Payments
Earn 1% Cash Back Rewards* on all other eligible purchases
Up to $1,000 credit limit subject to credit approval
Prequalify** without affecting your credit score
No security deposit
Free access to your VantageScore 4.0 score from TransUnion®†
*See Program Terms for important information about the cash back rewards program.
** Prequalify means that you authorize us to make a soft inquiry (that will not affect your credit) to create an offer. If you accept an offer a hard inquiry will be made. Final approval is not guaranteed if you do not meet all applicable criteria (including adequate proof of ability to repay). Income verification through access to your bank account information may be required.
† Your credit score will be available in your online account starting 60 days after your account is opened. (Registration required.) The free VantageScore 4.0 credit score provided by TransUnion® is for educational purposes only. This score may not be used by The Bank of Missouri (the issuer of this card) or other creditors to make credit decisions.
The Aspire® Cash Back Reward Card offers a competitive cash back rate on gas, groceries, and utility purchases. It's a Mastercard, so it's accepted by merchants worldwide. The card provides free credit scores, zero fraud liability, and transaction alerts. You can prequalify for this card without a hard credit inquiry.
Earn 10,000 bonus points after spending $1,000 on eligible purchases in the first 90 days that can be redeemed for a $100 statement credit, gift cards, or travel.
Earn 10X points on eligible hotels and car rentals booked using the Credit One Bank travel partner, 5X points on eligible travel, including flights, dining, and gas purchases, and 1X points on all other purchases.
Get up to 10% More Cash Back Rewards from some of the nation's top retailers! No offers to activate or points to redeem – you'll automatically earn Cash Back Rewards on your eligible purchases.
Track your online Experian credit score and view a summary of your credit report each month.
$95 Annual fee
The Credit One Bank Wander® Card is a Visa credit card that requires "average to excellent credit." That is a broad range of credit scores, but average is synonymous with fair in the credit world, and you can prequalify on the Credit One website to see whether you qualify without affecting your credit score.
What Is Bad Credit?
A FICO Score of 579 or below means you have a bad credit score and would benefit by actively working to improve your credit. Poor credit results from credit mistakes — your initial credit score is average and won't enter bad territory unless you endure challenges such as missing payments, defaulting on your debt, or filing for bankruptcy.
The system for assigning your credit score starts with the issuers of the credit cards you use. They send monthly data to at least one credit bureau and possibly all three (i.e., Equifax, Experian, and TransUnion). 
This information details your credit card activity, including charges, payments, and balances. Each bureau updates your credit report when it receives new information.
The credit bureaus use a credit scoring system (FICO is the industry leader) to assign you a credit score. FICO scores depend on five factors:
Heeding these five factors can help you boost your credit score and qualify for better credit cards.
What Is a Travel Credit Card?
As its name suggests, this kind of credit card offers features that save money and add convenience when you travel. Even the most modest travel cards may waive the foreign transaction fee and provide rewards for travel-related expenses.
Consumers look to travel cards for three broad categories of perks:
Rewards include cash back, points, or miles on travel-related purchases such as airline flights, hotel stays, car rentals, and gas at the pump.
Promotions for new cardmembers, including signup bonuses and 0% intro APRs for purchase and/or balance transfer transactions.
Benefits that save money on travel and make it more convenient.
Travel cards for poor credit often skimp on benefits, which is just one reason it pays to improve your credit.
What Travel Perks Are Available After Building Credit?
You have a much wider selection of travel cards after building credit. Look for the following perks once your FICO Score exceeds 670:
Generous travel rewards: You get extra points or miles for travel-related purchases, often 5X or more points per dollar spent. Welcome bonuses are also more lucrative, with some cards offering 100,000+ points for spending the required amount on purchases during a set period (typically three to six months). The introductory time frame for purchase or balance transfer 0% APRs often tops out at 15, 18, or even 21 months.
Redemption benefits: The best travel cards from Chase and Amex expand the value of redeemed points when you use them to book travel through the issuer's travel agency. For example, Ultimate Rewards from the Chase Sapphire Preferred® Card are worth 25% more when you redeem them through Chase Travel. Amex Pay with Points reimburses 35% of the points you use to book flights through American Express Travel. 
No foreign transaction fee: You should insist on this feature if there's international travel in your future. It can save you 3% or more on your shopping abroad.
Travel insurance: Good travel cards provide several types of insurance that cover illness and injuries while traveling, trip protection against unexpected cancellations, delays and interruptions, lost or delayed luggage, emergency evacuations, and rental car collision damage. Some credit cards offer emergency cash advances and card replacements when you travel abroad.
Access to airport lounges: This benefit is increasingly popular with travelers. It allows you and fellow travelers to access airport lounges for free or at a reduced rate on the day of travel. The best cards waive the fee for an unlimited number of visits. This benefit alone can save frequent flyers hundreds of dollars each year.
Statement credits for travel-related expenses: This benefit is often available on travel cards with triple-digit annual fees. You may receive a yearly reimbursement for travel purchases, cutting the net cost of card ownership by 50% or more. In addition, a travel card may offer to reimburse you for Global Entry or TSA PreCheck application fees, baggage check charges, and in-flight purchases. 
Travel upgrades: Co-branded hotel and airline credit cards often provide free or discounted upgrades on flights and hotel rooms. Some airline credit cards have complicated loyalty programs that involve multiple types of points, but many are simpler. Either way, you can use your miles to get a better seat on your flight or enjoy more luxurious hotel accommodations. 
For the best cards, travel benefits outweigh the annual fee. The Chase Sapphire Reserve® is a good example, where generous perks easily justify the triple-digit yearly charge. 
What Credit Score Do I Need For a Travel Rewards Credit Card?
Some secured travel cards do not check credit, meaning any credit score will suffice for membership. If you have a bad credit score, you may want to consider these cards first, given that most of the best subprime travel cards are secured.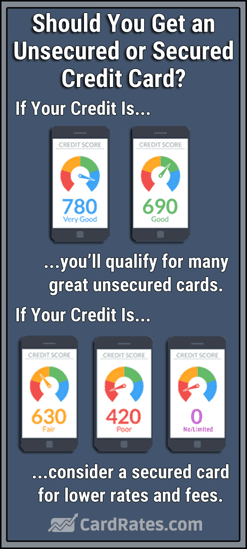 Unsecured travel cards generally require a minimum score of around 580, depending on a card's target audience. Most of these are cards for fair credit — unsecured travel cards for bad credit are exceedingly rare. 
As you approach 600, you become eligible for better credit cards with more significant benefits. If your credit score is below 500, you may be able to qualify for an unsecured store credit card but little else without a deposit.
FICO scores of 700 and higher can qualify you for most travel cards, so you should consider upgrading your travel card after you rebuild your credit. The key is to pay your bills on time and keep your credit utilization ratio below 30%.
With creditworthy behavior, you can eventually overcome any past credit mistakes.
Which Is the Easiest Travel Card To Get?
Hands down, secured cards are the easiest to obtain. The magic is in the security deposit — it shields credit card issuers from losses if you fail to pay your bill. A card issuer will tap your deposit if you fail to make a payment by the due date. 
Your credit line will decrease until you replenish your deposit. But multiple missed payments will force issuers to cancel your card.
Credit unions issue secured and unsecured credit cards, including the Savings Secured Platinum Rewards Credit Card reviewed above. These are usually easier to get than bank cards because members run credit unions and try to accommodate each other.
Minimum payments (typically less than 5% of the balance due) make it easy to avoid late payment problems, although they trigger interest charges that may become significant. At the very least, ensure you pay the minimum monthly amount to avoid late fees, penalty APRs, and possible card cancellation. 
Late payments will make it harder for you to get another credit card, even a secured one.
Is It Worth Going Into Debt to Travel?
Well, it depends on your circumstances and whether you can comfortably afford the debt payments. But it doesn't make sense to go into debt for a trip and then find it impossible to repay the money.
You may want to take an expensive vacation that you can't afford without stretching your credit card payments over several months. That's OK — travel credit cards are perfect for this type of debt. 
It would be wise to consider how long it takes to repay the card and how much you'll pay in interest.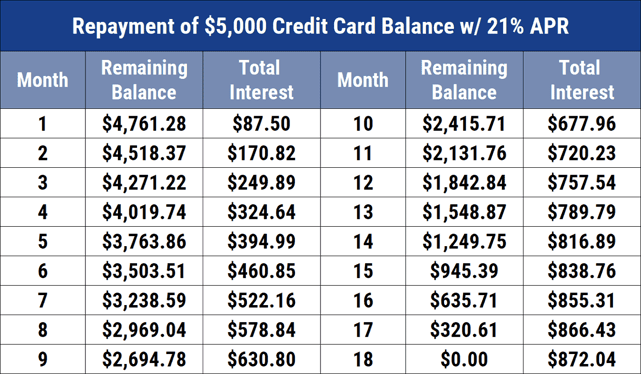 It can also make sense to finance travel selling at a discount. For example, a trip to Scandinavia may cost considerably less in December than in June. This presents an excellent opportunity to get a great travel deal, one possibly worth racking up some debt.
On the other hand, discretionary travel is a choice, not an obligation. Short of emergency travel, it doesn't make sense to take on debt you'll struggle to pay back. The prudent course is to budget your travel and either save up in advance or schedule the credit card payments required to repay the debt. 
Don't Let Bad Credit Keep You From Getting a Travel Card
Our review of travel credit cards for bad credit should reassure subprime consumers that they can overcome past credit challenges and get a decent credit card. 
Look for the ones that provide the best travel rewards and benefits. The odds are that the preferred card will be secured and, therefore, easy to obtain. 
If the secured card promotes relatively rapid upgrades to unsecured status, you'll soon receive your deposit back and own a card that would have rejected your initial application. Keep rebuilding your credit, and you'll be eligible for better travel credit cards before you know it.
Advertiser Disclosure
CardRates.com is a free online resource that offers valuable content and comparison services to users. To keep this resource 100% free, we receive compensation for referrals for many of the offers listed on the site. Along with key review factors, this compensation may impact how and where products appear across CardRates.com (including, for example, the order in which they appear). CardRates.com does not include the entire universe of available offers. Editorial opinions expressed on the site are strictly our own and are not provided, endorsed, or approved by advertisers.