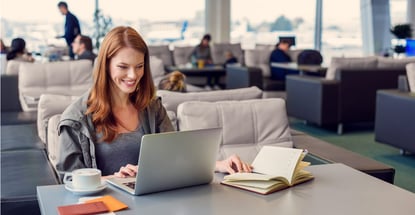 I used one of my credit cards with lounge access on a recent family vacation to Disney World. Our party included a 5- and 1-year-old. I thought the adults on the trip would enjoy the lounges the most, but it was the two children that went gaga. Their parents still shudder at the destruction. 
Lounge access is a terrific perk for travelers. Credit card issuers understand its appeal and limit the benefit to their top, usually most expensive, credit cards. As we shall see, the degree of access varies by card, so choose carefully.
Best Travel Cards With Airport Lounge Access
This trio offers complimentary lounge access to cardholders and their guests. You'll pay a hefty annual fee, but these cards prove their worth for the provided comfort and convenience whenever you travel. 
Pay attention to a credit card's fine print to understand any limits on free lounge access for yourself and your guests. 
Capital One is so committed to airport lounges that it is building three of its own and promises more. The Capital One Venture X Rewards Credit Card gives you and two guests free, unlimited access to any Capital One Lounge (currently in Dallas-Fort Worth, Denver, and Washington DC). A typical Capital One Lounge offers amenities that include healthy, chef-inspired food, high-speed wifi, and relaxation rooms.
As a Visa Infinite card, this Capital One travel card also gives you complimentary Priority Pass membership and unlimited access to Priority Pass lounge locations. Snacks and drinks (including adult beverages) are free at most Priority Pass lounges. 
The Chase Sapphire Reserve® is your passport to the bank's new lounge network, Chase Sapphire Lounge by The Club. The first five locations are New York, Boston, San Diego, Phoenix, and Hong Kong. The card also provides complimentary access to Priority Pass lounge locations across the globe. Each Sapphire Reserve cardholder can bring two guests for free.
If you'd like free membership in the Admirals Club, the Citi® / AAdvantage® Executive World Elite Mastercard® is your ticket. The card offers you and two traveling guests complimentary access to more than 50 lounges worldwide. 
The Platinum Card® from American Express provides complimentary access for you and two guests to more than 1,400 members of the Amex Global Lounge Collection in 140 countries. The collection includes Delta Sky Club, Lufthansa, and American Express Centurion Lounge locations. 
The U.S. Bank Altitude® Reserve Visa Infinite® Card card is stacked with travel benefits, including complimentary Priority Pass membership, a statement credit to reimburse your application fee for TSA PreCheck or Global Entry, and Visa Infinite Concierge to help assist with travel plans and reservations. Complimentary lounge amenities include snacks, drinks, wifi, and personalized travel assistance.
Complimentary Sky Club access is just one of the perks of the Delta SkyMiles® Reserve American Express Card. Admittedly, the card's purchase rewards are mediocre, but other benefits make this a solid choice for frequent Delta flyers. 
Ordinarily, you can bring two guests at a per-visit rate of $50 per person, but cardowners receive two one-time Sky Club guest passes per year. In addition, you get complimentary access to the American Express Centurion Lounge Network when you book a Delta flight with your Reserve Card.
Corporations and business owners may find the high annual fee of the Business Platinum Card® from American Express well worth it, especially if they often fly on Delta or Lufthansa. It offers the same lounge access (and nose-bleed annual fee) as the personal Platinum Card. New cardowners can select from three card designs.
The Luxury Card™ Mastercard® Black Card™ provides Priority Pass Select membership to more than 1,300 airport lounges, mini-suites, and restaurants worldwide. You and your guests enjoy unlimited visits per year.
What Is an Airport Lounge?
The function of an airport lounge is to provide a calm oasis amid the hubbub of airport activity. Once identifiable by discreet wall plaques, airport lounges nowadays are big and bold, beckoning weary travelers to shell out a few hundred dollars for an annual card membership. 
You can save that money by getting a credit card with complimentary airport lounge access. Yes, this kind of card usually has a high annual fee, but the best offer value that exceeds the cost.
Even the most basic airport lounge offers comfortable seating and room to stretch out or work. Large-screen TVs, good cellphone reception, reading material (often downloadable), and personalized travel assistance are also standard.
The more opulent lounges shower you with, well, showers, plus sleep facilities, complimentary food and drink, and even a clothes-pressing service. Some offer craft cocktails (often at no cost), beers, wines, and premium liquors. A few can sell you a hot meal. 
A lounge network may span the globe or have only a few select locations. The number and distribution of lounges accessible through a credit card benefit varies considerably. 
Owning a card with complimentary lounge access isn't enough to get you in the door. You may have to join the offered lounge network(s). In addition, you must present a same-day boarding pass and some form of ID. Some lounges admit travelers no sooner than three hours before departure. 
Covid-19 shut down many lounges when the pandemic first arrived. Today, most lounges have reopened, although they may restrict certain features. Check with your lounge network to see the current status of the facilities you plan to use. 
Three massive US airline fleets — American, Delta, and United — operate lounge networks. Owning a credit card co-branded with one of these carriers limits you to the proprietary lounges, although some cards extend access to other lounge networks that dot the globe.
Annual card membership is not cheap. Look for prices around $500 for individuals and more than $800 for couples. These costs help justify the annual fees that these credit cards charge. 
If you don't travel often, you may prefer to purchase day passes, typically $50 to $75 per person. Priority Pass charges a $99 annual fee plus $27 per visit. Alternatively, you may get complimentary lounge access if you have top status in your airline's frequent flyer program. 
International premium-class flyers can typically take advantage of business- and first-class lounges outside the US without belonging to a lounge network.
If you're thinking about a lounge membership, getting one through a credit card is usually a better deal because of the card's other rewards and benefits.
How Do I Know If My Credit Card Has Airport Lounge Access?
Internet searches usually tell you whether a credit card offers airport lounge access. Try queries such as "Does the XXX card offer free lounge access?" or "Which credit cards provide complimentary lounge access?"
Of course, you must confirm the query results by reading a credit card's disclosures (not just the card's splash page, which may omit limits and restrictions).
The fine print reveals whether your access is unlimited or valid only for a few visits per year. You'll also find details regarding guests — how many you can bring, how often you can bring them, and how much you'll have to pay once you exhaust your free passes for the year.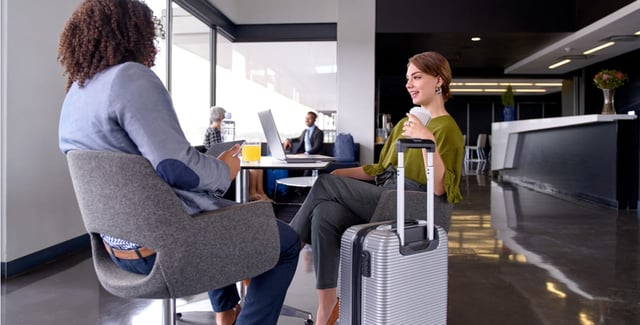 Also, check out the lounge facilities at your local airport. For example, if the airport has only a Delta Sky Club lounge, you must own an Amex or co-branded Delta credit card offering free access. Several credit cards grant you access to multiple lounge networks, a valuable perk if you frequently travel to various destinations.
You can also refer to articles specifically about credit card lounge access or, better yet, all the perks available from travel cards. You deserve the full range of benefits when plunking down a hefty annual fee.
What Credit Score Do I Need to Get a Credit Card With Lounge Access?
Credit cards that provide free lounge access invariably require applicants to have a good to excellent credit score. The cards usually charge a triple-digit annual fee, well above that of cards for lesser credit ratings. They also have the most generous credit limits, often exceeding $20,000.
In the FICO system, good credit scores begin at 670 on a scale of 300 (worst score) to 850 (perfect score).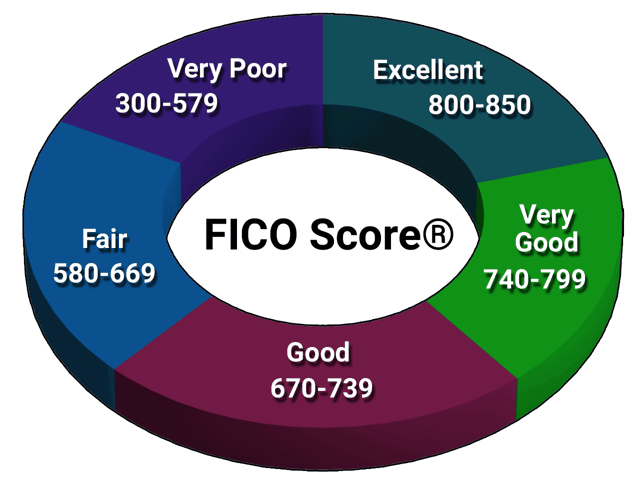 Obtaining a card with the lounge benefit is an incentive and reward for improving a less than good credit score. You can earn a desirable score in several ways.
Make Timely Payments
FICO bases 35% of your credit score on your ability to pay your bills on time. Virtually all credit cards provide an interest-free grace period of at least 21 days for those who pay their entire balances every month. 
The grace period extends from the billing cycle end date (or statement date) to the payment due date. You must make at least the minimum payment listed on your statement by the end of the grace period. 
Creditors report payments made 30 or more days late to one or more major credit bureaus (Experian, Equifax, and Transunion). This damages your credit score immediately and remains on your credit report for seven years. 
A single late payment can cause your credit score to drop by up to 100 points, but multiple occurrences take an even more substantial toll. Worse still, late payments may cause further damage to your credit score from debt collections, repossessions, foreclosures, and bankruptcies.
Paying your bills on time, every time, is the surest way to achieve a credit score high enough for credit cards with lounge access. 
Keep Balances Low
Another 30% of your FICO score stems from your credit utilization ratio, which is equal to your outstanding credit card balances as a percentage of your available credit.
FICO measures CUR on a per-card and overall basis. Values above 30% drive your score lower.

Your score will quickly improve if you reduce your CUR below the critical threshold. Low balances help reassure creditors that you can afford to repay new spending. 
Fix Your Credit Reports
Inaccuracies on your credit reports can depress your score. They include accounts you didn't open, charges you don't recognize, and missing payments. The Fair Credit Reporting Act allows you to challenge credit report errors by registering disputes with the major credit bureaus. You can do so online or by mail. 
You can fix credit report errors on your own or through a credit repair company. The DIY approach is free but time-consuming. Using a credit repair service costs between $50 and $150 a month, with subscriptions usually lasting four to six months.
The bureaus have 30 days to resolve your challenges. If you prevail, the bureau must remove the offending item, recalculate your score, and inform recent report recipients. 
Inspecting your credit reports at least once a year is an excellent practice. You can get a free copy of each report via AnnualCreditReport.com, a federally authorized source. Good credit management suggests checking your reports before applying for a new credit card or loan.
Become an Authorized User
Suppose you're planning a vacation and want to get an excellent travel card despite your fair or poor credit. One approach is to become an authorized user of another person's credit card. The cardowner remains solely responsible for the credit card bills, including your spending.
Becoming an authorized user of the right card can give you various travel perks, including airport lounge access. Moreover, most credit card issuers report authorized users to the credit bureaus, allowing you to improve your credit score through creditworthy behavior.
What Are the Best Airport Lounges?
The number of airport lounge brands is growing every year. Lounges offering access to eligible cardholders include:
Alaska Airlines, Hawaiian Airlines, and Virgin Atlantic also operate lounge networks.
What Are Other Benefits of Travel Cards?
Travel credit cards offer a wide array of benefits, including:
Credits and reimbursements for travel-related expenses
Early boarding
Flight cancellation insurance
Free baggage check
Free collision damage waiver
Free flights and seat upgrades
Free lounge access
Lost luggage insurance
No foreign transaction fees
Reduced in-cabin charges
Reimbursement for Global Entry or TSA PreCheck
Special travel deals and packages
Transferability of points or miles
Travel accident insurance
Travel credits
Trip and baggage delay insurance
As you can see, free lounge access is just one of many perks available from the best travel cards. While no single card offers every item, the reviewed Chase and Capital One travel cards have the widest arrays of benefits. 
How Do I Choose the Right Credit Card For Lounge Access?
With so many choices, selecting the best credit card offering lounge access can seem overwhelming. Here are a few tips to help you decide:
Consider the amount of access: If you fly frequently, you probably want unlimited access to airport lounges. Several credit cards provide only a few lounge passes per year, which may suffice for infrequent travelers. Cards with unlimited lounge access usually have the highest annual fees, so you can save some money by settling for limited entry. If you typically don't travel alone, consider the number of free lounge guests you can include. The reviewed cards usually allow one or two travel companions to accompany you to an airport lounge but may limit this privilege to one or two visits per year. 
Decide on the type of rewards you prefer: Travel cards offer cash back, mile, or point rewards. Compare the number of rewards per dollar spent and the redemption value of your rewards. For example, Chase Sapphire Reserve® Ultimate Rewards points are worth 50% more when you redeem them through Chase Travel. Also, pay attention to introductory promotions, such as signup bonuses and a 0% intro APR for purchases and balance transfers.
Compare other card benefits: High annual fees should provide generous benefits, and not all of them need to relate to travel. For example, you may be interested in extended warranties, cellphone insurance, or price protection. Some folks prefer metal cards to the plastic variety.
It's wise to take your time deciding which credit card fits best with your lifestyle. The right choice can save you hundreds or thousands of dollars per year.
Is Free Lounge Access Worth It?
It's a personal decision, but this writer's opinion is yes, definitely! Of course, I'm older and am easily irritated by the noise and rush of airports. The best airport lounges offer sanctuary and cocktails, an unbeatable combination.
But also consider the high annual fees you must pay to get free lounge access. If you don't travel often, you may prefer to buy day passes to lounges as you need them. Indeed, an occasional $150 for round-trip lounge access is cheaper than a $400+ annual fee. 
Complicating considerations are all the other perks that premium travel credit cards offer. For example, you'll probably be able to fatten up your savings account if your card has a $600 annual fee but issues you a $300 travel credit yearly and pays for luggage check, flight insurance, collision damage waiver, and TSA PreCheck fees. 
Choose a Credit Card With Free Airport Lounge Access
Our review of credit cards with lounge access reveals valuable candidates despite their high annual fees. The alternatives we list widen your opportunities to find a credit card that meets your requirements.
You can find out more about any of the reviewed cards by clicking on the APPLY NOW links next to each card. Understand all the details before applying for one of these expensive and rewarding credit cards.
Advertiser Disclosure
CardRates.com is a free online resource that offers valuable content and comparison services to users. To keep this resource 100% free, we receive compensation for referrals for many of the offers listed on the site. Along with key review factors, this compensation may impact how and where products appear across CardRates.com (including, for example, the order in which they appear). CardRates.com does not include the entire universe of available offers. Editorial opinions expressed on the site are strictly our own and are not provided, endorsed, or approved by advertisers.