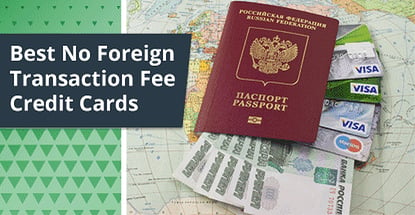 Planning a trip to another country can often be an involved process as dealing with passports, new languages, and unfamiliar customs can add layers of complexity to any journey.
And, of course, there is the fact that currencies tend to change at the border, meaning your money will have to change, even if your language doesn't. In an age where fewer Americans are carrying cash each year, the first thought on many minds is to turn to their trusty credit card while abroad.
But while many foreign businesses, especially in Europe, will accept credit cards from major issuers, many of those issuers charge cardholders for the cost of converting purchases to and from the local currency. These foreign transaction fees can be 3% or more of the purchase price, taking a bite out of your vacation budget. Luckily, tons of great no foreign transaction fee credit cards can be had these days, with many offering other great perks, too.
Let's take a look at a few of our top choices for these kinds of cards, including cards that offer travel rewards, cash back, no annual, chip-and-pin cards, and business credit cards.
Travel Rewards | Cash Back | No Annual Fee | Chip-and-Pin | Business
"Travel Rewards" Cards with No Foreign Transaction Fees
A natural fit for a credit card with no foreign transactions fees, travel rewards offer points or miles for every dollar spent, as well as often giving bonus miles for travel-related purchases. When comparing travel rewards cards, consider the rate at which you will earn rewards, as well as any bonus categories in which you may spend frequently.
Another thing to compare when looking at different travel rewards offers is the signup bonus. An easy way to jump-start your rewards, signup bonuses typically offer a large lump sum of points or miles for completing specific spending requirements in a given time period.
The best travel rewards programs will also offer flexible redemption options, allowing cardholders to redeem their rewards free from blackouts or brand restrictions. And while some travel rewards credit cards only allow points to be redeemed for airline tickets, the points and miles from our top picks can be used for many travel expenses, including flights and hotels.
Additionally, points redeemed for travel can often provide a greater per-point value than when they are redeemed for cash back or gift cards. The main catch here is that cardholders are typically required to use the credit card company's branded travel portal to book their travel, so weigh the extra point value against the difference in price when you redeem.
"Cash Back" Cards with No Foreign Transaction Fees
When considering a trip overseas, or just over the border, cost is always of concern, so anywhere savings can be had is worth exploring. That's where the cash back card comes in handy, acting like a rebate on every purchase that can save you a bundle on your trip — especially when your cash back card also charges no foreign transaction fees.
The main decision you'll have to make when choosing a cash back card is whether you'd like to earn rewards at a flat rate for every purchase, or if you would benefit more from a category-based program that gives bonus points for specific purchases. You'll also want to give some consideration to the signup bonuses offered by each card before making your choice.
Another factor to keep in mind when looking at cash back cards is the process for redemption. Some cash back programs will only redeem your rewards as a statement credit, while others will also send you a check or gift card. You'll also want to note any minimum redemption requirements; at 1.5% cash back, it can take about $1,600 worth of purchase rewards to reach a $25 minimum redemption amount.
"No Annual Fee" Cards with No Foreign Transaction Fees
In a perfect world, every credit card would come without fees — and we'd all have jet-packs. Sadly, we're still a long way from universal backpack propulsion devices, but we can get pretty close to a fee-free credit card by choosing one with no annual fee and zero foreign transaction fees. It can even help you travel.
In fact, our top picks for no annual fee cards to take abroad come complete with travel rewards programs that can help you save on your airfare or hotels. They can also eliminate the need to pay interest fees on your trip with an introductory 0% APR offer, making these credit cards about as fee-free as you can get.
Furthermore, because there's no annual fee to weigh down your rewards, the signup and spending rewards can be even more valuable, so compare programs carefully.
"Chip-and-Pin" Cards with No Foreign Transaction Fees
Already becoming ubiquitous in the US, the EMV credit card is the latest effort to make credit card transactions more secure and the cards themselves harder to duplicate. The EMV credit card is often called a chip card for the prominent chip — actually an integrated circuit — embedded in it, used to store the card's account and verification information.
The EMV cards used in the US are often authorized by the cardholder's signature, much like the traditional magnetic stripe cards. In many European countries, however, they instead use a chip-and-pin system, which requires a four-digit pin similar to a debit card.
Although most EU merchants can process chip-and-signature cards, travelers may run into some compatibility problems. This is particularly likely when trying to use self-service payment machines, such as ticket kiosks, which use an offline transaction verification processes that US credit cards are not typically configured to use.
To avoid any potential pitfalls — or the need to carry pocketfuls of the local currency — frequent travelers may wish to pick up a chip-and-pin card before their trip. With a good chip-and-pin card that doesn't charge foreign transaction fees, you'll be buying like a native in no time.
As with other types of credit cards, you'll want to compare rewards and signup bonuses when choosing a chip-and-pin card for your trip. You should also want to consider any annual fees, as these can take a bite out of your bonuses.
"Business" Cards with No Foreign Transaction Fees
Although many of our no foreign transaction fee picks are perfect for a fee-free vacation, not all trips are for pleasure. And when you're traveling for business, cost can be even more important than when you're on a pleasure jaunt, with every penny coming out of your company's bottom line. So why waste precious profits on foreign transaction fees?
Our picks for business cards with no foreign transaction fees are the perfect fit for any international executive or continent-hopping consultant, offering your choice of a card with unlimited cash back or one offering blackout-free travel rewards. You'll also see solid signup bonuses that can really help your business purchases pay off.
No matter which card you choose, keep in mind that a business credit card is not intended for purchases you will need to pay off over a long period of time. The interest rates charged by credit cards make it a bad idea to carry a balance for very long.
Save a Little & Travel a Lot with the Right Card
No matter how well you plan and prepare, going on vacation can sometimes leave you feeling, well, as though you need another vacation. This is especially true when traveling abroad, and dealing with all of the paperwork and cultural complications that foreign travel entails. As exhausting as the trip can be, however, the bill you open afterward can be what really takes it out of you.
Fortunately, with the right credit card, you can cushion the blow. Not only can you cut your expenses by 3% or more by choosing a card that charges no foreign transaction fees, but you can boost your value by selecting one with great rewards, no annual fee, or a convenient chip-and-pin configuration. Yes, with the help of a good credit card, you can globe-trot like a pro. And, hopefully, your lasting vacation memories will be of unique landmarks, delicious food, and good times with friends and family, and not the balance on your credit card afterward.
Final Notes on "7 Travel Cards with No Foreign Transaction Fee (Sep. 2023)"
We hope this guide "7 Travel Cards with No Foreign Transaction Fee (Sep. 2023)" has been a helpful resource for you in learning more about your financial options. In this guide, we've covered:
"Travel Rewards" Cards with No Foreign Transaction Fees
"Cash Back" Cards with No Foreign Transaction Fees
"No Annual Fee" Cards with No Foreign Transaction Fees
"Chip-and-Pin" Cards with No Foreign Transaction Fees
"Business" Cards with No Foreign Transaction Fees
Save a Little & Travel a Lot with the Right Card
To learn more about options not mentioned here, be sure to check out other popular reviews from our team of experts:
We also encourage you to check back at this URL regularly, as we update the offers listed in "7 Travel Cards with No Foreign Transaction Fee (Sep. 2023)" and other guides on a daily basis.
Advertiser Disclosure
CardRates.com is a free online resource that offers valuable content and comparison services to users. To keep this resource 100% free, we receive compensation for referrals for many of the offers listed on the site. Along with key review factors, this compensation may impact how and where products appear across CardRates.com (including, for example, the order in which they appear). CardRates.com does not include the entire universe of available offers. Editorial opinions expressed on the site are strictly our own and are not provided, endorsed, or approved by advertisers.