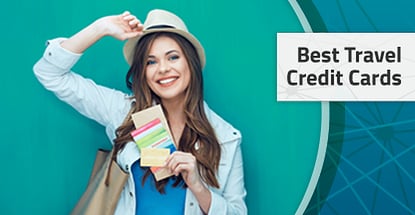 Although some may lack any desire to stir from their lives, many, many more are oft compelled to wander the world and see what it has to offer. Indeed, the desire to travel seems to be one shared by most people, albeit to varying extents.
Of course, whether your idea of a perfect journey involves a weekend road trip or a year backpacking around the world, there is one inescapable fact of modern-day travel with which we must all contend: Travel is rarely free.
While many resources exist that are full of tips and tricks for cutting your travel budget, you can also tackle the problem from the other end of things with smart credit card use. With the right travel credit cards, you can save on nearly any travel expense, including earning free flights, hotel stays, and more.
Given that we all have our own, unique travel goals, the right travel credit card — or combination of cards — will vary by individual. Happily, dozens of great options are out there, making it easy to find the best cards for maximizing your travel experience.
Overall | Points | Miles | No Annual Fee | Travel Insurance | Lounge Access
International | Business | Airline | Hotel | Cruise | Attractions | Gas
Best Overall Travel Credit Cards
While everyone's travel needs are unique, some travel credit cards are simply better than others. Our picks for overall best travel cards include options for various types of travelers that can, individually or together, meet many common travel card requirements.
One of the most popular travel rewards cards on the market, this card has just about everything you could ask for in a travel card, including triple points for both travel and dining expenses. And, the points you earn are Chase Ultimate Rewards® points, well-regarded for their redemption flexibility and the option to turn them into loyalty points with a number of airline and hotel brands.
This card is ideal for travelers who value flexibility above all else, offering a consistent redemption value, redeemable as a statement credit for a wide range of travel-related expenses. Or, transfer miles to a partner airline loyalty program to combine with your existing frequent flyer miles.
Another option for flexible, blackout-free travel, this card's miles redeem as a statement credit for a variety of travel purchases, including airfare and hotel stays. You'll earn miles for every dollar spent on all purchases, so you can count on miles adding up quickly.
Best Travel Credit Cards for Earning Versatile Points
For many travel rewards aficionados, the name of the game is maximizing their value. Luckily, maximizing points is made easier by the fact that most rewards points programs offer the best per-point value on travel redemptions. Some will also offer transfer options to partner loyalty programs that can further boost your value.
Although this card isn't as robust as its big sibling, it still offers very respectable points on travel and dining — Chase Ultimate Rewards® points, popular for their versatility and value — as well as providing many of the same travel protections. And it does it all with a fraction of the annual fee.
This card offers the same points on every purchase that can be redeemed as a statement credit to reiumburse you for eligible travel expenses. That means there are no blackout dates or category restrictions to comply with.
This card may come with a large annual fee, but it provides market-leading rewards on airfare and hotel stays.
Rewards can be redeemed for travel through Amex, or transferred to one of many partner airline or hotel loyalty programs. The card also comes with a wide range of additional travel benefits, including airline and Uber fee credit, airport lounge access, hotel elite status, and travel insurance.
Best Travel Credit Cards for Earning Flexible Miles
Although loyalty points and frequent flyer miles can be redeemed for great value with some planning, not all travelers want to go through the (sometimes substantial) bother of squeezing every last penny from their rewards. These flexible miles travel rewards cards offer the ability to redeem for travel expenses free of blackouts or brand restrictions.
One of the first cards to offer blackout-free redemption, this travel rewards card provides a solid unlimited earnings rate on every purchase. Redeem miles as a statement credit to cover many travel-related expenses — including things like hotels, airfare, rental cars, and parking fees — or transfer to a qualifying frequent flyer program.
This card's miles-per-dollar earnings rate is solid, but it's the other perks that make the card worth noting. They include no blackout dates so you can fly any airline and stay at any hotel, free access to your FICO credit score, and 24/7 customer service.
This card offers flat-rate miles on every purchase with no annual fee. You can transfer your miles to more than 15 leading travel programs, helping you get the most value for your rewards.
Best Travel Credit Cards with No Annual Fee
With a top-tier rewards card in your pocket, you can potentially earn hundreds of dollars a year in free travel, enjoy airport lounge access around the world, and reach elite hotel status without a single stay. You'll also likely fork over $400 or more for all those perks. Thankfully, you don't have to pay a fortune in annual fees to enjoy flexible travel rewards.
While this card's rewards miles rate is competitive, it's only one of the reasons to take a look at this card. Other features include a unique signup bonus plus simple, blackout-free redemption, free FICO credit score tracking, and free Social Security number alerts.
Domestic travelers who spend more on hotels than most other travel expenses can make the most of this card, but without the annual fee. Redeem miles as a statement credit for a variety of travel-related expenses.
This card pays even more rewards points — up to 2.62 points per $1 — for existing Preferred Rewards Bank of America customers, which means you could earn one of the highest flat-rewards rates around — all without paying an annual fee.
Best Credit Cards for Travel Insurance
The main goal of travel rewards card users may be to earn points and miles, but the secondary benefits of a good travel card can be worth just as much — if not more — to cardholders who can make the most of them. One such perk is travel insurance, which many top-tier travel cards offer. You can protect yourself from trip cancellations, flight delays, and even lost luggage.
In addition to its popular rewards program, this card offers competitive travel insurance benefits, including trip delay or cancellation insurance, delayed or lost luggage coverage, and emergency travel assistance.
If the annual fee of the above card dissuades you, never fear — the Chase Sapphire Preferred® Card offers a range of travel insurance benefits, including trip cancellation and interruption protection as well as baggage delay insurance all with a more reasonable annual fee.
In addition, cardholders can earn bonus points on travel purchased through Chase Ultimate Rewards®, and travel points transfer to all participating frequent travel programs.
Earn 50,000 bonus points worth $750 on travel when you spend $4,500 in the first 90 days of account opening.
Earn 5X points on prepaid hotels and car rentals booked directly in the Altitude Rewards Center.
Earn 3X points for every $1 spent on eligible travel purchases and 3X points on eligible mobile wallet purchases
Complimentary 12-month Priority Pass™ Select membership that gives access to more than 1,300 VIP lounges worldwide
Get reimbursed up to $325 annual credits for eligible travel purchases and dining, takeout, and restaurant delivery purchases
$400 Annual Fee
| | | | | |
| --- | --- | --- | --- | --- |
| | | 21.49% - 28.49% (Variable) | | |
This card has many of the travel-insurance bells and whistles you'd expect from a top-tier, high-fee travel rewards credit card. Cardholders receive trip cancellation or interruption insurance, trip delay reimbursement, lost luggage coverage, and travel emergency assistance.
Other than a pricey annual fee (which is mostly offset by the card's annual travel credit), the main downside to this card is its exclusivity: Only active U.S. Bank customers can qualify for this card.
Best Credit Cards for Airport Lounge Access
Travel rewards can be a great way to save on your travel expenses, but they're hardly the only reason many people go after the top-tier travel rewards cards; the fringe benefits are also a big draw. For example, these cards all offer cardholders access to hundreds of airport lounges, putting a new spin on a long layover.
Part of the Capital One family, this premium rewards card will grant you access to Capital One and Priority Pass lounges worldwide. The annual credits more than make up for the cost of the annual fee.
This premium card provides cardholders with access to the largest number of airport lounges through its Global Lounge Collection, including the prestigious Centurion Lounges, as well as Delta Sky Club® and Priority Pass lounges.
The elite perks don't stop once you leave the airport; this card also comes with elite hotel status with Marriott and Hilton, as well as premium car rental status and access to the Fine Hotels & Resorts® program.
This card offers access to over 1,000 global lounges and restaurants through complimentary annual Priority Pass™ Select program membership. Want into a lounge not in the program? The card's annual travel credit covers a wide range of travel expenses, including airport lounge day passes purchased directly with the airline.
Best Credit Cards for International Travel
For some travelers, one of the most compelling reasons to use credit cards while adventuring is the convenience of not having to deal with local currencies. However, not all cards are created equal on the international stage, particularly in the UK where chip-and-PIN authorization is common.
This card offers the same unlimited miles and no foreign transaction fees that make them ideal for international travel. Cardholders also earn a hefty signup bonus after meeting the spending requirements.
With this card, you'll receive up to a $100 credit for Global Entry or TSA PreCheck®.  You can fly any airline, stay at any hotel, anytime with no blackout dates and no foreign transaction fees.  Cardholders also enjoy a hefty one-time bonus once a purchase threshold is met in a specific time frame.
Formerly known as the BankAmericard Travel Rewards® card, this card offers flexible travel rewards at a competitive unlimited rate of 1.5X points per dollar on every purchase. It also comes chip-and-PIN enabled, charges no annual fee, and charges no foreign transaction fees for purchases in foreign currencies.
Best Business Travel Credit Cards
Although there are likely some well-traveled consumers out there, the average business traveler probably spends more time on the road or in the air than your typical traveler. These awesome business travel rewards cards can not only help your business save on every trip, but may also offer extra benefits like lounge access or travel insurance.
This card offers a nice signup bonus and travel perks galore, including a statement credit for TSA PreCheck or Global Entry, both of which can help you breeze through security. You can transfer your miles to eligibile loyalty programs to earn even more value from your rewards.
The only business card to offer the popular Chase Ultimate Rewards® points, this card offers triple points on travel, as well as select business categories. Points can be redeemed through the issuer portal or transferred to a dozen hotel and airline partners for even more value.
Business Platinum Card® from American Express not only offers all the bells and whistles of its consumer counterpart — it surpasses them.
The business version of the card also includes the same travel perks as the consumer card, including hotel elite status, airport lounge access to worldwide global lounges, and an annual airline fee credit, among other prestigious benefits.
Best Co-Branded Airline Credit Cards
While co-branded cards aren't bastions of flexibility, they do offer a lot of perks for brand-loyal consumers. Airline credit cards, for example, not only offer a simple way to earn frequent flyer miles, but also tend to come with benefits like free checked bags and preferred boarding.
The Citi® / AAdvantage® Executive World Elite Mastercard® allows cardholders to earn American Airlines AAdvantage frequent flyer miles, as well as providing preferred boarding and your first checked bag for free. It is the only card that provides an Admiral's Club membership.
As an added perk, redeeming your points can actually earn you more points, making this the perfect card for the loyal American Airlines frequent flyer.
Earn 10,000 bonus points after spending $1,000 on purchases in the first 90 days
Earn 3X points on eligible JetBlue purchases, 2X points at restaurants and grocery stores, and 1X points on all other purchases
Enjoy 50% inflight savings on cocktails and food purchases
0% introductory APR for the first 12 billing cycles following each balance transfer that posts to your account within 45 days of account opening (transfer fee applies), then a variable APR applies
No foreign transaction fees, no blackout dates, and points never expire
$0 Annual Fee
| | | | | |
| --- | --- | --- | --- | --- |
| | | 20.49%, 24.49%, or 29.49%, based on credit | | |
The JetBlue Card offers one of the highest in-flight discounts — 50% — we've seen, plus no no annual or foreign transaction fees. This is a great card to carry if you regularly fly with JetBlue.
Earn 10,000 bonus miles after spending $1,000 in purchases on your new card in your first 6 months of card membership
Earn 2X miles at restaurants (including takeout and delivery) and 2X miles for every dollar spent on eligible purchases made directly with Delta. Earn 1X miles on all other purchases.
Receive a 20% savings in the form of a statement credit after you use your card on eligible Delta in-flight purchases of food, beverages, and audio headsets
Take up to $50 off the cost of your flight for every 5,000 miles you redeem with Pay with Miles when you book on delta.com
No foreign transaction fees
$0 Annual Fee
This Delta card offers cardholders a simple way to earn Delta SkyMiles®, plus travel perks like priority boarding and free checked bags. Fringe benefits of the card include car rental loss and damage insurance, a 20% discount on in-flight purchases, and no foreign transaction fees.
Best Co-Branded Hotel Credit Cards
While flexible rewards are useful, co-branded cards can offer exclusive perks to enhance your stay at your favorite hotel brands. Many hotel credit cards offer bonus loyalty points for branded purchases, plus extra benefits like elite hotel status and upgraded in-room internet access.
The Marriott Bonvoy Boundless Card is the new mid-tier card that resulted from the rebranding of the Marriott and Starwood programs after their merger. The card offers six points per dollar on Marriott purchase and two points on everything else.

Earn 6X Marriott Bonvoy points per dollar spent at eligible Marriott Bonvoy properties
Earn 2X on all other purchases
Pay $95 annual fee
Cardholders receive automatic Silver Elite Status with Marriott Bonvoy and can earn Gold Status by spending $35,000 on purchases each account year. Users can also enjoy free premium in-room wifi and an annual free night award after the account anniversary.
(Non-Monetized. The information related to Marriott Bonvoy Boundless Card was collected by CardRates.com and has not been reviewed or provided by the issuer of this product. Product details may vary. Please see issuer website for current information. Product details may vary. Please see issuer website for current information. CardRates.com does not receive commission for this product/card.)
cardholders can earn Hilton loyalty points in no time with double-digit rewards rates for Hilton purchases and bonus rewards at US restaurants, supermarkets, and gas stations.

Earn 12X Hilton Honors™ points per dollar for Hilton purchases
Earn 6X points for purchases at US restaurants, supermarkets, and gas stations
Pay $95 annual fee
Users also get a range of branded perks, including Gold elite status, as well as 10 free Priority Pass Select airport lounge passes good at over 1,000 lounges around the world.
The IHG® Rewards Club Premier Credit Card offers all the usual perks of a midtier co-branded hotel card, including a high rewards rate for branded purchases and complimentary Platinum Elite status.

Earn 10X points per $1 on IHG® hotel purchases made directly with IHG®
Earn 2X points per $1 on gas, groceries, and dining
Pay $89 annual fee
This card also offers a number of other money-saving perks, like a free anniversary night each cardmember year and your fourth reward night free on rewards point stays of four nights or more.
(Non-Monetized. The information related to IHG® Rewards Club Premier Credit Card was collected by CardRates.com and has not been reviewed or provided by the issuer of this product. Product details may vary. Please see issuer website for current information. Product details may vary. Please see issuer website for current information. CardRates.com does not receive commission for this product/card.)
Best Co-Branded Cruise Credit Cards
Air travel and hotel stays are often at the heart of the travel rewards game, but what about travelers who want to set sail on a cruise? These cards offer cardholders a way to earn free cruises with their everyday purchases, as well as valuable one-time bonuses for signing up and using your card.
The Norwegian Cruise Line® World Mastercard® allows cardholders to earn WorldPoints® on every purchase. WorldPoints® can be redeemed for Norwegian Cruise Line® stateroom upgrades, travel discounts, onboard credits, and more.

Earn 3X WorldPoints® rewards points for every $1 spent on Norwegian purchases
Earn 1X WorldPoints® points per $1 on all other purchases
Pay no annual fee
The card also comes with a juicy 10,000 bonus rewards points for those new cardholders who make a qualifying transaction within the first 90 days of opening their account.
The Carnival® World Mastercard® earns FunPoints on every purchase, making it a simple way to save on your next trip on any World's Leading Cruise Line family cruise line.

Earn 2X FunPoints per $1 on Carnival and World's Leading Cruise Lines purchases
Earn 1X FunPoints per $1 on all other purchases
Pay no annual fee
Cardholders will also earn 10,000 bonus FunPoints when they use their card for the first time, enough points to redeem for a $100 credit on your next qualifying cruise purchase.
The Celebrity Cruises Visa Signature® credit card earns MyCruise points on every purchase, which can be redeemed toward purchases with Celebrity Cruises, as well as its sister lines, Royal Caribbean® and Azamara Club Cruises®.

Earn 2X MyCruise points for every $1 spent with Celebrity Cruises, Royal Caribbean®, and Azamara Club Cruises®
Earn 1X MyCruise points on all other purchases
Pay $69 annual fee
Make your first qualifying transaction within 90 days of account opening to score a bonus 10,000 MyCruise points, which can be redeemed for a $100 onboard credit.
Best Credit Cards for Attractions & Events
No matter how much you love a good plane ride, getting to your destination is usually just a small portion of your travels. These rewards credit cards provide the ability to save on the attractions and events that help make travel more than simply going from one place to another.
This card's bonus rewards category includes a variety of entertainment purchases, including movie theaters, record stores, sporting events, and numerous tourist attractions like amusement parks, aquariums, and zoos.
The Citi Premier® Card not only has a high bonus rewards rate for certain travel purchases, but also offers elevated points per dollar for other categories like dining and gas station charges.
As handy as the card's reward structure can be for travel with its annual hotel savings benefit and no foreign transaction fees, it can also be very useful at home.
Earn $200 cash back after you spend $1,500 on purchases in the first 6 months of account opening. This bonus offer will be fulfilled as 20,000 ThankYou® Points, which can be redeemed for $200 cash back.
0% Intro APR on balance transfers and purchases for 15 months. After that, the variable APR will be 19.24% - 29.24%, based on your creditworthiness.
Earn 5% cash back on purchases in your top eligible spend category each billing cycle, up to the first $500 spent, 1% cash back thereafter. Also, earn unlimited 1% cash back on all other purchases.
No rotating bonus categories to sign up for – as your spending changes each billing cycle, your earn adjusts automatically when you spend in any of the eligible categories.
No Annual Fee
Citi will only issue one Citi Custom Cash® Card account per person.
| | | | | |
| --- | --- | --- | --- | --- |
| 0% 15 months Purchases and Balance Transfers | 0% 15 months Purchases and Balance Transfers | 19.24% - 29.24% (Variable) | | |
Additional Disclosure: Citi is a CardRates advertiser.
This newer offering from Citi deserves a spot in this category thanks to its unique cash back reward structure. Categories you spend the most in each billing cycle automatically earn the highest rate of return, and live entertainment is an eligible purchase category.
Other eligible spending categories include most all of the common, day-to-day transactions everyone typically charges. If you're looking to earn serious cash rewards without the hassle of tracking bonus categories, this card might be just the ticket.
Best Credit Cards for Gas Rewards
Most travel rewards credit card posts and forums dedicate a lot of time to airline travel, but the typical consumer likely spends far more time driving than flying. These cards offer bonus rewards for gas station purchases, as well as offering other useful travel or everyday categories.
In addition to a choose-it-yourself 3% bonus category that includes options for both  gas and travel, this card also offers bonus rewards for grocery and wholesale club purchases. Keep in mind that bonus rewards are limited to the first $2,500 in combined category purchases each quarter.
If you're a Costco member, you can't go wrong having this card in your wallet, especially when it comes to purchasing fuel. You'll earn top-tier cash back rewards rates on eligible gas charges up to the spending limit, then earn the base 1% thereafter.
While many cards offer bonus rewards for travel expenses, the Citi Premier® Card is one of the few that includes gas station purchases in its broad travel category.
You can also enjoy bonus points in several other categories such as dining and hotel stays. ThankYou® points can be redeemed for travel through Citi, or transferred to one of many partner airline or hotel loyalty programs.
Selecting the Best Travel Credit Card
With literally dozens of potential options, how do you select the right travel rewards card — or, is it cards? Although travel cards have plenty of overlap, there's enough variation in rewards and benefits that you'll need to start by determining your travel goals.
For example, if you only travel a few times a year, then you may not care about airport lounge access or hotel status — let alone paying a $400 annual fee for a card that unlocks those features. Instead, a card with a rewards program that doesn't have date or brand restrictions may prove to be the better fit.
If you're simply looking to maximize your rewards, the most important thing will be finding the cards that offer high rewards rates for the categories in which you spend the most. If you spend most of your travel dollars on gas and parking, for example, then you'll want to avoid cards that focus on airfare and hotel stays.
Of course, if your primary goal is to quickly earn as many points and miles as possible for free travel, then the size of the sign-up bonus — a one-time bonus offered to new cardholders who meet a minimum spending requirement within a certain time after account opening — may be more important to you than the specific bonus rewards categories.
Other factors that may influence your decision will vary based on your needs. For example, if you travel internationally on a regular basis, you may be more concerned about the credit card issuer or network. Only a handful of US issuers provide cards with chip-and-PIN functionality, for instance, and the network will dictate which merchants accept your card.
And don't forget about the more traditional credit card features, such as the APR. Many of the best travel rewards cards have relatively high APRs, which may factor into some decisions. However, although rare, a few travel cards will offer new purchase and/or balance transfer APR deals.
Additionally, just because you select a card doesn't mean you'll be approved for it. This makes your credit profile arguably the most important factor in picking a credit card of any type, especially a travel credit card, as top-tier travel rewards cards will generally require an excellent credit score to qualify.
Considerations When Traveling with Your Card
The things you need to consider when traveling with a credit card will vary, mostly based on your destination. You likely won't need to do much if you're only traveling domestically, but foreign travel with your cards will have a few prerequisites.
For example, you'll want to make sure to alert your credit card issuer that you intend to use your card in a foreign country. If you don't, your purchases will likely be flagged as fraud attempts and your credit card account frozen.
Another common concern for foreign travelers is currency changes. While credit cards will automatically handle conversions when you make your purchases, you'll want to make sure your travel card doesn't charge foreign transaction fees for the privilege (most travel cards don't, but check your card's terms and conditions to be sure).
Having a card that doesn't charge foreign transaction fees can pay off in multiple ways — and not just in convenience. Some foreign merchants will happily allow you to make your purchase in US dollars, but there's a catch; called dynamic currency conversion, the exchange rates are typically not in your favor.
Acceptance may also be a major hurdle for some travelers. While all four major US card networks — Visa, Mastercard, Discover, and American Express — are accepted in other countries, the exact countries and rate of acceptance will vary widely by network.
If you're headed to a region with limited credit card acceptance, you may want to check if your credit card network is accepted before you arrive and try to make a purchase. Consider taking credit cards from multiple networks to ensure you have options. (And, of course, be sure to carry some local currency, just in case).
Your card's verification method may also impact your ability to use it abroad. In particular, the UK utilizes chip-and-PIN purchase verification, rather than the US-favored chip-and-signature verification. While many merchants can manually run your card, unmanned kiosks may only accept chip-and-PIN enabled cards.
Although they may require a little preparation, credit cards are often the most secure way to shop. Unlike other methods, such as cash, debit cards, or traveller's cheques, losing your credit card won't be the end of the world. Your liability for fraudulent use is limited, by law, to $50 — and most major issuers offer $0 fraud liability policies on their cards.
If you're concerned about fraud (or your budget), you can set up credit card usage alerts before you leave. Most banks allow you to customize alerts through your online banking or mobile app that will tell you when transactions are made and where your card is being used.
Tips for Using Travel Rewards Points & Miles
After you've selected a card and started earning, the next step is to, well, redeem your rewards. As implied earlier, however, redeeming your rewards can vary in complexity based on your rewards program and your goals.
The simplest form of travel rewards are flexible points and miles that are redeemed for statement credits to cover travel-related expenses. Most of these programs allow you to select the transactions you wish to credit right from your online banking account, making redemption a snap.
Since co-branded credit cards earn loyalty points or frequent flyer miles, the redemption difficulty will vary mostly by program. Since these points are typically added to your existing loyalty program account, you'll redeem them exactly as you would any other points or miles earned from flights or hotel stays.
Redemption gets more complicated if you have more versatile points that can be redeemed for travel through your issuer or transferred to partner loyalty programs. In general, redeeming through your issuer can provide more flexibility, but transferring your points can often afford more value, especially with a smart redemption.
For example, Ultimate Rewards® points are only worth 1.25¢ to 1.5¢ per point when redeemed through the Chase portal, but can command 4¢ per point or more when transferred and redeemed for travel through a partner program, especially when used for upper-class tickets or high-demand hotels.
However, finding award redemptions can be difficult with some airlines and hotels, especially for last-minute redemptions or peak travel times. Depending on the credit card issuer, the dedicated travel portal may be the best choice for flexibility while maintaining a decent value.
Use the Right Card On Your Next Adventure
Since the earliest days when humans first went wandering out of Africa, many of us have retained the urge to see the world. There is a quote, attributed to the theologian St. Augustine, that summarizes that drive: "The world is a great book, and none study this so much as a traveler."
For the many students of the world seeking to study its offerings, travel is as necessary a part of life as breathing. For others, travel is merely a way to break away from the everyday — though, to anyone who has daydreamed of such a break, there may be little mere about it.
No matter why you travel or where you go, your budget shouldn't be the sole dictator of your adventure. Together with good planning, smart credit card use can help take some of the budget crunch out of traveling, helping wanderers near and far make the most of their travels.
Advertiser Disclosure
CardRates.com is a free online resource that offers valuable content and comparison services to users. To keep this resource 100% free, we receive compensation for referrals for many of the offers listed on the site. Along with key review factors, this compensation may impact how and where products appear across CardRates.com (including, for example, the order in which they appear). CardRates.com does not include the entire universe of available offers. Editorial opinions expressed on the site are strictly our own and are not provided, endorsed, or approved by advertisers.