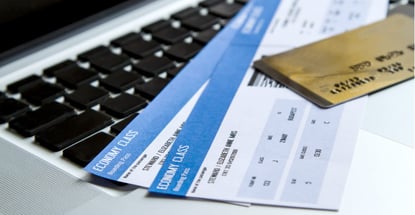 No matter your destination, the price of airline tickets can be steeper than you may expect now. April 2022 data collected by the travel app Hopper found that domestic airfare is up 40% from the beginning of the year. But you can turn to your credit card's rewards program to ease the financial pain. 
You can use your rewards to pay for airfare as long as you have enough rewards accumulated. And if you don't currently have enough rewards for the full fare, some issuers will let you redeem the rewards you have to reduce your total airfare cost. 
You can use rewards for flights in several ways. The credit card issuer and type of card you have dictates at least part of the process. Some credit card issuers refer to the rewards as points or miles, and you trade them in (redeem) to make the purchase. Other card issuers give cash as rewards, which you can use instead. 
Whichever type of rewards card you have, here is your guide to using your rewards for airfare. 
1. Book With the Card Issuer's Travel Portal 
Some general travel cards offer miles as rewards, including the Discover it® Miles and Capital One Venture Rewards Credit Card.
Co-branded cards affiliated with a specific airline also offer travel rewards, such as the Southwest® Rapid Rewards® Premier Business Credit Card and American Airlines AAdvantage MileUp℠ Card. 
Other credit cards express rewards as points, including the Citi Premier® Card and Chase Sapphire Reserve®. 
However the rewards currency is expressed, in many cases, you can redeem the miles or points for flights by using the issuer's shopping or travel portal. Issuer portals include:
To redeem your rewards for airfare via the shopping or travel portal, simply login to the site and search for the flights you're interested in. You will see how many rewards the airfare you want requires. 
If you don't have enough rewards, you can usually use your credit card to cover the remaining cost of the ticket. Once done, you can book the flight with your points or miles.
In most cases, you will have plenty of other options from which to choose, such as upgrading your seats to a more premium class, as you book your flight.
2. Book With Your Credit Card's Website
If your credit card doesn't have a separate portal, as is the case with the U.S. Bank Altitude® Reserve Visa Infinite® Card, log onto your account website. Although the card issuers have slight differences, the process is usually similar to what it is for U.S. Bank:
Select "My Accounts" at the top of the page, then "My Rewards," then "Redeem Rewards & Access Card Benefits."
Select "Travel" from the top menu.
Select the flight you like from the search screen, complete the required fields, and select "Search."
Make your travel selections and continue through the checkout process to reach the itinerary confirmation.  
It is a straightforward process that shouldn't be any more complicated than booking directly on the airline's website, which we'll cover next.
3. Book With the Airline and Be Reimbursed
Yet another option is to simply charge the flight you want with your credit card. Booking and redeeming your rewards is a simple two-step process:
Book the flight directly from the airline's website or via a third-party booking website, such as Travelocity and Priceline. 
Log on to your card issuer's website and navigate to your rewards. It should be easy to apply your rewards as a statement credit to cover eligible travel expenses. Cards that operate this way include the Discover it® Miles and Capital One Venture line of cards.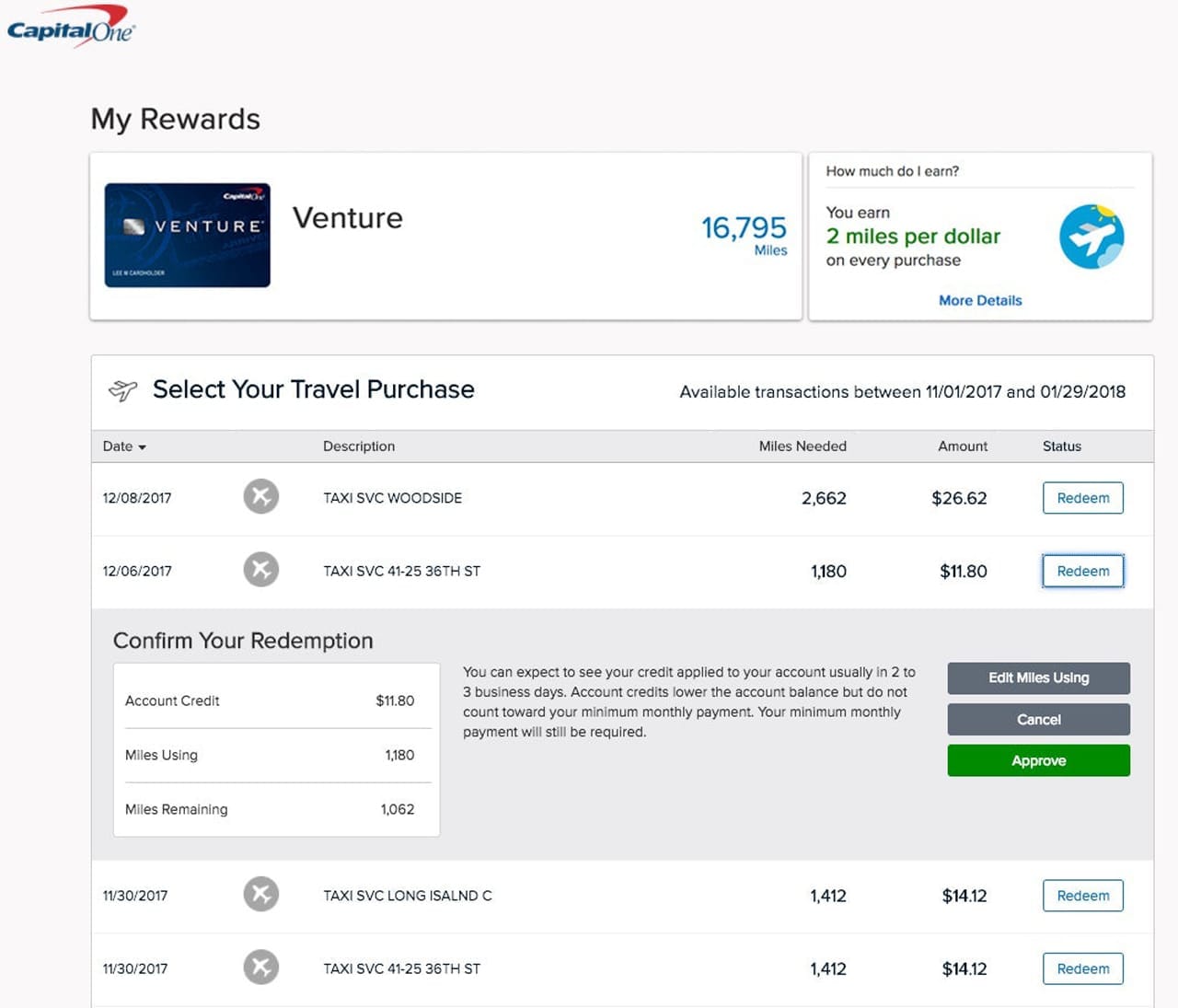 The credit is usually applied within 48 hours. And Voila! The flight is paid for with your rewards.
Be aware that you'll need to complete this process usually within 90 days of the charge for it to be eligible for reimbursement.  
4. Book With Cash Back 
Cash back credit cards are popular because they offer maximum flexibility. After all, you can use cash anywhere, including on airline tickets. One point is typically valued at one cent. When you have accumulated enough cash to cover the price of an airline ticket, you can use it to book your ticket. 
You may be able to get your cash in various forms, depending on the card and issuer. It may be offered as a statement credit, so the money you earned goes into your account to use as a credit. Or you may be able to request the funds be delivered as a direct deposit into your bank account or have a check mailed to you. 
Several card issuers also allow you to apply your cash balance toward travel on their travel booking sites. So if you have $100 of cash back saved up, you could apply it toward your next flight when you book through the issuer's travel portal.
Whatever the case, the money is yours, and you can spend it on whatever you want, including airfare. 
5. Transfer Points to Partner Airlines 
If you can't find the flight options you want through the credit card's website or portal, you can also transfer your rewards to one of the company's partner airlines. American Express, for instance, has nearly 20 partners, including Aer Lingus, Delta, Air France, JetBlue, and Hawaiian Airlines.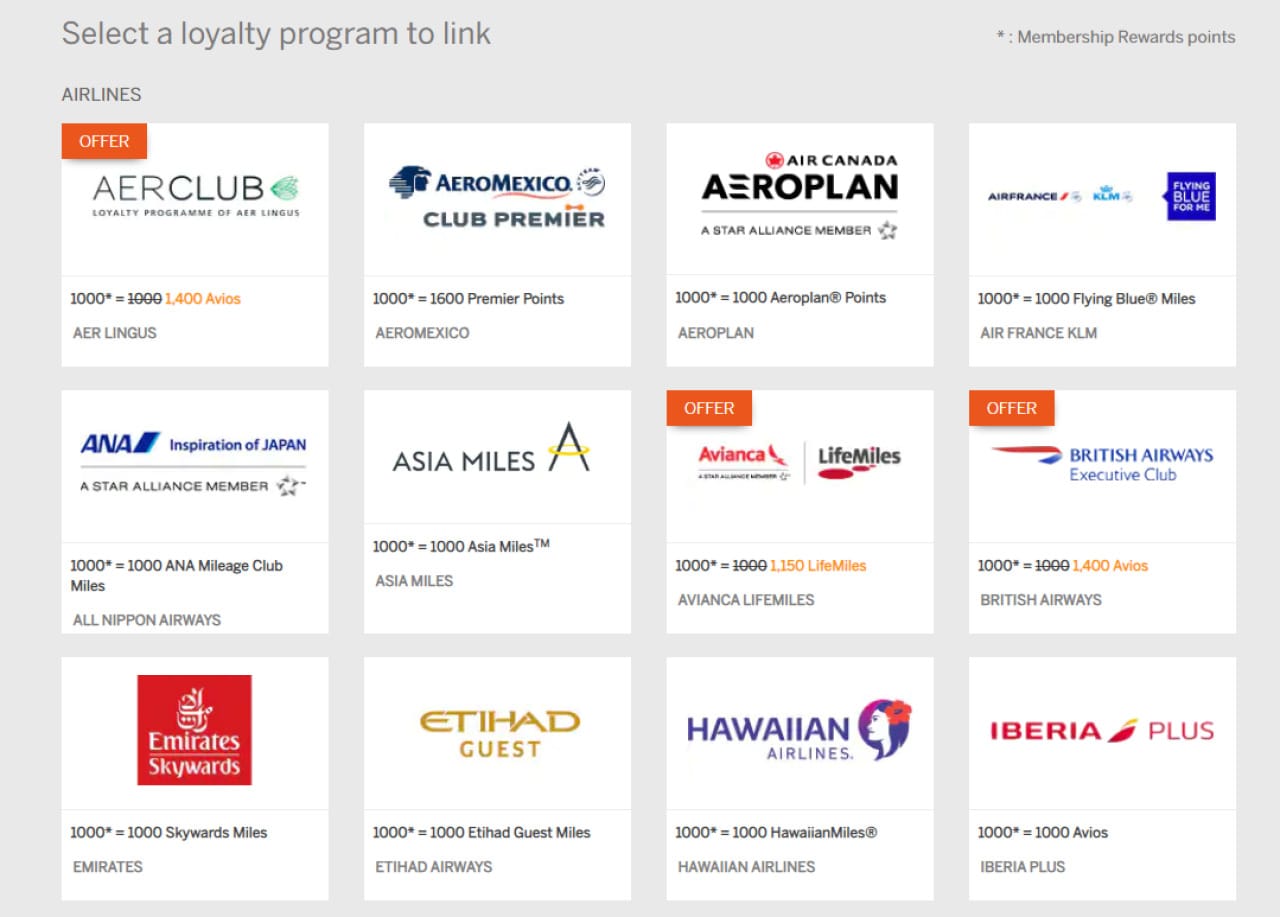 The general process for transferring points to a partner airline is to log onto your credit card account website and select the transfer points option. The site will present you with an array of different airline partners. Link the airline's loyalty account to your credit card account.
Usually, you only need your account number and name to complete the transfer, and some transfers occur instantly. Others may take up to two days.
Once done, you can book directly on the airline's website with your miles. If you don't have quite enough miles saved, you can usually pay the difference with a credit or debit card.
Mind the Rewards Value
Some credit cards offer higher reward values than others, even with the same credit card issuer, when you redeem them for travel. For example, the Chase Sapphire Preferred® Card's points are worth 1.25 cents each, while those for Chase Sapphire Reserve® are 1.5 cents. The card's annual fee typically reflects the difference.
In general, you'll want to purchase the flight that requires the lowest number of points or miles. After all, you earned those rewards with your savvy buying and repaying system, and there's no reason to waste them. 
The amount of rewards it takes to purchase a flight can vary tremendously. An economy flight from New York to Los Angeles can require between 12,000 and 33,000+ miles. Search for the flight that suits your needs and requires the least number of points or miles. 

Also, check out how much the same flight will cost with cash. If you have the money to spare and want to earn more rewards on a card that gives an especially high rewards value when you use the cards for airfare, you may consider charging it and then paying the balance in full. 
With The Platinum Card® from American Express, for instance, you will earn 5X the points when you book with the airline directly or through American Express Travel. That means a $1,000 flight will generate an additional 5,000 points that you may want to use for another trip. 
Tips on Redeeming Rewards For Flights
Using the rewards you have accumulated to get a free flight is exciting. The money you saved can be spent on a lavish meal, an upgraded hotel room, or souvenirs. Now make sure you get the most out of the process.
Keep your balance at zero. No matter how much you earn in rewards, their value will never make up for the amount you pay in interest on revolving debt that accrues finance fees. Only charge what you can repay in full when the bill comes due. 
Careful of the expiration date. Some rewards expire if you don't use them within a set time frame, so check your issuer's policy. 
Transfer rewards only when you're ready. In almost all cases, once you transfer your credit card rewards points to a partner airline, you can't go back. Before you transfer them, be sure that you want to fly with that airline and that you're sure you can't get a better deal elsewhere. 
Don't overbuy rewards. When you want to use your credit card rewards to book a flight, but don't have enough, be mindful of the costs. Purchasing points and miles can be expensive. So if you're short just a few, no big deal. But if you only have a minimal number of rewards saved up, buying them most likely won't be worth the expense.
Tips For Building More Rewards in a Hurry
If you really want to deepen your rewards pool so you can purchase a flight at no cost, here are a few ways you can get there:
Make a few large (affordable and necessary) charges. This may be the perfect time to buy that new laptop, racing bike, or kitchen appliances. As long as you can and will repay the balance in full quickly, you can also bulk up your rewards bank. 
Open a new card with a high signup bonus. Many credit cards offer new account holders huge rewards if they meet the minimum spend (usually a couple hundred or thousand dollars within three months of opening the account). The signup bonus can be enough for two round-trip domestic flights or one international flight, depending on the card. 
Fund a group's expenses, then collect. If you were to go out to dinner, a sporting event, concert, or do any other high-ticket-value experience with several people, consider charging it all to your credit card and have them reimburse you immediately with a payment app. Once done, you pay down the balance and walk away with the extra rewards. 
Make a trusted someone an authorized user. It can be hard to accumulate enough rewards when only you are using the credit card. Add another person — or even more than one — to your account as an authorized user. Their card purchases can increase the number of rewards you accumulate. Just make sure you trust them to repay you for what they charged so you're not stuck with the bill.
Fly High For Less While Staying Financially Grounded 
Once you have bought your airline ticket with your credit card rewards, you can continue to use the card as you normally would. 
If you are traveling internationally, make sure that the card you use does not charge foreign transaction fees. You will be overpaying every time you use the card if it does. 
Become familiar with your credit card's reward program and work it strategically. If it has a flat rate reward system, you'll get the same number of points or miles or amount of cash back each time you make a charge. Use it for everything you can afford to repay in full. You can increase your reward accumulation by charging certain expenses if it has a tiered reward structure. 
Finally, keep your eye on spending. You may feel a little too free to charge and accumulate debt because you got the flight without having to dip into your checking or savings account. Instead, commit to using your credit card to stockpile even more miles, points, or cash for your next trip — without financing fees that eat into their value. 
Final Notes on "5 Ways to Use Credit Card Rewards to Buy Airline Tickets (Sep. 2023)"
We hope this guide "5 Ways to Use Credit Card Rewards to Buy Airline Tickets (Sep. 2023)" has been a helpful resource for you in learning more about your financial options. In this guide, we've covered:
1. Book With the Card Issuer's Travel Portal 
2. Book With Your Credit Card's Website
3. Book With the Airline and Be Reimbursed
4. Book With Cash Back 
5. Transfer Points to Partner Airlines 
Mind the Rewards Value
Tips on Redeeming Rewards For Flights
Tips For Building More Rewards in a Hurry
Fly High For Less While Staying Financially Grounded 
To learn more about options not mentioned here, be sure to check out other popular reviews from our team of experts:
We also encourage you to check back at this URL regularly, as we update the offers listed in "5 Ways to Use Credit Card Rewards to Buy Airline Tickets (Sep. 2023)" and other guides on a daily basis.
Advertiser Disclosure
CardRates.com is a free online resource that offers valuable content and comparison services to users. To keep this resource 100% free, we receive compensation for referrals for many of the offers listed on the site. Along with key review factors, this compensation may impact how and where products appear across CardRates.com (including, for example, the order in which they appear). CardRates.com does not include the entire universe of available offers. Editorial opinions expressed on the site are strictly our own and are not provided, endorsed, or approved by advertisers.